The right kind of material of clothing not only keeps the workers comfortable at the workplace, but it yields to the higher level of productivity for the industry or company as well.
Not all fabrics are suitable for all the seasons! Neither does all fabrics are made for every kind of professional!
The best fabric when it comes to work shirts is cotton, but it does not protect from cold weather conditions, protecting against electrical hazards and offering high visibility!
There are FR materials like wool, 88% cotton and 12% nylon blend, Nomex, Indura, etc. there are high visibility fabrics like 3M, and then there are fabrics for the cold weather like wool, quilt, fleece, etc.
Not only these, but there are a variety of other materials of which work shirts are made of and in this article, I am going to discuss all of them and tell you which is suitable for what purpose!
So, let's get started!
Why is Material so Important for Work Shirts? 
Selecting the right material for work shirts is very important because in the right fabric not only will the workers feel more comfortable, but also the productivity will increase as when the workers will be at ease with their clothing, they can focus more on work. 
However, there are also some other importance of material of the work shirts which are as follows:
The right material provides safety to the workers:
With the right material of the work shirts, workers can be safe at the work place in the hazardous conditions.
For example, if you choose FR materials for places related to electrical hazards, it can save the workers from flash and arc fire.
Similarly choosing waterproof materials can save the workers from getting drenched in water and catching cold.
The right work shirts can provide comfort to the workers all day long: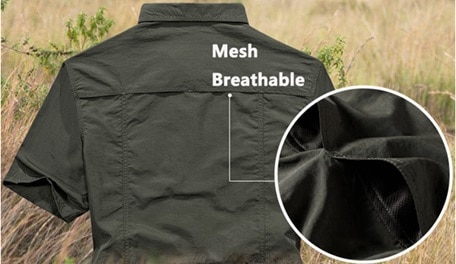 For example cotton is the most suitable material which can be preferred all round the year because it not only offers breathability, but also soaks up sweat and dries up pretty fast in case it gets wet and also is super comfortable and soft. 
Some other benefits are as follows:
The right material can result to higher productivity

It provides better cohesiveness

It reduces turn over

It reduces the costs on injuries

Saves the reputation of the workplace
Requirements of Work Shirts
They should be safety standard compliant

They should be fire retardant

They should be waterproof

They should be comfortable

They should offer high-visibility

They should offer breathability

They should be able to withstand extreme temperatures

They should be chemical resistant

They should be durable

They should be wear and tear resistant

They should be resistant to dirt

They should be easily washable

It should not shrink
6 Most Common Fabrics for Work Shirts
1.) Cotton
Any cotton material with a high thread count of 160 to 220 is good to go as work shirts as they will be durable. There are various types of cotton that work shirts are made of ranging from: pima, swiss, Egyptian, two ply, sea island, American pima cotton, etc. all these types of cotton have high thread counts and are very soft with two-ply construction.
2.) Twill
Twill is a fabric weave that is very durable and is tear resistant. The fabric is soft to touch and hangs well on the body. The types of twill fabrics are: cotton twill, cavalry twill, herringbone twill, denim twill, houndstooth twill, etc.
3.) Poplin
This is the most popular shirt fabric that has a plain weave fabric with a crisp feel. The fabric is smooth to touch, cool feel and offers breathability and apt for the summers.
4.) Flannel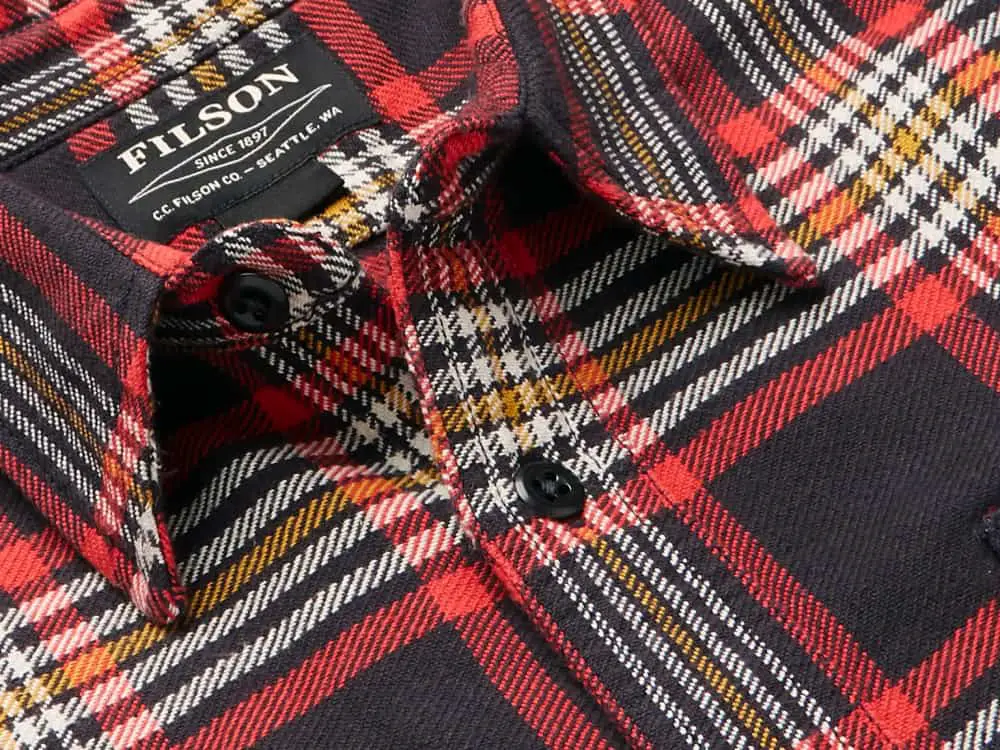 Flannel is a thick weave fabric that is used to make work shirts for the winters. It is generally a blend of cotton and wool that keeps the wearer warm and has a fluffy feel to its touch.
5.) Gabardine cotton
This is a tough-medium weight twill-weave fabric that is made of wool or cotton fibers and is considered the best fabric for making work shirts because it's durable, wrinkle-resistant and tough.
6.) Oxford fabric or pinpoint fabric
These are medium weight and are slightly rough in texture. The fabrics are breathable, warm and very durable.
Though both the fabrics have the same weave that is symmetrical basket-weave, yet the difference is that while in oxford fabric there are two or more warp yarn crosses an equal number of weft yarns; the pinpoint fabric has a single weft crosses two warp threads thus making it finer and tighter. 
See also: What Colour Jeans to Wear with a Maroon Shirt?
Fabrics that Keep you Cool
1.) Cotton:
Thinking of cotton gives you cooling vibes in the hot summer months! The reason cotton is the preferred over the rest of the materials in summer is because of its breathability which allows air circulation in the body that keeps you cool.
Not only that, cotton also soaks up the sweat of the body and dries up pretty fast; all in all making it the best choice for the summer months.
2.) Polyester:
Polyester falls under microfiber fabrics and is a synthetic blend fabric. Polyester is not most commonly known for its durability and the ability to soak up moisture from the skin. Because of this ability, polyester is widely used in work wears and athletic wears. 
3.) Polyester blend:
The most popular blend of polyester is with cotton and this combination provides for the best cooling fabric used in work wears.
Other blends used in sportswear and summer wears are poplin and silk, polyester and wool, etc which are known for their breathability, light weight and water-resisting capacity.
4.) Moisture-wicking fabrics:
Moisture-wicking means the ability to soak up water and keep the wearer dry. One such combination is again polyester and cotton that soaks sweat from the wearer's body and wicks away towards the exterior of the cloth in order to evaporate faster. 
Waterproof Fabrics
1.) Cotton polyamide blend
This blend fabric is dirt and water repellent and therefore used to make clothing for environments that attracts dirt like the construction industry.
It does not absorb moisture and dries faster than pure cotton making it suitable for working in water too. The fabric is comfortable and can resist a lot of wear and tear without losing its appearance. 
Abrasion-Resistant Fabrics
1.) Polyamide:
Polyamide is generally used in fabrics to make them more abrasion resistant. This material also does not freeze much in cold weather conditions. It is also easy to wash and quick dry the fabric to keep it dirt free.
2.) Cordura: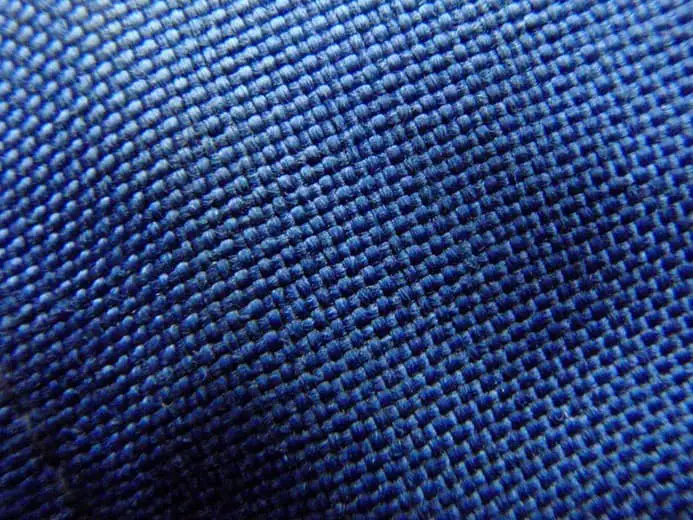 This is a polyamide fabric with excellent abrasion resistance and high strength used in the knee areas of the clothing to protect the knees from scratches and cuts.
3.) Kevlar:
This is a para-aramid fiber that is used in work wears to make them high abrasion and tear resistant.
Wind and Water Repellant Fabrics
1.) Heavy polyester with polyurethane coating:
The polyurethane coating over heavy polyester makes the material wind proof and water-repellant. It also allows breathability thus keeping the wearer warm dry and comfortable all day long.
Fabrics for Cold Weather
1.) Quilt:
This is actually a layered material and is used with polyester filling that is stitched in between two layers of thin and smooth fabric. Quilt linings keep the wearer warm in cold weather conditions.
2.) Pilefoder:
This a fury lining material that is used in winter wears to keep the wearer warm. This fabric does not absorb moisture and dries up quite fast. It also holds air to keep the wearer warm.
3.) Fleece:
This fabric is commonly found in sweaters, trimmings and linings its stretches and the fluffy texture keeps the wearer warm by trapping air in between its fibers it is also wind proof.
Reflective Clothing Fabrics
Reflective clothing uses 100% polyester as the base material and then aluminum or fluorescent orange or yellow color coating is applied to the fabrics and at last followed by glass reflective beads.
1.) FR fabrics: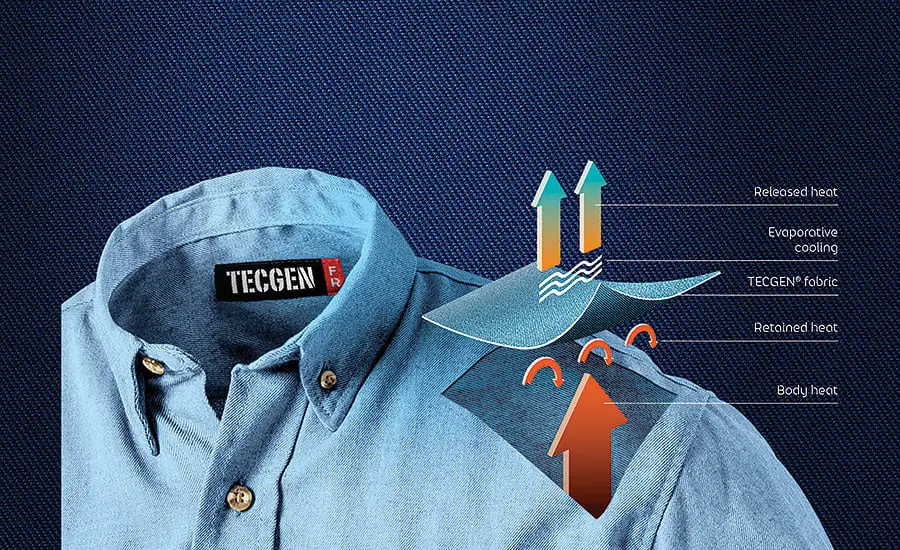 General 100% cotton, wool, 88% cotton blended with 12% nylon, Nomex, etc are used as Fire Resistant fabrics for work shirts.
2.) Puncture and cut resistant materials:
Fabrics or materials used to make work shirts that are cut and puncture resistant are:
Ceramic fibers

Carbon fiber

Stainless steel

Aluminum
FAQs:
Which fabric offers the most breathability?
The fabric that offers the most breathability and is lightweight is poly-cotton micromesh fibers.
Which fabric offers thermal properties?
The fabrics that offer thermal properties are cotton, wool, fleece, quilt and dawn.
It's time to bid Adieu!
That's all with the fabrics of work shirts. I hope the article was helpful to you!
Choose the fabrics carefully according to the weather conditions and your job environment!
Will be back soon with another article for enlightening you with a new topic!
Till then take care, stay safe and…
Have a great day ahead!