Construction means dealing with water, dirt and tools. With that in mind you need some tough clothing to withstand those harsh elements. 
When it comes to jeans for your construction work, you need jeans that are made of cotton so that it dries up quickly, utility pockets are a must and then comes the relaxed fit which you would require to be comfortable all day long.
That being said, let's jump on to the requirements for construction jeans and all the necessary information regarding them…..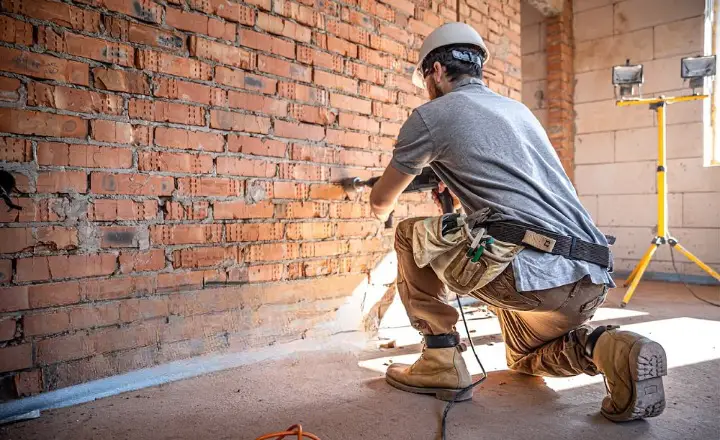 How to buy the right construction jeans?
Either you are a bricklayer, or a concrete worker or a carpenter or an engineer, being in the construction site means that you have to handle water, mud, wet concrete, toxic liquids, and also the heat.
So, you know that fashionable jeans are not for you. You need clothing material that can go through all these tough conditions and yet be durable and comfortable.
But what jeans do you actually need? 
Let's learn about it in minutes:
1. Construction jeans must be made of cotton
The jeans that are not made of cotton are meant for construction. Cotton jeans are the best because they are quick drying, comfortable and breathable.
2. Construction jeans must be of relaxed fit
You just cannot wear skinny jeans for your construction work because they are not very stretchable and you need to do a lot of bending work while in the construction site. Relaxed fit jeans allow you to bend, and stretch with ease.
3. Construction jeans must be quick drying
Dealing with water all day requires you to wear clothing that is quick drying. Cotton jeans are the best choice for this.
4. Construction jeans must be breathable
Again cotton jeans are very breathable and will allow air flow to your legs and also won't let you sweat a lot and in case you still sweat, cotton is quick moisture absorbing and fast drying. 
5. Construction jeans must have multiple pockets for your tools
Being in construction, you need to carry tools while working. Having multiple pockets in the jeans will help you keep your tools with you and utilise them whenever needed.
6. Construction jeans must have belted loops
Jeans that come without belt loops are not meant for construction simply because belts have you hold your pants better or else you will keep pulling your pants then and now while working.
7. Construction jeans must have boot cut
Jeans that have boot openings are the best for construction. This increases the air flow to your legs and helps to keep you cool and sweat free.
8. Construction jeans must be durable
Jeans that are made with the ripstop technique, can endure a lot of stretching and even scratches. They won't tear easily and hence are very durable.
3 best jeans for construction workers
Want some best jeans for your construction work? I hope you will love the jeans that I have chosen for you after making a detailed research and reading the customer reviews on amazon.com:

These are heavy duty construction jeans that are made with durable materials and the durability exemplified with durable reinforcement at stress points like reinforced tape measure clip, reinforced belt loops and reinforced back pockets.
What I like about this jeans is that it's made of 100% cotton and so is very comfortable to wear. The relaxed fit allows you free movement all day long.
What's great is that besides having 6 pockets, these jeans also have a hammer loop for easy access to the tools. The utility pockets on the right leg are an added advantage. These jeans also feature an action gusset crotch for added range of movement.

These 100% cotton duck jeans are the best for durability and comfort. Made with multiple utility pockets and a hammer loop to accommodate your tools in need, these jeans will not fail to impress you.
The sanded and washed finish makes them withstand dust and dirt and not look dirty at the end of the tough day. The relaxed fit and the boot opening too make them your perfect construction companions.
If you are not a great fan of jeans, these loose fit utility work pants must be your best companion for construction works. In terms of durability, I give them a 10.
The double front panels along with the double knees with cleanout bottoms that help to accommodate knee pads and clean dirt and debris are its unique features.
They are made of 100% cotton so no doubt about the comfort. They have multiple utility pockets and a hammer loop on the left leg as well. For your perfect fit to the waist, they have belt loops as well.
And it's a wrap!
To conclude I would like to tell that the best jeans for construction must have 3 important points:
They must be made of 100% cotton to be breathable and durable

They must have multiple utility pockets

They must be of relaxed fit
So, with that I would like to bid adieu from this post with a hope to see you soon in my next one.
Till then, keep working and keep yourself active and healthy!