Being in construction work means tackling tough conditions throughout the day!
For this, you definitely deserve clothing that is comfortable yet tough enough to withstand the harsh construction working conditions!
And amongst clothing, the very first thing that should be taken into consideration is the pair of pants. You can wear any work pants of your choice, but nothing can beat the durability and the toughness of jeans!
Yes, you read it right! Jeans are the best work pants for the construction workers that won't wear and tear with the slightest scratches and pinch of tools.
That said, here in this article I bring to the 7 most durable jeans for construction work that you will love thoroughly and your colleagues are going to envy of.
My absolute favorite is the Wrangler Riggs Workwear Men's Carpenter Jean that has all the features required in a construction jean like a large number of pockets for storing tools, comfortable, durable, and made of ripstop fabric.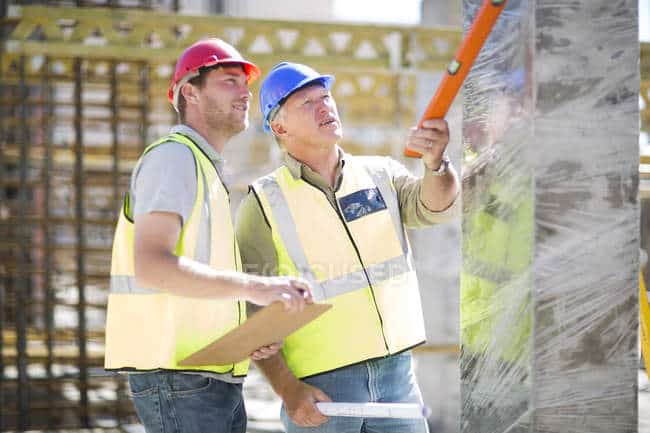 So, let us first start with the requirements of a construction work jean:
Features Required in Jeans for Construction
Your construction jeans are not any simple jeans to display your fashion! It should be of tough built to withstand all the rough environments and still be durable. Following are the features that are must in your construction pair of jeans:
1.) It should be made of a comfortable fabric:
Speaking of comfort, what can be more comfortable than anything made of 100% cotton! So, for your all-day comfort at the workplace, your work jeans must be made of cotton or a blend of some other material in a small percentage with cotton.
2.) It should be durable:
Durability is ensured with the material and the stitch of the fabric. Twill fabric, triple stitched, and ripstop fabric should be your lookout in the construction jeans.
3.) It should have enough storage space:
Storage space for keeping the construction tools is ensured with a large number of deep pockets. Any jeans with at least 5 pockets should suffice as your construction jeans. The extra pockets must be at the back or in the right leg of the jeans.
4.) It should have hammer loops:
This is a very important feature in construction jeans because storing your hammers and pliers during construction works becomes essential.
5.) Durable closures:
The jeans should have durable closures in the form of heavy duty brass zippers, brass buttons and eye closures.
6.) It should also have belt loops:
Though a very common feature in almost all the jeans, yet an essential one especially for the construction jeans which ensures tight waist grip while you are working.
7.) It should be made of a flexible built:
Flexibility depends on the material, fit and stretch of the jeans. Regular fit jeans or stretch fit jeans that allow free movement of the thighs and knees should be the preference.
Our Top 7 Picks of Construction Jeans
Best regular fit construction work jeans:
1.) Dickies Men's Regular-Fit 5-Pocket Jean
This classic fit and straight legged jean from Dickies is made of 100% heavyweight cotton with twill weave for increased durability. Speaking of durability this jean has more to it like the triple stitched seams and brass rivets for preventing rips at the stress points.
The 7 keystone belt loops will prevent bunching and the hook and eye closure with fail-proof heavy duty brass zippers ensures rough handling won't create any trouble. Also, the jean has deep front and back pockets and a coin pocket that is large enough to hold small tools required in the construction.
---
Best straight-fit construction work jeans:
2.) Timberland PRO Men's A1V55 Grit-N-Grind Flex Jean Straight Fit
This Grit-N-Grind Flex Jean from Timberland is built to last and is made of 99% cotton and 1% spandex (elastane) that allows the pair to be stretchy thus ensuring free movement of the legs and bending of the knees while working at the construction. Also, it has 5 pockets for storing the essentials while you are working. 
---
Best carpenter jeans for construction:
3.) Wrangler Riggs Workwear Men's Carpenter Jean
This carpenter jean from Wrangler features action gusset crotch and deep front pockets which allows range of movement and comfort of wear. This jean is made of 100% cotton durashield denim which speaks of comfort and durability at the same time. They are built to last with the durable reinforcements at stress points so that you can bend and stretch while working without worrying about any wear and tear in the jean.
This jean also has reinforced tape measure clip, belt loops, 2 slash pockets, 2 back pockets, 2 utility pockets on the right leg and a hammer loop on the left leg. Thus, you see this jean is just perfect for any construction worker which offers durability and enough storage spaces to store essential tools.
---
Best flame-resistant construction work jeans:
4.) Wrangler Riggs Workwear Men's FR Flame Resistant Carpenter Jean
If your construction site demands you to work near flames or electrical circuits and equipments, this flame resistant carpenter jean from Wrangler should be your first choice as work pants. Not only it has Arc Thermal Protective Value rating of 19.0 CAL/CM2, also it has self-extinguishing properties that will help to reduce and prevent the severity of burns.
Made of 100% cotton, this jean is very comfortable for all-day wear and the durability is ensured with the triple needle stitching from Nomex thread at all seams. The pockets are also flame resistant and it has arc-resistant button waistband closures. For storing your tools during work, it has 2 front pockets, 2 back pockets, 1 oversized watch pocket, and a right-side hammer loop. 
---
Best boot-cut construction work jeans:
5.) Wrangler Riggs Workwear Men's 20X FR Vintage Boot Cut Jean
Working in construction demands wearing tough boots and then slipping on and off your work jeans over the boots might be a hectic job. But wait! Not with this Wrangler boot cut jeans anymore as it has boot cut openings that sit comfortably over the boots.
Also it has 5 pockets for storing your essentials of construction works and the jean also features whiskering at the hip and a contrast stitching that enhances the look! It is made of 68% cotton and 32% acrylic.
---
Best contractor jeans for construction work:
6.) Wrangler Riggs Workwear Men's Contractor Jean
This jean from Wrangler is just perfect for the contractor in the construction sites who needs a comfortable jean with a number of pockets. Well this jean does deliver that comfort being 100% cotton and featuring straight-leg cut. This pair of jeans also has got utility loop, extra tool pockets and reinforced pocket edges for keeping the measuring tapes.
---
Best workhorse jeans for construction work:
7.) Wrangler Riggs Workwear Men's Workhorse Jean
They are constructed with a gusseted crotch and allow free movement of the thigh and the knees while at work. They have quick access tool storage pockets: 2 front pockets, 1 right side hammer loop, 1 oversized watch pocket and 2 reinforced back pockets all lined with 1000 Denier Cordura. 
It's time to bid Adieu!
That's all for today! Hope you enjoyed reading the article and got your search result for the best construction work jeans!
Take care, stay fit and have a great day ahead!
Happy construction work jeans shopping!