Working in the summers can be absolutely menacing, especially if your work is outdoors. Imagine lifting heavy objects or walking from one place to another in the scorching heat in gear that is very uncomfortable.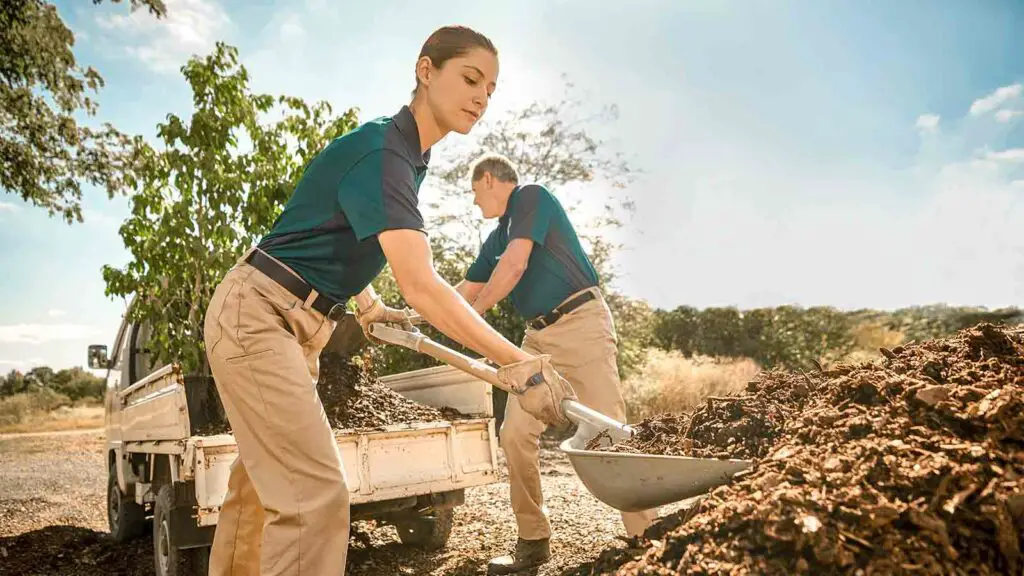 Nobody wants to be in a situation where you need to constantly worry about your attire while working. And I am here to help you pick the right pair of summer work pants so you can focus on maximizing your performance at work in comfort.
Top 10 summer work pants
 1. Wrangler Riggs Workwear Men's Ranger Pant​
Nothing like a great pair of relaxed fit work pants for the summer. Therefore, we have chosen these Wrangler Riggs Workwear Ranger Pants that are designed with function and comfort in mind.
They sit comfortably on the waist with a relaxed fit through the seat, thighs, and knees, while leaving sufficient room to fit over your work boots.
These pants are constructed with 10oz 100% cotton ripstop fabric to give you long-lasting durability and comfort. It also provides a layer of protection from harmful elements that can cause any sort of damage to the skin or otherwise.
They come with triple-needle stitching and are reinforced in the knees, seams, and tape measure clip to be able to withstand the toughest of work conditions. For additional durability, the back pockets are lined in 1000 Denier Cordura.
To give a wide range of movement and comfort while working, they feature an action gusset crotch and deep front pockets. An added advantage of these pants is the extra storage it comes with – such as, hammer loop, leather tape measure clip, roomy side cargo pockets, back pockets, watch pocket, and deep front pockets.
Check Price and Reviews on Amazon
---
2. Timberland PRO Men's A118I Work Pant
We love pants that have some stretch, and these Gridflex Canvas work pants by Timberland PRO come with the ultimate stretch canvas design. The main fabric used for the pants is 98% cotton and 2% spandex.
They are just perfect for your long days when you need to be outside working because they can hold up to countless hours at the job site.
You can even wear these pants at home with comfort and style. These pants are reinforced with tough durable canvas to help you in every kind of weather.
Timberland has applied the GridFlex technology here, which makes the pants tough and flexible at the same time. It enhances mobility that allows you to bend, reach, and stretch without any restrictions.
Even your job performance will be enhanced because of the comfortable fit throughout the day. They are engineered to deliver paramount comfort, durability, and performance.
Check Price and Reviews on Amazon
---
3. Propper Men's Summerweight Tactical Pant
Beat the heat with these ultra-lightweight Summerweight Tactical Pant by Propper. They made these pants from their lightest material ever, which is poly or nylon fabric that will neither weigh you down nor hold any excess moisture.
The material is an easy-wear ripstop fabric that is ultra-comfortable and thin but extremely strong and durable to endure what an entire day throws at you.
The great feature is its moisture-wicking fabric that pulls sweat from the body in the most extreme heat and keeps you cool throughout the day. It protects you from harmful UV-rays with its quick-dry UPF fabric treatment. Check out best moisture wicking shirts>>
The pants are made from 94% Nylon and 6% Spandex with a sleek athletic cut that gives you a modern look and comfortable feel. It comes with 11 sturdy and secure pockets that can hold everything you need and has zippered legs.
Due to its synthetic fabrics, the pants can be easily rolled up inside a backpack, duffle bag, or suitcase without getting wrinkled. Be ready to experience quality and value in every stitch with these pants.
Check Price and Reviews on Amazon
---
​4. LA Police Gear – Urban Ops Tactical Pants
If you are on a budget, then you should opt for these Urban Ops Tactical Pants by LA Police Gear. They are very affordable high-quality work pants that you will love because of their elastic waistband. The waistband keeps you comfortable throughout the day.
These pants are made from 65% polyester, and 35% cotton rip-stop fabric which is ultra-lightweight, so you won't even feel weighed down in them.
But don't be fooled by its material, as they are still very tough, durable, and most importantly, useful. Plus, they give you a very improved fit with their articulating knees and a gusseted crotch that give you a lot of freedom of movement.
It features a single front slip-pocket, slip back pockets, front pockets that are optimized for a knife or flashlight clip, 6 belt loops that accommodate most belts up to 2".
It also has 22 individual bar-tacks to increase its strength and slanted cargo pocket flaps for seated access. These pants are the byproduct of years of producing high-quality tactical pants for every hard worker out there.
Check Price and Reviews on Amazon
---
5. Clothin Men's Lightweight Cargo Pant
We have added another great pair of lightweight work pants for the summer. Clothin designed this cargo pant using a soft-wearing spandex-polyester blend for minimal weight, yet strong, durable, and wrinkle-resistant.
They've also used quick-drying stretch-woven nylon that makes the pants breathable, and moisture-wicking. In turn, letting you stay cool and comfortable during the stubborn summers. You also get unrestricted freedom of movement in these pants because of their stretchy fabric.
It has an elastic waistband with a drawstring tie, and snap closure with a zip fly that gives you a secure and close fit, while comfortably hugging your body. You will feel very relaxed and comfortable in the seat and thighs due to its slim-straight fit.
For functionality, the pant features 6 pockets with 2 handwarmer zipper pockets, 2 rear butt hook and loop pockets, 1 hook and loop thigh pocket, and a side leg pocket with secured zipper. Now go anywhere and do anything hassle-free in these pants.
Check Price and Reviews on Amazon
---
6. Walls Ditchdigger Duck Work Pant​
We have mad respect for Walls because they designed the Ditchdigger duck work pant in the honor of the calloused manual workers who sweat and toil to get the hard work done.
They are made from 98% cotton and 2% spandex, which is a stretch duck material for additional toughness. It has a button closure and relaxed fit with a comfortable, smooth move waistband and gusseted crotch for extra movement.
For durability, the pants come with double and triple needle stitching with a reinforced kick plate at the back leg hem. This helps shield you from scars caused at your Jobsite.
It also features articulated knees with an opening to insert knee pads and remove debris effortlessly. Additionally, you get all-purpose pockets in these pants which include deep front pocket bags, cell phone pockets on the right side, and back patch pockets with deco stitch.
Check Price and Reviews on Amazon
---
7. Dickies Men's Original 874 Work Pant​
The Original 874 work pant by Dickies is one of their most well-known ones. Material used to make them are a blend of 65% polyester and 35% cotton.
The pants are wrinkle and stain resistant which are built for complete hard wear but super easy to care for. You will always look sharp in these due to its flattering flat front design with a classic rise that sits comfortably at the waist and tapers slightly in the legs.
It features very distinctive tunnel belt loops, a hook & eye waist closure with a heavy-duty ratcheting brass zipper, side seam front pockets, and back welt pockets for a flap-free contour. So along with being a comfortable and durable choice, the pants are also very functional.
With Dickies clothing you can expect superior craftsmanship & unparalleled value while delivering a classic style and long-lasting comfort every day. You will be pleased to learn that they come in various colors and sizes, so take your pick!
Check Price and Reviews on Amazon
---
8. JOBMAN Workwear Men's Workpants​
Get ready to experience comfort, functionality, and durability on a new level in these JOBMAN work pants. They are made from 100% heavy-duty cotton making them perfect for those crazy hot summer days.
A great feature of these pants is its articulated knees with kneepad pockets that have 2 levels for optional kneepad placement. You can find triple stitch seams throughout these pants, along with reinforced polyamide which is a very hard-wearing fabric on the knees, holster, and other pockets for substantial durability.
You will get all-day comfort with its gusset in the crotch. It comes with spacious front holster pockets with additional compartments & inside reinforcement, hammer loop, hip pocket for your phone, slanted front pockets, back pockets with reinforced lining, reinforced ruler pocket, and leg pocket with phone compartment.
Extremely reliable, durable, and functional heavy-duty work pants that feature quality techniques and top-quality fabric throughout.
Check Price and Reviews on Amazon
---
9. 5.11 Tactical Women's Cargo Pants
Here, we're adding summer work pants for women because they're equally worth mentioning and good. These 5.11 tactical women's stryke covert cargo pants are a blend of 63% polyester and 37% cotton.
The pants are designed using a superior patented two-way mechanical stretch with a Flex-Tac ripstop fabric, which makes them sturdy and flexible while maximizing your performance on the job site.
It is resistant to stains, soil, and moisture due to its protective finish of Teflon coating, and it does not compromise on breathability either. Plus, the coating makes it easy to clean the pants. Isn't it amazing?
You will get excellent flexibility and a comfortable fit because of its gusseted crotch without worrying about rips and tears.
For functionality, it comprises 12 pockets which include double-reinforced pockets and front pockets that give you adequate space to store all your gear for work.
It has a fixed waistband and articulated knees where you can insert knee pads too. Now enjoy all-day enhanced mobility in these pants.
Check Price and Reviews on Amazon
---
10. Carhartt Women's Crawford Pant
Another great pair of women's work pants made it to the list, and these are by Carhartt. These are called Crawford Pant that sit slightly below your waist with a straight waistband that prevents gapping in the back.
It has a classic look, with an easy fit through the hip and thigh. Made from 98% cotton and 2% spandex, they are quite a steal for its price.
To give you an ease of movement while on the go, Carhartt has applied its rugged flex technology which provides the standards for stretch and recovery so even your gear maintains its shape over time.
They are highly durable with the triple-stitched main seams throughout the pants. It comes with several utility pockets to give you room for all your tools, rulers, and cell phone.
With its original fit and rugged flex technology, now you can wear them anywhere and everywhere, be it on the job or outside it.
Check Price and Reviews on Amazon
---
Features of summer work pants
One of the key features to consider for summer pants is their material or fabric. It should be breathable to allow the body heat to escape and keep you cool.
Lightweight pants will let you move about more freely because they won't weigh or slow you down while working.
The pants should provide ample flexibility when you're working. Restricted movement can be even more frustrating during hot days.
You are bound to sweat in the summers, so the pants should have moisture-wicking features to let you remain dry through the day.
It goes without saying that the pants should be durable to avoid them from getting ripped or tear at your Jobsite.
 Additionally, the pants should be functional, feature sufficient pockets for you to carry all your essential tools at once.
>>Check out best work boots for summer<<
Wrapping up
It is very difficult to focus on work or otherwise when you are sweaty, sticky, and uncomfortable. And when you are comfortable, it automatically improves your performance at work.
So, what are you waiting for? Get yourself a nice pair of quality summer work pants before those crazy hot days arrive, and stay constructive throughout the day.