When you have to wear a suit for work or a particular event, one automatically thinks of having to wear a nice-looking pair of lace-up formal shoes to go with it.
This has been the age-old well-known traditional footwear that most people are accustomed to when it comes to paring it with a perfectly ironed suit.
However, in recent times slip-on shoes have acquired immense popularity in the footwear industry and due to their versatility, you can even wear them with a suit.
They are not just meant for casual wear anymore. There is a wide variety of slip-on shoes that are available today to complement a suit.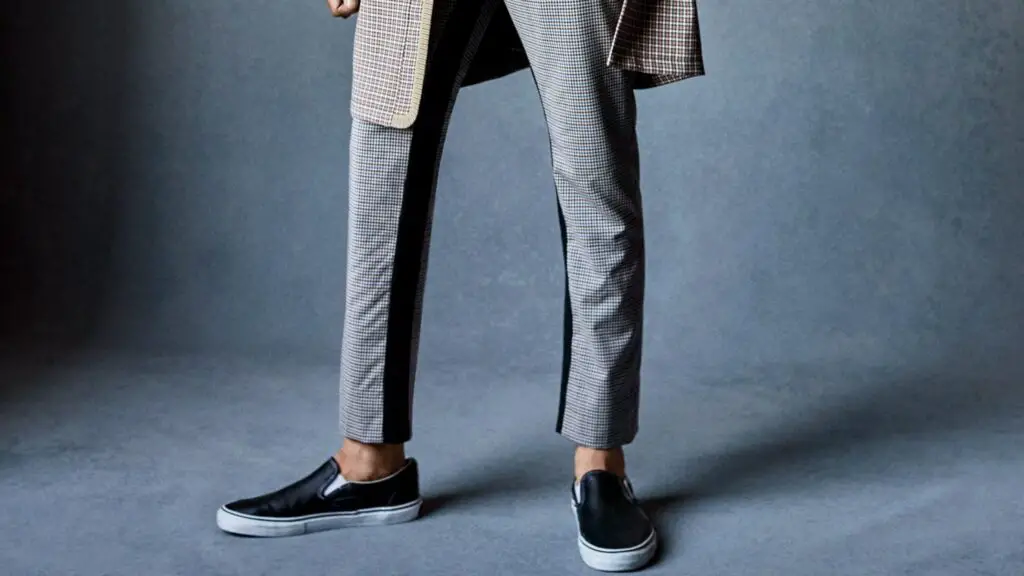 The most important thing about picking a slip-on over a lace-up shoe is its material. It should be either made of high-quality suede or premium leather, which you can pair with a well-suited formal attire and look absolutely sharp.
For people who hate tying shoelaces or are bothered by them because of having to tighten them every now and then, slip-on shoes are your answer!
This article covers the significant benefits of a slip-on shoe and the right type of slip-on shoe that you should wear with a suit. Read on further to find out more because you can buy just any kind of slip-on footwear, it has to be appropriate for a suit.
Are there any advantages and disadvantages of wearing a slip-on with a suit?
When we talk about the advantages of wearing slip-on shoes with a suit, there are quite a few of them due to which the disadvantages can be overlooked.
Take a look at some of those significant benefits.
1.) Easy to slip on and off
Slip-on shoes are super easy to be worn as they do not have any laces to be tied. You can simply slip into them and as easily slip out of them when it is time to take them off. You do not have to adjust them, all you need to do is buy the right size pair for yourself.
2.) Saves time
Since there are no laces to be tied in slip-on shoes, you save a lot of time when wearing them, especially if you are in a hurry.
3.) No laces or buckles so no hassle
There is no hassle of tying shoelaces or locking the buckle and worrying about them getting loose or coming off when you are in the middle of something important.
4.) Socks are not mandatory
When you wear slip-on shoes with a suit or any other attire, there is no compulsion to wear socks with them because they are designed in a manner that looks nothing short of stylish.
5.) Different materials
Slip-on shoes are made from several different materials which make you look stylish and formal at the same time.
6.) Blend of comfort and style
If you want your feet to breathe well and feel comfortable while also being in a suit, then slip-on shoes are your answer. They are just the perfect blend of both comfort and style.
7.) Stretch your toes
Taking off a slip-on shoe is so easy and stress-free that if you feel the need of stretching your toes for a bit, you can do so without having to first undo your laces.
The only disadvantage that we could think of is that slip-on shoes are not the ideal choice for a black-tie event. For such a formal occasion, you will need to pick a good-looking pair of laced formal shoes.
What are the different types of slip-on shoes that can be worn with a suit?
Now you can confidently wear slip-on shoes with a suit, however, it is also important for you to learn about the different types of slip-on shoes that can be worn with a suit. There is a wide range of slip-on shoes that can be found but only a few go well with a suit.
Allow me to guide you through the various kinds that are available in the market today.
1.) Penny loafer or slip-on
They were first introduced in the year 1936 but gained popularity only later in the 1950s. These are absolutely stylish, versatile, classic, comfortable, and conventional that portrays an elegant look when worn with suits and are also the most preferred pair in comparison to other slip-on shoes.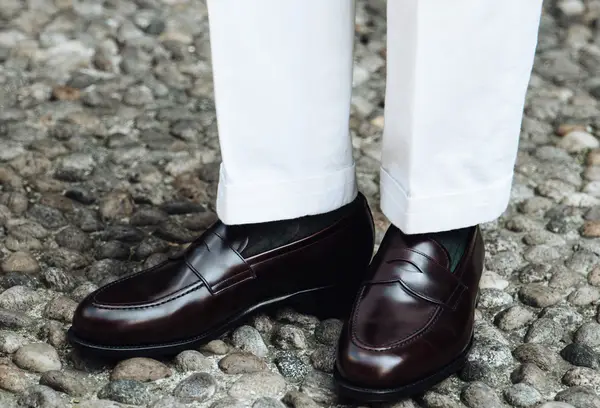 It has a very distinctive feature that sets it apart from other slip-on shoes, which is the diamond-shaped cut-out that is on a strip of leather across the saddle.
The story behind the cut-out is that it was made to store a penny in the case of an emergency and that is how the shoe got its name.
These loafers come in both suede and leather both of which are perfect to be worn with a suit. The acceptable colors are black, brown, espresso, and burgundy.
2.) Leather slip-on shoes
There is also leather slip-on shoes that do not fall under the category of loafers. These shoes do not have a moc or apron toe which can be usually found in loafers.
They look completely formal, which makes them ideal to be worn with suits. Leather slip-on shoes look similar to oxford shoes minus the laces and go beautifully with any kind of formal suit.
3.) Belgian loafer or slip-on
The Belgian loafer is another very elegant-looking slip-on shoe that goes very well with a suit. For this style, you should always go for the black leather material for a formal look.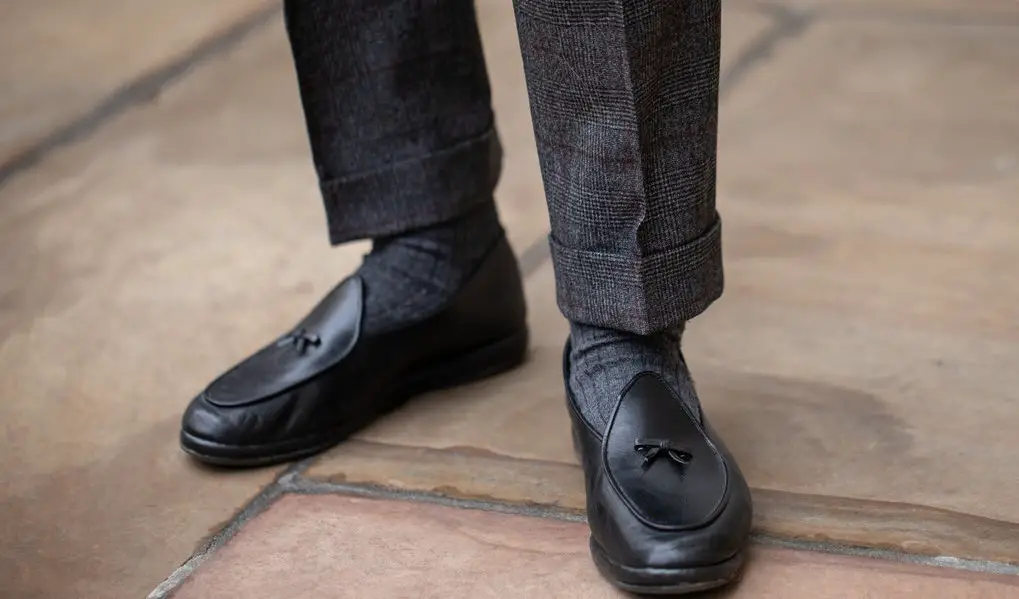 These shoes come with a soft sole and a small bow in the front. They are known for their flawless stitches as they are sewn inside out and once done they are flipped to the front. They were originally made to be worn indoors but were later modified to be worn outdoors.
4.) Horsebit or Gucci loafer or slip-on
Loafers were still not accepted as formal footwear internationally until the Italian highflier designer, Gucci decided to design the Horebit or Gucci loafers. He is the original creator of this version of loafers, which are now made by several other brands as well.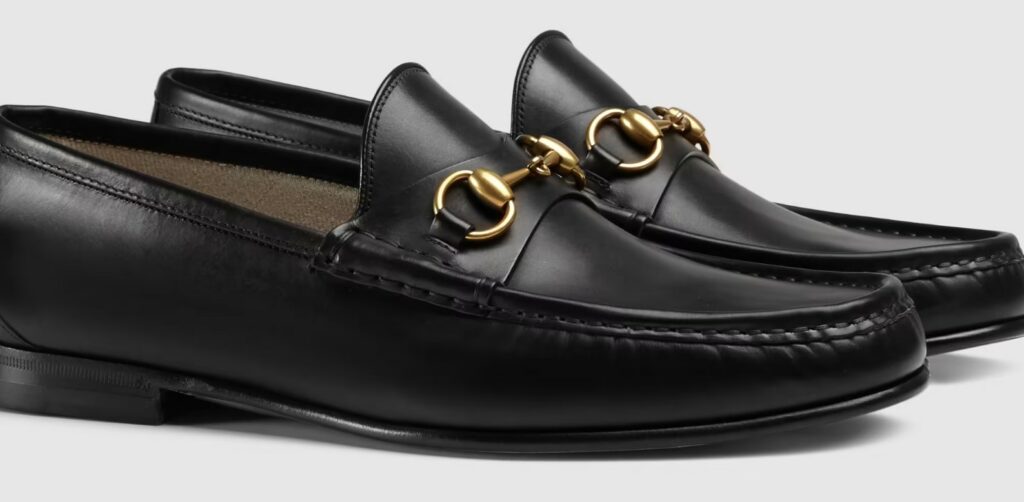 The distinguishing feature of these shoes is that in the center of the vamp there is a metal bar or glistening snaffle which resembles a horse's bit. The black leather ones of these slip-on shoes are a great option for suits.
5.) Tassel loafer or slip-on
We have kept the Tassel Loafers for the last because they are the most casual kinds in the family of loafers. However, you can still wear them with a suit if styled tastefully.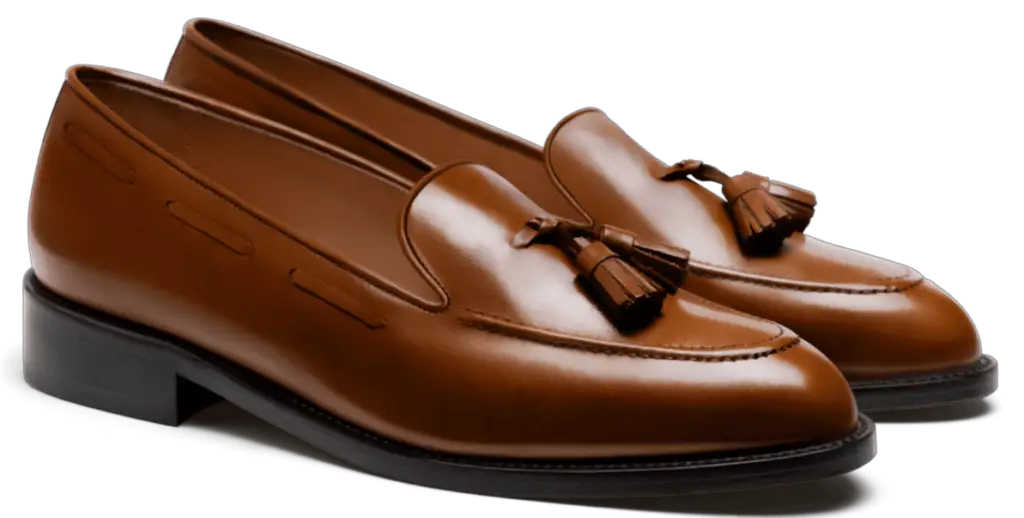 They go best with a semi-formal suit. These shoes are quite similar to the Belgian loafers in design. As the name suggests they come with leather tassels that dangle on the top vamp of the shoe.
It has a round toe with a reverse seam outline and is mostly constructed from cordovan leather. A black or oxblood tassel loafer will go best with your suit. Their style is classic and timeless, to say the least.
Wrapping up
To conclude, slip-on shoes are a great choice for people who do not want to appear too formal in a suit. It is the perfect alternative to lace-up shoes which is generally the safer option for most individuals.
However, in my opinion, every man should own or add a pair of good-looking slip-on shoes to their wardrobe.
They have definitely taken the footwear industry by storm over the recent years and they continue to gain popularity across the globe for giving your feet a combination of comfort and quality.