The polo shirt gets its name long before it became popular. It was invented for polo matches to allow comfort and range of motion to players while still having an attractive look.
The popularity that this shirt has gained through the years is due above all to the quality of the fabric used because it ensures comfort.
In fact, this type of shirt is also incredibly comfortable and can lend some easy style to your wardrobe.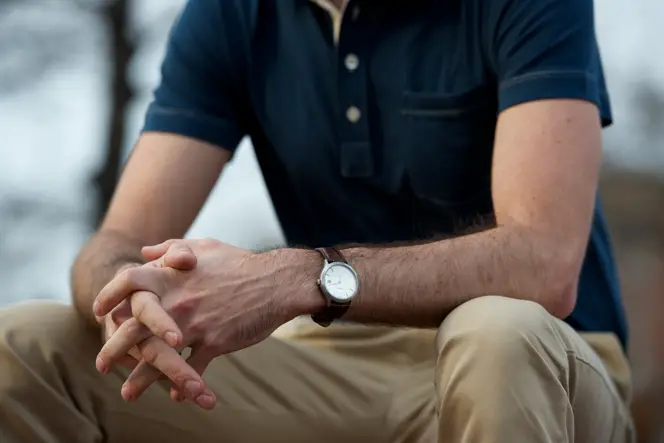 With a few accessories or a well-chosen jacket, polo shirts will provide you with a pleasant stylish alternative to the tie and jacket. 
In a Hurry… Check out the Comparison of Top Polo Shirts
Polo shirts are also easy to mix and match and will look great with most likely all the pieces of clothing in your wardrobe.
Plus, polo shirts come in a multitude of colors and even patterns, so you can even have some fun choosing the day's pairing.
Whether you are meeting an important client, giving a presentation, or just working a normal day's work, a polo shirt will be a positive addition to your selection of work garments. 
Our Best Polo Shirts for Work List
Best Office Pick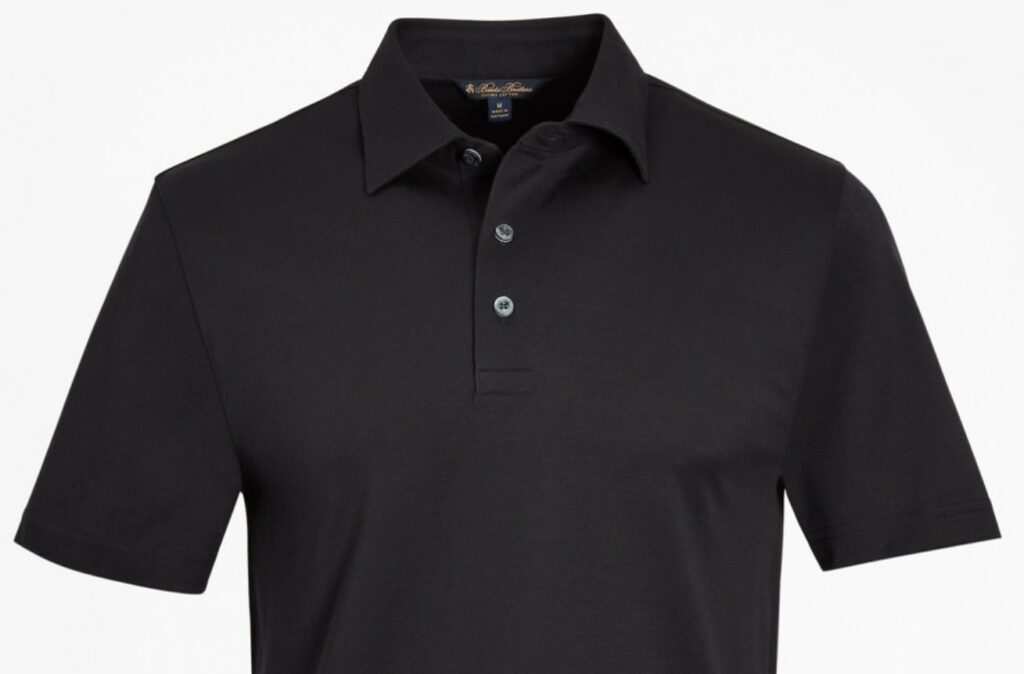 This is a terrific choice for an office that allows casual dress. It comes in a number of colors and is comfortably lightweight.
Made from 100% cotton, it has been treated to resist shrinking or fading making it a great choice for any or every day of the week. It features an extended back for fitting when standing or sitting at your desk.
Pros
Shrink and fade resistant

High quality

Extended back
Cons
---
Best Budget Buy
2. Amazon Essentials Men's Polo Shirt in Pique Cotton
Amazon Essentials Men's Regular-Fit Cotton Pique Polo
Regular fit through the chest for a relaxed, unrestricted fit with a printed neck label to maximize comfort

A classic cut and soft cotton fabric make this polo a go-to for the office or the weekend

Short-sleeve polo shirt in breathable, soft pique waffle knit
Prices pulled from the Amazon Product Advertising API on:
Product prices and availability are accurate as of the date/time indicated and are subject to change. Any price and availability information displayed on [relevant Amazon Site(s), as applicable] at the time of purchase will apply to the purchase of this product.
This is a really great price for a standard polo shirt. The sizing may run a bit larger than indicated, however being that it is 100% cotton, it may shrink in the dryer.
Amazon offers lots of colors and designs including stripes. Not necessarily adapted to more formal appointments.
Pros
Affordable

Many Colors available

Free return
Cons
May shrink somewhat in the dryer

Only one "fit" available: Regular
Check Price and Reviews on Amazon
---
Best Slim Polo Shirt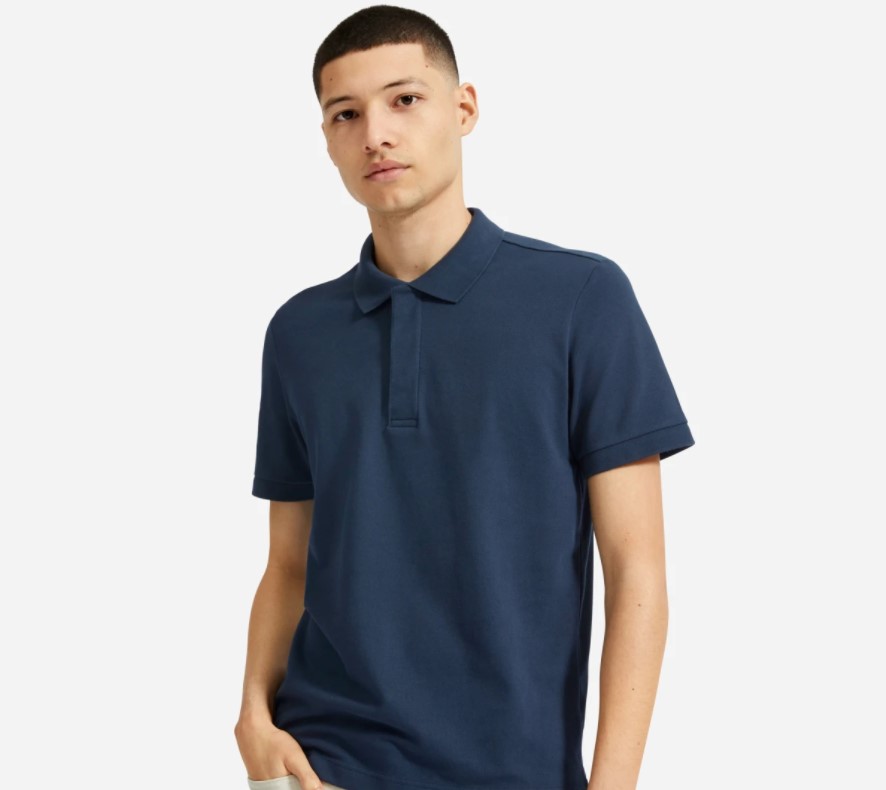 Everlane makes this polo shirt only for slim fits. if you've never bought a slim fit, you may want a larger size.
It features a slim collar and has a pique knit texture that is soft. There are numerous color choices and is quite stylish.
Pros
Color choices

93% cotton with 7% elastane for fit

Affordable
Cons
Not for the dryer after washing
---
Best Big and Tall Polo
4. IZOD Advantage Performance Polo Shirt
Prices pulled from the Amazon Product Advertising API on:
Product prices and availability are accurate as of the date/time indicated and are subject to change. Any price and availability information displayed on [relevant Amazon Site(s), as applicable] at the time of purchase will apply to the purchase of this product.
Another iconic brand in polos, this shirt is specifically designed for taller and larger-sized men. Manufactured in a polyester cotton blend with 60% cotton and 40% polyester, it features UV protection and has been pre-shrunk to guarantee fit.
The collar is roll-resistant to keep your polo looking great after lots of wear and wash. IZOD offers 21 various colors and the sizing ranges from large up to 5XL and large to 5XL Tall.
Pros
Side vent design

Moisture-wicking

Lots of big and tall sizes

Many Colors

Affordable
Cons
Some sizing concerns

Wear in stitching underarm area reported
Check Price and Reviews on Amazon
---
Other Great Choices
5. Lacoste Classic Pique Slim Fit Polo Shirt
Lacoste Men's Classic Pique Slim Fit Short Sleeve Polo Shirt
Slim fit: Slim through the chest and waist for a form fitted and contemporary silhouette

Lacoste original cotton petit piqué fabric is both soft and durable

Two button placket

Ribbed polo collar and armbands

Signature embroidered green crocodile on left chest
Prices pulled from the Amazon Product Advertising API on:
Product prices and availability are accurate as of the date/time indicated and are subject to change. Any price and availability information displayed on [relevant Amazon Site(s), as applicable] at the time of purchase will apply to the purchase of this product.
This classic iconic Lacoste polo shirt is made in 100% cotton with button closure. It is machine washable with ribbed armbands and a ribbed collar.
Soft and durable, it features the well-known signature green crocodile on the left of the chest. Lacoste was born in 1933 when champion tennis player Rene Lacoste snipped the arms off his shirt to improve his range of movement. The rest is history.
Pros
Soft

Highlights athletic forms

Numerous colors
Cons 
European sizing which runs smaller
Check Price and Reviews on Amazon
---
If you're looking for something with design, this Bramble polo is impressive. It features a zip neck, so no buttoning, and a geometric pattern that would look great under a blazer or jacket.
It is a regular fit with short sleeves and a knit texture. The material is a mix of 56% linen, 27% viscose, and 17% polyester. It should be hand washed.
Pros
Geometric design

Stylish, elegant polo

Zip neck
Cons
Should be hand washed only

A bit more expensive
---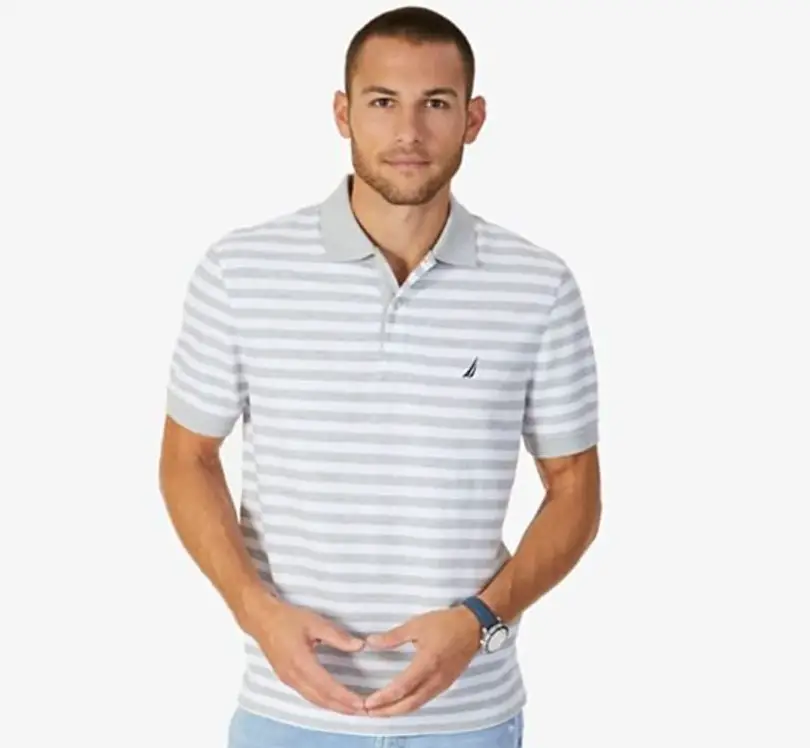 This is a classic from Nautica with a timeless design and high-quality material that makes it durable. It's made in a poly-cotton mix of 60% cotton and 40% polyester for moisture-wicking. (Check out the guide on Best Moisture-Wicking Work Shirts)
Nautica offers quite a variety of striped color choices making it great for both work, or free time. Manufactured with vented side seams it features a two-button closure. Sizes range from XS to 3XL.
Pros
Affordable

Quality cotton-poly mix

Variety of sizes and colors
Cons
Limited colors in some sizes 

Some sizes not always available due to demand
Polo Shirt Advantages After Work
If your employer has a casual dress code for the workplace, polo shirts will afford you that look of relaxed professionalism that management requires.
But one of the great things about polo shirts is that you will be able to use them after work as well. Have a date or an appointment? Fear not!
The polo shirt is a good-looking choice, and you won't have to worry that you'll look wrinkled and unkempt at the end of a difficult or long day on the job.
You can go straight from work to your appointment. Do you need to look a bit more formal? No problem! Slip on a basic blazer and you are set to go. No wrinkles, no discomfort, and no tie!
Polo Shirt Summer Comfort
This is truly the ideal choice for a summer shirt. If it's unbearably hot, or you have a long drive to work and maybe get stuck in traffic, the polo shirt will help you avoid arriving sweaty and wrinkled to begin your workday.
Fabrics like cotton will keep you comfortable and good-looking in spite of the temperature or even lack of air conditioning. And again, you can pair your favorite polo shirt with a pair of lightweight cotton chinos or slacks.
Chino pants are great as a pairing because they give you a "pulled-together" look even in the hottest summer climate. Does the thought of going to work in extreme heat make you dread getting dressed? Try a lightweight polo shirt to put your mind at ease.
Seasonal Changes Become Easy with a Polo Shirt
The end of summer is near, but winter cold hasn't arrived, and you haven't begun to change the clothes in your closet yet for the coming season. Both fall and spring present this problem every year.
It's either too cold for summer clothes or too hot for winter wool. This is where a polo shirt can come in really handy. As the autumn cool approaches, you can continue to wear polo shirts and maintain your comfort as well.
Maybe select a pair of pants that are a bit heavier to wear with the polo shirt. Still a bit chilly or perhaps it might be a bit colder when you leave work? No problem, a sweater or jacket over your polo shirt will resolve the problem whether you're heading into fall or spring weather.
Polo Shirts in Winter?
Why not? With the correct pairing, you can wear polo shirts even in the coldest of seasons and still have that nice comfort under any layering of sweaters or jackets.
In fact, the key to wearing polo shirts all year round is "layering". And you can still take advantage of lively or neutral colors depending on your personal taste. 
Polo shirts truly offer a great business apparel option for dressing casually in an appropriate work environment.
If you work in a profession that requires a range of movement, you cannot do better than with a polo. Choose a good selection of different colors and patterns and then have some fun mixing and matching to reflect your personal style.
What Should I Consider When Choosing my Polo Shirts for Work?
The polo shirt is a classic staple of any preppie wardrobe. It always looks good and will give you a nice put-together look in any situation. Let's consider the following:
How many polo shirts should I have?
It would be great to have at least a week's supply, but two to three in different colors, as well as a pair of rugby polo shirts, will give you a good selection, to begin with.
What is a rugby polo shirt?
These shirts are characterized by thicker cotton that is made to withstand the wear and tear of the sport. They are made to last and may offer special details like rubber buttons. It usually has long sleeves and will come in a patterned fabric like stripes.
What Style of Polo shirt should I Look for?
Polos have maintained their original style since their creation. The type of material used will offer you choices and will of course depend on personal preferences. 
You may choose cotton or a mesh-pique that has a bit of stretch. Cotton polos are environmentally friendly because cotton is biodegradable.
Synthetic polos or blends are may be used in athletic situations because they may be moisture resistant as well as wrinkle-free and possibly more durable.
See also: Best Women Polo Shirts for Work
Classic, Regular or Slim?
A classic or regular polo shirt has little or no fitting and will tend to be loose-fitting. A slim fit is more fitted but should always be comfortable and not tight. It can be tighter across the chest, so much will depend on your body type.
The slim may be more flattering for those that can wear them but may not offer the same amount of mobility. The important thing to remember when choosing is the fit.
Try on your polo and tuck it into your pants. It should fit you snugly but comfortably and most certainly not tightly. Sizes usually run in regular, big, or tall.
Consider fit, type, size, sleeve length, and finally colors and patterns. Also, look for side vents that are finished on your polo shirt. These finished vents will allow you to wear them outside of your pants.
This also allows you the option of which way, tucked in or not, is most flattering to your figure. Polo shirts come in both short sleeve and long sleeve versions. Finally, consider what your budget will allow.
Conclusions
Polo shirts are never out of style! The fit and how you wear it will define your look. They remain a wardrobe staple for casual occasions in and out of the workplace.
You'll also be really at ease while appearing well dressed. What more can you ask for than feeling and looking your best while on the job? 
They look great with dress pants, jeans, shorts, and even sweatpants and with any number of shoe styles. If your workplace allows polo shirts, and once you've tried them, you may never wear any other type of shirt on the job!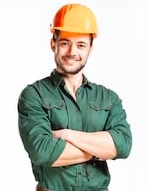 I have 12+ years of experience in construction, inspections, handy work, and currently working as a Construction Site Manager. In today's day we spent a significant part of our time at workplace and a right work gear can have significant impact not only on your safety but also work quality.