Despite the fact the polo shirts are a fashion staple in most women's wardrobes, they are also a fantastic choice for workwear, especially for ladies involved in the trades as a profession. Bringing a casual but polished appearance to the workplace, polos are also comfortable and easy to care for.
And they are a terrific choice for those who prefer layering clothing for seasonal needs. These shirts are very versatile pieces of clothing.
The polo shirt was named before it became a fashion icon. Created for polo matches, the idea was a shirt that was comfortable, while at the same time guaranteed range of motion to players. And the shirt needed to have a nice appearance.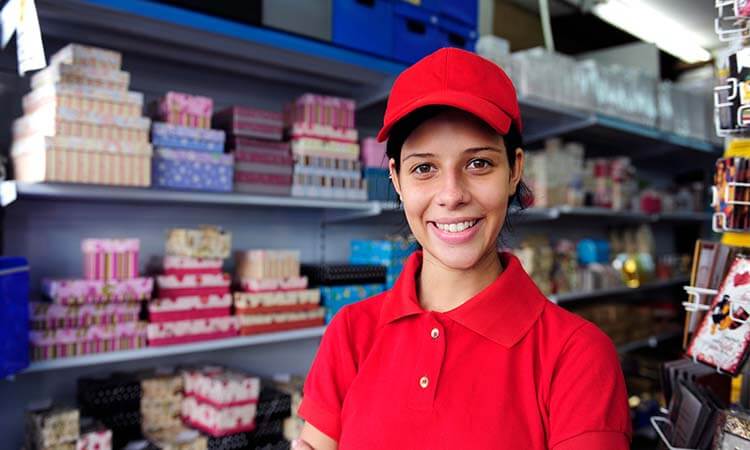 The popularity that this shirt has attained since its conception, is above all thanks to the fabric quality used in its manufacturing, a material that highlights appearance and comfort.
Advances in technology have added to the versatility of the shirt thanks to ventilated mesh, sun protection up to UPF 50+, and much more.
We asked the professional women on our team to research and test a group of popular, as well as less well-known polo shirt brands. We liked several and they scored high during our testing.
We must single out the Lacoste polo shirt as the ultimate iconic polo shirt and the manufacturer's cotton piqué is known for both its look and its durability.
However, consider that polo shirts come in sleeveless and long-sleeve versions with many colors and patterns to select among.
On-the-Job Sleek
If your profession includes manual labor or you just don't need to particularly dress up due to your type of work, the polo shirt is a terrific choice. They offer a nice appearance with any pair of slacks, whether jeans or dress slacks or just plain cotton pants. 
Polo shirts also fit nicely into the "business casual" category because they furnish a clean polished look with a blazer, a sweater, or a button-up cardigan.
The Polo shirt is an incredibly comfortable piece of clothing that will lend a relaxed style to your wardrobe without appearing suitable only for a trip to the beach. 
And if you need to look good after work, the Polo shirt is a viable alternative especially if you don't have time to run home to get changed. Just add accessories or a nice jacket, and you'll have a stylish outfit for after-work engagements or even for business appointments that are work-related.
Depending on your profession, relaxed attractive clothing can set a relaxed, confident tone during important professional meetings.
Polo shirts also offer you the possibility to mix and match with most of the clothes in your wardrobe whether skirts or slacks and they come in tons of colors and even varied designs. You'll be comfortable on the job while appearing professional and polished. 
Whether you are at a job site, meeting clients or management, presenting a project, or at a business lunch, the iconic polo shirt will be a versatile option for your workwear wardrobe.
An Added Plus: A Polo Shirt for After Work 
If you have an appointment outside of work hours whether at lunchtime or at the end of the day, polo shirts will afford you a look appropriate for just about any engagement.
A polo shirt is a functional option that will avoid you looking unkempt with wrinkled clothing at the end of your workday. You'll be able to go directly from your place of employment to wherever your appointment is without worry about how you look. 
If your appointment requires a more formal polished look just add a blazer. The Polo shirt will have you looking polished and relaxed regardless of where you need to get to, and it's a great choice for layering with unstable weather or amid seasonal changes.
Summer Dressing with a Polo Shirt
The Polo shirt is a great choice as a summer shirt. In extreme heat, whether driving to work in traffic, or working in excessive heat, a polo shirt can help prevent a wrinkled, sweaty appearance both at work and away. 
A typical cotton piqué polo shirt can improve your comfort throughout the day notwithstanding the summer temperature or lack of climatization. And a polo shirt will function great with a lightweight pair of cotton slacks or a skirt. 
You'll manage an attractive fresh appearance even if the thermometer goes off the charts. Does extreme heat make you want to avoid getting dressed altogether? A lightweight fresh polo shirt can make dressing in the heat not only manageable but comfortable as well.
See also: 10 Best Summer Work Pants for Men and Women
Layering Clothing During Seasonal Changes with the Help of a Polo Shirt
Autumn is here and winter is at the front door, but extreme cold is still a way off. You haven't put away your summer wardrobe but nonetheless, it's too chilly for linen or summer tees.
This clothing represents itself annually every spring and autumn. It's too cold for a summer wardrobe or not yet cold enough for winter wool. A polo shirt can really make a difference in resolving wardrobe challenges during the in-between seasons. 
Spring has sprung but it's still chilly. You can ease into summer dress with polo shirts paired with sweaters or jackets. If it warms up just remove your outerwear.
With the arrival of autumn, continue wearing polo shirts with a slightly heavier pair of pants. Chilly in the early morning or when heading home from work? A jacket over your polo shirt will resolve the problem regardless of the season or the time of day.
Is a Polo Shirt Appropriate in Winter?
A polo shirt is almost always appropriate unless your activity requires formal dress. With good layering, you can wear polo shirts all year long and enjoy a nice comfortable feel under any sweater or jacket.
Successful layering will permit you to utilize your polo shirts in any season giving you year-round benefits for your clothing investment with both neutral and vivid colors for your personal style.
How Should I Select Polo Shirts for My Work?
A classic staple, the polo shirt belongs in any fashion-conscious wardrobe. It offers an appealing wardrobe solution for just about any clothing need outside of formal or dressy situations. What to decide before selecting and purchasing:
1.) How many polo shirts do I need?
A week's supply can really save the day if you haven't had time to do your laundry, but two to three in various colors will offer you several alternatives in a pinch.
2.) What Polo shirt style is best?
Polos are characterized by their classical original style. Material type can offer you choices that will be determined by personal taste and preference. 
A cotton classic or a mesh piqué with some stretch may be preferable. Cotton polos are eco-friendly since cotton is biodegradable.
Synthetic fabric blends are often the go-to choice for situations involving physical work because they can be moisture-wicking or resistant and wrinkle-free.
3.) Do women wear rugby polo shirts?
Certainly. Generally manufactured in thicker cotton they offer a sporty look on job sites. They may feature longer sleeves and are often striped or patterned.
Always select with size, fit, colors, and patterns in mind. Finished side vents on a polo shirt. permit you to wear them outside of your slacks so you have a fashion option of tucked in or not.
Wear the style that flatters your figure the most. Also, short sleeve and long sleeve versions are available depending on where you work and what you like.
Your budget will also be a determining factor in how many polo shirts you acquire and the brand you choose in the end.
Polo shirts are a popular and acceptable work apparel option in many work situations. For a job that necessitates a range of movement, there are few options better than a polo.
The Reviews
Best Iconic Women's Polo Shirt
1.) Lacoste Legacy Short-sleeve Women's Classic-Fit Polo Shirt
Prices pulled from the Amazon Product Advertising API on:
Product prices and availability are accurate as of the date/time indicated and are subject to change. Any price and availability information displayed on [relevant Amazon Site(s), as applicable] at the time of purchase will apply to the purchase of this product.
Renowned polo shirt manufacturer with its recognizable crocodile on the left chest has been producing polo shirts for men and women forever, or so it would seem.
This classic ladies' polo is made of 99% genuine Lacoste petit piqué cotton with 1 % elastane for a soft, comfortable, and classic fit. The closure features mother-of-pearl buttons and a ribbed collar.
Short sleeves have ribbed cuffs. Sizes are available in 0 through 18 with a variety of 19 colors to choose from. It is machine washable and of course, comes with the famous crocodile on the chest.
Pros
Embroidered crocodile on chest

99% genuine Lacoste petit piqué cotton

Mother-of-pearl buttons

Ribbed cuffs, collar

Classic fit through size 18

Multi color choice

Machine washable
Cons
More expensive

Not for heavier arms

Some sizing concerns
Check Price and Reviews on Amazon
---
Best Sleeveless Women's Polo Shirt
2.) Ralph Lauren Sleeveless Women's Polo Shirt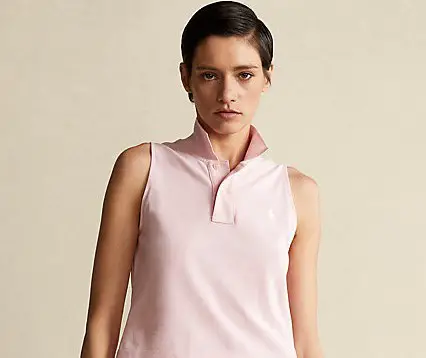 Fashion stylist Ralph Lauren is an expert when it comes to producing polo shirts in a variety of colors, designs, and styles. This sleeveless polo shirt comes in sizes from XX-small through X-large.
Designed with a slim, slightly cropped style, it is produced in cotton-piqué and features the Lauren signature pony on the left chest. Two buttons guarantee closure, and the collar and arms are beautifully finished. As chic as they come.
Pros
Fashion design

Piqué cotton

Beautifully finished collar and arms

Two-button closure

Tennis tail

Machine washable
Cons
---
Best Long-sleeved Women's Polo Shirt
3.) Tommy Hilfiger Long Sleeve Women's Polo Shirt
Prices pulled from the Amazon Product Advertising API on:
Product prices and availability are accurate as of the date/time indicated and are subject to change. Any price and availability information displayed on [relevant Amazon Site(s), as applicable] at the time of purchase will apply to the purchase of this product.
If you prefer a long sleeve polo at a reasonable price, consider this polo by Tommy Hilfiger. Manufactured in 95% cotton and 5% spandex, it offers a classic fit at a reasonable price.
The shirt has a five-button closure with a classic polo collar and the Tommy Hilfiger logo on the left chest. Machine washable, it is available in pink, black, white, light and dark blues, and red, with sizes from X-small through XX-Large.
Pros
95% cotton and 5% spandex

Long sleeves

5-button closure

Machine washable

6 color choices

Affordably priced

Good quality with nice fit
Cons
Could offer more colors and larger sizes
Check Price and Reviews on Amazon
---
Best Budget Women's Polo Shirt
4.) Old Navy Uniform Women's Pique Polo Shirt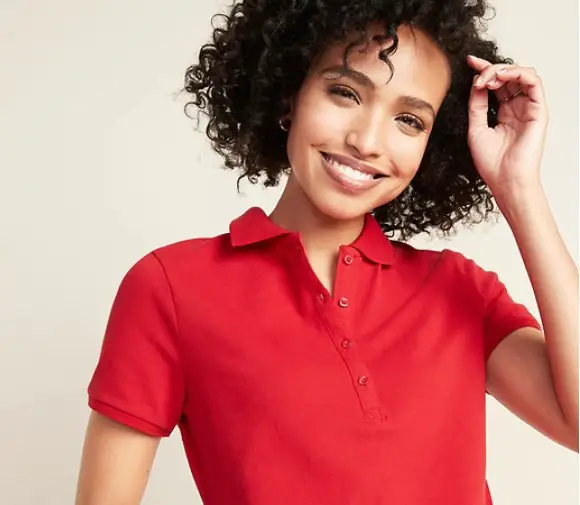 Old Navy has a winner here when it comes to affordability. This 97% piqué cotton 3% spandex stretch polo shirt features a ribbed collar and short sleeves with a closure with four buttons.
The style had a drop-tail hem and shirt sides are vented for a comfortable fit. Available in three sizing categories: petite, regular, and tall. The inside label is tag-free.
Colors include red, blue, heather grey, cranberry, purple, and green. Machine wash and tumble dry. The price is unbeatable.
Pros
Budget-friendly

97% piqué cotton, 3% spandex

Machine wash

Dryer use

Assorted colors and sizes
Cons
Sizes run large

Cotton fabric somewhat thin
---
Best Moisture-wicking Women's Polo Shirt
5.) Hane's X-Temp Performance Women's Polo Shirt
Hanes womens X-Temp Performance Polo Shirt
Either tagless or with easily removed tearaway tag for comfort

X-temp technology offers dynamic moisture control that adapts to body temperature

Performance fabric with the hand of cotton

Feminine silhouette and shape
Prices pulled from the Amazon Product Advertising API on:
Product prices and availability are accurate as of the date/time indicated and are subject to change. Any price and availability information displayed on [relevant Amazon Site(s), as applicable] at the time of purchase will apply to the purchase of this product.
Garment powerhouse Hane's is particularly known for its underwear, however, here the manufacturer has produced a budget-friendly classically styled Polo shirt for women in a blend of 60% cotton and 40% polyester.
With a button-up closure, the shirt has a tearaway tag to improve comfort during wear. Sizes start at small and go all the way to 3X-Large.
The shirt is machine washable and has a specific cut for feminine figures. Available in ten colors, this Polo shirt is appealing for its use of X-temp technology which allows the shirt moisture control and adaptability to the wearer's body temperature. As with other Hane's products, the price is budget-friendly.
Pros
60%/40% Cotton-polyester blend fabric

Machine washable

Ample range of sizes

Good color options

Moisture-wicking control

40+ UPF protection

Machine washable
Cons
Sizing small for plus sizes

Some shrinkage after washing
Check Price and Reviews on Amazon
---
See also: Best Men Polo Shirts for Work
Conclusion
Polo shirts are a timeless classic that should be a part of any workwear wardrobe. How you choose to wear your polo will define your style.
A fashionable staple for the workplace and casual or sporting activities, they look perfect with slacks, shorts, skirts, or jeans and with lots of shoe and sandal styles. Once you've worn one, you won't want to be without it.