Carhartt is a respected brand of workwear apparel that is both well-known and popular. If Carhartt is the original workwear and outdoor clothing line, what exactly is Carhartt WIP? 
Carhartt WIP is a division of the Carhartt brand and it features an entirely separate line of apparel. The "WIP" in the name indicates "World in Progress". So, we have Carhartt and Carhartt World in Progress. 
Whereas the Carhartt line is focused principally on the U.S. market, Carhartt WIP tends to be more fashion-oriented and is aimed at both the European and Asian markets. This is the basic distinguishing factor between the two apparel collections.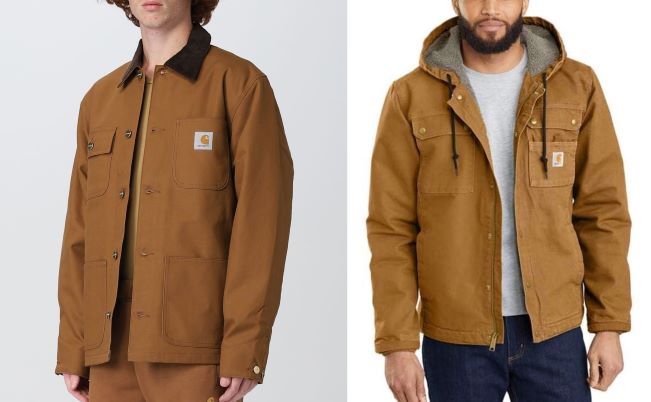 How Did Two Apparel Lines Come to Be?
In 1898 in Detroit, Michigan, Company founder Hamilton Carhartt created the Carhartt company. Carhartt WIP was established 100 years later in 1989 as an offshoot division of Carhartt.
Two German designers began to introduce the original Carhartt apparel in Europe. These two designers were Salomée and Edwin Faeh.
Five years later they landed a licensing agreement to design their own apparel lines under the Carhartt WIP brand to sell in the European and Asian markets.
Carhartt remains the principal apparel line while the WIP brand is a specific division.
Different Apparel?
As of 1994, when the Faels achieved their licensing agreement, the Carhartt and Carhartt WIP apparel lines were completely different. They remain different to this day.
Carhartt sells durable and reliable apparel for the workplace, and it is designed with tradesmen, laborers, and working professionals in mind.
The Carhartt WIP apparel line took the Carhartt traditional workwear designs and modified then to meet the needs and tastes of the European work clothing markets. They were a bit trendier and more fashion oriented, not simply work apparel.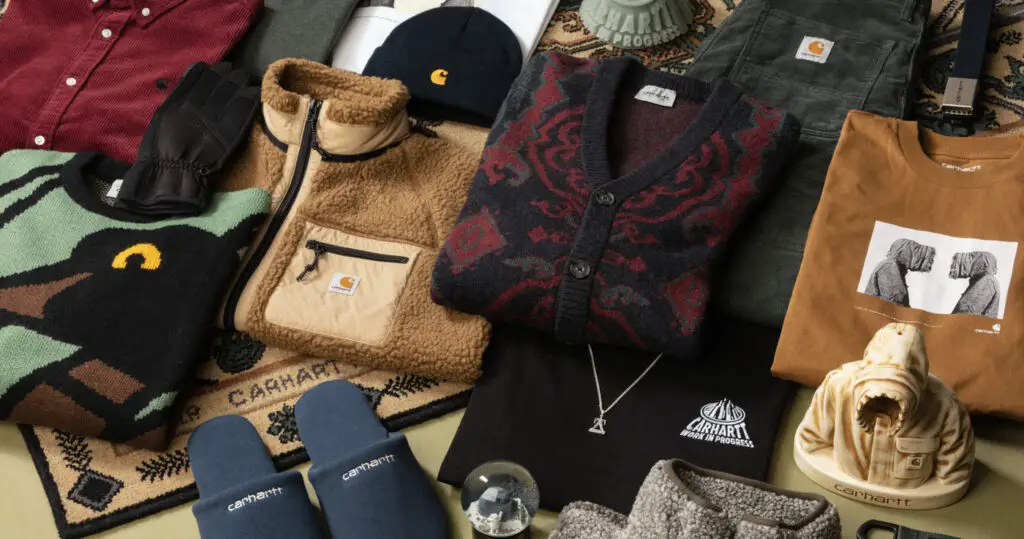 In fact, Carhartt WIP is also appreciated and sold as streetwear with fashionable flair, particularly in the European and Asian markets, although it has made its way to the U.S. Thanks to its success in American markets, Carhartt WIP stores are present in the U.S.
The Carhartt WIP brand has also entered into collaborations with other clothing brands. This is evident in the slim-fitting and somewhat edgier designs available, whereas the original Carhartt brand prioritizes functional in its clothing designs.
The two clothing divisions and lines are distinctly different even if they share the Carhartt name.
Different Markets?
As two separate apparel lines, they are aimed at two distinct clothing markets. 
The classic Carhartt work apparel line is appreciated for its functional clothing as well as outerwear, so it will be marketed to those looking for appropriate clothing for every day physical labor or those working outdoors.
This line is also marketed to those that have outdoor hobbies like fishing, hunting, or camping and require practical clothing.
As a result, the Carhartt brand find a good chunk of its clientele among older working professionals that want durable, practical clothing at a reasonable cost.
In other words, customers that want value for their money. The Carhartt brand is exceptionally popular where the company was founded within the United States.
Carhartt WIP is a more fashion-oriented brand, so it will attract a different type of customer than the classic Carhartt brand.
The Carhartt WIP targets a younger demographic precisely because it is more fashion forward in its design. Although the large part of the market share is found in Europe and Asia, it does have a growing following in the United States.
What About the Price?
Prices will be different, if nothing else because they are designed for different demographic markets. The Carhartt WIP generally is more expensive than the classic Carhartt apparel.
This is primarily due to the fact that the Carhartt clothing is practical, functional workwear and Carhartt WIP is a fashion brand, so expect the price to be higher for trendy apparel.
Carhartt is not cheap clothing, but it is more affordable because it is produced with the aim of giving value for expense to working men and women.
You may be able to find a Carhartt jacket for approximately $100, whereas a Carhartt WIP may cost twice that. Prices will vary from article to article, so do your homework when selecting.
Two Individual Brand Websites
These two separate lines of apparel also have two separate websites. This is a logical branding choice on the part of the company as they offer different products aimed at entirely separate target markets.
Many brands choose to include various subsidiary lines especially if the target customer is shared or similar or if the product line has a lot in common. This is not the case with the Carhartt and Carhartt WIP clothing lines.
Their target markets are in different places and are aimed at a different kind of customer, so it stands to reason that the Carhartt group would establish two separate websites.
Do Carhartt and Carhartt WIP Offer Similar Durability?
Both clothing lines offer product quality and will offer durability but expect the classic Carhartt line to be more durable. The classic line is designed and manufactured for heavy duty manual labor indoors and outdoors, so expect durability. 
Carhartt WIP is fashionable street gear so it doesn't need the same type of durability as next year's trends will be different. Material quality is high, and stitching is well done, but it is not designed to be indestructible nor does its target market ask that it be.
Is the Sizing the Same?
The Carhartt WIP clothing designs tend to feature slimmer cuts and more fitted. Do not be surprised if the Carhartt WIP clothing feels approximately a size smaller than Carhartt workwear. Also, consider that European sizes tend to run smaller than American sizes.
Choosing Between Carhartt and Carhartt WIP Clothing
While budget can be an influencing factor, the principal difference will be in the function of the clothing. If you are looking for fashionable streetwear, Carhartt WIP is the better choice.
If you are in the market for quality workplace or outdoor apparel, you'll want Carhartt. Neither of these clothing lines is appropriate for more formal events.
These are the primary differences between Carhartt and Carhartt WIP. Either choice will provide you with some great staple selections for your everyday clothing.