Hello Reader! Wondering about what kind of jeans should I wear? Don't worry I'll help you find the best suitable type of jeans you can comfortably and confidently wear. 
The best type of jeans that a short person can wear is slim fit or skinny fit, if you're considering buying jeans as work gear opt for regular, straight and slim fit jeans.
And for a stocky short guy slim fit is an option, and if you have big thighs compared to the normal measurements you still can opt for slim fit.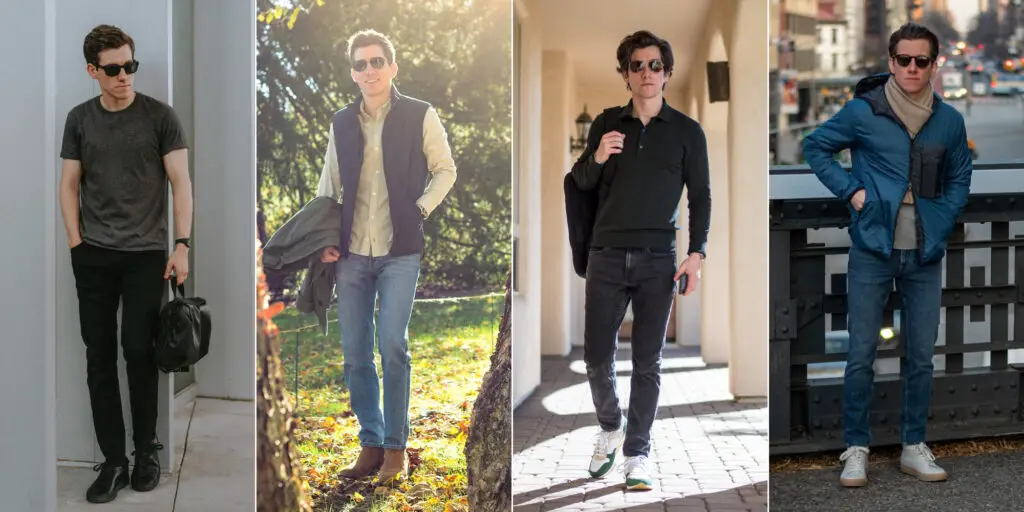 Let's Get Started!
Whatever your height and weight is, jeans are an essential staple which could be seen in the wardrobe. Wearing jeans with shirts, t-shirts for casual and formal occasions are common to our present generation.
It is not only common to wear but became significant for clothing brands and industry in general, resulting in massive production of a wide variety of fits and styles. 
Apart from wearing jeans in casual and office work, it is also commonly used as work gears by construction and factory workers.
There are many types of jeans which provide you with the warmth and comfort you seek while wearing it in construction sites. You can find writings of the same topic on this site itself. 
Workers could be of 5'2" or 6'5", it could vary, but the need for jeans is equal for everyone. However, hitherto the brands produced any fit jeans considering the normal height and weight.
This changed within the last decade, introducing jeans for short guys as well. However, before you choose the jeans, you need to know what all are the issues you'll come across so that you avoid making the mistakes. 
Let's say you buy a pair of jeans which are loose in the waist, then you need to tighten it with a belt. Do you think that it will look good? No. it will create a thick fabric around your stomach making it uncomfortable.
This is why I said you need to know what to avoid and what to seek, and through this article I'll give you a detailed understanding of it. 
How Should Your Jeans Fit? 
There are a lot of jeans fit available in the industry that offer perfect proportions from waist till the ankle.
However, most of the brands design proportions and produce jeans for adults whose height is 5'10" and above.
This makes the guys who's below 5'10" height difficult in choosing the jeans that matches with their body proportion. 
In this session you'll get to know how your jeans should fit you from waist till the ankle. 
First, let's talk about the waist area. Working comfortable means wearing comfortable attire, if your jeans waist is loose, then first you'll be distracted from the work adjusting the jeans.
Second by tightening the jeans with the belt could make you uncomfortable around your stomach. This could cause pain around your belly which is actually not good for health as well. 
However, it is okay to wear a belt if it is only for tightening ¼ to ½ inch, more than that could affect your working pace. 
Next, we're talking about the hip area. The widest part of your body is hip and the one that should not be too tight or too loose. It shouldn't be tight because it could restrict your movement and it shouldn't be loose as it could be saggier.
The hip area should be in the correct fit in such a way that you shouldn't feel any uncomfortable when you take a step, climb a ladder or steps, or stoop down. Without causing tears or blowouts, you should be able to bend over, squat down, or jump over while working. 
What would be next to consider? It's the rise. Knowing the rise is important if you're actually buying the jeans for work purposes. Rise is divided according to different measures: front and back.
The length of the front rise is measured from the top of the waistband to the crotch seam. The front rise is the same as the back rise, however the difference is that the back rise begins at the back waistband. The rise of a jean is what determines where the waistband should end.
Low-rise jeans are designed in such a way that they sit lower on the hip bones and higher rise are to be worn above your natural waist, closer to your navel. The best rise for a worker that would make you comfortable is the low-rise jeans. 
Just like hip and rise, your jeans should fit through your leg from the knee to ankle. Slim or skinny jeans are the most popular choice since they taper gradually from the top of the thigh to the knee, then down to the ankle and leg opening.
Also due to the same reason these jeans make the short guy look taller. However, wearing skinny jeans while working might be uncomfortable for many of them, in that case wearing regular jeans is a good option. 
When your pants are laying on top of your shoe, the extra fabric around your ankle and shin is called "break." Shorter pants will have less break, or no break at all, whereas longer pants will have longer break.
Not-so-tall men, on the other hand, have a hard time finding jeans that are short enough to wear without having to have them hemmed, so they typically settle for full break.
Because of the extra folding and break, their legs appear shorter, making them appear shorter. It's preferable if you take a no break in that scenario.
This also gives your legs the appearance of being longer. Remember to make sure that the leg opening isn't too big if you choose no-break jeans.
Typical Jeans Fit Issues for Shorter Men
The vast majority of big clothing firms produce jeans for guys who are 5'8″ or taller, while disregarding the rest. As a result, shorter men face a lot of fit issues while shopping for jeans.
Due to the lack of other options, they end up buying the wrong fitting and not so comfortable jeans and then pay for alteration. 
In this session, I'll go through the most typical fit issues that guys of average height have with jeans, as well as some suggested solutions:
1. Jeans too Long
This is the most common issue with jeans for men under 5'8″, because most of the jeans produced in the industry are excessively long and don't produce them shorter than 30 inches.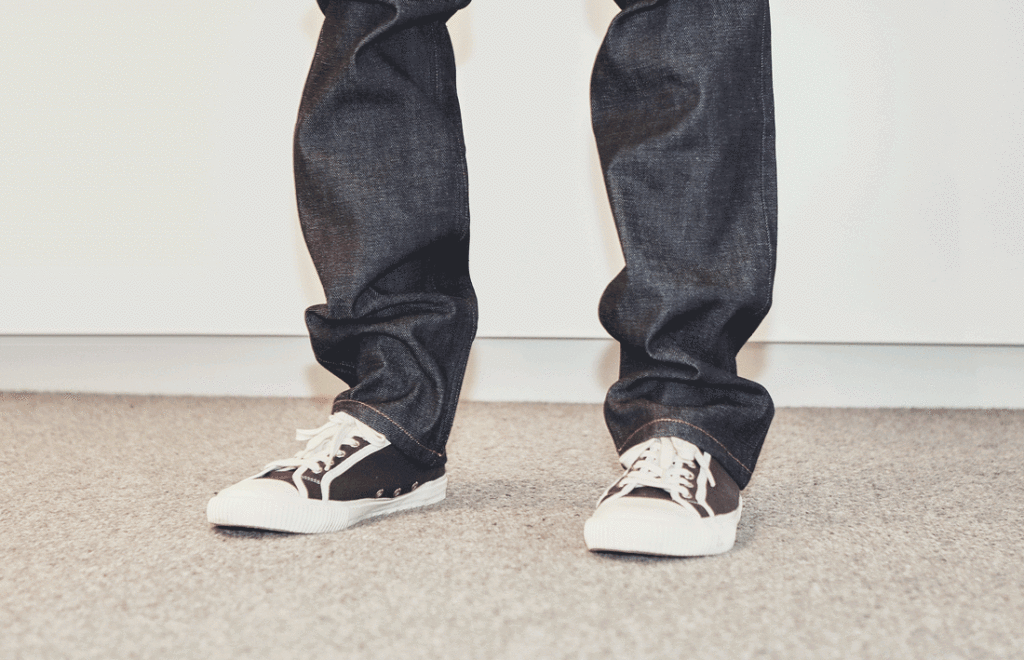 There are three best options for resolving this vexing issue:
You can cuff your jeans

Having your jeans hemmed 

Purchase jeans with a shorter leg length.
You should select an option based on your current working conditions. When working in a rainy environment, cuffing your pants might be a challenge. Hemming is the best solution in this circumstance.          
2. Too low Rise
Low-rise jeans have been popular in recent years. For shorter guys, however, this style may not be the most flattering. Low-rise jeans cause individuals to pull the jeans up to their natural waist.
This causes the crotch to be too tight, and the jeans will fall down to the hips throughout the day. Working in such conditions is always unpleasant and can slow down your productivity. 
The simplest way to prevent such scenarios is to opt for a "normal" rise. This will allow you to lengthen your legs and balance your figure. It's also, in our opinion, a lot more comfy.
3. Jeans being too baggy
Baggy jeans, in my opinion, do not look good on men of average height. It simply makes things appear shorter than they actually are. This happens when you don't buy clothes based on your actual measurements.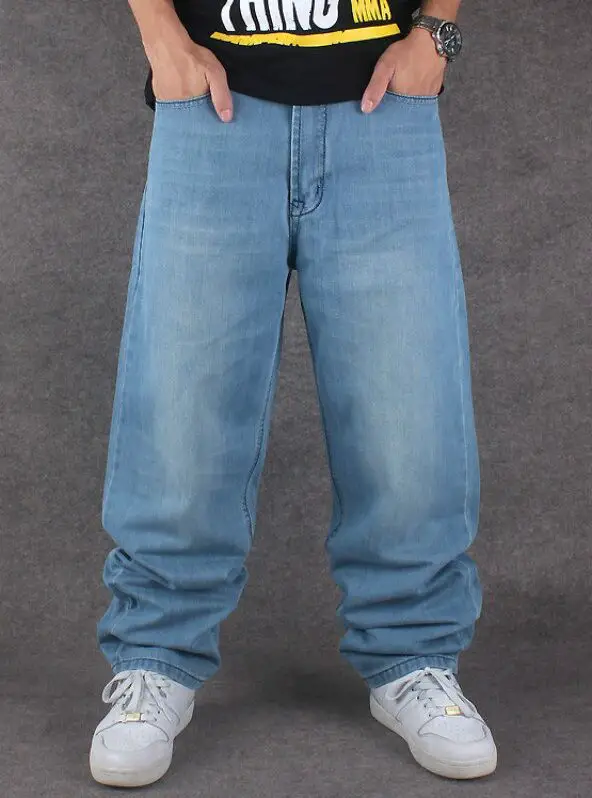 Baggy jeans are also overly big all over. There's simply too much fabric in the garment, causing it to fold and stack in all the wrong positions.
Working in baggy jeans does not sound appealing because it may cause you to drag yourself, especially if you are damp during the rainy or winter seasons.
The greatest option I can suggest is to try on your jeans before purchasing them. Also, buy jeans online, especially from brands that specialise in short men's jeans.
4. Details gone wrong
Even if you find a pair of jeans that fits your height, there's a good possibility that other elements, such as the back pocket and leg opening, aren't quite right.
However, this is not something that a trailer can repair, therefore the only option is to look for brands online who design jeans for shorter men in mind.
Examine their product descriptions and get the one that best meets your needs. If you're going out to buy jeans, be sure that everything is in the right position and that they fit properly when you put them on.
Best Type of Jeans For Short Guys
Slim and skinny jeans are the ideal types of pants for shorter men. Because they both have the best characteristics, the shorter guy may appear taller.
Slim fit and normal fit jeans are the greatest options if you need a jean for work but also want to look taller and more comfortable. Skin-tight jeans may make you feel uneasy while working.
Keep in mind that finding shorter jeans in stores is still difficult, so I recommend purchasing online rather than heading to the mall or stores.
The most popular and reputable brands where you can buy the appropriate jeans for shorter men are listed below along with the inseam measurement. 
1.) Under 510: Their shortest inseam pants are 25 inches long.
2.) Bantam Clothing: They have inseams as short as 26 inches on their jeans.
3.) Ash & Erie: They have inseams that start at 25 inches.
4.) Levi's: They have a pair of jeans with a 28-inch inseam.
5.) Peter Manning NYC: Jeans with inseams as short as 26 inches are available.
6.) Wrangler: Their shortest jeans are 28 inches long.
7.) GAP: They'll give you a 28-inch inseam and more.
8.) Uniqlo: They does not sell jeans with inseams as short as 32 inches. However, at any of their local stores, they will provide free spot alterations.
For chubby men and for shorter men with big thighs, any of the suggestions on this list will work. They're one of the most important aspects of you, whether they're athletic and strong or plain overweight.
The key is to focus on finding the perfect fit matching your body proportion. If your legs are disproportionately large, getting an accurate body measurement is even more critical.
You'll know exactly what you're searching for when you go shopping for jeans if you do it this way.
In Conclusion
As a short person, finding a good pair of jeans might be challenging. But, thankfully, it's not impossible.
You must first know your body measurements in order to make an impossible task possible. You should be able to select a pair that matches your physique if you know the jargon and how to examine jeans.
At the end of the day, it's up to you to figure out what works best for you. Also always think about your working environment before selecting jeans or else it could distract you from work by making you uncomfortable.