Chinos and khaki pants have started grabbing the eyeballs as men's most desirable ensemble, and rightly so! After all, they're more versatile than jeans and suit pants. 
If you tried wearing chinos yourself but didn't like the look of them and blamed your height (too long or too short) for the haphazard look, then it wasn't the chinos at fault – it was your choice of the size that ruined the day.
Ideally, the fitting of chinos should be a truce between jeans and suit pants. They should drape perfectly around your waist, around the hip bone. 
For a more accurate description, here are the classic examples of how high should chinos be:
1.) Slightly lower than where your suit pants fit, that's about 1 to 2 inches below your belly button.
2.) Slightly higher than you usually wear your low-waist jeans. 
Keep reading to find out more about the right fitting of chinos and why are they getting so popular!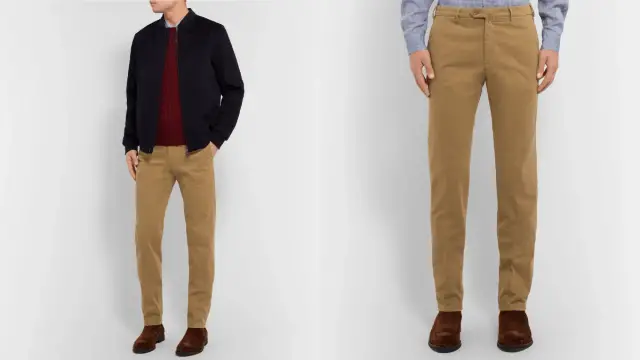 How high should chinos sit?
Here's the thing about chinos: they're not your regular denim pants. So, buying the size and fit according to your jeans thinking they will stretch is the biggest blunder you can do. 
We don't want to be the fashion police trying to school you, what we're trying is to help you find the right chinos. 
When you wear your chinos, they should sit exactly around your hip bone. Anything higher will make them rest where you wear your suit pants and anything lower than the hip bone will give them the fitting of jeans, and both are wrong. 
Now that you know where your chinos should sit for the ideal look, it's also important that they should REALLY fit. 
The ideal fitting means your chinos should hold around your waist without the need for a belt. If they keep dropping down and you have to pull them up, they're too loose. And if you have to literally suck your breath to make them fit, they're too tight.
How should chinos fit the thighs?
Did you know that most size misfits happen because most of us focus only on how the pants fit around the waist and their length? The missing element here is how well the pants fit around the thighs!
All these three factors – waist size, length, and fitting around the thighs – should be taken into equal consideration.
Ideal thigh fitting is more important for chinos because chino pants do not stretch. So, when you buy chinos, pinch them around the thighs. 
1.) If you're able to pinch the fabric about 1″ around your thighs without hurting your skin, the fitting is ideal.  
2.) If the fabric has a space that's more than 1.5″ when you pinch the chinos, those pants are loose.
Bear in mind, you don't want your chinos to touch the waters of skinny-fitting or baggy-fitting. And for that matter, how they fit around your thighs holds significance.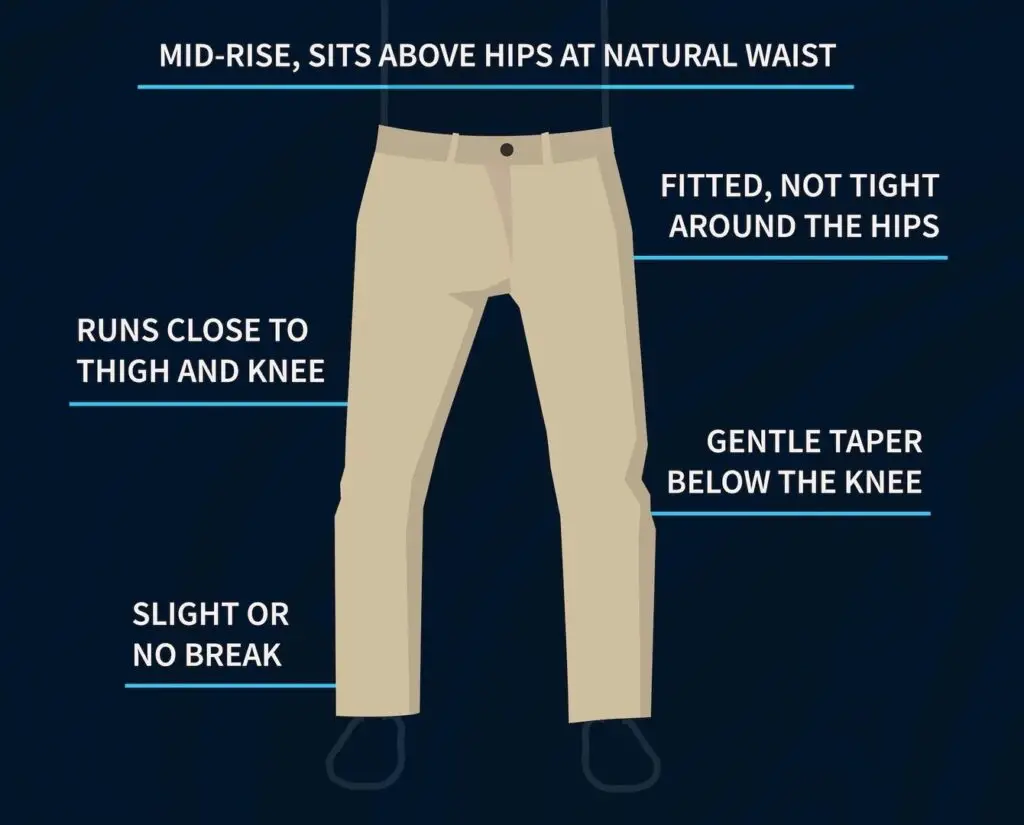 How tapered should chinos be?
This entirely depends on how skinny or how healthy you are. You might come across the terms, classic-fitting chinos and slim-fitting chinos.
These two types of fittings represent how tapered the chinos are. If you're a skinny person, a slim-fitting chino with slightly narrow leg openings will look great. Otherwise, a classic-fitting chino is ideal for you.    
Your focus points when buying chino pants should be:
Fitting around the waist.

Fitting around the thighs.

Leg openings.
Chinos fitting advice to save the day
It can be overwhelming to find the right size since you've got to take care of so many things, right? Wrong! 
There are some simple hacks that can save your day and ensure you aren't buying a size too loose or a size too tight. 
Have a look:
1.) Wear the chino pant you like and try to bend down. If it feels that the pant will tear from the seat, it's too tight. 
2.) If it looks like gravity is pulling the chino down and the butt area feels like you have kept rocks in there, the pant is way too loose. It might look cool when you're wearing jeans, but it will look terrible if it's a chino pant in question.  
3.) Buying a long chino that passes the line of your ankle, crawling under your feet, and then not hemming it is a bad idea. 
4.) There's nothing like breaking into your pants unless they're leather pants you're talking about. You shouldn't have to struggle at all. The chino should be very comfortable around your hips, waist, and thighs.
Remember, chinos might shrink, but expanding them is a long shot you shouldn't try to gamble on. So, buy the ones that feel comfortable.
Walk around a little, talk long strides – if the chinos are restricting your motion, switch to a size higher.  
What to do if your chinos are too long?
There are three things that you can do if your chinos are too long. Before we list them out, we'd like to say, no matter what you do, don't let them hang as it is. The hems at the bottom will soon look worn out and tear, making your pants look very old. 
Now, here are the three things you can do:
1.) Fold the cuffs neatly so that they end right at your ankles.
2.) Fold the cuffs and then sew them.  
3.) Give the pants to a tailor. The tailor will cut the length to shorten it. And then, make neat cuffs and sew them professionally.
Don't try to pull the chinos up and then tighten them using a belt. It will look very odd.  
See also: Are Cargo Pants Considered Khakis?
Comparison between chinos and jeans – why are chinos winning the race?
Jeans have traditionally ruled the men's ensemble. But nowadays, chinos are picking up pace. In order to make you realize why chinos should be a necessary part of your wardrobe, we've made this bonus section on comparing the two. Have a look.
1.) Versatility
You can wear jeans as casual wear or, at max, for a semi-formal look. You certainly can't wear them to a board meeting. 
Enter chinos – you can wear the chinos as dress pants under your coats, to formal parties, and to board meetings when you carefully mix and match them with a formal shirt. 
What's more? Chinos can be your perfect summer pants. You can wear them at the beach. You can also wear them when you hit the road with your friends or you're going out on a casual date. 
Precisely, there's no restriction for any occasion: no matter how formal or casual the occasion is, chinos will blend in.
2.) Comfort
Jeans are thick when you compare them with chinos. Besides, they can also have breathability issues, making you soak in sweat under the scorchy sun on a really hot summer noon. But, chinos won't!
Chinos are absolutely breathable and light. You can also wear them at home as loungewear, what more can we say?
Clearly, if you ask us, chinos win the race! But, does that mean you should discard your jeans? Well, absolutely not! Why would you not want to have variety? 
It's a matter of including chinos as a part of your permanent wardrobe this season, not discarding your jeans. 
How chinos should fit – The size guide!
#1. The rise of chinos
For men more than 5'8″, the rise between 10″ to 11″ is ideal. For men shorter than 5'8″, the ideal rise is approximately 9″.
#2. The size of the leg opening
You don't want your chinos to hug the opening of your leg so much that you have to struggle out of them. Similarly, too much leg opening ruins the look. 
Here's what it should ideally be:
For men more than 5'8″, the ideal leg opening is somewhere between 7″ to 8″. For men shorter than 5'8″, the leg opening of 6″ should do the trick.
FAQs
1.) Why do they call them chino pants?
The cloth that chino pants are made of originated in China first. Hence, the name, Chinos.
2.) How to know if chinos are too tight?
If you can't pinch the fabric without hurting your thighs, your chinos are definitely tight. 
If they're restricting your motion or it feels like they'll rip apart if you bend down, again, they're very tight. 
If your butt is popping out too much, making it stand out in a way that looks more vulgar than desirable, you definitely need to go one size up. 
Lastly, wear thick socks and try to put on your chinos now. If you're struggling and the chinos aren't gliding up easily, they're too tight. In this case, you need to buy classic fit chino pants instead of a slim fit one. 
3.) Should you cuff your chinos?
Yes, you definitely can, especially, if your chinos are long. However, there's a limit. Making more than two cuffs will give an unclean look. It might also make you look short. 
So, as long as you fold it to make up to 2 cuffs, it will look very sexy. 
4.) Can you shorten chinos?
To an extent, yes. 
We've already mentioned that you can make about 2 cuffs at the bottom. So, you can crop your chinos as much. 
But, cropping it more than that at the hem will interfere with the ideal size of the leg opening.  
5.) Do chinos stretch?
No. Ideally, they shouldn't. If you buy tight chinos thinking they'll stretch as your denim jeans do, you're up for a rude surprise. 
It's important that you buy a size that fits you snugly around the hip bone. 
Concluding Thoughts:
Chinos should fit snugly around your hip bone. Snugly, here, signifies that it shouldn't need a belt to stay in place. If the chinos keep slipping down, they're not a perfect fit. 
To be more specific, you should buy chinos that are higher than low-waisted jeans or about 2 inches below your belly button. 
With all this information, we hope that you'll now be able to find the right size chino pants that'll make you look smart and will hug your body just right, not too tight or loose.