Our pants are the most exposed apparel, that go through the most wear and tear. When purchasing pants, many people question what the best materials are for specific sorts of pants.
After all, we want our clothes, especially pants to last a long time while still looking nice. Depending on their intended usage, different styles of pants, such as trousers, cargo pants, or casual pants, require different materials to make them durable. 
They are indeed made up of tough materials, however, in this article, we will find out what is the best fabric for pants.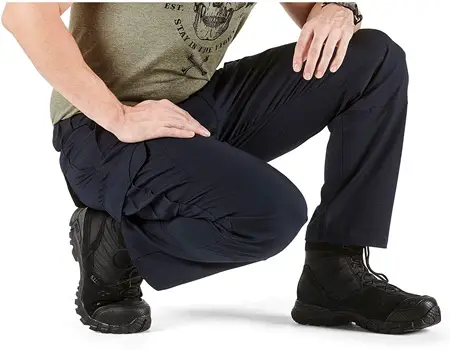 Well, if you're wondering about the best pant fabric then synthetic fabrics are the way to go because they are more durable than natural fabrics. A blend of cotton-polyester, cotton-rayon or cotton-polyester-rayon blend is extremely durable. 
However, the most common fabrics used in making pants are-
Cotton

Polyester

Rayon

Cotton-poly blend

Polyester-wool blend 
Let us have a detailed look on each of these pant fabrics.
Cotton- Cotton is the most commonly used fabric in the production of formal pants, suits, and trousers, among other things. It is widely popular because it is inexpensive and performs well in all weather conditions. 
Pants and trousers made of cotton provide a pleasant and comfortable feeling because it is a breathable, natural fabric. 
Pros of cotton pants-
| | |
| --- | --- |
| Breathable | Cotton pants during summers are super comfortable as the fabric is extremely light and breathable.  |
| No irritation | Cotton fabric does not cause allergies or irritation, and this is the reason why it is recommended by Dermatologists to people who suffer from skin allergies.  |
| Affordable | It is widely popular because cotton is a natural fiber that is super affordable.  |
Cons of cotton pants-
| | |
| --- | --- |
| Not durable | Since it is a natural fabric, it is not susceptible to a lot of wear and tear, which affects its durability.  |
| Shrinking problem | Your pure cotton trousers will not fit you the same after a wash as cotton tends to shrink over time.  |
Poly-Cotton- Let's be clear, polyester as the only fabric on pants isn't ideal. Polyester is no doubt a solid fabric that has any benefits, but it alone cannot provide comfort.
Polyester is non-breathable as it is a non-porous material that doesn't allow your skin to breathe, and it also retains odor. (Is Polyester Good for Gloves?)
However, a blend of poly-cotton makes for an excellent fabric. This blended fabric provides the best of both worlds as it comes with all the good qualities of both fabrics and cuts down the disadvantages of each fabric. 
Pros of poly-cotton pants- 
| | |
| --- | --- |
| Durable | Cotton blended with polyester adds resilience to the fabric, so your pants become quite durable.  |
| Breathable | Since polyester is not a breathable fabric, but when it is blended with cotton, it lets your skin breathe.  |
| Moisture-wicking | Polyester is widely used in sports wear because of its ability to wick moisture away. So this fabric is great for pants that are fitting.  |
| No shrinking  | Cotton shrinks, but this blended poly-cotton blended fabric does not shrink.  |
Cons of poly-cotton pants-
| | |
| --- | --- |
| Skin-irritation | Although it is a blended fabric, a part of it is made of synthetic material, which may not suit well for people with extremely sensitive skin.  |
Rayon- Though rayon is an artificial fabric, it is ideal for clothing. It is manufactured mostly of wood pulp, which is subsequently transformed into a soluble chemical and further produced to make clothing. 
Pros of rayon pants- 
| | |
| --- | --- |
| Durable | Rayon easily beats most natural fabrics in terms of durability. |
| Soft & comfortable  | Rayon feels soft and pleasant on the skin as it is a breathable fabric, which makes it ideal for making pants during summers.  |
| Absorbs sweats | Yes, rayon pants absorb moisture quickly and allow heat to travel through the fabric, keeping you cool.  |
| Affordable  | Rayon pants are easily available and are quite affordable.  |
Cons of rayon pants- 
| | |
| --- | --- |
| It shrinks  | Rayon is prone to shrinking, which means you should go for sizes that are a little bigger for you.  |
| Low heat tolerance  | Rayon is indeed ideal for summers because it is breathable, however, there is a good chance of your rayon pants getting damaged because of heat.  |
| Wrinkles | Rayon pants demand frequent ironing because it wrinkles easily.  |
Poly-wool blend– Wool alone as a fabric used in pants is not ideal during summers, and also, wool isn't as stretchable as other fabrics.
Which means, your mobility will be restricted. However, a blend of polyester and wool gives us a really good fabric that is ideal for pants. 
See also: Best Summer Work Pants
Pros of poly-wool pants-
| | |
| --- | --- |
| Durable  | Both wool and polyester are durable fabrics, which means the blended fabric will be quite resilient.  |
| Comfortable  | Wool is both breathable and moisture-wicking, which means you will remain cool and comfortable.   |
| Less shrinkage & wrinkling  | Both polyester and wool do not shrink, and the blended fabric does not wrinkle that easily too.  |
Cons of poly-wool pants- 
| | |
| --- | --- |
| Maintenance  | This blend of polyester and wool requires your attention as you have to frequently wash your pants because it attracts dust more often.  |
How to choose the best pant fabric for yourself? 
1.) Fabric 
Identifying high-quality material while buying pants is possibly difficult. However, here are a few pointers- 
Read the label: Synthetic and natural fibre combinations are extremely popular nowadays. However, there are certain downsides.
For example, when you put cotton-polyester mixes in the dryer, the two types of fibres might dry at different speeds, causing the form of your pants to change somewhat. That is why each clothing item comes with a separate set of instructions. 
Quality of the fabric: Fabric quality is important. If the label says pure cotton, how do we know what quality cotton is used? 
How does the fabric feel? Fabric should be tough and rugged, however it should feel harsh against the skin. You can always use this trick to purchase durable pants.
Go to a high end store and ask for the most durable pants, identify the fabric and feel of the pants and try to compare the same whenever you will purchase next. 
Remember, the tighter the fabric weave, the stronger the pants. 
Fabric stretch: Your pants need to be stretchable in order to provide you with maximum mobility. Different fabrics have varying degrees of flexibility.
The elasticity of a fabric influences its capacity to return to its original shape after being stretched. The amount of stretch in a pants might affect how well it fits you.
2.) Stitching 
→ Of course, the fabric is only one factor to consider while selecting the most durable pants. A really long-lasting pair of pants requires rock-solid stitching. 
→ Loose threads are not acceptable. They're prone to tear fast. 
→ Examine the interior and outside of the seams. It is advisable to flip the pants inside out to check even if the outside seam appears to be in good condition. 
→ Examine the backstitching. If one or both are not properly calibrated, the seam will be compromised, thus compromising on durability of your pants. 
→ Closely examine the crotch stitching. Pants of low quality are not appropriately strengthened on the inseam and crotch. Pull hard on each side of the crotch seam to test it. If the stitching bends or separates even little, understand that it is poor stitching. 
Here's a table to help you identify the best fabrics for pants: 
| Fabric  | How do they appear? | What are their uses?  | Do they shrink?  | Do they wrinkle?  |
| --- | --- | --- | --- | --- |
| Cotton | Soft texture, absorbs moisture | All clothing types | Yes, very likely to shrink (High) | Yes, very likely to wrinkle (High) |
| Polyester | Pants, suits, shirts, sweatshirts | Soft texture, not breathable | Not likely to shrink (Low) | Not likely to wrinkle (Low) |
| Poly-cotton | Pants, shirts, sportswear | Comfortable, breathable  | Depends on the % of both fabric (Medium) | Not likely to wrinkle (Low) |
| Rayon | Suits, dresses, blouses | Soft texture, absorbs moisture  | Likely to shrink (High) | Most likely to wrinkle (High)  |
| Poly-wool | Suits, pants | Comfortable, moisture wicking and breathable  | Not likely to shrink (Low) | Not likely to wrinkle (Low)  |
| Rayon-cotton | Tee-shirts, sweaters | Soft texture, absorbs moisture  | Most likely to shrink (High) | Most likely to wrinkle (High)  |
To conclude, pants can be made from a variety of fabric, but the important thing to remember is that the fabric should be comfortable and durable.
We rely on our trousers to last us longer than any of our clothes. They have to be strong and durable but also comfortable. 
As mentioned above, poly-cotton offers maximum durability along with various other benefits. They're the ideal pant material.