Once you enter the world of pants, you get a variety of options to choose from. Gone are the times when the choices were just limited to slim fit or straight fit. Now you can choose from a thousand options and sometimes even the combination of any two types.
However, a better understanding of diversification of styles is necessary if you really want to have the pants that fit you the way you want.
Although the pant industry has expanded the types of fits but at the same time it has made it confusing for the consumers. One such confusion often arises between slim-fit and athletic-fit pants.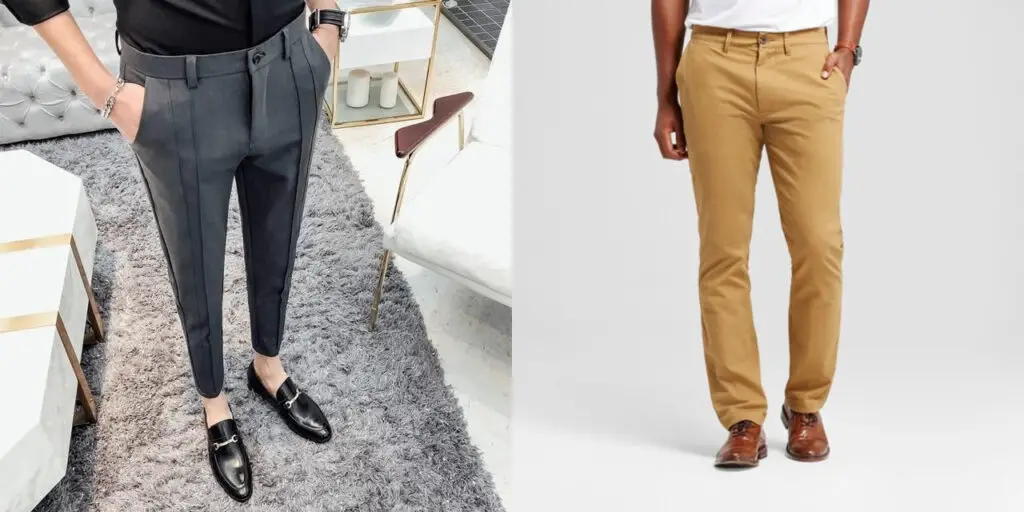 No, slim-fit pants and athletic-fit pants are not the same. While athletic fit pants remain slightly loose above the knee and slimmer below that, slim fit according to their name tend to be slim starting from the hip running right through the ankle.
Slim fits are preferably designed for those who have skinnier legs while athletic pants are the first choice for people with muscular thighs.
Read through our article till the end where we have tried to give you a better understanding of how these two fits are different from each other and which one you should really go for. We have also tried to compare it with other fits available in the market.  
What are athletic fit pants?
As I mentioned above, athletic fit pants run loose and are often relaxed above the knees but give you a more tailored fit near the ankle by running narrow below the knee.
Athletic fit pants enhance the natural shape of your thighs while giving them enough room to breathe. Available for both men and women, the pants are designed for people with muscular thighs.
Interestingly, athletic fit pants have got tapered design and the taper starts near the calf and the ankle highlighting the shape.
Not just in people with athletic body types, the pants are also famous among people who appreciate some space in the thighs and seat of their pants.
Leg opening for athletic fit
There is no specific leg opening for the athletic fit jeans. The opening differs slightly from brand to brand.
If we look specifically then most athletic fit jeans come with a tapered cut design which gives impressive fit without being too baggy at the bottom. 
This makes the leg opening of the pants resembling that of a slim leg opening or more of a  straight leg opening thus creating a fit that goes with the shape of that of an athletic body. 
If we talk about brands then in some brands you will find more of a standard leg opening while slim leg opening in others.
However, whatever be the leg opening, athletic fit pants come with the cut which allows ample space above and below the knees.
Difference between athletic fit and slim fit
Let me tell you the basic difference between slim fit pants and athletic fit pants for a better understanding of the two.
| | | |
| --- | --- | --- |
| Features | Athletic Fit | Slim Fit |
| Shape | Inclined after the hip till the ankle | Loose in the thighs and slimmer from knee to ankle |
| Who can Wear | Made for athletes and people with standard body shape | Made for skinny people |
| Room Space | More room space | Negligible room space |
| Relaxing | More relaxing | Les relaxing |
| Bending and Crouching | Easy for bending and crouching | Not designed for bending and crouching |
| Comfort level | More comfortable | Less comfortable |
Who should and shouldn't wear athletic fit pants?
The super tailored design of athletic fit pants make them comfortable for almost everyone. However, the pants are best suited for athletic persons and for those who have a typical body shape like the people with large, mascular thighs.
Initially people with muscular thighs preferred a relaxed loose fit pants which could fit around their thighs but those pants are loose overall.
The good thing with athletic fit pants is that they provide people with a more hybrid option that is spacious above the knee and more tailored below the knee.
These pants allow people to have the best of both worlds that is extra space they need and also have a fit below the knee that isn't too baggy at the same time.
As I mentioned above, athletic fit jeans are for those who have got a muscular body or for those who work out daily but if you have skinny thighs then athletic fit pants are not recommended for you.
For skinny people athletic fit pants might end up looking too baggy and too loose around their thighs.
Slim fit pants-Leg opening
Slim fit pants are differentiated from athletic fit pants majorly in terms of their leg opening. The leg opening in slim fit pants is generally smaller than the top part of the leg and that's why the fit tapers below the knee. 
Unlike athletic fit pants, slim fit pants are designed to be more fitting. That's the reason why athletic fit pants run slender below the knee so that they can give you that desired fitted look.
Interestingly, if there is an absence of taper in slim fit pants then the fit can no longer appear slim and therefore for enhancing the fit or the figure, the cut narrows below the knee. 
Who should and shouldn't wear slim fit pants
Slim fit pants are designed to add to the contour of the legs and waist. Slim fit pants don't give enough room in the front and the back and that kind of becomes uncomfortable at times especially for those whose body is curvier.
Slim fit pants can really be a good deal if you want to show off the figure. Thanks to less room these pants provide pants also run tighter on the thighs making it perfect for skinny people.
Final thoughts
I hope this article has solved all the dilemmas about both the fit, the slim-fit and the athletic-fit pants. The feeling of wearing both is obviously understood after you try each one of them.
So, before you start shopping make sure you know how these pants differ from each other so that you don't regret your decision later on.