Keeping your pants on all day during the trying days might not seem that easy of a task. But staying cool and comfy in pants is extremely simple these days with the wide variety of cargo pants that are indeed paving its way into our wardrobes. 
The baggy pants with a whole lot of pockets has emerged to become one the trendiest and most comfortable garments today. It's look and feel has evolved a lot from the age of the good old military days where they were an important part of the barracks uniform. 
Very much in trend these days, these snug pants have stolen the hearts of many with its unparalleled levels of utility and coziness. Often confused with its long lost brother the khaki pants, it is at times hard to differentiate the cargoes from the lot.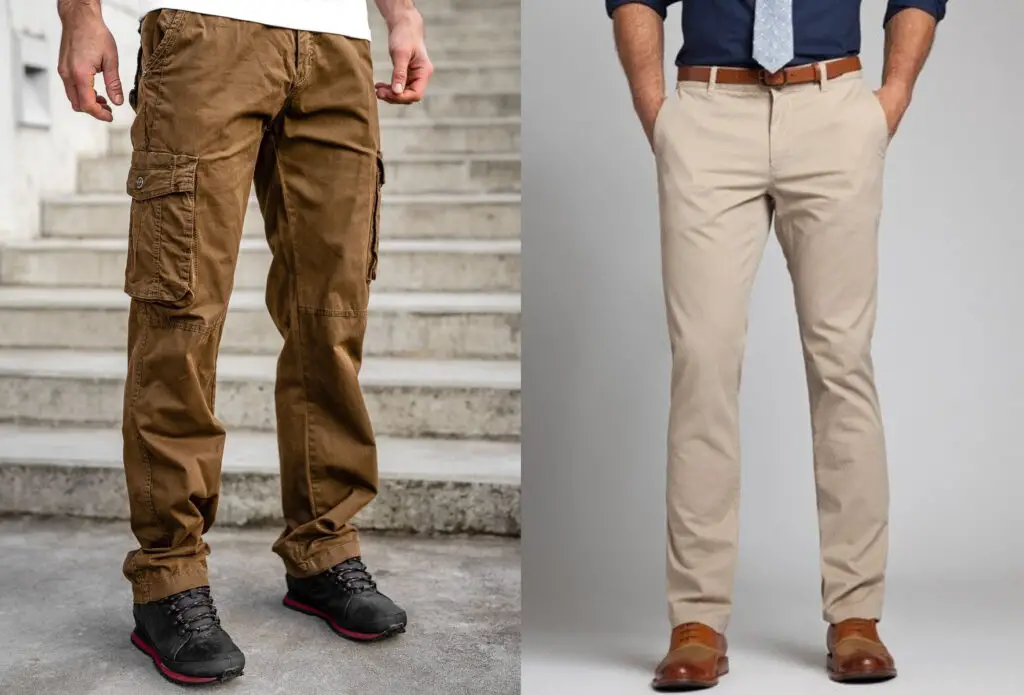 If you are indeed getting ready to treat yourself to some cargo pants, we can help you with the A-Z information about them so that you can find the right pair for your own needs. 
Are cargo pants considered khakis?
The simple answer to the question is YES! Cargo pants are indeed plain khaki pants with a baggier look and a couple more pockets. Cargo pants do come with their own drawstring adjusters or canvas belts.
So yeah cargo pants are just comfier and casual looking khaki pants. The baggy look and the not-so-subtle pockets do make cargo pants stand out from the crowd. 
Cargo pants which are at times called combat pants were initially designed to be military work wear and today it has emerged to be a popular outfit for outdoor activities and a personal favorite of rappers and youngsters. This cool urban casual wear is just the perfect combination of comfort and style. 
Difference Between Cargo and Khaki 
Traditionally pants which had a light tan and beige color were called khaki pants but nowadays we do have khaki pants that might not even be beige or tan in color.
Today khaki pants are thick, straight legged and pleated(most times) pants made with cotton twill. They are meant for casual wear with a comfortable fit and cuffs at the bottom hems. Khakis are sturdy and are meant to be work-wear. 
Even though khaki pants are meant to be work-wear they do tend to give off a more formal look than cargo pants. The poofy and pretty striking pockets is the feature that clearly distinguishes cargo pants from normal khaki pants. 
The other discernable feature that sets cargo pants apart is it's loose/baggy tapered fit. Khaki pants are straight legged pants which might or might not have pleats. 
The belt loops in cargo pants are quite bigger when compared to the ones in khaki pants. This is to accommodate the wide webbing belts. 
Cargo pants has such roomy pockets which can be used to carry items but the subtle pockets in khaki pants won't be able to hold tools or snacks. 
Cargo pants and khaki pants are both durable and sturdy but since cargos are made with cotton-synthetic blends instead of the cotton twill of khaki pants, they might not be as breathable as the latter. 
Which to wear when? 
Both khakis and cargos are designed to be worn as work-wear. But khaki pants do have an elegance that can make you look dapper and hence is a pant that will give more of a formalized casual look.
Khaki pants can be worn any day, any time and will look sharp and classy. Khaki pants are all-season pants and can be styled to give a formal or casual look. 
Cargo pants on the other hand are extremely casual pants. They are not the mature casuals either, but possess what you can call a boyish or hipster charm.
Cargos are not really for the professional space but due to the loose and comfortable fit and the plenty of utilitarian pockets, they are indeed quite sought out even in the workplace.
With proper styling tips you can add some debonair charm to cargo pants as well and adapt them to the formal setting. 
Why should you get yourself some cargo pants? 
So why exactly should you invest in cargo pants? If you are not aware of those well-founded reasons read on to find out: 
1.) The baggy fit is very comfortable when you have to wear the pants all day and walk and work in them. 
2.) The numerous pockets will definitely come in handy if you wanna carry tool or snacks. 
3.) The tapered look is pretty coooool!!!! Had anyone ever imagined that donning work-wear would look so effortlessly stylish. 
4.) They are extremely durable 
5.) They are sturdy and well equipped for hectic outdoor activities and will be able to withstand harsh environmental conditions. 
Guess these valid reasons are enough and more to make up your mind to get yourself a pair of cargo pants. 
How should cargo pants fit? 
Cargo pants were originally meant to be work-wear and are supposed to have a rather loose-fit. If the cargos are way too fitted, the pockets are gonna bulge out awkwardly if you fill them up. 
They shouldn't be too loose as well or they'll just slide off the waist. The cargos should fit the legs not too tight nor too loose.
If you pinch the fabric across the thighs you should have at least an inch of fabric to spare. This will ensure that the legs of the pants are roomy and comfortable enough. 
Regarding where the waist should sit, it is better to opt for high or mid-waister cargo pants for a much more classy and polished look. 
Pertaining to the length of your cargo pants don't go for extremely cropped ones or long ones you will have to drag along the floor.
Instead roll up the hem and make sure that the cargo pants sit comfortably above your footwear showing off your boots or shoes. 
How to style cargo pants? 
Even though cargo pants are supposed to be work-wear, you shouldn't just limit them to your workplace. With proper styling tips you can effortlessly carry them to a dinner date or a semi-formal meeting. 
Here's how you can create some elegant and stylish looks with your cargo pants: 
1.) You can pair cargo pants with t-shirts to create a stylish summer look
2.) You can use sweaters, cardigans or jackets and coats to create a chic winter look
3.) You can use a t-shirt and open over shirt or shrug to make the look effortlessly sharp and ruggedly stylish.
4.) You can don a hat, formal shirt and blazer along with your cargo pants to create a more formal outfit that will turn heads at office meetings
5.) You can add suspenders and pair the pants with shirts for more of a charming boyish look
6.) Add a bit of denim, sneakers or boots or loafers or a leather jacket for a celebrity like look. 
So stop pondering over the question whether or not you should get cargo pants and go get them now, so that you can rock a gazillion cool and stylish looks. 
Can cargo pants be considered as formal-wear? 
Cargo pants are not really meant for the formal setting. They give off a more laid-back, casual vibe. But the amount of comfort it does provide does make it quite a desirable choice for formal well. 
You can opt for chinos instead if you are looking for proper formal-wear. But if you mind is set on cargo pants turning them into formal pants is not an impossibility.
Will a few styling tricks you can make cargo pants fit for the corporate world. You can pair cargo pants with heels or loafers for an elegant look.
Put on a plain shirt and add a blazer and a watch or hat to complement the attire and Voilaaa!!!! You have a chic formal outfit to rock at company meetings or corporate offices. 
Conclusion
Even though a part of the khaki pants family, cargo pants are not really synonymous with the prior. With a unique baggy look and loud pockets, cargo pants do stand out. 
A cool combo of comfort and utility, cargo pants are definitely well suited for your workplace and wardrobe.
So if the article and the various aspects of cargo pants that we discussed over here helped you understand them better and made you fall in love with them, just rush to your nearest store and get yourself a pair. 
It's time for me to bid adieu to my readers and it's time for you guys to say Hi to cargo pants. 
See you soon with another interesting and informative write up!
Au revoir.