I am someone who loves loose fitting clothes and believe me they are so comfortable.
And for me my go to are cargo pants. They are so stylish, you can style them with a tight fitting t-shirt and a loose open shirt. That's the look that goes best with cargo pants.
But if you ask if cargo pants are baggy?
Cargo pants were originally made for manual workers and the armed forces. They were supposed to fit loose and baggy. But with many designers and brands making cargo pants these days, they come in various styles and fitting that might not be baggy as well.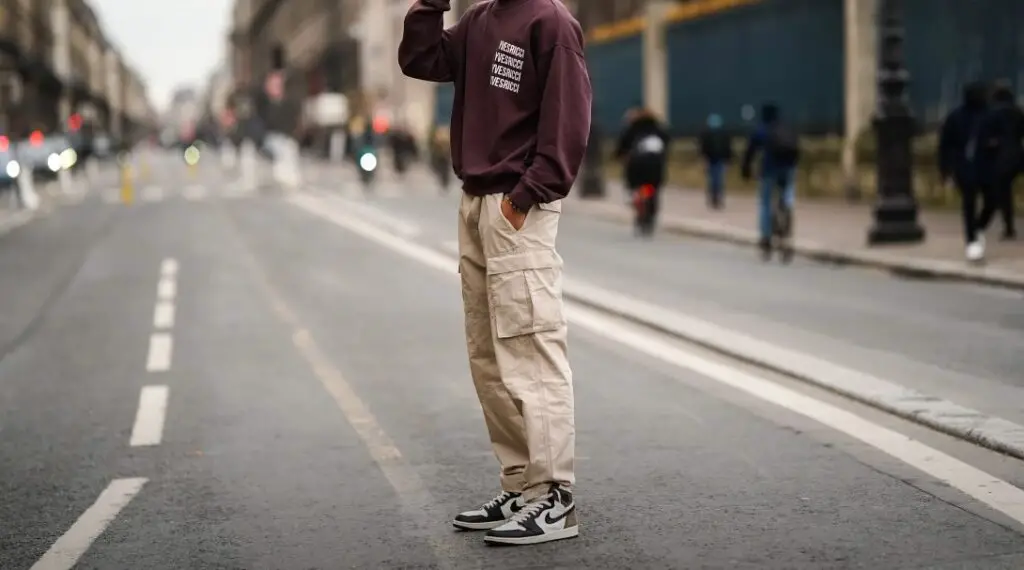 If you are a guy, baggy cargo pants will suit you, but for women, I am not sure how those baggy pants will look on you. Still styling them the right way can get you a stylish look out of those loose fitting pants.
Are cargo pants supposed to be loose?
Yes cargo pants are supposed to fit you loose and that characterises the look of cargo pants. 
Cargo pants have lots of pockets including side and front big pockets with Velcro or zip. They are meant to hold your belongings.
So, if your cargo fits you tight, the pockets when filled will remain bulged or hanging and that will spoil the entire look and feel of cargo pants.
So, always buy cargo pants in loose fitting styles and never too tight or slim fit.
See also: 5 Best Cargo Pants for Work
How do you make cargo pants less baggy?
If you have bought your cargo pants online and now when wearing it, you find them a little more baggy than you had expected them to be, here's how you can make them less baggy:
Items needed:
Pins

Chalk or marker

Scissors

Needle and thread (matching the colour of your cargo pants)
Method:
1. Wear your cargo pants
2. Pinch the excess fabric from the sides of the pants (on the outseam)
3. Use pins for pinching the excess fabric
4. Go down the entire length of the pants till where you find them too baggy
5. Now wear off your cargo pants
6. Turn them inside out
7. Mark the pinched fabric with chalk or marker
8. Turn the pants normal 
9. Take out the pins
10. Again turn the pants inside out (this time for the stitching)
11. Take needle and thread and start stitching the marked area of the pants (make sure to end the stitching along the inseam line)
12. You can use the sewing machine as well for this purpose if you have one
14. Turn your pants normal and wear them to see the new fitting
Voila! You are done!
Are baggy cargo pants in style?
Yes, cargo pants are in style and we have seen many celebs flaunting in their cargos that make our jaws drop.
Want to see some cargo pants that are not baggy yet stylish?
Stylish cargo pants for men that are not baggy
1. Amazon Essentials Men's Straight-Fit Stretch Cargo Pant
Stylish cargo pants for women that are not baggy
1. LOLOCCI Cargo Pants Women Camo Pants 
2. Dokotoo Women 6 Pockets High Waisted Cargo Pants

How do guys wear baggy cargo's?
There are some really cool ways to style your cargo pants in order to look stylish:
• Wear cargo pants with oversized shirts and a pair of sneakers
• Wear cargo pants with loose fitting t-shirts and a pair of sport shoes
• Wear cargo pants with a fitted t-shirt and a denim jacket along with a pair of white sneakers
• Wear cargo pants with bomber jackets and a pair of hiking boots
• Wear cargo pants with a puffer coat
• Wear cargo pants with a hoodie
• Wear cargo pants with a button down shirt
How do women style baggy cargo pants?
Cargo pants have become one of the talked about style statements of Hollywood celebs!
We have seen celebs like Ratajkowski to Hailey Beiber to Rihanna to the Kardashians!
These celebs have styles their cargo pants with cropped tees, overcoats, oversized shirts and Tom Ford has changed the notion of cargo pants being made of boring thick fabric with neutral tones to getting them a metallic look!
And it's a wrap!
With the evolution of fashion and the coming of different brands in the market, cargo pants are not always baggy these days, in fact you will find cargo pants in different styles and fits to match your occasion, be it a casual day out or an office work or to run an errand!
Hope this post was useful to you. Have a look at some of the similar posts from our site and I assure you will love them too.