Be it Carhartt or any other brand, jackets are made from various materials and the shrinkage depends on the type of fabric of the jacket.
So, Whether your Carhartt jacket will shrink when washed or not will depend on which type of fabric you have chosen for your Carhartt jacket!
Though the most common type of Carhartt jackets is made of cotton, still there are other options such as nylon, leather, etc.
If your Carhartt jacket is made of cotton, it might shrink only a bit after several washes. But don't you worry about the shrinkage in the first few washes itself. It will take the Carhartt jacket at least a year to shrink with regular washes.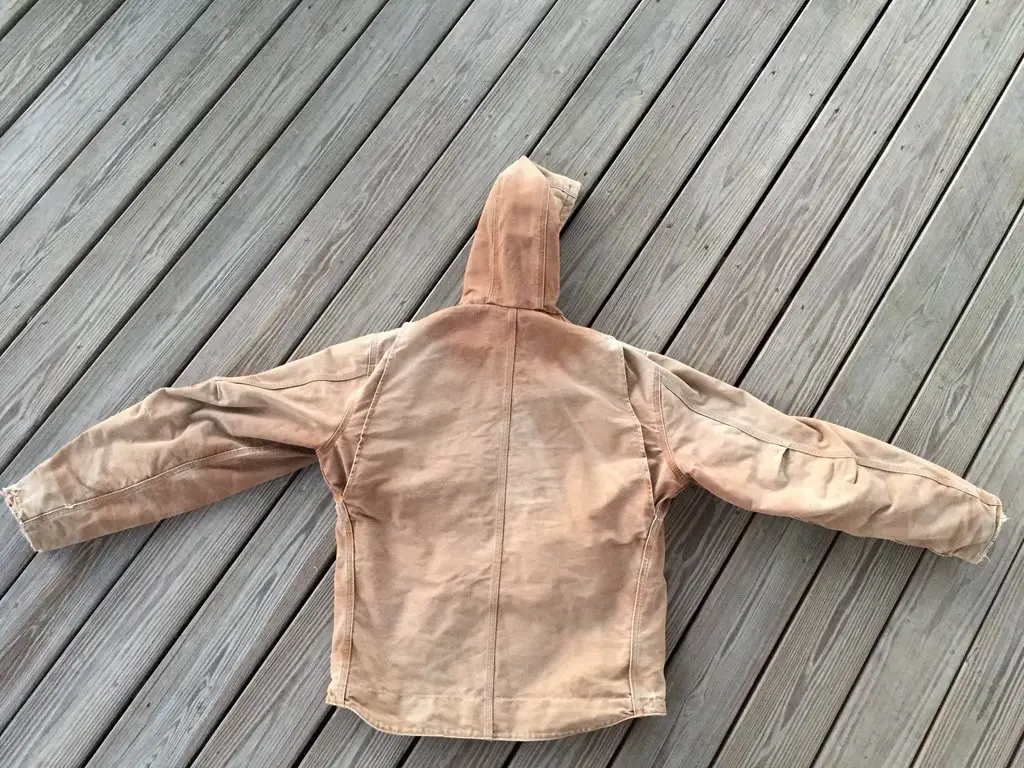 Also, the amount of shrinkage of Carhartt jackets depends on whether they are pre-washed or unwashed wherein the pre-washed ones will shrink much less than the unwashed ones.
This article will help to know the various facts related to the shrinkage of Carhartt jackets, what causes the shrinkage, do you need to size up or down in Carhartt jackets and how to wash and dry them correctly…
Do Carhartt clothes shrink?
According to the Carhartt customer service executives, the shrinkage of any Carhartt clothing will depend on the extent of care you are taking for the item following the care instructions given in the labels of the clothing.
Most of the labels will include the following general care tips:
1.) Wash the clothing in Luke warm water
2.) Never use any bleaching agent for removing stains
3.) Tumble dry medium
4.) Better to avoid direct heat while drying the clothing
But if your Carhartt clothing is made of firm-hand duck cloth, you can expect it shrink 3% or less with regular washing.
Should you buy a size up in Carhartt jackets?
If your Carhartt jacket is made of firm-hand duck cloth, it might shrink a little over time, so its better to size up for the same.
Also, for the fact that if you are planning to wear the cotton jacket in the winters, you will have to build up with warm clothes underneath the jacket and in that case too, sizing up 1 size higher advisable.
But if you are planning to buy a Carhartt jacket in nylon or leather, you don't really need to size up in them because there are least chances of shrinkage in them.
But with leather products again, you need to maintain the leather properly by conditioning it regularly because hardened leather will give the impression of shrinking over time.
Will my Carhartt jacket shrink in the dryer?
Using the dryer to dry clothing can account to shrinkage in many cases. Like cotton and leather jackets will definitely shrink in the dryer. So, it is always better to dry them naturally or under the fan.
How do Carhartt sizes run?
Carhartt usually offers a snug, roomy and comfortable fit. So, the first time you wear your actual size, you can feel that there is just extra room inside the clothing which is not necessary.
But, as mentioned above, your Carhartt cotton clothing can shrink over time. So, that extra space should become fine in time with the shrinkage.
And if you are not economical, and ready to spend on another clothing over the course of years, you can definitely buy half to 1 size smaller than your actual size.
Is it OK to wash a Carhartt jacket?
Yes and of course yes! You should definitely wash your Carhartt jackets just like any other clothing, because they will obviously get dirty with regular wear.
You just need to follow the care instructions given in the official website of Carhartt, carhartt.com which states the following:
"Wash warm, do not bleach, and tumble dry medium. Remove promptly."
How do you shrink a Carhartt jacket?
As is mentioned earlier in the above sections, Carhartt jackets might give you a roomy and boxy fit if you go for your actual size because they usually run a size bigger especially in their cotton jackets line.
So, if you don't like that baggy fit of your jacket, you can shrink it using the following steps:
1.) Wash the Carhartt jacket in warm water using a mild detergent (remember not to use any bleaching agent)
2.) Set your dryer to warm settings or tumble dry medium settings. In case your jacket is made of a flame-resistant material, you can set the settings to tumble dry low and then run the dryer for a longer period of time
3.) Set the timing of the dryer for not more than 15 minutes at one go. Then after 15 minutes, take out the jacket and check how much it has shrunk
4.) If the jacket still hasn't reached the required size, you can turn on the dryer for another 15 minutes or so
How do you wash a thick Carhartt jacket?
Be it thick or thin, the washing instruction of any Carhartt jacket is the same: turn the water temperature of the machine to warm (not hot) anything less than 160 degrees F.
Do not use any harsh detergent or bleaching agents and the either dry under the fan or tumble dry medium in the dryer.
How much will a Carhartt jacket shrink?
Besides the material of the Carhartt jackets, another factor which determines the amount of shrinkage of Carhartt jackets is whether they are pre-washed or unwashed.
If your Carhartt jacket is pre-washed, the chances of them shrinking once again is very less and even if they do, the percentage of shrinkage will be less than 2%.
But with unwashed Carhartt jackets the percentage of shrinkage will have a difference of nearly 6% with the pre-washed ones.
It's time to wrap up!
There are 2 aspects of Carhartt jackets: they will tend to be roomy and they will tend to shrink as well over time and with regular wash.
Therefore, size up or down according to your preferences and needs!
That's all for the day. See you soon in my next post!