Often, we wonder if pants should be worn under or over the belly, and more specifically how far below the belly button? Does it make a difference if you are heavy or overweight, and what does this mean if you are attempting to dress for your job?
There is no one specific answer, as a lot will depend on your height, your weight, and your personal style choices. Different styles of pants will require differing positions with regard to your middle.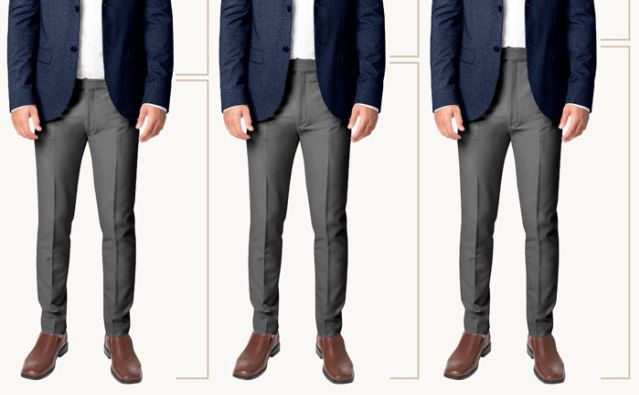 Pant Styles
Pants basically come in three styles:
High-waisted trousers

Low-rise slacks, and

Mid-rise slacks
Each style will sit differently.
High-waisted Trousers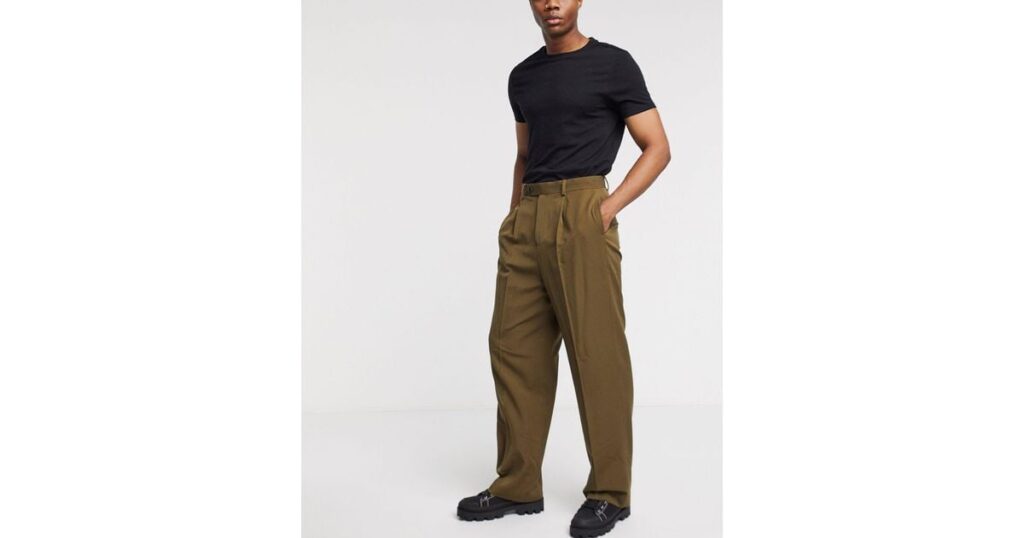 High-waisted pants have been fashionable since the turn of the last century. They are designed for wear just below the belly button.
The entire abdominal area of your body will be covered, affording a slimming effect to those that choose to wear this style. Aim for pants to sit at the hipline.
This style will visibly lengthen the abdominal area. They should drape comfortably without drooping or appearing baggy.
The correct fit of trousers should never be too big or too small because this not only can contribute to discomfort but to bunching fabric or creases that simply look wrong.
For those that have a larger belly, high-waisted pants can be exceptionally flattering as they contribute to a longer thinner look if they are not too short or too tight. This means acquiring the proper size and the proper pairing to achieve the most flattering look. 
High-waisted pants can be paired with fitted shirts for a slimming effect, or they look great with shirts that are tucked in. Avoid wearing baggy sweaters or shirts as they will only make you look much bigger in girth.
Low-rise Slacks
For those that opt for low-rise pants, these will automatically be worn below the belly and will generally sit from two to four inches underneath the belly button. 
This style will sit lower on the hips and should sit just above the hips. They have a considerably shorter inseam than the other styles. Low-rise slacks are often a favorite style for those that are shorter in height. 
Low-rise slacks can be paired with a variety of tops but are most attractive when worn with a fitted shirt or sweater so as not to appear too baggy. Shirts can be worn tucked into the waistband. Loose-fitting tops can be paired with low-rise pants for a more casual look.
Mid-rise Slacks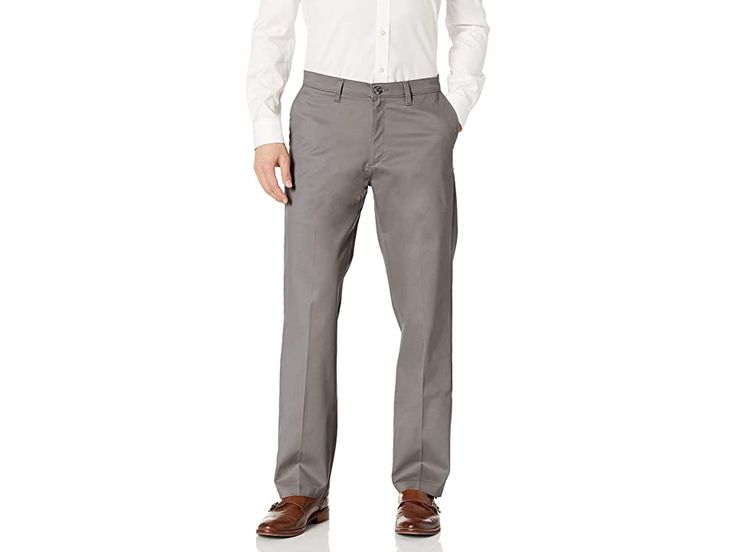 Believe it or not, there are mid-rise pants. This style of pant will sit at your natural waist. They are not high or low-waisted. These pants sit directly underneath the belly button.
Often mid-rise slacks will offer a baggier style and they can be worn with any type of top depending on the style you wish to achieve. 
Mid-rise slacks, depending on how they are paired can be worn at the office or even for dressier occasions or casual outings with friends, or errand running.
How Should Heavier Men with Large Bellies Wear Their Pants?
To begin with, heavy men should opt for pants that feature a flat front without pleats. Ideally, shirts should be tucked in, and pants should cover the stomach. If you don't want a belt cutting or cinching your middle, consider wearing suspenders.
Heavier or obese men should wear their trousers around their middle. Fat guts hanging over belts are not attractive.
Heavy guys should also consider pairing pants with dark-hued jackets that accentuate the shoulders, so it appears that the body frame is slimmer. Properly fitting double-breasted jackets are a great possibility.
Over or Under the Belly?
You don't want pants to sit high above the belly button. Slacks will generally sit on the hipline with suit pants and chinos sitting just above it. Your shirt should easily tuck into your trousers without worrying about it coming out.
What's the Reason Some Men Wear Their Pants Below Their Gut?
There is a theory that this manner of wearing pants began in the United States penal system. In prisons, belts are generally prohibited, and prison wear may not be adequately sized. 
Supposedly sagging trousers were a message among inmates to communicate an openness for sexual relations. 
More recently, it is a fashion choice, especially among younger folks.
See also: Why Do Men Pull Their Pants Up Before Sitting?
What If My Pants Are Always Falling?
There are quite a few reasons pants may be falling. The most common include:
Pants are too big or too loose

Improper body posture

A bad belt

Belly fat
Belly fat may contribute to pants not staying up, but there are several things you can do to mitigate this problem.
Select trousers that are comfortably loose without being too loose

Select a comfortably loose shirt or top

Make sure to tuck in your shirt

Get suspenders – you won't need to worry about your pants falling, and you will be comfortable around your belly area.

Select the right underwear as it can easily cause clothing to ride up or pull down
See also: How to Keep Your Pants Up With Big Belly
Where Should My Pants Sit?
For pants to look attractive they must be worn properly, and this means that the waistline needs to be considered. The natural waistline begins above the hipbone and travels around your abdomen to the belly button zone.
Take into consideration what style of pants you have selected so you have an idea as to how high or low these slacks should sit during wear.
Ideally, slacks should sit just above the hipbone. Those with straight body silhouettes can easily wear low-rise pants if their hips are wide enough.
A well-dressed man will never let his belly hang over his trousers. Guys with big bellies may want to opt for suspenders right from the start. Suspenders will save you from worrying about where your pants are sitting.
In the end, exactly where pants sit depends on the style of pants purchased, but for an attractive appearance, avoid letting bellies hang over belts and waistbands. For slim men or those with well-sculpted abdominal muscles, this won't be a problem.