According to an article written by The New York Times, State Senator Eric Adams of Brooklyn had sponsored a billboard campaign with the slogan stating: 
"Raise your pants, Raise your image!"
There's a story behind his dislike for the aforesaid fashion and the reason that he finally took the step of raising campaigns against it:
As Mr. Adams mentions:
"I was on a subway train, and there was this young man, his behind was showing, literally. He had underwear, but even the underwear was sagging. All the passengers were looking at each other in disgust, but nobody was saying anything."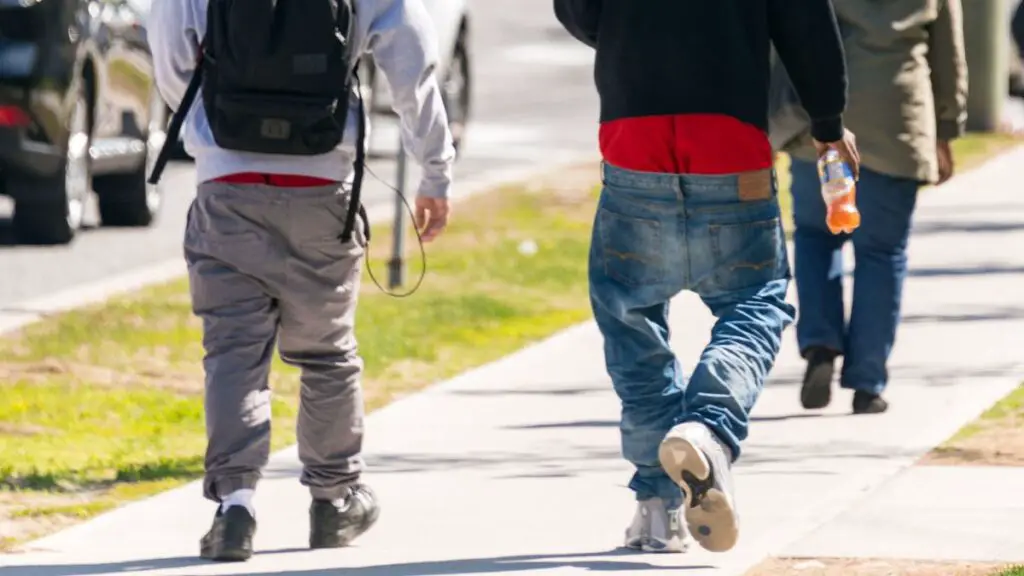 So, under his sponsorship, messages went up in several places in Brooklyn for the black young men that raising their trousers (pants) would mean raising their image.
Parading with Sagging your pants in the public streets is obviously disrespectful. People will never want to have a view of your underwear or sometimes even what's below your boxers! That's not a fashion guys! That was actually the dress code of the Black men who were prisoners in America. 
Let's find out more about the sagging pants culture, its history, the controversies, and the legal code of conduct…..
Is sagging pants a sign of disrespect?
It might not be for the wearer, he might think it as a fashion statement, following his favourite hip-hop stars, but to the watchers, they are definitely a sign of huge disrespect.
Imagine you are standing in a queue and the person standing in front of you is showing his underpants or boxers (sometimes exposing half of his hips as well). 
Will you not feel embarrassed or disrespected?
Why would one want to see a person's private clothes? I mean keep it to yourself! That's not even a fashion!
What does sagging pants mean?
Sagging pants typically mean wearing your pants or trousers or jeans below your waist level and sometimes so low that it would expose your underwear and might even show a small portion of the upper hips.
The history of sagging pants
Black males who were supposed to pose a threat to the American were taken as prisoners by the whites and in the prison they were not allowed to wear belts with the pants.
The pants were also not tailored for a particular prisoner and therefore the pants used to come down below the waist and that exposed their underwear below the waistline and even exposed their hips. 
This is often controversial that the sagging pants were a sign of sexual exploitation of the prisoners!
However no fact has been proved behind this controversy.
The cultural background of sagging pants:
Of course the common folk won't follow something that belongs to the prisons!
The actual trend of sagging pants started with some rappers of Ice Tea and Too Short. They used to wear low waist pants and that showed off their matching boxers from within.
Generally the hip-hop lovers would definitely follow their popular rappers and think it as a high-end fashion statement.
The fashion even went so viral that pants with boxers or underwear stitched (showing of the underwears) in them began to be made and sold in the market and they were loved by the young generations.
The controversies behind sagging pants:
Of course in today's world you are free to wear anything of your choice until and unless it is not your work environment and no one is supposed to judge you. 
So even when someone wears sagging pants and you try to oppose that trend, you would be called racist (keeping in mind that sagging pants were a thing of the Black men). 
And it's a wrap!
Wearing low waist jeans and wearing sagging pants are two different things!
While the former is an accepted fashion style, the later is definitely considered to be disrespectful.
You should always dress to enhance your personality and leave a positive impact on the person watching you!
But nonetheless, you are free to wear anything of your choice and you won't be put behind the bars for that.
With that being said, it's time to wrap this post and bid you adieu with a hope to meet you soon in my next one.
Till then, wear your favourite clothing and keep flaunting your style!