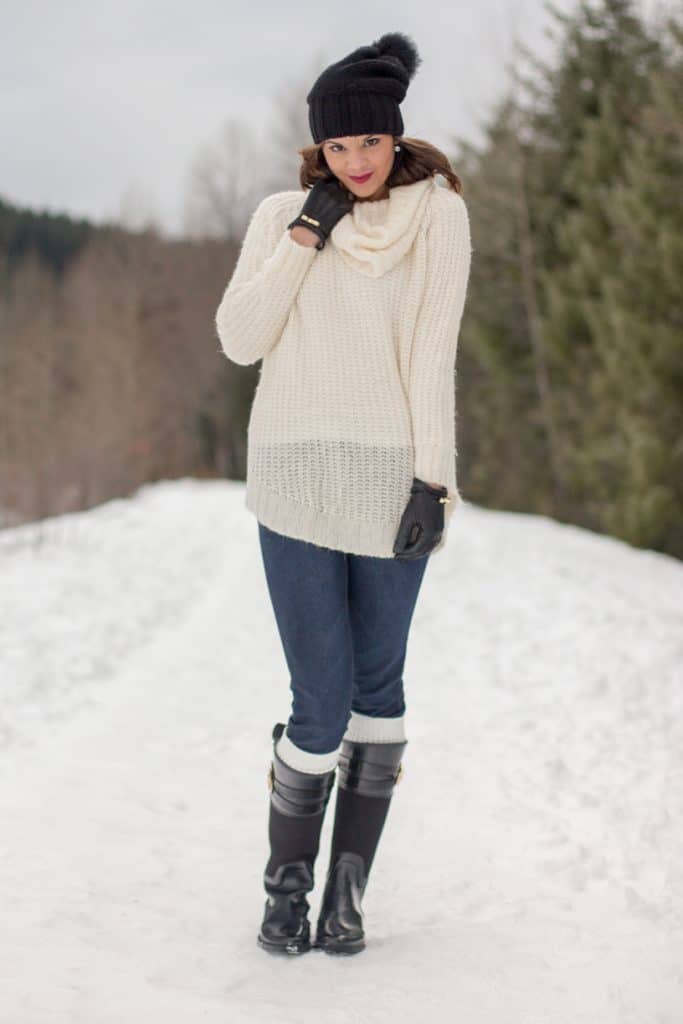 Tight on the budget as the end of the year rolls around? In this situation investing in a variety of work boots for different seasons can definitely dig a deep hole in your pocket.
We all know that there are different options for both rain and winter boots available in the market but obviously, they don't always come cheap.
In fact, investing in two pairs of work boots is a bit depressing. So is there a solution to this problem? Can you wear your rain boots in the snow?
The answer to this question is – YES, you can wear your rain boots in the snow. However, you have to consider the various factors like the temperature, amount of ice on the streets, how much walking you have to do, to keep yourself safe from harsh snow.
The other two important factors to keep in mind while wearing rain boots in snow are "Warmth" and "Traction". Rain boots are basically made of rubber and don't offer perfect insulation or warmth.
In other cases, these boots can be used instead of snow boots when there is little snow but if your sidewalks are covered with snow, chances are you could fall and injure yourself! 
Let's have a look at some of the factors which assure that you can use rain boots in the snow. Read on to find out how!
How are Rain Boots Different from Snow Boots?
Yes, we can use rain boots in snow but have you ever thought if rain boots can be worn in the snow then why exactly do we need snow boots? Got confused? Well, there are basic differences between these two types which you need to understand. 
1.) The material used
Unlike snow boots, rain boots are unadorned and use only two materials that are PVC or rubber in the upper. These materials make rain boots more flexible in comparison to snow boots and your feet can feel more comfortable in the former.
Whereas, the list of materials that are used to make snow boots is long as these can be made of nylon, wool, leather and even rubber to keep your feet warm.
Now let's talk about the lining of each type. While rain boots use polyester and cotton as their lining materials, the snow boots consider stuff like fur or plush which are a bit cosy in nature. 
Altogether, if we take the material into account then snow boots are heavier in comparison to rain boots.
2.) Appropriate temperature to wear
Rain boots during the fall are no big deal but if you are willing to experiment then try wearing snow boots on normal days and your feet will be like in an incinerator.
Not just this, putting on rain boots when the outside temperature is lower than 10 degrees can make your feet cold and you can get sick very fast!
3.) Design 
Talking about the design, the outline of snow boots sometimes resembles that of a winter jacket as they are voluminous for your feet.
On the other hand, I find rain boots more elegant, comfortable and better styled for both your wardrobe and for your workplace.
But despite these differences, wearing rain boots on a warm snowy day will not be a big problem.
Different Myths about Rain Boots
Have you also heard different myths about why you can't wear rain boots in the snow? Let's bust these three myths because trust me it can be done!
Myth 1: Rain boots aren't well insulated
To be honest, rain boots obviously aren't the best-insulated shoes ever made but you can make them work in the snow just with the help of a few hacks.
By wearing leg warmers and warm socks you can definitely keep your feet happy and warm until it's extremely cold outside.
Myth 2: Rain boots lack traction
Yes, it's kind of true that all rainboots haven't got perfect traction. Well, I guess it depends on the rain boots you are purchasing.
Always keep in mind, look for those work boots which have good tread so that you don't slip while wearing them in snow!
Myth 3: Rain boots are too loose and will make you fall
We have got a solution to this problem as well. Just invest in a pair of boot liners as they can add an extra layer to keep your boots at place. Interestingly, you can also use thicker socks as they can also do the trick to keep the rain boots tight and snug.
Best boots for both snow and rain- All your questions answered with Duck Boots!
Boots that can easily protect your feet from snow and can also keep your feet dry. Sounds impossible, right? But with Duck boots, even this is possible as these are a classic footwear option designed as a mashup for both rainy or snowy days.
Duck boots are hard to beat as they offer warmth, water protection and perfect traction along with comfort. Additionally, their over- the ankle fit makes it easier for you to move around which is a bit difficult in typical stiff and heavy snow boots.
Here are our top picks of the best duck boots for extreme weather.
1.) SOREL Women's Out N About Leather Rain Snow Boot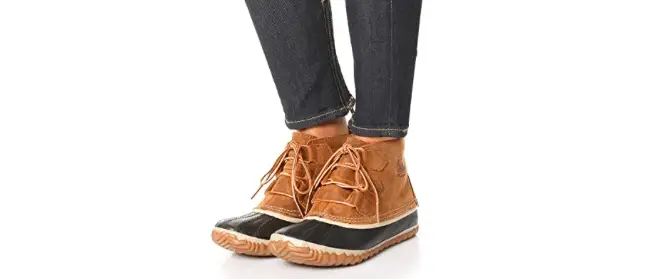 Made from waterproof full-grain leather, these stylish shoes from House of Sorel will stay with you while you are working in rain, mud and even snow.
The leather used in these boots are waterproof and have canvas lining. Additionally, these come with seam-sealed water construction and prevent seepage of water inside.
The vulcanised rubber prevents your feet from getting wet and the herringbone outsole keeps your feet warm when the snow covers the streets.
The shaft of the shoe is approximately 4.5" inch from the arch and the platform heel measures 0.25 inches, enough to keep your feet covered.
Pros:
Durable and comfortable

Work in all weather conditions

Have excellent waterproof properties
Cons:
These boots can be an issue for those who love to wear boots without socks.
Check Price and Reviews on Amazon

---
2.) ArcticShield Men's Rain Snow Duck Bean Boots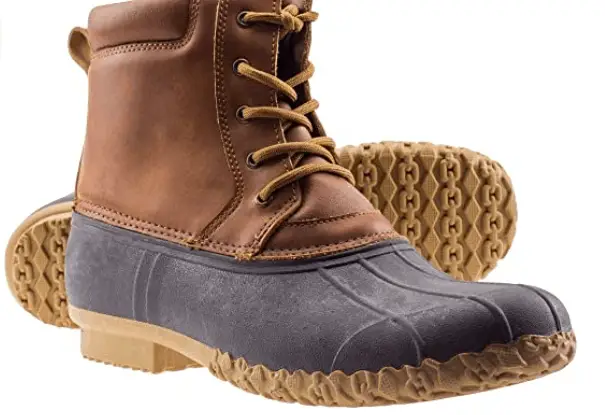 These boots are a perfect amalgamation of warmth, style and water-resistance. Top-quality leather upper and durable rubber outsole provides the traction you have always wanted at your workplace.
I would suggest you to just put on these ArcticShield boots and walk freely on both wet and cold surfaces.
Not only this, but the boots have also EVA insoles offering cushion and stability which are obviously required by your feet.
Talking about the water-repellent feature, the rear locking YKK zipper protects the water from sliding inside your boots thus keeping your feet dry.
I also like the RE-tain technology which acts as a multi-layer barrier capturing almost 97% of your body's heat and returning it back to you.
If you are thinking that all these superb features can make these boots heavy then don't worry because the quality insulation comes in a feather lightweight and absolutely thin cover.
Pros:
Snug Fit

High-quality leather upper

Very warm boots
Cons:
Check Price and Reviews on Amazon
---
3.) Sperry Top-Sider Men's Avenue Duck Boot Chukka Boot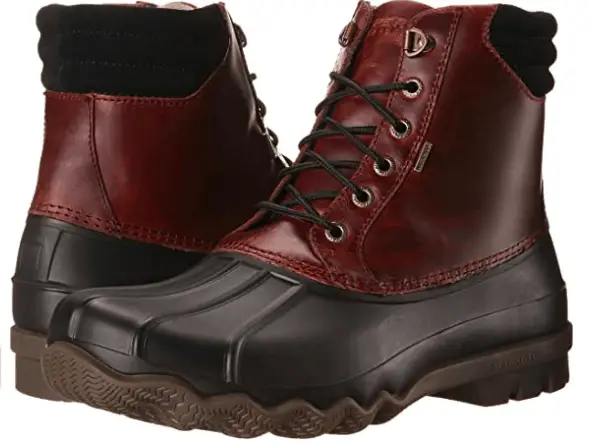 Believe me, these boots will serve you a long duration. The top sider gives you all the energy to walk confidently in rain as well as on snow.
For the price you pay, these boots offer some irresistible features like a genuine leather shaft and a rubber foot which is both water and rust resistant.
Furthermore, the inbuilt non-marking outsole with a Wave-Siping technology provides traction both on wet and dry easily.
Even if your city is facing a snowstorm, you can work without any fret as the waterproof exterior makes sure that your feet are safe and warm even in the harshest of weather conditions.
The 7" shaft in the shoe is especially built for saving your feet from the snow and a heel of ¾ inches provides the elevation in the rain. Isn't it something you wanted?
Pros:
Well-rounded look with top lacing system

Good and comfortable fit

Feather like and durable.
Cons:
The shoes can be slippery when wet.
Check Price and Reviews on Amazon
---
How can you turn your current rain boots perfect for a snowy day?
You don't have to spend double the money but if you really want to wear your rain boots then try wearing them with one of these liners and avoid walking on ice.
Cable Knit is sweater knit cuff top socks to add that warmth factor to your favorite rain boots.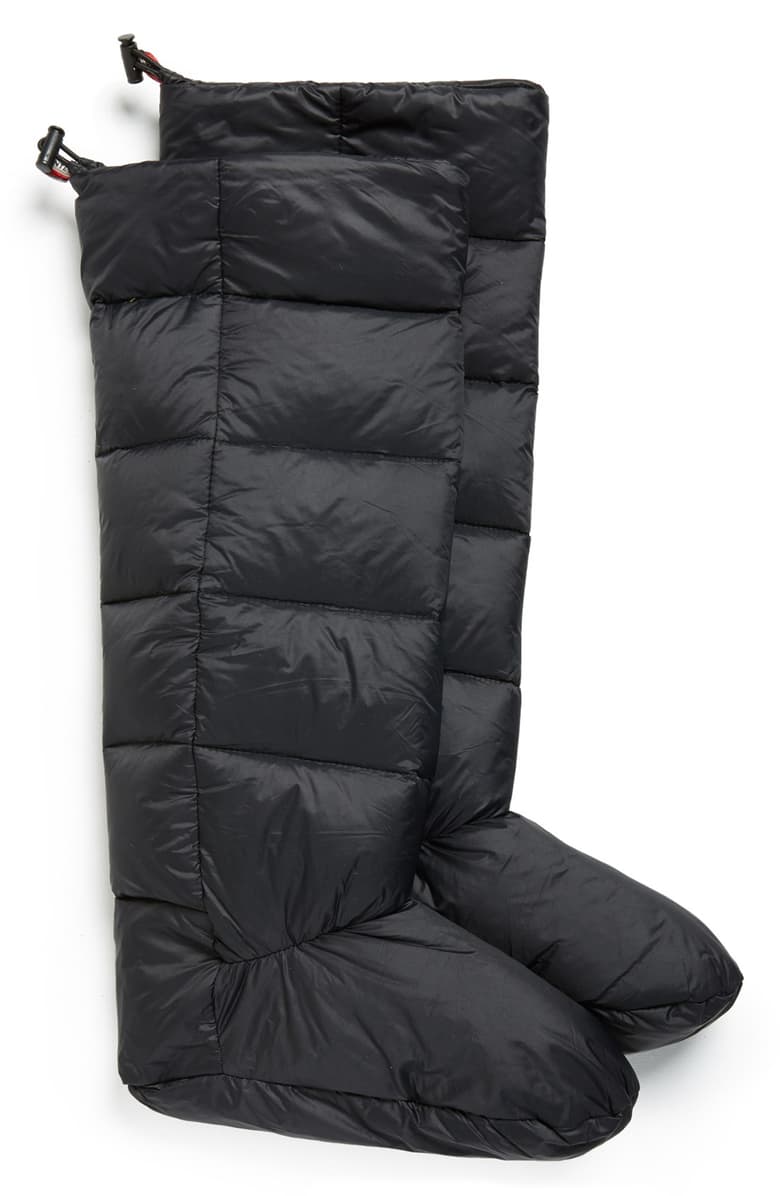 Down insulated tall boot socks are another pair of saviour which can be worn inside the rain boots. Believe me, these socks just act as a much-needed jacket for your feet.
If you want a cosy pair of socks that hug your feet then go for these Tight knit knee socks to get that missing insulation on a cold snowy day.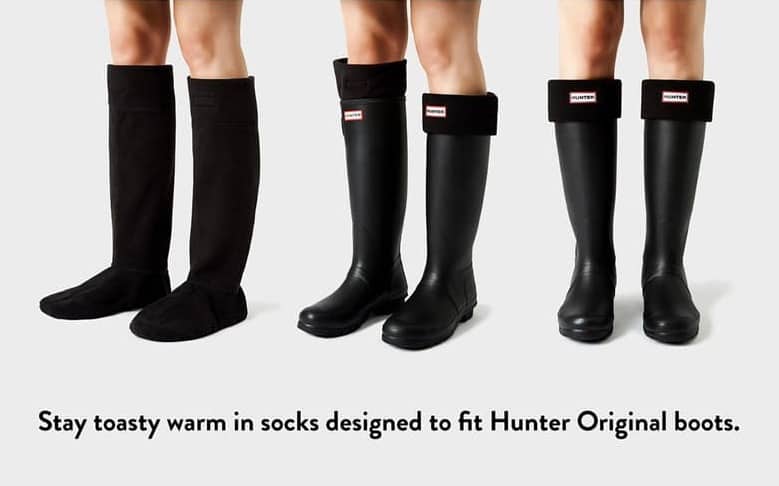 Try these Original Tall Welly Boot Socks which have supersoft fleece to make your boots toasty as you want them to be!
If you interested to discover the best boots for winter check out the video below
Top 10 Best Winter Work Boots for Men and Women
Are rain boots slippery in the snow?
Rain boots are meant to be slip resistant because boots that are made for wearing in rain are obviously made keeping in mind the slippery surfaces that comes along with rain.
Yes, I agree snow is meant to be way more slippery than normal wet surfaces, but if your boots have good traction, you can definitely wear them in the snow.
At least, I have worn my rain boots with warm socks and they have not made me slip over in the snow of Switzerland while I went for a holiday there!
Therefore, if your rain boots are oil and slip resistant, you can definitely wear them in the snow!
Do rain boots keep your feet warm?
Rain boots are definitely waterproof and when a boot is waterproof it definitely cannot be that breathable even if the boots claim so.
Yes this is fact!
Therefore, as rain boots are waterproof they are less breathable and less breathability means it will trap the heat of the feet inside and will not let any air flow inside the boots which means that your feet will be hot inside the boots!
This is applicable only for the ones whose feet become warm and sweat a lot and with the ones who have cold feet like me!
Therefore, in summer months you can be rest assured that rain boots are going to keep your feet warm and in winters too who do not have cold feet like me.
But the ultimate truth is that rain boots do not have any insulation in them to provide warmth to your feet.
Definitely, rain boots will restrict the outside cold to enter the boots because of the waterproof membrane in them, but as they are not insulated, you cannot expect the warmth from them!
Final thoughts 
You might be thinking that I am being crazy for advising you to wear rain boots in snow but believe me with a little precaution and use of proper hacks you can stay both cosy and dry in these boots no matter in whatever conditions you live in.
Just invest in one of the mentioned boots and walk freely with your best foot. Till then stand tall and keep smiling!