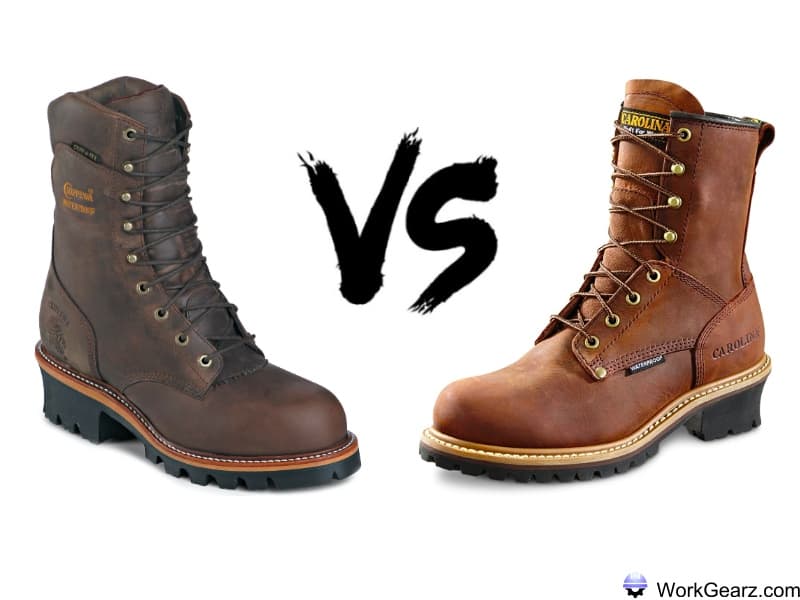 We are often told to adjust and settle with what we have. But that is only applicable when we are left with no options.
In today's world, workers have a variety of options to choose from, while buying their PPE (Personal Protective Equipment), be it their boots or hats or jackets or gloves.
So, why compromise!
Talking of safety boots there are many types like- Steel toe boots, Composite boots, Chippewa boots, Logger boots, Soft-toe boots and many more to select. Which one suits your job profile is up-to you to decide!
In this piece of writing I will focus mainly on Chippewa and Carolina Logger Boots. As you scroll down you will find all the comparison factors, the pros and the cons of both types.
Go through them thoroughly and then decide which one is the best for you. I am sure that this article will provide you a clear idea about which pair to grab!
Chippewa boots, on one hand, offers a classy look with rugged strength, whereas the Carolina Logger boots offers more or less the same, but with better traction and grip on wet as well as dry surfaces. In terms of material used, scratch mark and wrinkles are noticeable and appear quickly on the pair of Chippewa, but in Carolina Logger boots, they gain a slight edge due to it's low cost and durability.
8 Best Logger Boots For Men
Chippewa Boots
These boots were founded by Chippewa Shoe Manufacturing Company in Chippewa Falls, Wisconsin in 1901. The Company uses the finest materials and craftsmanship.
Since then the Company continues to preserve its heritage. Due to the use of best materials, the soles hold up better, compared to other boots.
The leather softens overtime to make it easy to break in them. They are light-weighted and breathable enough to keep the feet dry, even after a long day. Since the brand specializes in rugged outdoor and field boots, they are considered reliable for workers across the globe.
The Company also states that their shoes are "built to honor the guts and determination of the loggers and engineers who paved the way, built the roads and constructed our buildings".
The Company is dedicated to build these hardy work-boots consisting of a round toe for a wider toe space, a Goodyear welt and a classic looking cork mid-sole, out-sole made from Vibram offering  better grip. Mostly single stitched but some are triple stitched by the laces.
Features:
1.) Made with Crazy Horse Leather- This particular type of leather was once used to make horses' saddles. That is where it got its name. Though it ages quickly, the leather is likely to get wrinkles fast and noticeably, which is why it needs oiling.
2.) Wax strengthens the fibres- The Crazy Horse Leather material used for making these boots are known for a kind of wax, smoothed out to a point when its color changes, as the leather is rubbed or scratched.
3.) Vibram Outsole- This is a thick and flat outsole which provides a perfect grip.
4.) Steel shank- Also consisting of a steel shank, these boots provide stability and arch support.
5.) Goodyear welt- The sole attached to the upper layer with this particular type of welt imparting water resistance, durability and a 360 degree welt around the shoe and the heel.
6.) Easy to break in- These shoes don't really need breaking in because of a wider ball at the toe area. You are certain not to experience discomfort or abrasions while wearing them.
7.) Price- Going by its classy looks and manufacturing materials, these boots are not at all expensive compared to other work-boots.
Carolina Logger Boots
These boots are also quite sturdy and comfortable and takes no time to break in. You can wear them anytime, anywhere, without any hesitation.
The most popular thing among this brand is that they are light-weighted and waterproof, making it ideal for wearing them for long hours.
These boots particularly helps in preventing from slips in both wet and dry conditions. Due to its long heels they also help in finding a proper footing and grip.
The soles have lugs to maintain traction while standing still. These boots are renowned for alleged comfort, impeccable performance and durability.
These boots are shielded from all sides against any injuries from log rolling. These boots consists of a steel shank for complete arch support.
Features:
1.) Full-grain Leather Uppers- These boots are a tough, flexible and comfortable investment featuring full-grain leather uppers for long wearing.
2.) Non-insulated- Since these boots don't have proper insulation against extreme weather conditions, it is advised to use an extra insulated thick fabric named Thinsulate while wearing them.
3.) Non-waterproof- These boots may look rugged and well finished but they do not provide water resistance by default. However certain types of welts may provide resistance from water.
4.) Steel shank- These long boots also have a steel shank for stability and maximum arch support.
5.) Ball and Toe area- These boots have a narrow toe and ball area compared to the Chippewa boots, making them slightly more time consuming to break in or get habituated in them.
6.) Price- They come with a comparably high price tag.
Comparison Between Chippewa and Carolina Logger Boots
| | | |
| --- | --- | --- |
|             Features | Chippewa Boots | Carolina Logger Boots |
|                   Material | Mostly made of Crazy Horse Leather. Ages quickly and noticeably through wrinkles. | Mostly made of full-grain leather for long-wear durability. |
|               Maintenance | Needs proper maintenance and oiling from time to time to prevent against wear and tear. | Needs very little maintenance compared to the Chippewa. |
| Toe and Ball Area | Wider toe and ball area. Easier to break in.  | Narrower toe and ball area. Takes time to break in. |
|                   Outsole | Flat and thick outsole for hard finish. | Outsoles with heels to provide better grip on uneven surfaces. |
|                 Insulation | Provides proper insulation against bad weather conditions. | Not insulated. |
|           Waterproof | Goodyear welt provides resistance to water. | Non-resistant to water. |
|                     Price | Comparably pocket-friendly. | Costly. |
Check Out Comparison Between Danner and Chippewa Boots.
FAQs:
Are Chippewa Boots worth the money?
These boots are made for consumers who don't care to spend much to get the best. They are more expensive than Wolverine Boots but you can consider it as money well spent. 
How to clean these work-boots?
These boots have a reputation for durability but requires maintenance. Clean up any dirt build-up by applying leather cleaner using a clean cloth. After that, let these boots dry for 1-2 hours.
What is the longevity period of these boots?
Depending on the quality of the leather used, these boots may last for 1-3 or even 5 years, if the leather is of a top notch quality.
Which job profiles do these boots specialize in?
Although Chippewa boots provide an all-round protection in every work-field especially biking, Carolina Logger boots specializes in log-work (heavy duty), as per its name.
Conclusion
:
I have reached to the finishing line of today's topic.
Hope you are now aware of all the necessary information required to choose between either of these two boots, according to your profession.
The first sentence of the introduction has been somehow proved.
Just keep one thing in mind- "Never settle with a particular option when you have choices to make".
If you insist, comparison between various footwear, will soon be there for your convenience, in my upcoming articles.
Till then, take care!
Work Hard!
And be safe and happy!