As far back as the twelfth century, boots have been a fundamental part of riding gear for those riding horses.
Equestrians require reliable footwear to assist them while riding and controlling their horses. So, what qualifies as a cowboy boot and what brand is the preferred choice for professional cowboys?
What Kind of Boot Is a Real Cowboy Boot?
Cowboy boots are designed to protect a cowboy's feet and legs. They usually possess longer shafts so that legs are protected from saddle chafing and brush.
Heels are angled and pronounced in such a way that feet do not slip out of stirrups and fall, and some will feature embroidered designs on the leather shafts.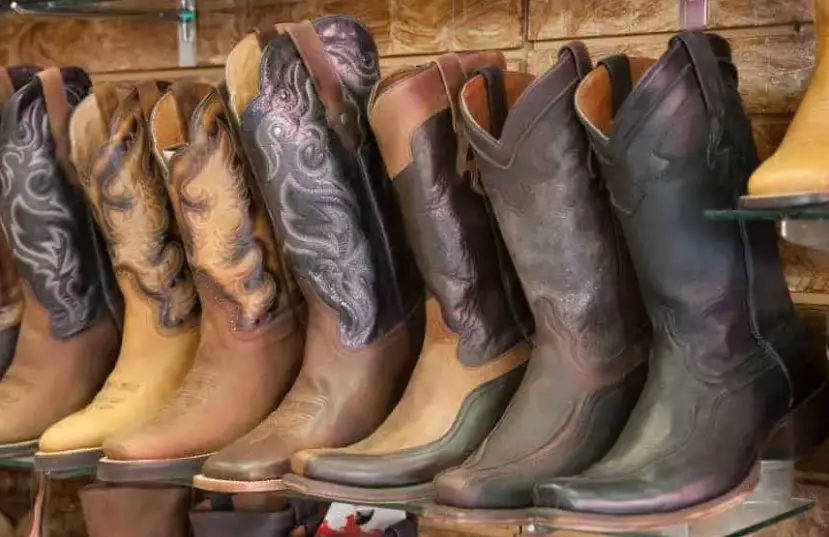 An American icon, the cowboy boot is pretty recognizable. Produced in authentic, quality leathers, they are not only worn by the pros in the field but as a fashion statement, especially in rural, western and southern regions.
Authentic cowboy boots will be produced with leather from cow, and bison, as well as a few other animals. They will feature a tall boot shaft and a heel that fits comfortably in the stirrups.
Most will feature embroidery, rivets, or other types of decorations. Many are made directly in Texas or Mexico. Made in genuine supple leather, they will fit snugly but comfortably. 
Leather is the preferred material used in the production of cowboy boots because full-grain cowhide leather ages well, and it is easy to both maintain and to repair. On an eco-friendly note, leather can be recycled.
Are Real Cowboy Boots Expensive?
They certainly can be. Some of the top brands like Lucchese, Phillip Plein, and Stallion Black can cost as much as $5000 for a pair.
The History of Cowboy Boots
Boot historian and author Tyler Beard writes in his book, "Cowboy Boots" that there is no defining moment in history where the first pair of cowboy boots appeared.
In the period that preceded the Civil War, during and after, ranchers and cowboys wore what was available and affordable. The concept of a boot specifically made for cowboys came about in the second half of the 19th century.
The boot style deemed one of the earliest cowboy boots resembles a Coffeyville style boot that was created somewhere in the neighborhood of 1850.
These boots were not modelled for a specific foot and could be worn on either. They were made of leather that had the flesh side facing outward and were waxed but unlined. Black was usually the color, and the toe box was squared but slightly rounded.
With the arrival of the 1880s, European boot production made its way across the Atlantic and exerted some influence stylistically.
The European cobblers employed a better quality of leather and higher heels. Toe boxes also tended to be somewhat wider. By the end of the decade, the stovepipe design appeared giving the same height to both the front and back of the boots.
At the beginning of the new century, America's cowboy became a national symbol. American boot manufacturers began to produce cowboy boots like Justin Boots and Charles Hyer. These new American boot styles were clearly inspired by British and German boot styles. 
A decade later, the professional needs of cowboys began to influence boot styles especially regarding outer sole thickness and toe box widths. More leather colors were also made available.
The Hyers even invented their wrinkled toe style by stitching lines over the boot's top. Cowboy boot toe embellishment was named in a variety of ways including bug, fleur-de-lis, or flower among others.
The roaring 20s and 30s saw the popularity of the cowboy boot soar with Hollywood stars wearing them, and bootmakers responded by furthering developing the western style.
From WWII through to 1965, the US's top boot makers including Hyer Brothers, Acme, Tony lama, Justin Boots, and Nocona began manufacturing millions of pairs of cowboy boots to answer the demand.
Nowadays, cowboy boots are come in multiple colors and skins as well as designs. They can be customized to feature a date or a photo or embellished with rhinestones, rivets, particular stains, hand painting, or ornate stitching designs.
Are Roper Boots Cowboy Boots?
They are not specifically cowboy boots but are a western style of boots. These are specifically designed for ranchers that are involved in roping calves on the ground, but they can be used when riding.
Ropers will have rounded toe boxes where cowboy boots are generally pointy or in some cases squared. Cowboy boots will also feature higher heels than ropers do, whereas ropers will have a lower boot shaft.
Ropers are generally the preferred choice for ranchers that spend more time on the ground than in the saddle and allow for better stability when moving quickly on the ground.
What Boot Brands Do Real Cowboys Wear?
Any cowboy or rancher will look for quality when purchasing a pair of boots for work, and boots are not created equally, so which brands are top brands for real cowboys?
Here are some of the top brands that the pros will turn to when purchasing a new pair of boots.
1. Abilene Boot Company 
This company has been producing boots in the US from the 1980s. The company believes in producing quality leather boots at an affordable price. They continue to manufacture western style boots within the United States. They are not hand-made and do not offer custom sizing.
2. Ariat
Affordable and durable, Ariats are great looking boots. They use quality water-resistant leathers that are tanned to conform to foot shape.
Ariat also integrates new technology to reduce foot stress with shock absorption, and they are a particularly durable Duratread outsole. They will need breaking in.
3. Justin Boots
Producing cowboy boots from 1879, a pair of Justin boots need approximately six weeks to complete. Every pair of these boots in hand-lasted requiring 200 different steps. Lined with full-grain cowhide, they come with impressive embroidery.
4. Lucchese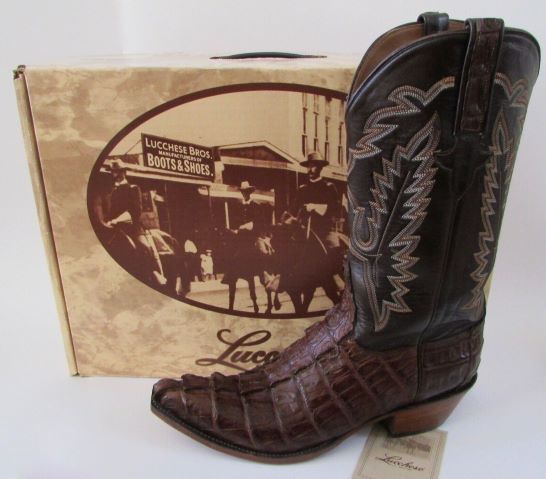 Founded in 1883, the Lucchese Boot Company of San Antonio. Known for dressing the famous, Lucchese boots have been worn by Teddy Roosevelt, John Wayne, and Will Rogers to name but a few.
Lucchese does use modern manufacturing methods but is famous for its handmade boots with handstitched embroidery and pegging to attach boots to the outsoles. They are expensive.
5. Rocketbuster
Rocketbuster boots are custom made boots in El Paso, Texas. You'll wait an average of three to six months for the arrival of these hand-stitched boots. Made in genuine top-quality leather they offer a wide selection of original designs not found elsewhere.
6. Tony Lama 
Founded in 1911 in El Paso in the state of Texas, they now belong to the Justin Boots conglomerate, although they have maintained their uniqueness.
Protection and rugged durability are their principal features. Many comply with workplace ASTM standards and offer great boot construction at affordable prices.
What Cowboy Boot Brand Lasts the Longest?
Lucchese and Justin boots both have excellent reputations for lasting for decades. Ariat also has a good reputation for their boots and they are often referred to as "workhorse" boots that last.