Truck drivers need to maintain safety at all times. That includes keeping everyone safe around them as they are driving their trucks as well as themselves. Having proper footwear is one of the biggest safety measures for truck drivers.
Steel-toed boots are NOT a requirement for truck drivers. However, depending on the type of truck driver that you are it may be a smart idea to invest in them.
Let's look at different types of shoes the truck drivers dependent on what sector they are delivering for.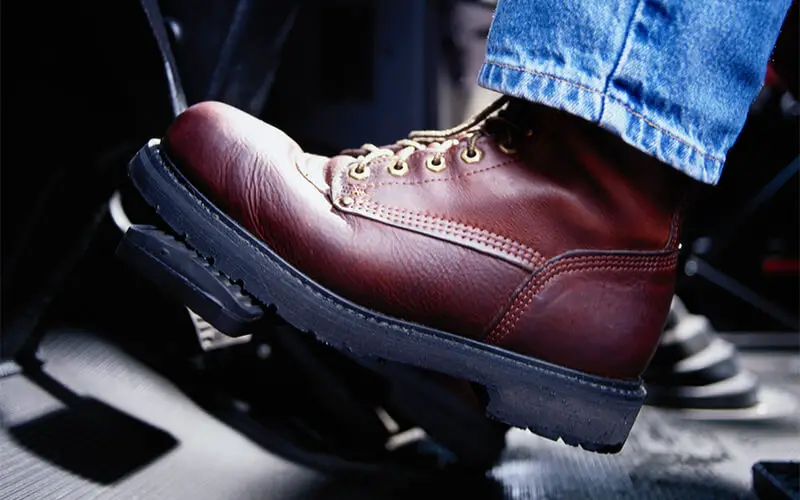 Sectors of truck driving
1. Delivering food products
Truck drivers that are responsible for food products are handling large pallets packed tightly with food. This makes the risk of falling more prominent due to the possibility of a slick environment.
Wearing steel-toed boots in this environment would not be a necessity however boots or shoes that are slip-resistant would be.
Slip-resistant shoes would be a better choice than a boot does to the long drives and the comfortability that it would provide. A lot of slip-resistant shoes have memory foam are installed that are designed for labor such as truck drivers perform.
2. Courier delivery
This type of delivery is less about the heavier products but more about constant movement. They will be exiting and entering the truck multiples times throughout the day. A shoe that is low on the ankle and designed to take a lot of impacts is the better option in this case.
3. Waste and construction
Construction material should be met with a steel-toed boot that is also able to handle some water. It should have a toecap and be resistant to water.
The truck driver will be driving long lengths so a boot that provides some sort of comfort to prevent their feet from becoming sore would be best.
For waste jobs, they are at a higher risk of falling or injuring their feet. Steel-toed boots would not benefit the truck driver. Instead, a slip-resistant shoe would provide the best safety.
It should be flexible with the outsole so their feet will stay comfortable during those long drives. Plus, the toe part of the should be water-resistant as well as the outsole.
---
How Truck Driver's Risk The Safety Of Their Feet
Besides the impact the driving does for the feet, truck drivers incur a lot of other daily risks such as:
      Wet conditions that make the ground slick to work on
      Getting your feet wet because of the conditions
      Injury to the feet, toed, and ankles
Having The Right Shoes Keep Injuries From Happening
In 2014, the Bureau of Labor Statistics reported foot injuries that were due to work totaling 52,070 as well as 60,830 for injuries to the ankle. These injuries put workers, including truck drivers, out of work for seven days on average.
→ Wearing the right footwear is one way to prevent these types of injuries from occurring. How do you determine what type of shoe is the right one? The first step is to make sure it fits properly. There are certain components that are needed for the shoes to work.
→ Having a shock-absorbent sole means, it will take all the force they are putting on it each day as they are unloading and loading the truck. Focus on the quality of the insole, which is inside the shoe, and the outsole which connects to the floor or ground, depending on where the truck drivers are working.
→ A heel that is higher will put more pressure near the top of the shoe, which gives prevents a potential injury to the ankle. This is important for truck drivers because of the constant movement. Alleviating and localizing the amount of force that is put on the feet and legs gives them more comfort throughout the workday and will help their feet stay protected.
→ There is a curve in the shoe that will enable them to know whether they are putting on the right or left shoe. That curve was made to adapt to most foot types.
→ The place where the toes are in the shoe is called a toe box. Truck drivers need to ensure this is either steel-toed, slip-resistant, or both. The deciding factor is what type of truck driver they are, as we discussed above.
10 Most Comfortable Work Boots for Men
Going Shoeless
Sitting in a truck all day doing nothing else, but driving is tiresome. The thought of having to wear shoes for long stretches of time makes some truck drivers sick. So, they don't wear shoes at all.
This is a cause for safety concern. Driving requires a certain foot power. Imagine something going wrong with a truck driver's foot when he is driving. Semi-truck accidents are oftentimes fatal due to the power and size of the truck. Choosing to wear no footwear at all is not a safe choice. Instead, a work boot is a better option.
Work boots give the needed support to keep the feet comfortable during those long drives while still providing the feet protection. It is important to have some form of barrier between the pedal and the feet. They will still have to unload the truck when they get to where they are going. Truck drivers need their feet to have the strength to support them during their work.
---
So, what you should as a truck driver?
Wearing steel-toed boots is the best way for truck drivers to protect themselves while working. It is the best footwear choice out of any other. When it is coupled with a slip-resistant outsole, it makes it an even safer way for the truck driver to work.
To get a working foot specific to the truck driver's needs, they should get a fitting to ensure the steel-toed work boots they are wearing are supporting any and all ailments.
This is especially important if there have been previous injuries in the past. Truck drivers do need to wear steel-toed boots so they can work safely.