In the never-ending battle of the work boot, two manufacturers' names stand out in the crowded marketplace, Wolverine and Rocky Boots.
Wolverine is a globally recognized brand known for quality and design and Rocky Boots offer no less with impressive features and added protection.
So, if you are considering buying a pair of work boots and have focused on these two brands, let's compare what they have to offer.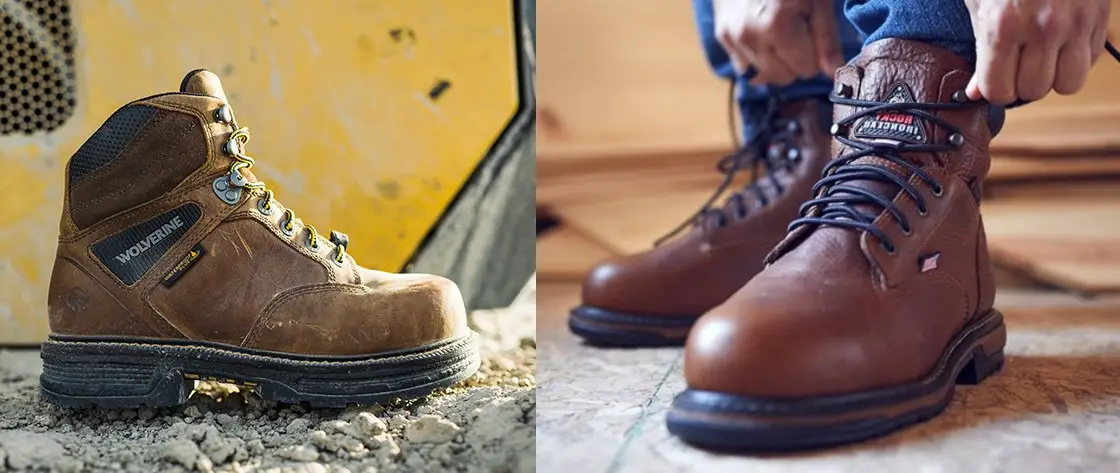 Wolverine and Rocky Boots Comparison Table
| | Wolverine Boots | Rocky Boots |
| --- | --- | --- |
| Styles | Work boots, Waterproof Boots, Soft toe, Composite or Steel toe, Lace-up, Slip-on | Work Boots, Outdoor Boots, Military Boots, Public Service Boots, Casual Boots |
| Safety features | ASTM, compliant, Slip resistant, Oil resistant, Abrasion resistant, EH rated | ASTM compliant, EH rated, Slip resistant, Oil resistant, Abrasion resistant |
| Construction | Goodyear Welt, Direct Attach, Contour welt | Cement Direct Attach Goodyear Welt |
| Outer soles | Multishox Technology, Rubber, Polyurethane, Vibram | Polyurethane, Rubber |
| Inner soles | Removable, Ortholite Technology | Cushioned |
| Boot Uppers | Full-grain leather | Full-grain leather |
| Foot Support | Composite, nylon, steel shanks, PU midsoles | Composite, steel, or fiberglass shank, PU or EVA midsoles |
| Linings | Moisture wicking | Various |
| Sizing | Men's 7 to 14, Medium, Wide, Extrawide | Men's 7 to 14, Medium and Wide |
| Waterproofing Insulation | Waterproof, 3M Thinsulate | Waterproof, Gore-Tex, 3M Thinsulate |
| Price | Approximately $100 to $400 | Approximately $100 to $400 |
The Wolverine Boot Company
In 1883, G. A. Krause founded a leather tannery in Michigan with a small group of employees. They began producing work boots and work gloves for laborers.
Within 20 years, by 1903, the company was producing 300 boots daily in a spanking new factory, and thanks to their success, electricity arrived in the town of Rockford, Michigan where the company is still located.
In the 1910s, Wolverine produced their first "Original 1000 Mile" boot in horsehide leather which offered 1000 miles of wear and tear. This iconic work boot is still produced today.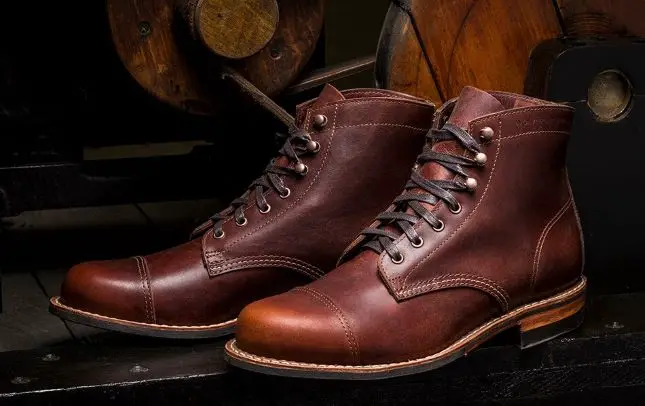 The Wolverine Company makes comfort, durability, and purpose designed work boots for specific professional needs. Today the Wolverine company not only continues their tradition in quality work boots, but also produces clothing and accessories.
The Rocky Boot Company
In 1932, two brothers, William and F. Michael Brooks decided to take a risk and establish a shoe factory in Nelsonville, Ohio, during America's Great Depression. They began their endeavor in a rent-free building with borrowed equipment and called it the William Brooks Shoe Company. 
In 1946 Mike Brooks left Nelsonville, but his son John remained to work in the company. Brother William sold the company in the late 1950s to the Irving Drew Shoe Company that was based in Lancaster, Ohio and John Brooks remained with the company under its new management.
The 1960s brought difficult times as footwear production languished. What was once the William Brooks Shoe Company was now an outdated manufacturing site. John Drew decided to shut down or sell the factory by 1975.
Mike's son, John Brooks, bought the company back together with his son Mike who returned from a job in a tannery in Milwaukee. The Rocky brand was established in 1979.
The company continued its prosperity right through the 1980s. Now a worldwide leader in footgear, the company still calls Ohio home and has increased its production line to include work and outdoor apparel as well as footwear for work, the outdoors, the military, public service, and western styles.
Wolverine Boots
Craftsmanship
The Wolverine company emphasizes craftsmanship in its manufacturing by using high-quality materials and highly skilled tradesmen and women for production.
They have implemented technological advancement and innovation in their quest to make the best footwear possible. Known for their durability, Wolverine boots are recognized for their ability to perform in harsh climates or industrial environments. 
Boot Types
The company produces quality footgear for work, hiking, and casual wear. Their work boot production line offers several boot styles to choose from.
1.) Work Boots with Steel Toe Cap Protection
The traditional protective work boots used in numerous industrial settings have steel toe caps. These contrast impact risks in hazardous settings such as industrial sites, construction sites, and work environments where toes risk falling tools, materials, or debris.
Steel toe caps protect the toe area. Most Wolverine protective boots with steel toes also come with extra ankle protection thanks to a boot design with 6-inch and 8-inch shafts inserted.
2.) Soft Toe Work Boots
For professions that do not need steel toe protection, Wolverine produces soft toe work boots. If you are not exposed to hazards, these are great boots.
Ideal for professionals working in low or medium risk jobs, soft toe boots are lightweight. They are also roomier without the integrated toe cap.
3.) Wolverine's CarbonMax Work Boot
For those who don't want a steel toe cap, manufacturer Wolverine offers this alternative that integrates "Carbon Max" advanced technology. 
The company implements nanotechnology for the weight of its work boots. A carbon protective toe cap provides identical protection to weightier steel toe boots. As they are lightweight, they are also more flexible for more comfort.
4.) Lacing Systems
Many professionals, prefer boots without laces, and opt for pull-on styles. While pull-on boots are easy to pull on and off rapidly, they are not snug, nor do they offer a customized fit like that of a lace-up boot.
Another consideration is for those workers that wear gloves on the job. The BOA lacing system is a credible alternative.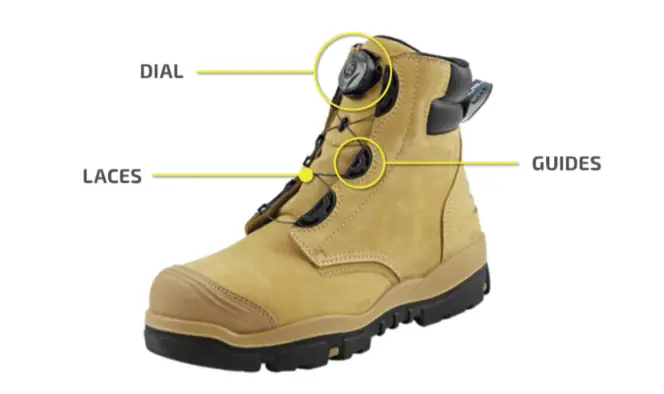 Gloves make lacing up boots literally impossible. The Boa System integrates a large dial which allows wearers to tighten or loosen boots with a simple turn rapidly and easily.
Wolverine Features
Wolverine boots come with attractive features in a variety of work boot choices. 
1.) Construction
Goodyear Welt construction prolongs work boots' lifespan as it allows boots to be re-soled once outer soles wear down. You won't need to toss boos just because the outsole is consumed.
Wolverine also integrates its "Contour Welt Construction". This construction gives the boots a feel of being a single unit. Innovative adhesives bind boot components together so that boot uppers contour right into outer soles increasing durability.
2.) Inner Soles
Footbeds are removable. This affords you the choice of inserting a custom insole. Insoles can also be cleaned or replaced as needed. Wolverine's integrates proprietary Ortholite technology for better arch support and comfort.
3.) Footwear Linings
The linings in boots are crucial to foot hygiene. Moisture-wicking linings aid moving moisture from excess perspiration away from feet protecting against bacteria, fungi, and allergens. This technology also helps keep feet cool in hot weather or environments.
4.) Mid Soles
Polyurethane midsoles are integrated for arch support.
5.) Outer Soles
Wolverine produces its outsoles in rubber or polyurethane for shock absorption. Wolverine "MultiShox technology" convert shocks into energy to ease your movements. Tread with lugs increase grip and traction on wet, oily, or uneven terrains and surfaces. 
6.) Protective Toe Caps
Wolverine provides safety toe caps in steel or composites. Composite toes are indicated for workers working near electricity or in excessive heat as they are not conductive. 
7.) Shafts
Wolverine upper boots have shafts in 6-inch and 8-inch lengths. The shaft provides the ankle with extra protection. Some styles have padded collars for increased comfort.
8.) Shanks
Wolverine shanks come in a various materials depending on professional needs. Steel shanks are the most protective, while fiberglass and nylon shanks are softer.
Steel shanks are indicated for high-hazard work environments. Fiberglass or nylon are more appropriate if foot flexibility is needed.
9.) Prices
Wolverine Boots range in price from $100 to $400. On sale, you may even find a pair for less than $100.
Rocky Boots
Craftsmanship
Rocky boots make many of their boots with features for military services, meaning they are produced with durability in mind to weather the most arduous environmental conditions. The Rocky brand is synonymous with expert craftsmanship and great design.
Boot Types
The company produces quality footgear for the military, work, the outdoors, and casual footwear. The company's boot production line offers a variety of boot styles for selection.
1.) Work Boots 
Protective work boots are available for numerous industrial and workplace settings. The company offers waterproof, insulated work boots with protective safety toe caps in steel or composites.
They also offer features including oil resistance, electrical hazards, slip resistance, and their proprietary Workknit LX lightweight work boot line.
2.) Outdoor Boots
Created for whatever weather you encounter, Rocky has boot options that are waterproof, insulated, or both. This boot line offers rugged casual wear, hunting boots, and hiking boots for an array of outdoor activities.
3.) Military Boots
Designed and produced for the men and women in uniform, Rocky offers a variety of footgear choices that are waterproof and insulated.
This line also comes with protective or non-protective toe boxes. Rocky has tactical boots specifically designed for the U.S. Army, Navy, and Air Force.
4.) Men's Footwear
Rocky goes a step further in footwear production. Apart from military boots, work boots, and outdoor boots, they also manufacture public service boots and western boots. These styles also include waterproofing, insulation, and protective toe options.
Rocky Features
Rocky boots offer attractive features in a variety of boot choices. 
1.) Construction
Depending in the style you choose, Rocky boots may use Goodyear welt construction or cement construction with direct attach polyurethane. You'll find boots with double row welt stitching and all-around welt construction methods.
2.) Inner Soles
Rocky offers a selection of inner soles that you can acquire separately and insert in their footwear. These include
• Air-Port footbed in 40 density polyurethane with a heel cup and shock absorbing capabilities.
• EnergyBed footbed in 40 density PU and memory foam. These are designed with ports for channeling air and flex grooves.
• Terra Suspension footbed made in advanced cushioned polymer for shock absorption.
3.) Footwear Linings
Multiple footwear linings respond to various needs from 600 gr of 3M Thinsulate for snow to ComforTemp liners for temperature control to removable 3-ply liners or Gore-Tex for waterproofing.
4.) Midsoles
Rocky midsoles are produced in polyurethane or EVA. Some boots feature thermal polyurethane torsion stabilizers for hazardous work environments.
5.) Outer Soles
Rocky produces boots with rubber slip-resistant soles, and Vibram soles.
6.) Protective Toe Caps 
Protective toe caps are available in steel and composite options. The Rocky toe boxes are publicized as the widest oblique toe boxes available in the industry.
7.) Shafts
Boot shafts are available in shafts with 6 inches, 8 inches, 11 inches, and even 16 inches.
8.) Shanks
Shanks are available in fiberglass, nylon, and steel.
9.) Prices
Rocky Boots range in price from $100 to $400. On sale, you may even find a pair for less than $100.
In Conclusion
These are two boot manufacturers are industry powerhouses and rightly so. They represent the best in research, innovation, quality materials and workmanship, so it's simply a matter of the kind of boot you need or desire. Whatever you do select in the end, you'll get a quality boot for your money.