Rubber boots are meant to save your feet from water as they are waterproof and they are thick enough to block the outside cold air to enter your feet and also 
But why is it so that your feet get cold in rubber boots?
The simple reason behind this is…
Rubber boots are not breathable at all and they kind of seal your feet inside the boots, blocking any source of airflow into the feet. Due to lack of air circulation, the feet start to sweat profusely and sweaty feet become cold very quickly!
Though sweaty feet are one of the main reasons of cold feet, yet it is not the only one. 
Let's find out more about why do your feet get cold in rubber boots and ways to keep your feet warm in them!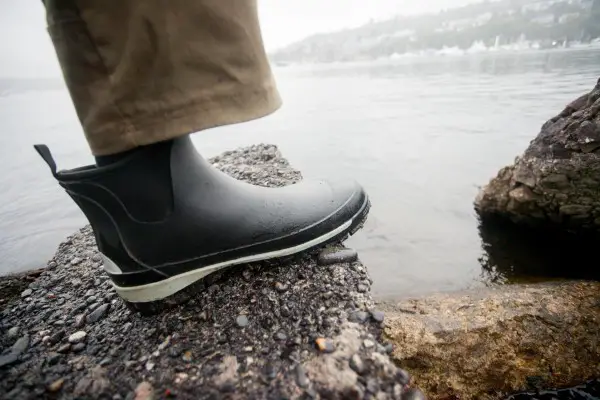 Reasons for which feet get cold in rubber boots:
Rubber boots definitely do not allow the cold air to enter your boots, but they are definitely not insulated that is they will turn cold with the cold weather and transfer the cold to your feet. But the main problem arises when you wear rubber boots in the summers.
You might be wondering then, that wearing rubber boots should instead make your feet warmer in the summers! 
No! This is not the case!
Wearing rubber boots will block any air circulation inside the boots thus making you feel hot. And when you feel hot, your feet will sweat profusely and that sweat causes your feet to become cold ultimately/
Another reason is that rubber boots are rigid and they do not provide any flexibility for the normal movement of the feet. Your feet feel suffocated and sealed inside the rubber boots and that's quite an uncomfortable feeling.
When the feet feel too trapped inside the hard-wearing rubber boots, the blood circulation in the feet also decreases which then results in turning the feet cold.
Other reasons would include wearing the wrong socks that is you might think that wearing a thick woolen sock will help to keep the feet warm inside rubber boots, but that's wrong because wool will make you sweat more and will not soak up the moisture, thus making your feet cold.
Instead, you should wear a moisture wicking sock that will soak up the moisture and maintain the normal temperature of the feet.
How do I keep my feet warm in rubber boots?
Your rubber boots are making your feet sweat too?
No more with these amazing hacks:
When you that dry feet are the happy feet and keeping your feet dry is very important to keep them warm in rubber boots, let's first find out…
How to keep feet dry in rubber boots?
1.) In the summer months, wear cotton socks or any material sock that has moisture wicking properties.
2.) In the winters, make sure that you wear your woolen socks over a moisture wicking sock to help absorb the moisture as well as keep the feet warm.
3.) Also, while you wear thick woolen socks in the winters, go for a size up in the rubber boots so that your feet have some room to breathe while the woolen socks take up much space inside the boots.
4.) Sprinkling powder inside the socks and then wearing your socks will also help to absorb the moisture from the feet because powder soaks moisture.
5.) Choose thick woolen socks that comes with moisture wicking linings if you don't want to wear an extra sock inside.
6.) Spray anti-perspirants on your feet before wearing socks as it will help to control the sweating of the feet.
How to keep feet warm in rubber boots?
When you are planning to wear your rubber boots in the snow and wondering how to keep the feet warm inside because rubber will not provide any insulation, the following hacks are just what you need in your life right now:
1.) Make sure that you choose a size up in the rubber boots because the next steps will need that extra space
2.) Insert a thick insole inside the rubber boots to provide you a cushioned footbed which is generally missing in rubber boots and you feel uncomfortable in them.
And uncomfortable feet will definitely sweat. Also, the insert will make sure that the rubber outsole do not conduct the cold to the bottom of your feet.
3.) Add a woolen lining on the inside of the boot opening so that it blocks the cold air to enter through the boot opening
4.) Spray anti-perspirant on your feet
5.) Wear a cotton (or any moisture wicking socks)
6.) Next, wear a nylon or polyester socks because nylon works best in blocking air circulation
7.) Then, wear the woolen socks to keep the feet warm
Nowadays you get many rubber boots with thermal insulating layers. So, investing in such a rubber boot is always a good idea!
Does wearing 2 pairs of socks keep your feet warmer?
Yes, wearing two pairs of socks will definitely help to keep your feet warm. But the two pairs should be: woolen socks for providing the warmth and nylon socks to block the cold air flow into the feet.
But wearing those two pairs would be incomplete without a pair of cotton socks that will help to absorb the sweat from the feet and keep them dry which is the most crucial for warm feet.
And it's a wrap!
I hope this article helped you to find answers to your questions and if so, do not miss out on any of my articles on work boots for more valuable information!
So, your take away from this article are:
Keep your feet dry

Wear your boots off in case of excessive sweat

Moisture wicking socks are life-saviors for sweaty feet and also the key to warm feet

Wearing only woolen socks will not solve the problem alone

Nylon socks are the best in blocking the outside cold air

Invest in a good boot brand that will provide comfort and if possible, the necessary insulation for winters
With that, I would like to take your leave from this post with a hope to meet you soon in my next one!
Till then…
Keep walking and keep smiling!