Mink oil is the most incredible savior for your lifeless and dull cowboy boots, without a doubt!
Nobody likes cracked or dried up boots: do you? No, you don't, right?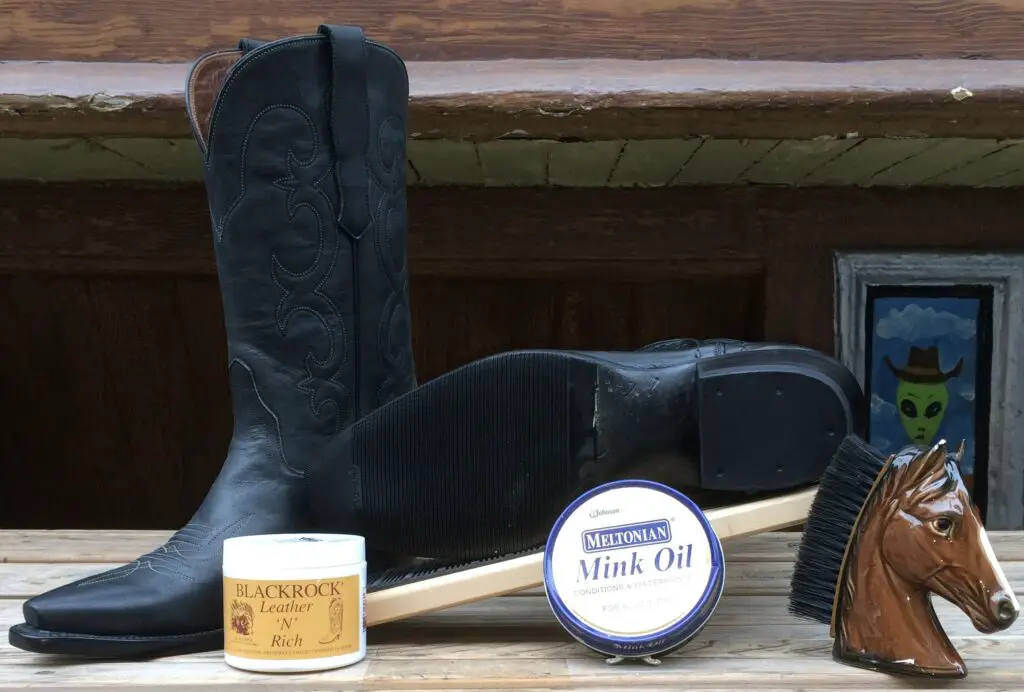 There is a time mink oil becomes your ultimate cowboy boot savior and restorer, as the shines and nutrition to the boots prevents them from cracking.
However, there's a barrier to using anything and everything, and mink oil are not inclusive.
The answer is YES, you can. Not applying mink oil on your boot can make the boot crack and rot. However, I recommend applying once every 14 days, so it doesn't become poison to your cowboy boot.
Today in this write-up, I'll show you the advantages of mink oil on cowboy boots, application, alternatives, and much more.
So, tag along…
Advantages of Using Mink Oil on Cowboy Boots
1.) Conditions the boot
When you use mink oil on cowboy boots, it'll work as a conditioner. In conditioning the boot, you're preventing the adverse effect of dust and dirt. Dust and dirt cut off and dries out the microscopic fiber, making the cowboy boots powerful and durable.
However, you can condition cowboy leather boots when they're sparkling, neat, and dry! That way, the conditioner will have quick access into the pores making the leather pliable and soft!
2.) Waterproof qualities
Mink oil serves as a waterproof material to protect your boots from water attacks. Cowboy boots don't agree with the water, and this could make them wear out with moisture. Now utilizing mink oil will protect the lather for a longer period and introduce a slick coating to the boots.
These boots will be resistant to all liquids and UV rays! The mink oil will protect the boots from surface abrasions caused by mud, salt, and other elements that cause abrasion.
3.) Mink oil is useful for weather-guarding of cowboy boots
Mink oil is formed by extracting fatty layers from mink's skin, so its texture is similar to that of wax. That is why it can serve as a weatherproofing element. So once you need to protect your cowboy boots, mink oil is the answer as it will keep it neater, longer, and better.
It acts as a water-resistant coat that preserves and protects the boots from bad weather conditions like snow, rainwater, water damages, and abrasion due to salts.
4.) Security against mildew, molds, and mud
Mud is a soft watery earth surface. Mildews are whitish coatings full of fungal hyphae that grow on wet organic materials like paper or plants. And molds are fungi that look like multi-cellular filaments. They are called hyphae.
These organisms can destroy your cowboy boots if you allow them. However, mink oil serves as a protective coating on the boots, hindering them from penetrating the leather.
5.) Mink oil softens your cowboy boots
Application of mink oil on the thick layers of your boots and leaving it overnight will enable absorption of the oil into the fibers. This will soften the leather boots.
6.) Prevention from stains
Mink oil coat the leather boots from getting stains from all angles. Always remove excess oil with a clean but dry cloth that is lint-free.
Top 10 Best Cowboy Work Boots for Men and Women
Why Mink Oil for Cowboy Boots?
Mink oil is the best option for maintaining or prolonging your cowboy boots' life-span because it has some remarkable features that others don't have! For instance, most oils and conditioners, such as vegetable oil, coconut oil, and neatsfoot oils, can only condition and shine your boots. However, mink oil works as a waterproof and weather-guarding agent too!
How to apply Mink Oil on Cowboy Boots?
The application of mink oil on your cowboy boots is systematic. All you need is to follow this step-by-step guide below:
Clean your cowboy boots by using a neat, dry lint-free cloth. This will wipe off hanging dirt or grease.

Wet the cloth with lukewarm water.

Make small circular moves on the boots' fibers to wipe off grease and built-in dirt.

Put little soap in the water if there's excessive dirt or grease.

Dry the boots with your fan overnight.

Apply the oil to the cowboy boots in layers and allow it for about 2 hours.

Wipe off surplus mink oil that is still on the cowboy boots and work out the mink oil through your fingers' circular motions.

If you like shiny boots, apply a quality leather polish!
Will Mink Oil deteriorate the stitching of the Cowboy Boots?
If your cowboy boots are sewed with any natural fibers or cotton, it could rot the sewing when excess oil is applied to them and left for a longer duration. However, newly manufactured boots are now made with synthetic sewing that mink oil will not affect. Check out the guide on the Best boot oil.
Can Mink Oil be used for waterproofing Cowboy Boots?
Since mink oil is derived from fatty deposits of mink's skin, it typically has a wax texture and can be utilized as a waterproofing agent for the boots. If you would like to waterproof your cowboy boots, don't wipe off the coating. On the other hand, this ought to be done not more than once in 12 months.
Can Mink Oil be used on leather boots?
Indeed, the best way to waterproof a leather boot is by applying mink oil. The application of mink oil to your boot will shield the leather from scuffs caused by salt, mud, or other callous external elements.
What can't I do with Mink Oil?
The don'ts of mink oil are avoidable. Don't apply it to leather boots with light colors as mink oil is liable to darken and oxidize leather. Furthermore,
Do not apply mink oil twice in less than 2 weeks; otherwise, it will rot the stitching and leather and harden it.

Never apply mink oil to boots with suede material

Never use mink oil on newly purchased boots

On no account should you leave mink oil on the boot for over 12 hours (with overly dried up leather, you can wait for twenty-four hours); otherwise, it could humidify the leather and generate a foul smell.
If Mink Oil is unavailable, what are the other alternatives?
If your reason is to condition your cowboy boots, you can make use of the following alternatives:
Neatsfoot oil

Vegetable oil

Tartar cream

Coconut oil
Also, if you would like to condition and waterproof the boots as well, make use of any of the following alternatives:
To which Cowboy leather boots can Mink Oil be applied?
You can use mink oil on any leather, including polished leather, oil-tanned leather, full-grain leather, etc., but never try to use them on suede boots and nubuck leather.
Can Mink Oil be used on any Ariat Boot?
Mink oil could be utilized for conditioning, softening, as well as waterproofing Ariat boots. That's not all; using mink oil on Ariat boots would also prevent them from drying, staining, and cracking.
Does Mink Oil works as a leather conditioner?
Without a doubt, mink oil would work as a leather conditioner for your cowboy boots, but it would only last for a short period. As I emphasized, you have to reapply the oil to the boots once in 7 days, approximately a week.
The main discrepancy between a normal leather conditioner and mink oil is that; In contrast, a normal leather conditioner would have no side effect on your leather boots. Mink oil could replenish the leather for the moment but later oxidize and congeal the leather boot if not applied again within 2 weeks.
Can Mink Oil soften my leather cowboy boots?
If you want to soften your spanking new leather boots with mink oil, then I would advise you to use mink oil on the boots in substantial layers (since mink oil tends to be a soft thick wax-textured substance) and leave it all night so that the oil will soak into the leather fibers and make them soft.
The following day, use a soft dirt-free rag to work out the oil in spherical motions so that the tops of the leather are adequately conditioned. Also, get rid of too much oil using a clean, dry fur-free rag.
Can Mink Oil be dangerous to your boots?
If applied in excessive quantity or too often, mink oil can corrode your leather boots as well as solidify them. If the cowboy boots are left in a pitiable state, in humid dark places after mink oil usage, and left for a longer period, the mink oil could turn bad, leaving a very tough smell to begin. The smell can be hard to get rid of.
See also: Best Boots for Smelly Feet
How long can Mink Oil be left on Cowboy Boots?
You can leave mink oil on your cowboy leather boots for up to 12 hours to overnight based on the quantity or to what level your leather is emaciated.
You have to get rid of the excess oil using a clean, dry rag and work in round movements to provide the boots with shine. However, mink oil will typically take about 1 hour to absolutely dry on the cowboy boots. 
Can Mink Oil make old leather boots shine again?
Mink oil conditions your leather and provides leather boots with a shine. It does not shine like when a boot polish is applied. So, if you would like to shine your boot to provide it with a mirror-like result, I would advise you to use a boot polish as soon as you've gotten rid of the excess oil using a neat, dry rag.
Can Mink Oil be used on new leather boots?
It is much advisable not to apply oil to new leather until and unless the boots' leather is cutting already. Applying oil to new leather boots all through the break-in period could bring about poor fitting boots. Thus, let the leather burgle naturally and reshape to your feet in its usual time without using any oil.
What is so special about Mink Oil?
It is multi-purpose oil used both in cosmetic and medical products. It's derived from the rendering of mink fat, taken out from hides intended for fur production. For this reason, it can be used to treat, preserve, and condition almost all kinds of leather.
In the medical field, mink oil is mild to the skin and absorbed without difficulties to rapidly bring back moisture. Furthermore, mink oil features the exceptional Omega 7 fatty acid, known as "palmitoleic acid," which is a key to a cell's health. With this, mink oil facilitates the skin to hold moisture, shielding it naturally from damage due to stress factors.
Before we wrap it up!
We have to value our purchases; otherwise, they will result in ruins very quickly. But simultaneously, we must be careful as well on product selection to preserve the boots.
Easily affordable things always draw attention, but we should only be directed by knowledge to pull out the best outcomes.
I believe this article answered most of your mind-striking questions on applying mink oil to your leather cowboy boots and shoes. What's more? You now know what's best for your cowboy boots and leather belongings.
Check-in tomorrow for another phase of answers to your questions. We will also give you support. Please stick with us for another exciting article!
While…
Stay safe, take care, and have a nice day!