Logger boots are often used to navigate through brush, mud, and other sorts of debris, as well as to aid in any climbing that may be required.
It is a durable work boot with a raised heel along with a long boot shaft of 8 to 11 inches built for more support, which is necessary when working outdoors on hard terrain.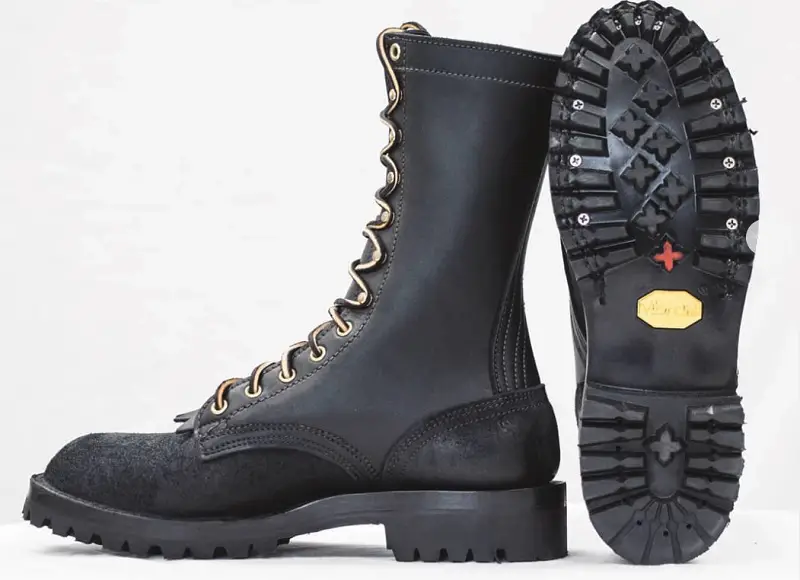 Logger boots are tall as compared to other work boots in order to elevate your feet from the ground. The benefits of this elevation are like the heels dig in and it gives you a better grip against the ground while walking, protects your feet from debris and dust that is present on the ground.
Also, the high heels gives you an additional arch support as it absorbs shock so your feet won't feel any discomfort while walking or climbing through difficult terrain.
A logger boot adds up to 1.25″- 2″ to a regular boot.
Here is a quick overview of different logger boots and how much height does it add.
Farmers, ranchers, fence workers, ditch crews, and a variety of other jobs where the worker is exposed to damp and uneven terrain will benefit from logging boots.
Logger boots are a popular brand of boot among farmers and ranchers, who use them to combat the mud and dirt that can be found in livestock barns, open pastures, and farms.
Now, let's understand why logger boots have high heels and who they benefit.
1.) Helps in climbing uphill or uneven terrain
Logger boots are named after the workers that use them in the logging industry, and that's where they get their name from. And since loggers require climbing trees, the elevated boots are suitable and reliable.
Also, an exaggerated heel became necessary primarily for extra ankle support when travelling over uneven terrain, mainly when climbing uphill.
The elevated heel block of the logger-style boot provides greater support for the heel. It absorbs shock, so your feet don't take a beating while you walk around on uneven ground or rough surfaces.
2.) When walking up a steep slope, logger boots are a good choice
There's a reason logger boots have high heels, they make it easier to climb up a steep hill because they dig in nicely, and they're also great for walking on uneven, irregular terrain.
These characteristics are also why the logger design is so popular among police and firefighters, despite some variances in materials and construction. Because they work in the same environment as loggers, they require footwear that can withstand the elements.
3.) Provides elevation and traction from grounds that are hazardous
The lifted heel assists in elevating the foot out of mucky, rainy terrain. It also has a deep lug pattern that can provide grip on uneven ground.
A logger is required to enter forests and dense areas, which requires walking through unmarked areas with tough elements such as boulders, logs, litter, and corroded ground. To guarantee safety, stability is required when walking across these places.
A logger work boot is what you need if you need to dig your heels in. It's a metaphor for some, but for loggers, it's something they have to perform on a daily basis.
The heels of the boot sink into the ground to offer sufficient support for:
On a slick, muddy slope, walking uphill
To pull Ropes, burrows, and carts
Climbing a mountain
To push Carts and other tools
4.) Though they are elevated, but your comfort isn't compromised
We usually have this assumption that heels are uncomfortable, but when it comes to logger boots, a higher heel provides additional support to the arch of the foot, which works as a spring when you walk.
The arch is supported to keep the foot from becoming fatigued and uncomfortable as the day progresses. More support, in other words, tends to lead to more comfort.
Logger boots have a taller boot shaft, usually 8 inches or more. The lengthier boot shaft allows for more lacing, which pulls the heel of the boot closer to the foot and snugs it into the heel cup.
See also: How Should Logger Boots Fit?
5.) Logger boots are durable
Because most logger boots are built with premium leather and lug soles or other heavy-duty soles, they are extremely durable.
The laces are snug around the ankle and tongue, helping to keep moisture out. The welt design also keeps moisture out of the midsole, making them incredibly long-lasting.
They also make excellent hunting boots in all but the coldest and wettest conditions due to their long-lasting nature.
6.) To use your feet to kick or push anything while at work
You must literally use your feet to roll a log once it has been cut. If you were wearing flat-soled boots, this would be impossible. Consider trying to kick a ball through a wall while wearing tennis shoes.
When you consider what real-life loggers go through, you'll see why the higher heel is so vital. Most bikers and horseback riders choose high-heeled loggers' boots for this reason.
But in order to completely understand the working of a logger boot, you have to be well aware of its disadvantages too.
→ A raised, heavy heel is not a benefit in a job that requires a person to be light on their feet.
→ Leg pain and muscle spasms can be caused by wearing high-heeled logger boots. Because the high portions of the shoe direct your foot's heel in an unusually upward posture, the ligament shortens.
→ You should not opt for logger boots if you are planning your next hiking trip. Since hiking requires a lot of walking, dragging those heavy boots with you throughout can affect your feet and back.
Here, we have curated a comparison chart of different logger boots available so that you can make a detailed decision before your next purchase:
These boots are made specifically for loggers and other professionals who work in physically demanding jobs. For people who must be on their feet for lengthy periods of time while working, logger boots define a robust and comfortable footwear.
Conclusion
Logger boots are heavy-duty work boots that are developed for use in tough outdoor environments where workers are constantly exposed to damp, uneven and rough surfaces.
The goal of logger boots is to give the necessary support and stability for working or other activities. While working, you must feel completely safe and well equipped to face any impending and potential danger.
To put it another way, you'd want logger boots because you want a tough footwear that can travel anywhere and do anything while also keeping your feet comfy.
That could mean working on a forest site, in residential construction, or on a factory floor.