Have you bonded enough with your cowboy boots? How much do you love them and willing to sacrifice to keep them in good condition, for the comfort of your feet.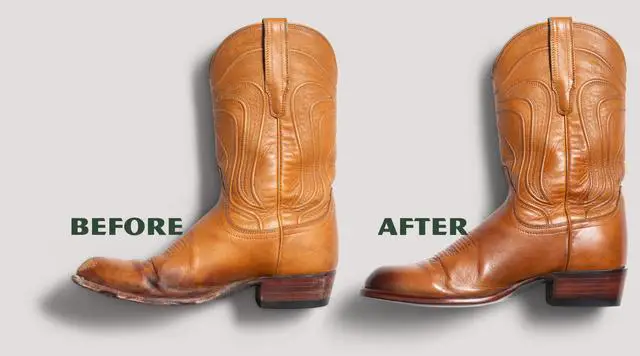 Cowboy boots are historically associated with herdsman's popularly known as "cowboys" who wore them, when looking after animals. This boot was worn during the practical herding, while riding on a horse. The cowboy boot had some specific features that made it the best preference for that job.
Stacked leather that made the heel.
Pointed or rounded toe.
High shaft.
No laces.
Decorative stitches.
Cowboy boots serve the purpose of allowing both men and women to ride for along period of time without their feet slipping off the saddle.
Traditionally, the boots had only one purpose which was practical riding of horses. But, over the time, cowboys boots have served both practical and fashion purposes as in the sense of boot popularity associated with country music.
Through my research, there are two types of cow boys boots, which include; Classic or western boot and Roper boots.
The Classic cowboy boots: has a tall shaft atleast reaching the mid-calf, one inch long angled heel or a walking size angled heel.
A Roper cowboy boots: are narrow toed, with a straight squared lower heel, short shaft and tight fit for the ankle.
See also: Guide on best cowboy boots 
Fitting your Pair of Cowboy Boots
It is a fact that, when someone walks in wearing a perfect pair of cowboy boots, they make an adorable, reputable impression.
Cowboy boots are not that cheap, whenever you want to buy them make sure you go for the right size that fits you well.
That is the first step of having a lasting happy relationship with the boots. Fitting this pair of boots is no joke, it requires a combination of devotion and art for you to get the right one for your feet.
Ball of the feet: Ensure that the widest part of your feet fit's comfortably to the widest part of the boot. Try to walk in the fitted boots and confirm that your body mass is well distributed on the feet. A well fitted boot will require to be tried on before making the last choice on your boot size.
Width of the cowboys boots: The most common way of determine the right width for your feet is by wearing the pair of boots. Stand up and look directly at your feet.
If you do not clearly see the outer stitches of the outer sole, then definitely that's not your right boots size and you should go for a wider one.
Slippage: Heel slipping in a new pair of boots is a normal thing for your feet. Sliding happens before the outer sole gets broken.
Otherwise, you can flex the outer sole several times and through wear and tear your heel will adjust and prevent your feet from slipping.
It is irresponsible to guess your cowboy boots size from the other shoe sizes you wear. The best way is to trace-sketch your feet. This is by stepping on a piece of paper and by using a pen, sketch your foot an the paper, then substract 0.02mm from the measurement. The results size will be the actual cowboy boot size that can fit you completely.
A pair of cowboy boots that is well fitted, used for the right purpose and well taken care off, can last for even over ten years. This actually happens, if you bought the right quality of boots. Some of the purposes of cowboy boots included:
The high top shafts, were to prevent the boots from filling up with mud and water.
The sharp or rounded toe was to enable easy placement and removal of the foot on the stirrup.
The reasons for having the sleek sole, was to avoid slipping of the boot into and out of the saddle without struggle when mounting or dismounting.
Pull up straps and boot straps enhanced easy pulling in order to fit without much struggle.
Top 10 Best Cowboy Work Boots for Men and Women
Maintaining Your Cowboy Boots
The best way of keeping your cowboy boots in order is by proper use of the boots and taking necessary measures before the boots reach repair piont. These measures include:
1.) Cleaning and dusting the boot and sole after every use.
2.) Washing off the dirt that build's under the sole, as to reduce the chances of wear and tear, due to eroding that may be caused by the soil, to the stacked up leather over a period of time.
3.) Use of specific designed lotions that keep the sole clean, neat and having a stylish look. These lotions that were made for Western-style boots have proven to be reliable. Mostly in dry lands,where, dust kick's up in the morning leaving the mud all stuck up at the bottom of the sole.
4.) Acquire thin rubber as a sole protector and fix it at the bottom of your sole. The protectors prevents rapid wear and tear on the stacked up leather.
5.) Top of the boots should be cleaned up using a soaked cloth and brush. Incase of cracked mud on the surface, it's better to user a toothbrush.
6.) Apart from just general cleaning and maintenance, you should polish the boots regularly. Use of a specialised oil-based conditioners should be considered in order to have the best desrved results.
7.) Cowboy boots should be left to dry on their own, use of dryers and radiators is not encouraged as they can damage the pristine leather.
For example, if you happen to come home and the boots are quite wet, you are advised to just wipe them clean, keep them in an upright position and place them in a cool dark room for them to dry and retain maximum freshness.
In reality, tear and wear of shoes that are being used on regularly or from time to time is a thing that will surely happen, no Mater how long it takes. When this happens there are only two choices; repairing the boots or going for a brand new pair of the boots.
In most of the cases, the sole wears out faster than the top area of the cowboy boots. Can You Replace the Cowboy Boots Sole? The answer to this question according to my research is "YES".
Cowboy Boots Sole Replacement
Like other sole's, cowboy soles has the sleek part and the heel part too. Although the sleek part tends to wear out faster, and in some scenario the whole sole can wear out gradually.
Before just jumping into sole replacement, it is advisable to check which part is worn out. This is to help you determine what kind of replacement is needed. In case of half sole repair, the owner saves at least some coins that would be used to acquire a new one.
After you have decided on the replacement to be done, check if the heel is attached with nails or glued. Nail attached heel's are more likely to get replaced than the glued ones.
In general, expensive boots have their heel's nailed rather than much cheaper ones that are glued. This is a key features that someone should be mindful before purchasing a pair of cowboy boots.
Sole maintenance is quite the same as for whole boot; regular washing, drying, polishing and lotion application on the leather. Here are some of the ways of replacing your cowboy soles:-
1.) Find an experienced cobbler: Do you want something done right and you are willing to pay an extra coin to get it done. Then take your boots to the nearby cobbler for professional services in repairing the boots.
An experienced cobbler is somebody who is accustomed to working on similar boots and knows the difference between cowboy boots and other boots.
2.) Acknowledgment of the service needed, whether whole or half sole: The replacement is driven by the general appearance of the sole, the most worn out part is the one to get replaced.
If the extent of the damage is all round gradually, then go for whole sole replacement. Only go to the cobbler after you have decided what to be done.
3.) Use of a cowboy repair kit: If you decide to do the repair yourself, which is quite possible, then get the whole cowboy repair kit. This kit comes with several repair items, which include; New leather soles, heel bases and heel pads that provide extra comfort as you walk around. The repair kit is worth having one around as long as you own a cowboy boot.
4.) Sending the cowboy boot to the manufacturer for repair: In some rare cases and where acceptable. Manufacturers offer repair service, it is best to send the boot for fixing to them, as they are the professionals and you are guaranteed of correct and expertise services.
Cost of Resoling Cowboy Boots
Failing to plan is planning to fail. If you want to resole or replace your boots, the first step is planning on how much you are willing to pay in order to acquire the services.
For a great service, there must be a greator pay. Do you still need that glamorous look on your boots? then go for the right services.
On average the best resoles depending on their make costs about $70- $100. The leather resole last's for about 2 years, while, standard rubber soles last's for around 4 -5 years.
Product description.                        Price in dollars
Full leather sole.                                       125
Recommended half sole.                         95
Half leather sole.                                      95
Recommended half sole.                         75
Neoprene full rubber sole.                      135
Neoprene half rubber sole.                     95
Full crepe engineer style                         125
Full unit engineer boot.                           125  
Mid or Slip sole.                                        25
Retroit full wing tip.                                75
Retroit mini wing tip.                              75        
On the other hand, heel bases that are made using man-made materials do not last long, compared to the leather stacked ones.
Stacked leather bases gives the cowboy boot a sleek fashionable finish and high durability level.
Boot's that are made from exotic skins have a skin surcharge cost of around $ 10 dollars when repairing. These boots are made from Lizard, ant eator, ostrich and alligator skins.
---
How to Make Cowboy Boots more Comfortable
Support test: Good boots should support your feet to reduce the chances of accidents. Leather boots are softer and offers enough support to the ankles and ensure that the sole fits the arch of your foot.
Incorporate insoles for more comfort: This is to avoid nerves damage on the foot and legs.
Choose boots with a wide toe box: Your boot's should not rub against toes and any other part of the feet. It's advisable to check your feet regularly.
Choose and go for quality materials if possible: Non-porous materials should be flexible around the ankles, toes and heels. Good leather is more reliable and good for all skin conditions. Hard materials can cause sweating, bacteria infections and bad smell.
Regular change of foot ware: Changing your boots reduces the damage impacts on your joints, legs and spine.
Keep your shoes dry: In case your boots get wet, dry them thoroughly before wearing them, this is to prevent foot odor and frostbite disease in cold weather.
Before we summarise this topic 
In regards to my research, it is your feet that deserve comfort not the cowboy pair of boots It is good to put in consideration that, even all the good things in the world do have some disadvantages or side effects that denies you the chance of using them, in case of cowboy boots you should not wear them if:
You have foot burn, bunions and hammer toes
Their narrow toes can cause foot pains
High raised boots leads to bad posture, difficult in breathing and long-term side effects on the back.
Apart from all that, if you boots suit you well then you do not have to go for a brand new pair of boots, you can professionally mend the cowboy's sole and achieve all that was lost. It is necessary to balance the matter of impression and savings.