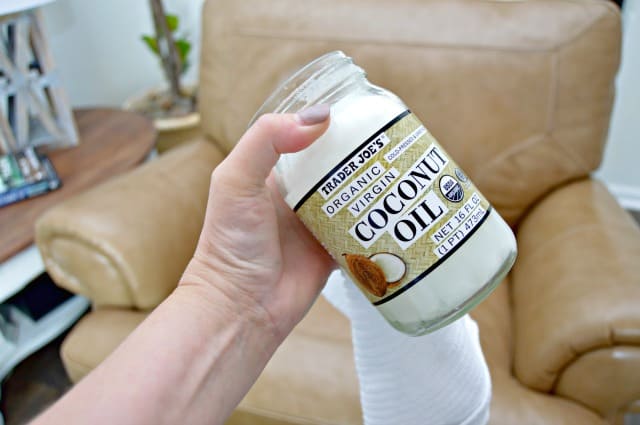 Leather goods are always a treasure for us and are well known for their durability, texture, shine and their long lasting nature. But leather also tends to fade away in the long run. In other words, the natural shine of the leather goods goes away after some years. So, you need to continuously maintain leather goods be it your leather furniture or your leather boots!
But maintaining the leather items isn't an easy task. It needs utmost delicate care and handling and you need to know the appropriate products and methods used to maintain leather shoes.
Often people tend to do some grave mistakes while thinking that they are actually taking care of the leather. Like, some do use and some often asks the question "can you use coconut oil on leather?"
In our detailed study we have found out that you can use coconut oil to condition your leather boots, provided the temperature around is warm and no residue of the oil is left behind after the conditioning is done!
Today in this article I am going to tell you all the positive as well the negative effects of using coconut oil on your leather boots, how to use coconut oil on boots the right way and what precautions you should be taking during the process.
So, let's read on…
Coconut oil for Leather Boots? Yes or No?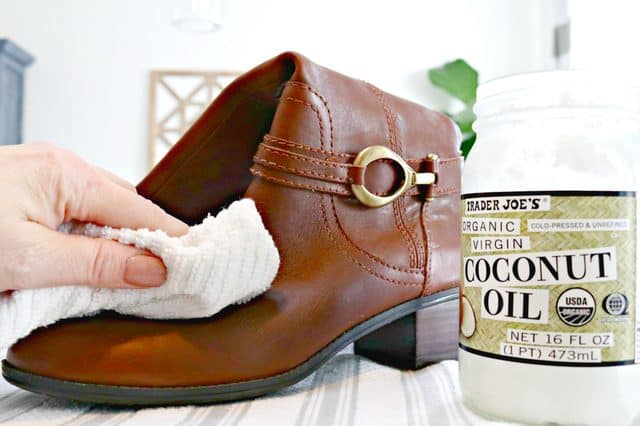 While some say that coconut oil has worked for the good for their leather boots and furniture, the others simply vote against the usage of coconut oil. Whatever it is, we are going to tell you the positive as well as the negative sides of using coconut oil for your leather goods:
Arguments against the usage of Coconut Oil:
1.) If you are not cleaning your leather boots, garments or furniture rigorously, you can keep moisturizing products with coconut oil from time-to-time to keep its shine intact. Leather is going to absorb the oil that is going to get applied to it, and then after some time, the oil will resurface.
2.) It may sometimes lead to the appearance of oil spots in some places. So it is better to use authentic leather oil to maintain the shine.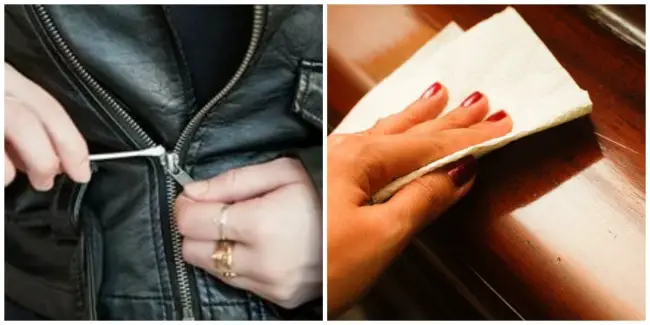 Arguments in favor of using Coconut Oil:
1.) Some say coconut oil is good for conditioning leather because it is hypoallergenic, and it will not destroy the leather because of its moisture repelling quality.
2.) You will have to clean the leather garment or furniture with water –vinegar combination. Once it has dried, apply the oil delicately with a soft cloth. It has to get done in room temperature otherwise; the leather will absorb more oil.
When can you use coconut oil on leather boots?
Coconut oil works fine in conditioning leather boots but at certain temperatures only. You need to understand the temperature conditions when coconut oil can be applied on leather.
If you live in cold countries, it might not be a right choice to use coconut oil as it will freeze very fast and leave a white cast on the leather. This is because coconut oil freezes in cold temperatures. But if you live in hot weather conditions, you can surely use coconut oil without any hassle.
But for the ones living in cold countries too there is an easy hack to use coconut oil. The only problem you face with coconut oil is that it freezes right? For that we have found an easy way out: just after you apply the coconut oil on your leather boots, place it near a heating source. The heat will not allow the coconut oil to freeze and therefore you will be saved from the white cast on the boots. Just don't forget to wash off the oil with soap-water solution afterwards.
Homemade Leather Conditioner Using Coconut oil:
For conditioning your leather boots using coconut oil, all you need is:
| | |
| --- | --- |
| ITEM | NEEDED |
| Water | -- |
| Vinegar | -- |
| Coconut oil | -- |
| Cloth | 1 |
| Horsehair brush | 1 |
Steps to follow:
At first mix the water and vinegar in a bowl.
Using the piece of clean cloth apply the water-vinegar solution on the leather boots to clean them off any dirt.
Now heat the coconut oil to liquefy it.
Using your finger tips apply the coconut on the leather boots in small circular motions. The friction created between the fingers and the boots will produce the heat and melt the coconut oil and the application will be even and smooth.
Now take the horsehair brush and brush the boots to bring on the shine on the leather boots
Use the piece of clean cloth to take off any excess oil from the boots.
Once again use the horsehair brush to brush the leather boots to once again polish it and increase the shine.
How to Clean and Condition Leather with Coconut Oil - Natural Leather Care Conditioner
Coconut oil will nourish and replenish the leather and lock in moisture in the leather boots.
Benefits of Oiling your Leather Goods:
Oils tend to replenish the leather fibers

It offer resistance from water

It can stop the mildew trouble, which causes the leather boots to rot

It makes the leather flexible
What is the perfect time to begin oiling the leather boots?
You can begin oiling your leather boots just a few days after they have completely broken-in because this is the time when the leather fibers will have no more danger from oils. To be very specific, you can begin oiling your boots just 4-5 days or 80-100 hours after the break-in is done to start with the preservation process.
What Kind of Oils Should you put on Leather Boots?
Obviously you don't want to cook or deep fry your leather boots, right?
So, avoid any oil that is heavy or sticky or else they will settle in the pores and fibers of the leather and damage them entirely. They will create a cast of oil on the leather which would be very difficult to take off.
Therefore, you should always go for the oils which are non-sticky and get absorbed instantly leaving behind just the shine. Oils such as mink oil, obenauf oil are good options for your leather boots. The oils should have the following features:
1.) Waterproofing feature:
Homemade Waterproofing for Boots- Easy & Natural
Other than giving shine, the next work of oil for your leather boots is to provide waterproofing against water, snow salt and perspiration stains. For this, the oil should have ingredients such as pine pitch and beeswax.
2.) Conditioning:
The oil should be effective enough to provide conditioning for a long period in one single application. It should be from a good brand read the reviews carefully before selecting the oil.
3.) Natural blend and non-toxic oils:
Chemical or toxic blends can ruin the natural fibers of the leather and decrease its lifespan. So, go for the oils which are natural blend.
4.) Light-weight and non-sticky:
The oil should be very light textured and non-sticky. Or else, it will make the leather fibers drenched in it and never come off completely, ultimately ruining your leather boots forever.
Which oil is the best for leather boots?
1.) Natural blend specialized oils: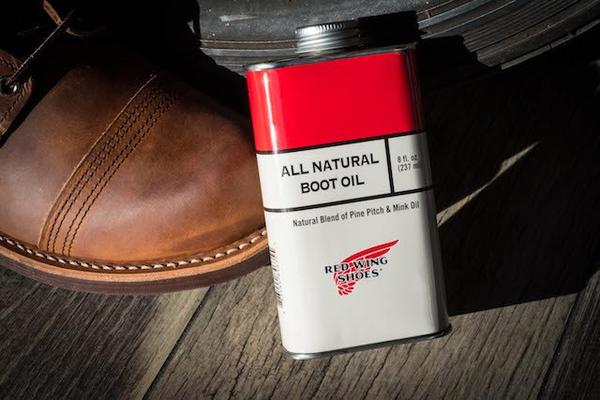 Specialized oils such as Obenauf oils, Red Wing Heritage All Natural Boot Oil contain natural preserving oils, beeswax, pine pitch and propolis which nourish your leather fibers without making any damage to them, thus increasing their lifespan.
Beeswax and propolis provide waterproofing effect and natural oil blend nourish the leather fibers from the roots and protect, shine and condition them for the better.
2.) Animal oils:
Animal oils such as mink oil is a good and cheap alternative to specialized oils which have quite the similar properties and protect and condition the leather boots in a similar way.
How to oil your leather boots?
Clean your leather boots using soap water or saddle soap using a wet cloth.

Dry them using a dryer.

Then take minimum amount of oil on a piece of lint free cloth and work in small circular motions on the leather.

Next, take a dry cloth and take off the excess oil from the boots.

Dry them using a dryer.
You can know more on how to condition your leather boots in our article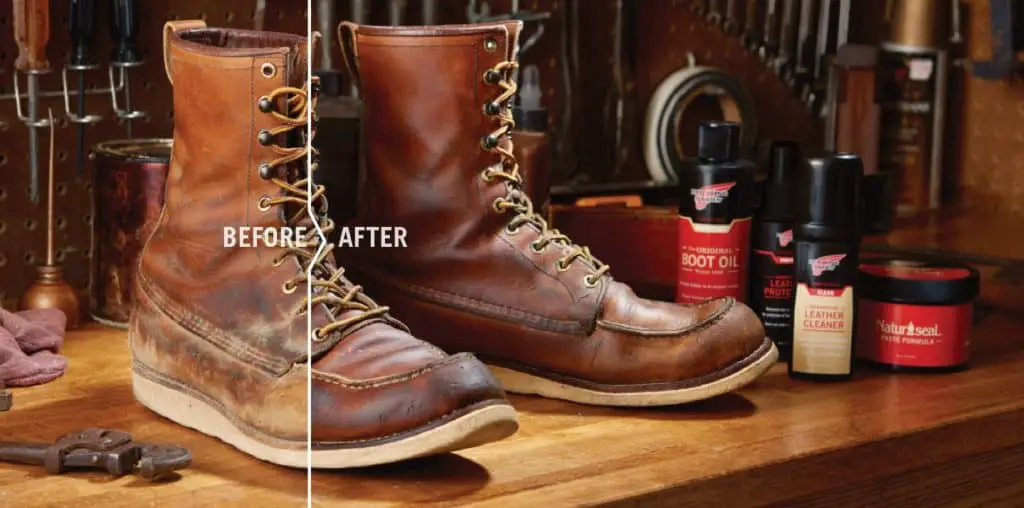 Before we say Good Bye:
We must value our purchases or else they will turn into ruins too soon. But at the same time, we should also be careful on the selection of the products to maintain them.
Things which are easy at hand often tempt us, but we should be guided only by knowledge to get the best results out.
Hope that this article was able to answer some of your queries on oiling your leather boots and shoes and you know now what is the best for your leather possessions.
That's all guys for today. We will be back soon with another exciting article!
Till then…
Take care, stay safe and…
Happy Walking!