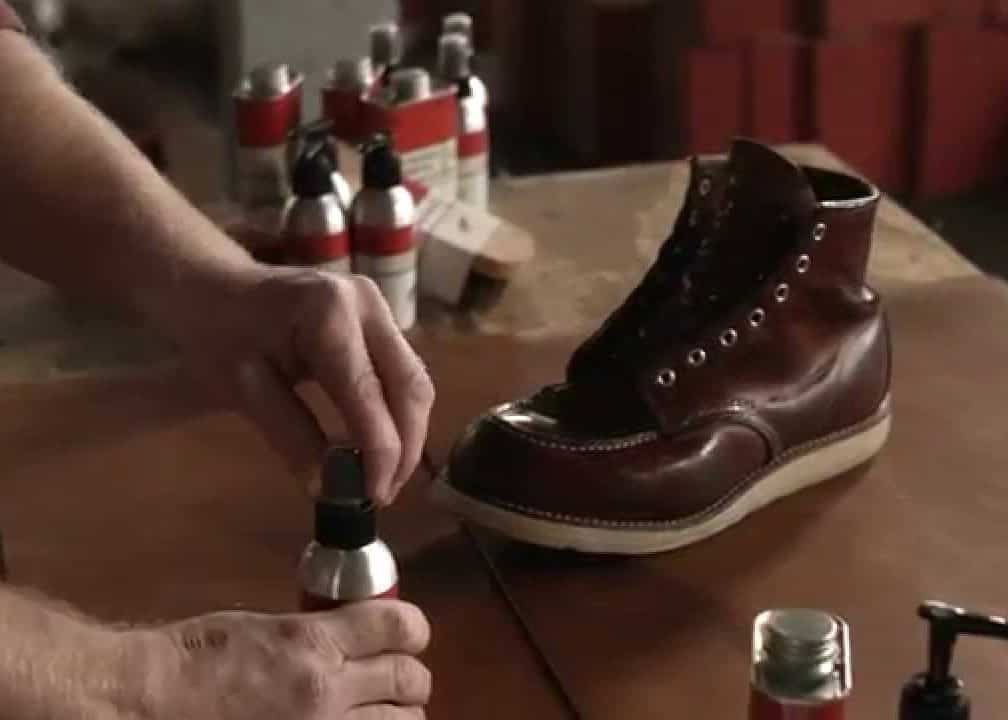 The most crucial time for your new leather boots is the break-in period, when your boots need utmost care.
And…
This is the time when you fall into temptation to oil your boots so that the break-in process becomes faster and easier.
But this is not the case with oiling new boots. When you oil your new boots, they will definitely break-in quickly, but at the cost of getting sloppy too fast.
The other thing which might happen is the leather fibers would get too much drenched in oil and get damaged for the lifetime.
But…
If you want to know which is the best time to begin oiling and the best oils to use for your leather boots, just head on downwards this article because…
Today I am going to tell you all about oiling leather boots, the hacks and types of oils best suited for your leather boots.
What is the perfect time to begin oiling the leather boots?
You can begin oiling your leather boots just a few days after they have completely broken-in because this is the time when the leather fibers will have no more danger from oils. To be very specific, you can begin oiling your boots just 4-5 days or 80-100 hours after the break-in is done to start with the preservation process.
What kind of Oil Should you put on Leather Boots?
Obviously you don't want to cook or deep fry your leather boots, right?
So, avoid any oil that is heavy or sticky or else they will settle in the pores and fibers of the leather and damage them entirely. They will create a cast of oil on the leather which would be very difficult to take off.
Therefore, you should always go for the oils which are non-sticky and get absorbed instantly leaving behind just the shine. Oils such as mink oil, obenauf oil are good options for your leather boots. The oils should have the following features:
1.) Waterproofing Feature:
How to Waterproof Non Waterproof Boots with Mink Oil
Other than giving shine, the next work of oil for your leather boots is to provide waterproofing against water, snow salt and perspiration stains. For this, the oil should have ingredients such as pine pitch and beeswax.
2.) Conditioning:
The oil should be effective enough to provide conditioning for a long period in one single application. It should be from a good brand read the reviews carefully before selecting the oil.
3.) Natural blend and non-toxic oils: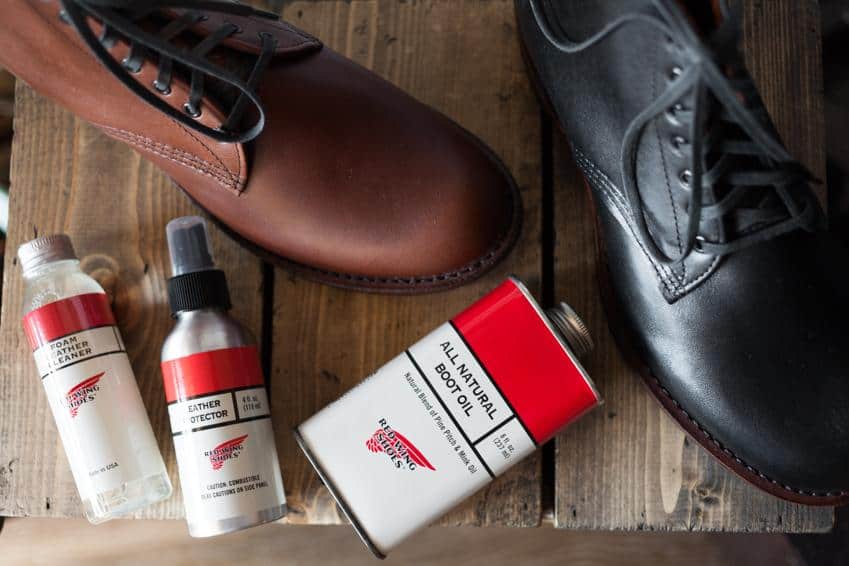 Chemical or toxic blends can ruin the natural fibers of the leather and decrease its lifespan. So, go for the oils which are natural blend.
4.) Light-weight and non-sticky:
The oil should be very light textured and non-sticky. Or else, it will make the leather fibers drenched in it and never come off completely, ultimately ruining your leather boots forever.
How often should you oil your boots?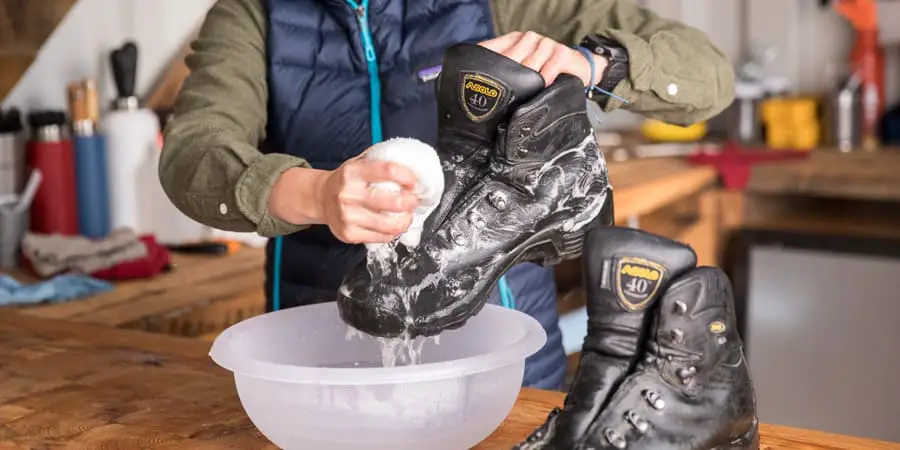 Oiling your leather boots should be preceded by cleaning them otherwise dirt and grime will settle in the fibers of the leather and end up getting your boots even dirtier. You may clean your boots using soap water or saddle soap.
The oiling process should begin after the cleaning is done.
Now the question is, do you clean your boots every day?
Not really, right?
So, is the oiling!
It can be done once a week or in case of severe accumulation of dust, you can do the cleaning and oiling twice a week and no more than that.
Please no!
For god's sake save your leather boots from them!
They might be tempting because initially they might give a good amount of shine to your leather boots, but they will damage them quickly and forever. They are sticky and settle on the pores and create a cast that is impossible to take off by applying any method.
Which Oil is the Best for Leather Boots?
1.) Natural blend specialized oils:
Specialized oils such as Obenauf oils,Red Wing Heritage All Natural Boot Oil contain natural preserving oils, beeswax, pine pitch and propolis which nourish your leather fibers without making any damage to them, thus increasing their lifespan.
Beeswax and propolis provide waterproofing effect and natural oil blend nourish the leather fibers from the roots and protect, shine and condition them for the better.
2.) Animal oils: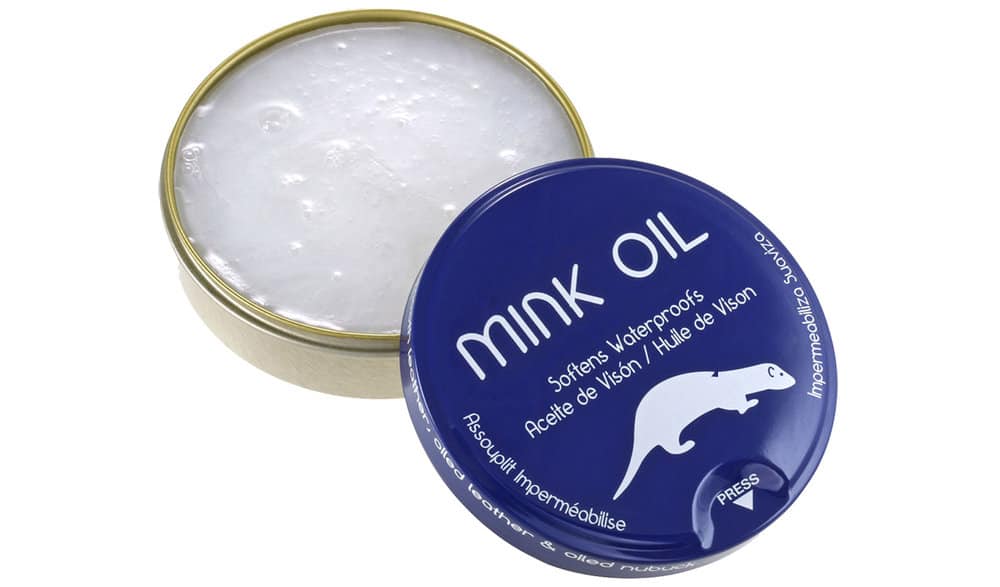 Animal oils such as mink oil is a good and cheap alternative to specialized oils which have quite the similar properties and protect and condition the leather boots in a similar way.
How to oil your leather boots?
1.) Clean your leather boots using soap water or saddle soap using a wet cloth.
2.) Dry them using a dryer.
3.) Then take minimum amount of oil on a piece of lint free cloth and work in small circular motions on the leather.
4.) Next, take a dry cloth and take off the excess oil from the boots.
5.) Dry them using a dryer.
Before we say Good Bye:
So, at last we would like to conclude by telling that don't fall under temptations.
The things that seem to attract in the first sight might be damaging for the future.
Therefore,
Be very careful while choosing the right oil for your leather boots and begin oiling them at the right time.
Hope I could answer all your queries in this article, still, if you have any further questions, feel free to ask them in the comment section below.
Till then…
Take care…
And…
Keep walking!