Cowboy boots are one of the most staple styles that can be found in every boot lover's wardrobe. They can be worn with almost every kind of attire, be it casuals or work wear. Plus, they are absolutely comfortable and durable that come in beautiful designs and various colors.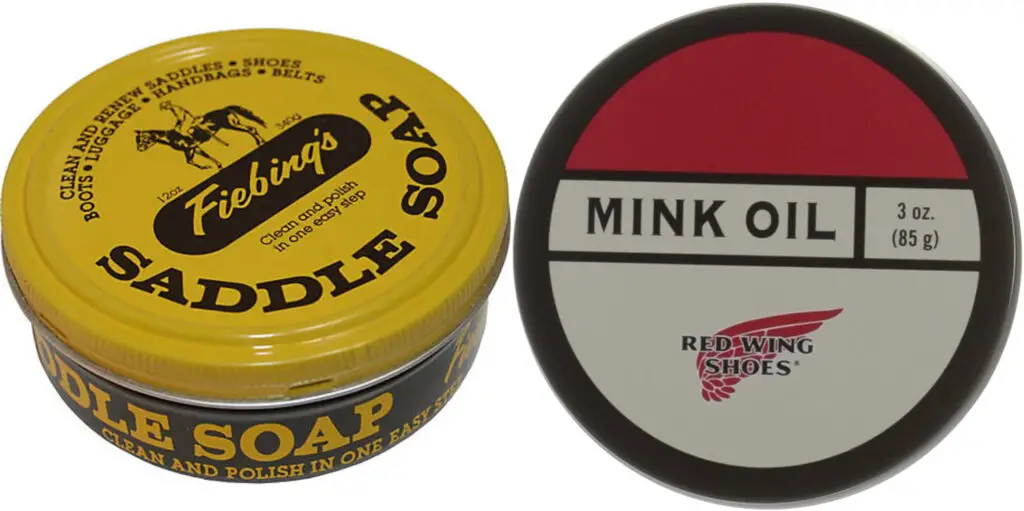 If you already own a pair then you know that caring for them is necessary keeping in mind that you spent good money on them.
Well, the good news is that caring for them isn't very different from any other leather products. They too need cleaning and treatment with proper leather oils and conditioners.
For a while now, I have noticed that people are rather confused between using saddle soap and mink oil on cowboy boots and comparing the two to figure out which is a better choice.
Both saddle soap and mink oil can be and should be used on cowboy boots as they have different roles to play. Therefore, it will be unethical to say that one is better than the other. The former works as a cleaner and the latter works as a conditioner. 
Your confusion ends here because this article covers all aspects of saddle soap and mink oil, to help you understand better that it is completely safe to use both products on your cowboy boots.
So, what is saddle soap?
The word soap should give you a bit of a hint already. Saddle soap is more of a cleaning agent than a conditioner for leather, although it does fulfill both functions efficiently. First, it is used to clean your leather boots before you condition them with a different oil or conditioner.
Mostly, saddle soap is a blend of lanolin, beeswax, and other waxes, which aids in leather conditioning, after the cleaning process. However, it is important to keep in mind that it only acts as a light conditioning medium. Therefore, you will still need to apply another leather conditioning product.
How does saddle soap work on cowboy boots?
1.) If your cowboy boots have stubborn dirt or stains on them, and regular water or soapy water is not helping get rid of it, then saddle soap is your answer. It will take the muck, grime, and stain right off of the boots with no hassle.
2.) Post which, they are ready to be conditioned and treated further with another product. It is considered to be the best leather cleaner available in the market today.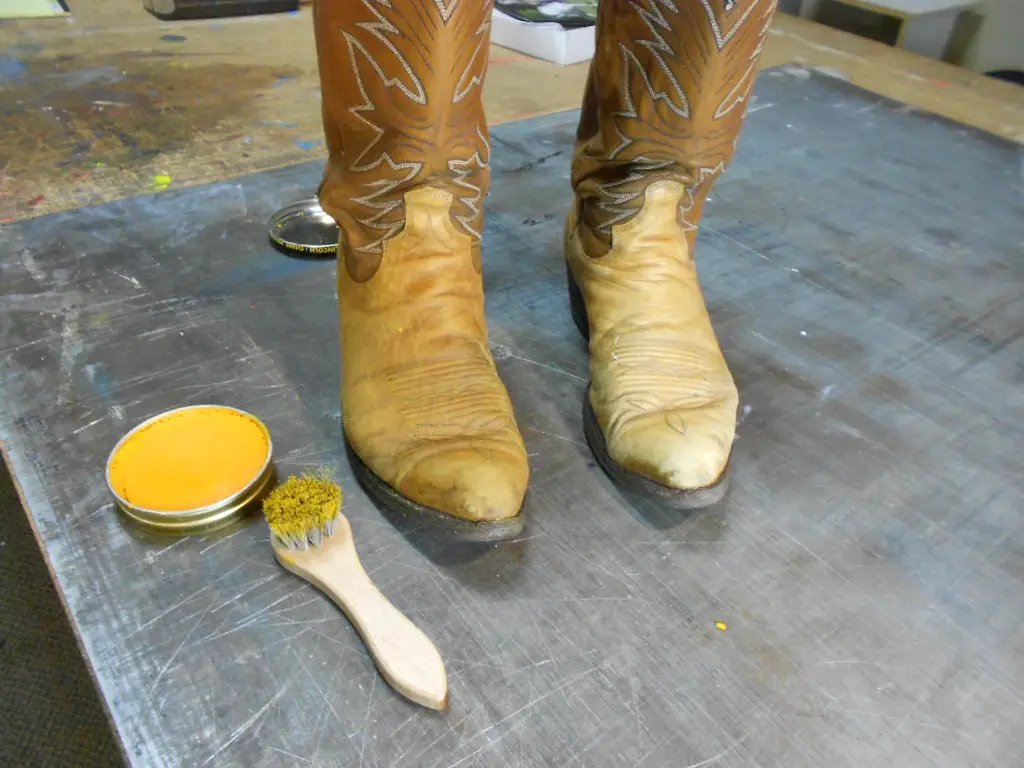 3.) The dilemma of dry and cracked boots can be avoided with the use of saddle soap due to its moisturizing properties. This also helps in making the boots soft like before when they were new.
 4.) Your boots will also get some shine when cleaned with saddle soap. The effects of it remain intact for a while before you need to use the soap again.
Similar to every product in the world, saddle soap also has its disadvantage. While it cleans the boots well, it does manage to extract the natural oils and wax of your leather.
However, this is not a complete deal-breaker, because you have your leather oils and conditioners to revive whatever is lost in the cleaning process. 
And what is mink oil?
Mink oil is purely a leather conditioner that aids in nourishing, preserving, protecting, and conditioning leather. It is made from the pelts of mink. Point to note, unlike saddle soap, mink oil does not and cannot clean your cowboy boots.
It should be used only once your boots are thoroughly cleaned, otherwise, it will further wreck them by securing the stains intact on the boots forever.
How does mink oil work on cowboy boots?
Mink oil works on cowboy boots like magic, as it plays various roles.
1.) Such as, it makes the leather more supple and pliable, which is often lost due to using the boots often as it goes through all kinds of tough weather conditions.
2.) It weatherproofs and waterproofs the leather to a certain degree, so you can pretty much wear your cowboy boots in most types of weather without the fear of ruining them completely.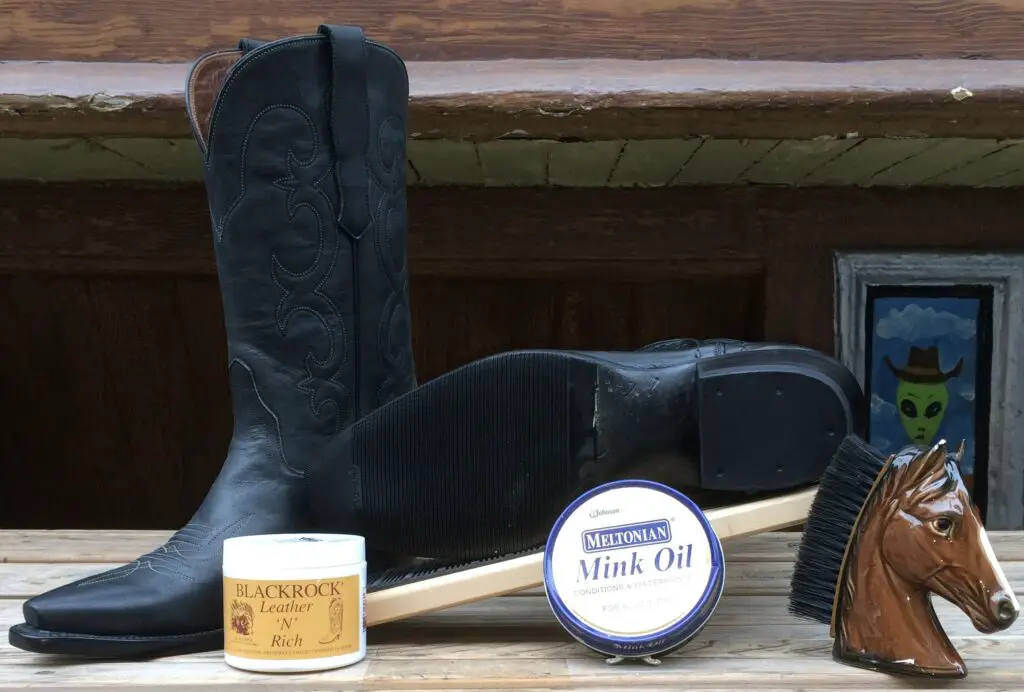 3.) Mink oil shields the boots from stains and other harmful elements that they are exposed to regularly to avoid additional deterioration.
4.) It acts as a fantastic conditioner by rehabilitating the lost moisture and resilience.
One of the biggest disadvantages of using mink oil is that it can make your boots darker in shade. So, it is advisable not to use it on light-colored boots. However, if you do not mind your boots getting slightly tanned, go for it without hesitation.
Take a look at the procedure on how to apply both saddle soap and mink oil to your cowboy boots   
Here is a step-by-step guide on how you should apply both the products:
1.) Start by cleaning your boots intensively using a brush with soft bristles or cloth will do too.
2.) If the need arises, you can use some plain or soapy water to clean your boots depending on how dirty they are.
3.) Use the saddle soap for all the extremely relentless muck that is not willing to leave your boots with just water.
4.) Do not apply the saddle soap directly on the boots. You need to take a clean lint-free cloth and dampen it with warm water first, then dab some saddle soap on it to generate a fine lather. Apply that lather on your boots in a nice circular motion starting with the dirty area, and then gradually moving on to the rest of your boots.
5.) Always remember to move in the same direction as your leather fibers and not against them to prevent the leather grains from getting ruined.
6.) Once the boots are properly cleaned, let them dry naturally to soak in all the saddle soap. After this, take another clean cloth to erase the leftover soap from the boots.
 7.) Now that you have completed the cleaning process, it is time to treat them with the good old mink oil that will help in increasing your boots' lifespan by many folds.
 8.) You should again take a clean lint-free cloth to begin the application of the mink oil. Dab it in the oil and start plastering it on your boots slowly and steadily.
 9.) Since, mink oil will undoubtedly darken your boots, you should begin by applying it in an unobtrusive part of the boots. This is to make sure you know how much darker your boots are going to get before you regret your decision by smearing it all over from the start.
10.) Once you have covered every part of your boots with mink oil, it is time to allow it to dry naturally. Please, do not try to quicken the drying process by using a hairdryer or any other medium of heat. This will lead to the drying and cracking of your boots rather quickly.
11.) After your boots have absorbed the oil, you can now take another cloth to wipe away any remaining oil.
This was the last step, and now they are ready for use again. If you follow all the steps as mentioned here, you will be doing your cowboy boots a solid one from decaying sooner than they need to. They will have a long and healthy life so you get to enjoy them in the long run.
Few signs to keep in mind when caring for your cowboy boots
Customarily, cowboy boots are made with tough leather, which can endure all types of rough weather environments. Even so, they do have their saturation point and need to be looked after before it is too late to save them.
Hence, keep an eye on your boots to look for the following signs of disintegration and get on with its treatment at the earliest.
1.) Attend to your boots once every 3 months if you wear them often and once every 6 months if you wear them occasionally. When I say attend to your boots, I mean proper cleaning, followed by conditioning them with the right products.
2.) If your boots get dirty due to being caught in an unfortunate muddy or other grime situation, then it is absolutely fine to treat them sooner than 3 months or 6 months.
3.) When you see that your boots are at the outset of drying and cracking, it is time for their rigorous treatment.
4.) If your boots have noticeable scuff marks, you know they need to be conditioned to prevent dirt and grime from entering them.
5.) When your boots are beginning to look battered and aged, they could do with some leather treatment.
6.) Boots tend to become rigid, and inflexible over time, which calls for leather treatment.
7.) Condition and preserve your boots when their natural moisture and shine start to diminish.
8.) Of course, adding an extra layer of protection never hurt anybody or anything. You should apply leather oil to your boots to safeguard them from harmful elements and make them weather resistant.
While treating your cowboy boots with good leather oils and conditioners is a good call, make it your number one mission to not overuse or overdo it because this will be very harmful to your boots in the long haul. And I am not sure that is not what you are aiming at.
Wrapping up
You now have a better understanding of how saddle soap and mink oil affect your cowboy boots. Therefore, you do not need to be afraid or confused anymore about their application on your boots.
Give your stylish cowboy boots all the love and care they deserve and maximize their longevity with the suitable leather soap, oil, and conditioner.