Finally!! You have bought your favorite leather boots you always dreamt of but it is troublesome to make them continuously come in contact with water or moisture.
That is why it is essential to waterproof your dearest rubber leather boots. But what to use and how? That is what we are going to discuss in this article.
There are so many products available in the market, but we are going to focus on flex seal as it has the most friendly nature with rubber leather boots.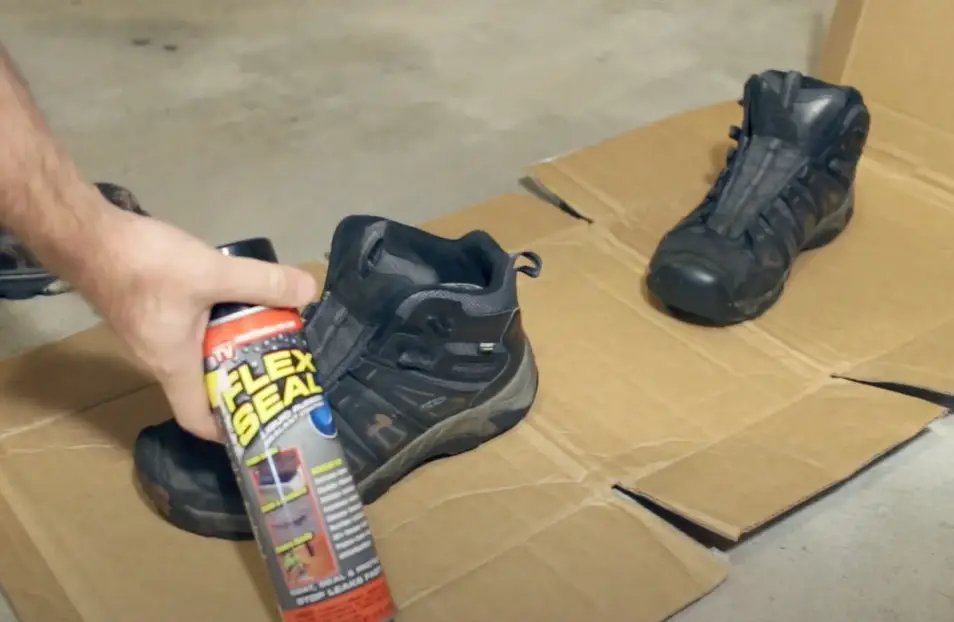 Can You Use Flex Seal To Waterproof Your Rubber Leather Boots?
Well yeah, we get it that you are worried about your boots, but do not worry. Flex seals are the best way to save your dearest boots from water.
Flex seal forms a rubberized surface over the cracks, rips, and holes on your leather boots. Thus it protects from the water that enters the boots.
Well, now we know that yes we can use flex seal on rubber leather boots. But here is another question how to apply? It is nothing to think too much, we have got you back. We are going to give step by step guide on how to do it.
Step By Step Guide To Apply Flex Seal On Rubber Leather Boots
1.) Make Your Rubber Leather Boots Spotless
It is necessary to clean your rubber leather boots before applying a flex seal on them. It makes the flex seal stick on the surface of leather boots by removing the dirt off the surface.
You can take a help of a brush to cleanse the dirt. Though you can be old school way by just banging one boot on another.
Well, great job on cleaning them. Now you have another task to wash them. You can do it either with water or any good soap solution. You can do this much for your dearest and favorite boots, right?
Now let your boots dry out in the air for maximum a day. You should be certain that boots are not wet anymore. Once they are dry you can start applying flex seals on them.
Now even I know that your boots are dry haha!! Now you have to add a layer of flex seal on them.
It will hardly take 10-20 hours for a single boot to get cured. It depends on the thickness of the seal.
2.) Holes And Pre-Rips Prior To Apply Flex Seals
Hold on! What's the hurry?  Before you precede on adding flex-seal make sure that you pre-sealing the large openings that are there on the rubber leather boots.
You can easily take the help of glue or tapes to pre-seal them. You can consider holes, rips, and tears to be your first choice.
Well, there is another question that might be coming into your mind right? How will you determine whether it is necessary to use glue or tape for pre-sealing the tears and rips?
You can try by joining the ragged edges of the leather boots. You can apply glue to the ripped edges that are touching each other. Tape can be used for the pending situations, including the holes.
It was easy right? How can we apply the pre seal? Let us cover that too.
3.) Pre-Sealing With The Help Of Glue
It is very easy to use glue but obviously, you cannot use any glue. You are looking for a way to waterproof your leather boots. You cannot use any glue that comes in your hands. Various waterproof glues are available on the market to choose from.
You can take the help of super glue or the glue that you are going to purchase on the edges. After applying the glue just hold them tightly until you are sure that they are dry.
Yes! You can opt for super glue if you are not able to find any waterproof glue.
1.) Pre-Sealing With The Help Of Tape
You will have to use the tape if the ripped edges are touching each other. Tape helps on covering the hole to make you apply flex seal nicely to it.
You can lookout for various types of tapes available on the market but we are going to recommend you some.
2.) Duck Tape
This is the most powerful tape that you can use for anything other than using it for pre-seal. This tape can stick to mostly any type of surface. It can finish the task in most of the situations.
Don't forget that the main aim is to keep the leather intact in its place before coating it with the layer of flex seal.
3.) Fiberglass Drywall Tape
Yes, you got it right, this tape is mostly for drywalls, as it is elastic. If you are planning on applying a little tension on the boots, this tape is just fine for it.
4.) Flex Seal Tape
This tape will not just hold the leather in one place but will also make the layer waterproof. Though it will ruin your plan if you are planning to use the flex seal spray. Any type of liquid application will also make you regret using the flex seal tape.
Once you are sure that the ripped edges of the leather boots are close together apply the tape inside and outside of the boots.
Now is the time of the part which we were waiting for since the start of the article.
Coating of Flex-Seal On The Rubber Leather Boots
You have two options to choose from while coating the boots with flex seal. You can either use flex-seal spray might as well take the help of liquid one.
Fluid Flex Seal To Apply On Rubber Leather Boots
The liquid version of the flex seal is the most recommended way. It is always stored in paint cans so make sure you have a brush to use it on your rubber leather boots.
You can apply this seal without any trouble. It is necessary to apply much of this fluid flex seal as the liquid is quite thick.
You can apply fluid flex seal in whatever way you want thus giving you more authority on the method of applying. Tight boots having shredding and chinks allows liquid to penetrate easily.
Be certain of brushing the desired domain well. Keep on doing it until you are sure of the smooth area on the rubber leather boot.
There are some disadvantages of Fluid Seals. Let us cover them too.
1.) Foremost thing to worry about fluid seals is the cost. Yes, it is expensive. Even the small bucket costs a lot.
2.) The second annoying thing is the time it takes to get dry. The liquid seals when compared to spray take a lot of time to dry. Don't go in packaging that promises 24 hours to get dry. It approximately takes 36 hours.
3.) It makes the boot look plastic-like as it leaves an extra shiny finish on your boots.
Spray can Flex Seal to apply on Rubber Leather Boots
Well, this is by far the fastest and cheapest way. It is the best way to flex-seal the rubber leather boot if it has a lot of cracks and rips that appear because of getting old.
This is easy, as you just have to spray it to make it waterproof and done!
Well, it also has a downgrade. It does not provide you with much control and also it does not work well with seam splits.
With the help of a spray can it is easy to cover the rough layers that are present in the compact areas of the boots. Just take the help of a brush to thin the layers.
Flex-Seal Dries In How Much Time?
It all depends on the thickness of the layer. To dry up, a single layer of the coating of flex-seal almost takes up to 22 to 36 hours.
How Many Coats Of Flex- Seal Are Required On Rubber Leather Boots?
You must be familiar with the most which you use while sweeping or cleaning something right? Yes, you have to keep on spraying the required area with that same motion. You have to make sure that it completely dries out and you can think of layering it with extra coats if required.
Obviously more coats help the most as each time it will keep on filling the holes and cracks that are there on the surface of the rubber leather boots.
Is There Any Guarantee On Flex-Seal Being Permanent?
Well, nothing is permanent for sure. It all depends on the surrounding and the number of coatings that have been applied on the boots. With the proper maintenance anything can last long.
Flex seals can last for several years without encountering cracks or peels. After several years it will still have its strength and the sealing properties.
Some Of The Excellent Features Of The Flex Seal
• Provides a proper resistant from weather
• It acts a strong sealant
• No doubt that it is a powerful product
• Can be used for any temperature be it 0 degree C (quite effective for boots if you are carrying them during rainy season)
• It has various countless functions
• Provides protection from cracks on the boots because of its flexible nature
Let us Also Cover Some of the Pros And Cons of the Flex Seal.
Pros Of Using A Flex Seal
• It lasts for several years because of being the effective sealant
• Very simple to use
• Temperature resistant be it high or low
• Waterproof sealant
• Usable in every surface
Cons Of Using A Flex Seal
• You might need to cover up the large holes and cracks of the rubber leather boots with several layering of flex seal
• It is quite expensive