Chukka or Chelsea?
Chelsea or Chukka?
Is this is what hovering around in your mind for days?
Then, hey peeps! Look no further and delve deep into this article as it has in store answers to all your confusion.
Want an all purpose boot that can work on every occasion? Chelsea boots are best for you as they serve both formal and casual looks. And if you are the flamboyant type, and casuals are your dress code, chukka should be in your wardrobe!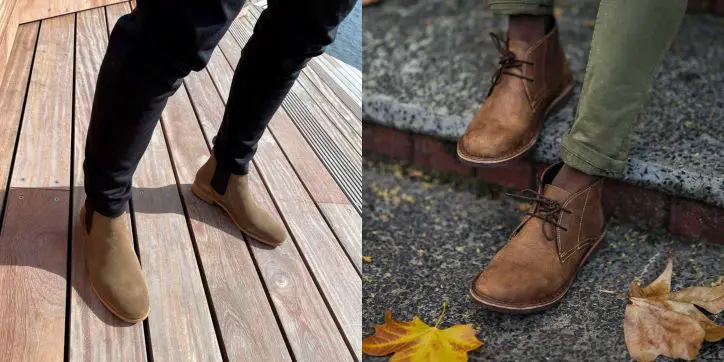 Also, if you are the lazy one, who likes pull-on boots, Chelsea is the best for you, but if you want to create your own comfort with laces, Chukka is the one for you.
If you are thinking this is all that differs a Chelsea boot from a Chukka, you are probably taking the short route, because there's a lot to know about both these boot types before you come to a conclusion for making your purchase of the right boots for you!
Chelsea and Chukka Boots Comparison Table
| | | |
| --- | --- | --- |
| | Chelsea Boots | Chukka Boots |
| Look | Offers a more formal or smart casual look | Offers a more casual look |
| Looks best with | Formals like suits and closed collar shirts and formal pants. Can be worn with jeans too though. | Can be worn with any pants like jeans or chinos, a slim fit or a regular fit jeans, open collar shirts, t-shirts and jackets |
| Season to be worn in | Autumn and winter | Autumn and winter |
| Laces  | No laces  | Have laces |
| Boot height  | Ankle length but slightly lower than the Chelsea boots | Ankle length |
| Versatility  | More versatile  | Constricted to casual looks only |
| Price | Expensive than the chukka | Less priced than the Chelsea  |
The Chelsea Boots:
Chelsea Boots came into existence in the era of Queen Victoria but they became fashion boots when top performing bands like the Beatles and the Rolling Stones rocked the stage in these boots.
Why Will They Not be Loved by All Afterall?
The easy pull-on design without laces makes them so easy to take on and off. But for your convenience you have the pull loops on the front and the rear of the boots and also the elasticated panels to keep the boots hugging to your feet. They mostly feature round toes and offer enough comfort and breathability to the feet. 
The Chukka Boots:
The British soldiers wore the desert boots during the World War ll and that's where the Chukka boots owes its origin to with some slight variations in the desert boots. 
The Chukkas got their names probably from the polo players who flaunted these boots while their games and demanded they were so comfortable for their sports.
Chukka boots are in fact, one of the most fashionable boots that have been loved and enjoyed by people since ages and still so much in fashion.
Chukkas are actually low-ankle boots with a few eyelets for the laces. They are made of calfskin or suede or leather and display crepe rubber soles for excellent grip.
They are open laced boots and the quarters are thrown over the vamps and not on the beneath.
What makes these boots more casual than formal is that the flaps are more spread apart due to the presence of the open lacing system.
Chukkas, though casual boots, offer you a masculine look due to their bulky structures and the presence of the laces.
Chelsea or Chukka which is better and which one should you get?
For knowing which boot style is the best for you, let's delve into the details of their comparison based on some of their features:
1.) Appearance of the boots:
Chelsea boots offer a more sleek look while the Chukka offers a bulky and masculine look.
2.) Look: While the Chelsea boots offer a more formal look, the Chukka boots have the more casual feel to it.
3.) Laces: The Chelsea boots come with loops to pull the boots on and off and have no laces. The Chukkas on the other hand have few sets of eyelets (generally 2 pairs, 4 eyelets in total) for the laces.
4.) Height of The Boots: The Chelsea boots are ankle length boots and the Chukka boots are of low ankle length.
5.) Construction: Both these boots are made with Goodyear Welt or the Blake construction. And if the boot that you are planning to buy does not have these constructions, simply drop your plan to buy them as they won't last long.
6.) Material of The Boots: While Chukkas come in leather, suede and calfskins, it's not very common to find suede Chelsea boots.
7.) Texture And Design of the Boots: While Chelsea boots display a clean and simple silhouettes, Chukkas on the other hand have some design in them still being plain enough.
8.) Soles: The Chukkas have more rugged soles with the crepe design in them. The Chelsea boots however too have rubber soles but they are more polished than the chukka boots.
9.) Traction: In terms of traction, the Chukkas win the game with the crepe design in the outsoles for better grip on grounds.
10.) Maintenance: With the presence of the laces and the crepes in the soles that attracts dirt, the Chukkas demand more cleaning time than the Chelsea boots.
How to Style Your Chelsea Boots?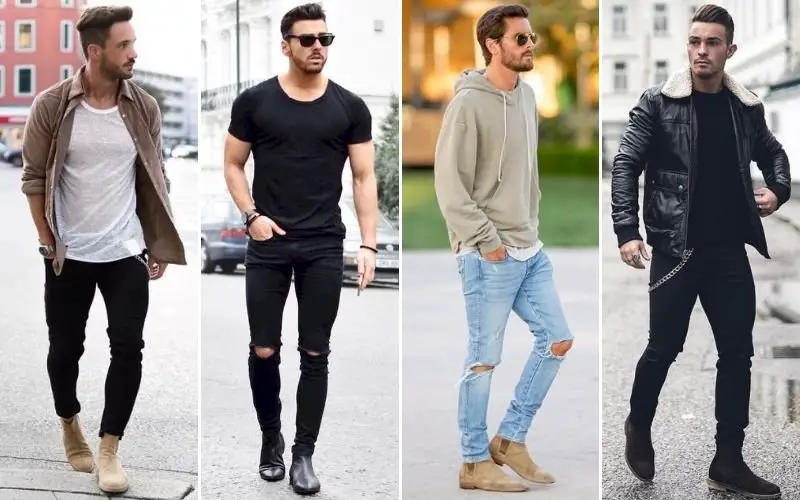 If you plan to get the bulbous and sturdier English style Chelsea boots, they will give a more casual outlook and can be paired with a pair of jeans or chinos along with a leather jacket and polo t-shirts.
But if you plan to get the slimmer and sleek version of the European style Chelsea boots with the Blake stitching, they will go well with formal outfits like suits and closed collar shirts.
How to Style Your Chukka Boots?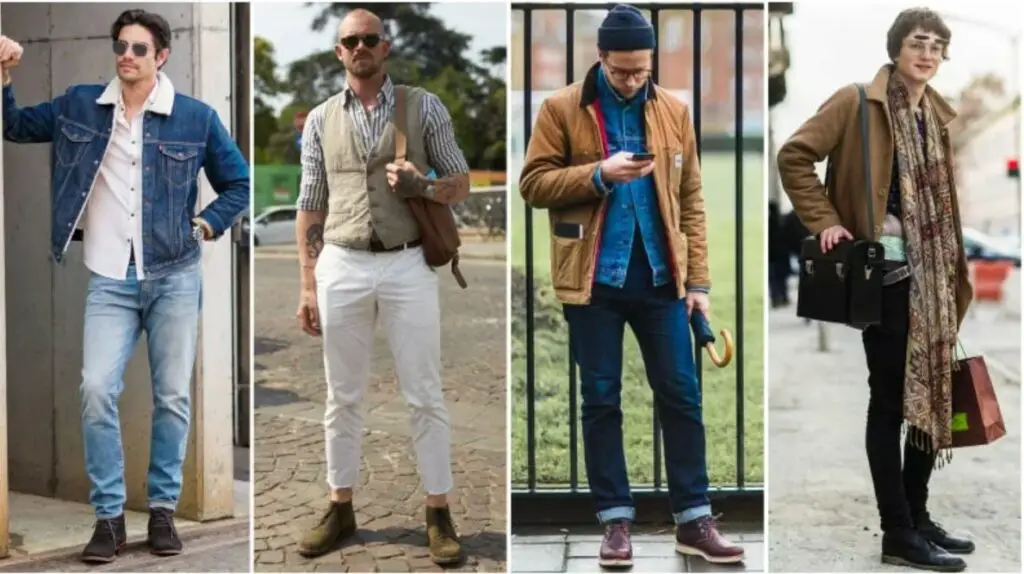 The Chukkas with crepe rubber soles give a more rugged look and are therefore best for your casual day out with friends and family, pair them with jeans and chinos along with open collar shirts, jackets, hoodies and t-shirts (round or collared).
And it's a Wrap!
Be it Chelsea or Chukka, just make sure that the construction and the uppers are made of a good quality material so that they last long and serve as value for money.
But if you ask me, Chelsea boots are my all time favorites because they are so easy to carry and I can literally wear them to every place. And what you expect from a pair of boots when you invest in them.
That's all lovely people for this post, if you liked reading it, do stay tuned for more such informative pieces.
See you in my next post, till then take care and have a great day ahead!