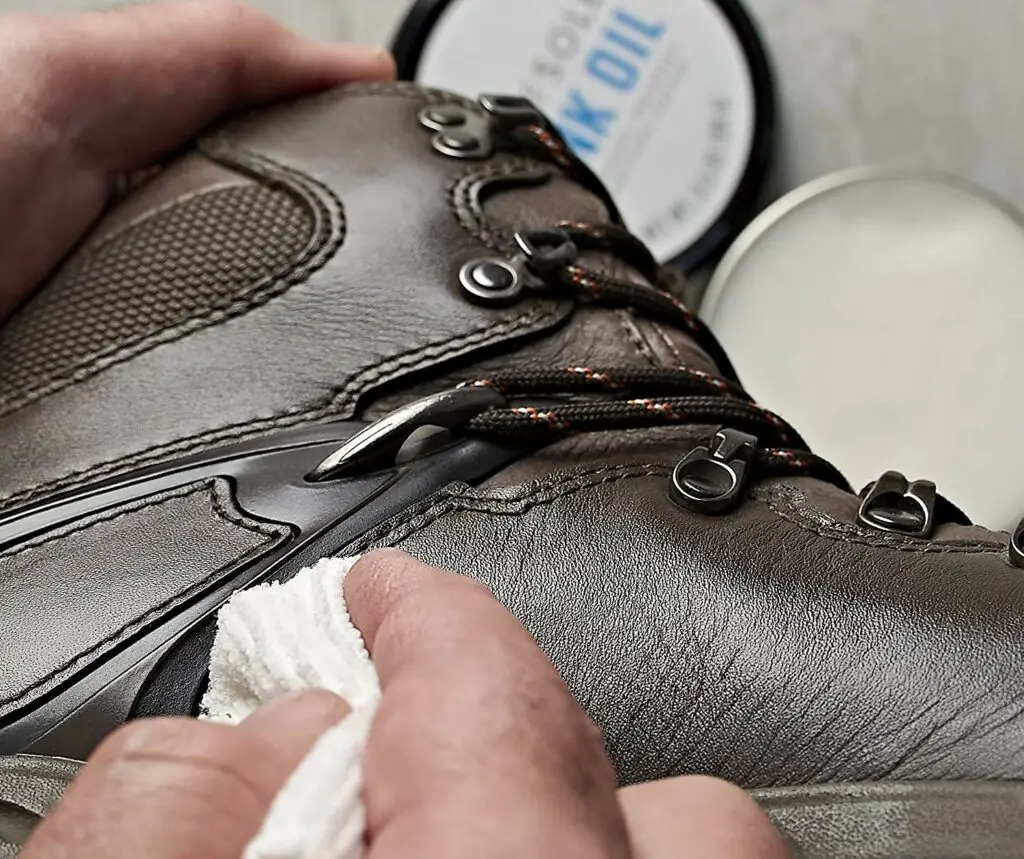 With time wearing leather boots is becoming very popular because they are durable, reliable, comfortable, safe, convenient, and adjustable.
Once you have found the suitable leather boots, fit perfectly, and are comfortable, you need to ensure the shoes' quality is maintained.
We spend most of our time at work and choosing the best boots and keeping them clean is essential. 
If you are working on a construction site, it is evident that your shoes are prone to a lot of dust and damage, and you need to clean your boots regularly. If you wear leather boots, you need to polish and treat them. 
I used to find it difficult to keep my leather shoes clean until I found the simplest and the easiest way to keep them clean daily. 
The one-stop solution to keep your leather boots clean is Mink oil. If you have leather boots, mink oil is a must-have.
But first, what is mink oil?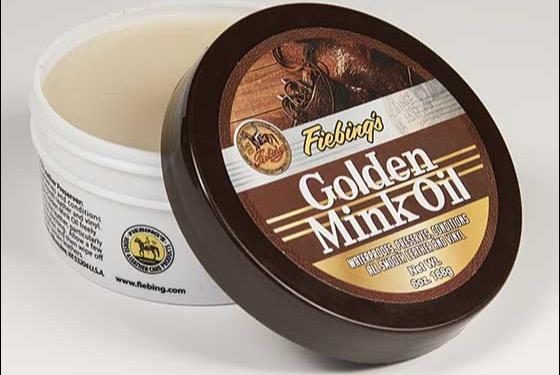 Mink oil comes from minks, small carnivorous animals with its roots from Native American material culture. Mink oil is obtained from their abdomen fat. Since these animals do not struggle with any skin diseases all their lives, this oil is very famous. 
Tip: Nowadays, mink coats are also becoming very popular and are a symbol of social status. 
Every shoe lover and leather workers use it. But why? 
Mink oil replenishes the leather boots and gives them a soft and flexible texture. It makes your boots shine and makes them water-resistant. If not used correctly, it can harden the leather.
To get good results, you need to know the right quantity of mink oil you need to apply and the number of times you should use it. 
Do not worry. In this blog, I have discussed how to apply mink oil on boots in detail.
7 Steps to Clean and Shining Shoes
Applying mink oil to your leather boots is easy. You can do it by simply following the steps given below: 
Step 1: Choose the best mink oil for your leather boots 
The first and foremost important step is to choose the right mink oil to waterproof your boots. A large variety of branded and non-branded mink oils are available in the market.
Since the leather boots are costly and come with a price, you need to use the best mink oil to clean and waterproof your shoes. You can do a little research before choosing your mink oil. 
Fiebing's Golden Mink Oil Paste
Fiebings Golden Mink Oil Leather Preserver is great for use on leather and vinyl items such as boots, shoes, baseball gloves, jackets and horse saddles and harnesses!

Golden Mink Oil softens, preserves, and waterproofs smooth leather and vinyl for outdoor use.

Helps prevent water, salt and perspiration stains.

Specially formulated with silicone, lanolin and vitamin E to replenish lost oils.

6 oz. Fiebings signature product. Manufactured in the US
Prices pulled from the Amazon Product Advertising API on:
Product prices and availability are accurate as of the date/time indicated and are subject to change. Any price and availability information displayed on [relevant Amazon Site(s), as applicable] at the time of purchase will apply to the purchase of this product.
Fiebing's Golden Mink Oil paste, a Fiebing's signature product is specially designed to preserve and waterproof leather boots.
You can also use it for conditioning your boots, shoes, gloves, jackets, and other leather products. It has silicone, lanolin, and vitamin E which conditions and replenishes the lost oils. 
Here are some of the features making it one of the best mink oils:
Protect the leather from water, salt, and other tough stains.

It is easy to use and dries within minutes. 

It is convenient, ready to use, and comes in a 3.5-ounce reusable tin. 
Step 2: Rub off all the dust. Do not skip.
Before you start cleaning your shoes with the mink oil, make sure you remove all the dirt and dust with a dry cloth to avoid mink oil from absorbing the dust from your leather boots.
To get rid of the dirt, use a plastic knife to scrape it off or a dry old cloth. You can also clap both the boots against each other to remove all the dirt. If there is too much dirt, you can use a mild soap to wet wash your shoes. 
Step 3: Expose your boots to some heat
Once you have completed washing your boots, you need to dry them thoroughly. You can use a hairdryer for better results. 
Step 4: Heat the mink oil 
Since the mink oil is in the form of wax, you need to heat and melt the mink oil. Once done, dab a sponge or cloth in the oil. 
Step 5: Wipe, Wipe and Wipe 
Once you have taken some oil on the cloth, wipe your boots gently with the cloth or sponge in every corner of the shoes until it starts settling down into the leather.
Step 6: Go slow, one section at a time.
Now rub the mink oil in a circular motion with a cloth from one section to another and repeat the whole process. Do not miss any corner of the boots. 
Step 7: Let it sit 
For shiny leather boots, let your shoes dry overnight. If you are not satisfied with the results, you can repeat the process in the morning. 
Note: Make sure you thoroughly wipe off all the extra oil present on the laces, soles, or eyelets. 
Tada! Your leather boots are ready to shine at work. 
Mink Oil: A Waterproofing Solution
One thing that we all hate the most is wet shoes. It can be disgusting and annoying if you wet your leather boots are work. 
Do not worry. Mink oil comes to your rescue. Apart from shine and durability, mink oil increases water resistance. It means, by applying mink oil, your boots will be able to bear heavy rains. 
Mink oil is a tried and tested formula for waterproofing your leather shoes. Since they have a wax texture, they act as a waterproofing agent. The process of waterproofing with mink oil is almost the same.
But here you need to pay special attention to the joints because it is more vulnerable to water. You can apply two or three layers of mink oil in this area to make your boots more water-resistant. 
The next question that comes to our mind is, how often should I apply mink oil on my boots? 
Mink oil also acts as a conditioner that keeps your shoes from drying. Without applying mink oil, your boots can tear easily, and you will never be able to wear them again. Using mink oil once in two weeks will keep your shoes healthy and give them a long life. 
Is mink oil bad?
Overdoing is harmful. The same goes for leather boots and mink oil. As mentioned, applying mink oil once in two weeks is more than enough.
Excess use of mink oil can cause excess softening of leather and discoloration. So an occasional coating to reduce the dryness and protect your boots from water is more than enough. 
4 things to add to your daily leather care routine 
Leather boots are something you cannot replace when going to work. Mink oil does its work. Since too much is harmful, here are some of the household items you can add to your leather care routine right away! 
You can use a

toothbrush

to clean those hard to reach spots quickly. 

Use

baking soda

and talcum powder to remove odor, grease, and oil stains when mixed with water. 

Use

dish soap

as a cleanser for cleaning the surface of the shoes without causing much damage. 

Use

Vinegar

to remove the odor from the inside of the boots and salt stains from the outside. 
Bonus! 
Here are some quick tips that will help you take care of your leather boots
Remove any dirt or dust immediately after use. 

Clean and maintain your shoes according to the quality of your leather. 

Use a shoehorn while putting on your leather shoes. 

Keep your shoes in an open air space to rest at least 12 hours before wearing them. 

Do not expose your shoes to the sun for a longer time. 
Wrap Up 
Like it or not, mink oil will be a go-to for every leather boots owner. It has been in the industry for more than a century and is proven to be the best conditioning option in the market. Due to its popularity, it is also easily available. 
I hope this blog helped you understand how to apply mink oil to your work boots.