There is no denying the fact that Mink oil is one great savior for your dull and lifeless leather boots!
No one likes dried up and cracked leather boots; do you? Not really right?
There is when mink oil comes to the rescue of your leather boots and restores moisture, nutrition and shines to the leather boots and saves them from being cracked.
But there is a limit to using anything and everything and mink oil is exception to it!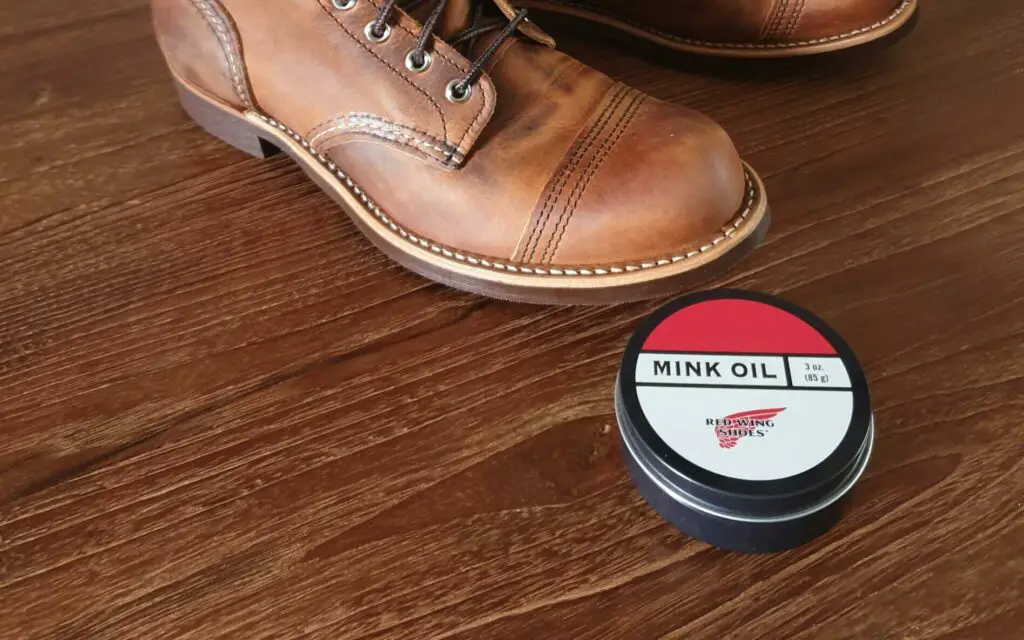 The answer is once every 2 weeks! Yes, excessive use of mink oil on leather boots might lead to moisture build up within the boots and rot the leather in the long run.
There are also several other questions related to mink oil that often strikes your mind and therefore, this article is entirely dedicated to answer all those questions such as:
How to apply mink oil to leather boots,

How often should you apply mink oil to leather boots,

Why mink oil for leather boots,

Does mink oil waterproof boots,

Can mink oil cause damage too boots,

How long can you leave on mink oil on leather

Which types of leather can mink oil be applied, etc!
So, without further ado, let's begin with facts related to mink oil…
Advantages of using mink oil on leather boots:
1.) Mink oil helps to condition leather boots
2.) It is used for waterproofing boots
3.) It is used for weather-guarding boots
4.) It is used to save the leather boots from salt, mud, mildew and mould
5.) It is used to soften hardened leather
6.) It protects the leather from getting stains as well
Why mink oil for leather boots?
While other leather conditioners and oils like coconut oil, vegetable oil and neatsfoot oil are used to only condition or bring back nutrition to the boots, mink oil on the other hand also serves to waterproof the leather boots.
How to apply mink oil on leather boots?
Applying mink oil to your leather boots is quite easy. You just need to follow the simple steps below:
1.) Clean your boots with a clean dry lint free cloth to remove the loose dirt and grease.
2.) Then dampen the cloth in lukewarm water and move in small circular motions on the leather fibers to remove the built-in dirt and grease. In case of excessive dirt and grease, you can use soap-water solution instead and then work with normal water to remove the soap.
3.) Dry the leather boots under the fan for overnight.
4.) Next, apply the mink oil to your leather boots in layers and leave it for 1 to 2 hours.
5.) Take a clean lint free cloth and wipe out the excess mink oil from the leather boots. You can then just work out the soaked in mink oil with circular motions with your fingers.
6.) Finish off by applying a good leather polish to bring on the shine if you desire or you might skip this step as well.
How often should you apply mink oil to leather boots?
If your purpose is to condition your leather boots and you are going to wipe off the excess oil after 1 hour, you can apply mink oil once after every 2 weeks.
But if you are going to give it a wax coating with the mink oil for waterproofing, apply no more than once or hardly twice a year.
Will mink oil rot the stitching of the leather boots?
If your boots are stitched with cotton or any natural fibers, it might rot the stitching in case of the excessive amount applied to the boots and left for a longer period of time.
However, modern boots are all made with synthetic stitching that will not be affected with mink oil.
Can mink oil be used to for waterproofing leather boots?
As mink oil is made from fatty layers of mink's skin, it usually has the texture of wax and therefore can definitely be used a waterproofing agent for your boots.
Just a point to note if you want to waterproof your boots using mink oil, select the mink oil that comes in the form of wax and after applying it to your boots, do not rub off the coating. However, this should be done no more than once a year.
Does mink oil bring back shine to leather boots?
Mink oil conditions the leather and brings back an ideal shine to the leather boots but not like that of a boot polish.
So, if you want to shine your leather to give it a mirror-like finish, I would suggest you to apply a boot polish once you have wiped out the excess oil with a clean dry cloth.
Mink oil boots Before and After Pictures
Can mink oil be applied to new boots?
It is strongly advisable not to oil new boots until and unless you are getting cuts and pain from the new hard leather.
This is because oiling new boots during the break in period might result in sloppy fitting boots. Therefore, allow the leather to break in naturally ad mold to your feet in its normal time without the use of any oil.
Can mink oil cause any damage to your boots?
If used in excessive amount or too frequently, mink oil can oxidize your leather boots and harden them.
Also if the boots are left in poor condition, in damp dark places after the application of mink oil and left to stay longer than needed, the mink oil might turn rancid which might again leave behind a very strong smell that can be difficult to remove.
How long mink oil can be left on boots?
You can leave mink oil on your leather boots for 12 hours to overnight depending on how much or to what extent your leather is dried up.
Then you need to wipe out the excess oil with a clean dry cloth and work in circular motions to bring shine to the boots. But mink oil will normally take 1 hour to completely dry on the boots. 
Does mink oil serve as a leather conditioner?
Mink oil will definitely serve as a leather conditioner for your boots, but for a short period of time. As I said, you need to reapply them once in every week.
One difference between an actual leather conditioner and mink oil is that; whereas a proper leather conditioner will have no after effect on leather boots, mink oil can temporarily replenish the leather, but later oxidize and harden the leather if not reapplied in 2 weeks time span.
Does mink oil soften leather boots?
If you want to soften your brand new leather boots with mink oil, I would suggest you to apply mink oil on the boots in thick layers (as mink oil is more of a soft thick waxy substance) and leave it overnight in order to allow the oil to soak in the leather fibers and soften them.
Next day, work out the oil in circular motions with a soft lint free cloth so that the uppers of the leather are nicely conditioned too and remove the excess oil with a clean dry lint free cloth.
Can mink oil be used on cowboy boots?
In fact, the most effective way of waterproofing cowboy boots is applying mink oil. Applying mink oil to cowboy boots will protect the leather from abrasions caused from mud, salt or other harsh external elements. 
Top 10 Best Cowboy Work Boots for Men and Women
Can mink oil be applied on Ariat boots?
Mink oil can definitely be used for softening, conditioning and waterproofing your Ariat boots. Not only this, applying mink oil to your Ariat boots will also save them from cracking, drying and staining. 
The Don'ts of mink oil:
1.) Do not apply mink oil to light colored leather boots because mink oil tends to oxidize and darken leather
2.) Never apply mink oil more than once every 2 weeks or else it might rot the leather and the stitching and harden the leather
3.) Do not leave on mink oil for more than 12 hours (with excessive dried up leather you can still wait for 24 hours) or else it might dampen the leather and create foul smell
4.) Do not apply mink oil to new boots
5.) Do not apply mink oil to suede boots
Alternatives to mink oil:
If your motive is to only condition your boots, you can use the following alternatives: (Check out the guide on the best oil for your boots)
Coconut oil

Vegetable oil

Tartar cream

Leather conditioners

Neatsfoot oil
If you want to condition as well as waterproof or weatherproof your leather boots, use any of the following alternatives:
On which leather boots can mink oil be used?
You can apply mink oil to any type of leather including full grain leather, oil tanned leather, polished leather, etc. but do not apply them on nubuck leather and suede boots.
It's time to bid Adieu!
That's all with today's article! Hope to see you soon in our next article.
Till then, take care, stay safe and…
Have a great day ahead!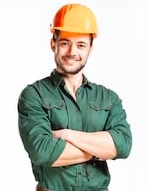 I have 12+ years of experience in construction, inspections, handy work, and currently working as a Construction Site Manager. In today's day we spent a significant part of our time at workplace and a right work gear can have significant impact not only on your safety but also work quality.