What do expect from a boot that is supposed to be worn for walking in concrete?
Durability, comfort, good traction, slip-resistance and heat-resistance, right?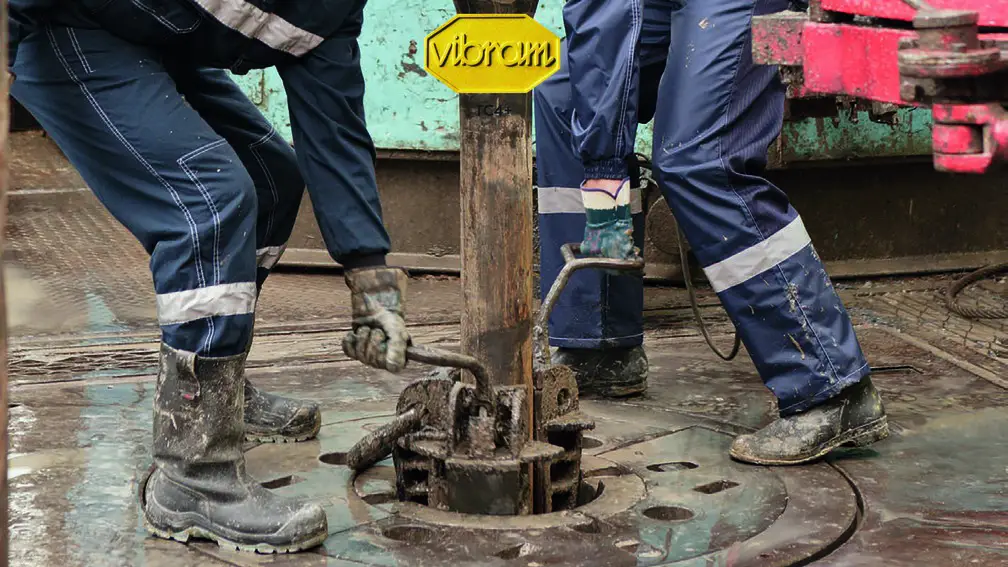 And if so,
Vibram® soles are one of the best choices for walking in concrete if not the only best! Vibram® soles are made from vulcanized rubber that resists heat from the concrete ground and the lugged tread pattern in them offer great traction on concrete floors. 
Okay that's not all that Vibram soles have in them! There is much more that have to offer to your feet and I will talk about them in details in this article.
So, if you are worried about if your Vibram soled work boots are going to serve right on concrete, you have just landed on the right page!
What is special about Vibram soles?
If you ask me about the specialties of Vibram® soles, I must tell you that they have set particular standards on which other soles are compared to for judging their performances.
Let me take you through some of the special features that Vibram® soles are blessed with:
1. Durability of Vibram® soles:
Do you know that rubber soles need to be hard if they are to last longer? But hard rubber won't give you a good traction any way. So, what does Vibram® in them that makes both of these features possible?
Vibram® soles use rubber mixed with certain flexible and supportive compounds like the EVA to make their soles flexible yet long-lasting.
2. Comfort of Vibram® soles:
However soft may your insole be, if the outsoles are damn hard, the insoles are not going to offer you the expected comfort.
So, what does Vibram® soles do about it?
Vibram® soles make use of vulcanized rubber combined with EVA to provide the springiness and softness of foam for comfort and durability and rigidity of rubber for the best traction.
3. Traction of Vibram® soles:
Vibram® soles have lugged tread patterns on them that offer much better grip on slippery terrains and they even serve great for hiking activities.
The lug pattern helps to hold good grip in any wet and dry condition and they are resistant to abrasion too.
4. Vibram® soles can be re-soled:
In my opinion, this is one of the most essential features that should be present in a good sole that they can be re-soled.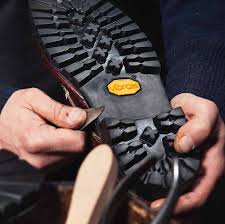 Hard soles take out a lot from the soles and they wear out eventually. But throwing the entire boot only just for the sole is a pinch for the pocket, right? 
Not with Vibram® soles at least, because they can be re-soled. So, the next time your soles wear out, get a new sole instead of new boots, and book yourself a dinner at a good restaurant with the money you saved!
5. Vibram® soles are heat-resistant:
Yes, you heard it right! Vibram® soles are definitely heat-resistant that helps to tread on hot floor like the concrete. The use of vulcanized rubber in the making of these soles make them good insulators.
Are Vibram soles melt resistant?
As mentioned above, Vibram® soles are definitely heat-resistant. But if you apply too much heat like if you walk on molten concrete floor, the heat from the molten concrete can obviously affect the Vibram® soles!
Still, there is no evidence yet that Vibram® sole have melted on hot floor unless you apply direct heat (fire) on them and yet for that fact too, they are flame resistant as well.
How long will Vibram soles last?
I will be very honest with the answer. There is absolutely no guarantee as to how long will your Vibram® soles last as it depends entirely on the extent of use of the user.
If you wear your Vibram® soles to extreme conditions where they have to face heat, water, graveled path each day, they might wear out in a year or two.
But if your workplace isn't that demanding and you take good care of your boots, the Vibram® soles can last you as long as 10 to 15 years!
Can Vibram soles be replaced?
Definitely! You can replace your Vibram® soles as they can be re-soled. 
You can either take your boots to the shoe maker to replace the old Vibram® sole with the new one or you can do it all by yourself as well. In case, you want to do a self-help, there are a couple of things you need to remember:
→ The new Vibram® sole should match the shape and size of your old sole
→ You need to take out the old sole very carefully from the boots without affecting the bottom of the boots that attaches the outsole with it
→ Make sure that the new sole has attached permanently to the boots. You should make use of a good adhesive for the purpose and afterwards secure the outsole to the boots with small nails
If things are yet not clear, you can learn in details how to re-sole work boots.
How do I make my Vibram soles less slippery?
The best and the most inexpensive way to make your Vibram® soles less slippery is to scuff them against any hard surface.
You can simply scuff them against rough stones or you make you sandpaper and pumice stone for the purpose. You can also apply anti-skid spray on them to make them less slippery.
However, the fact is, Vibram® soles are not slippery at all in themselves. So, you don't actually need to work on them to make them less slippery.
Yet, if your work place is too watery, or you need to walk on oily floor, you can follow any of the mentioned tricks to make them less slippery.
See also: Best Slip Resistant Boots to Protect You From Falling
Why are Vibram® soles good on concrete?
Vibram® soles are the first choice for anyone who needs to walk on concrete because of the following reasons:
1.) The deep grooves that are present in between the lugs of Vibram® soles offer plenty of traction on concrete floor
2.) They have the softness and springiness of foam, so comfort is one thing that Vibram soles will offer that is much needed on hard concrete floors
3.) They are heat and slip resistant
4.) They have self-cleaning lugs that helps to self-clean the debris that might get accumulated from the concrete floors
5.) They are durable
What are the best boots for concrete work?
Our experts have come up with a number of boots that have proved to be the best for concrete and you just cannot miss them.
And it's a wrap!
Vibram® soles are one of the oldest and the best choices for any work including walking on concrete.
Nearly most of the shoe makers and manufacturers use these soles in their work boots as they have proved their potential in hiking, mountaineering, trekking, and all other demanding fields!
So, the next time you see a work boot with Vibram® sole, you must not be hesitant to buy them without a second thought!
I hope you enjoyed reading this article. Stay tuned for more updates on work boots!
Till then…
Live healthy! Eat healthy! Work healthy! And stay healthy!