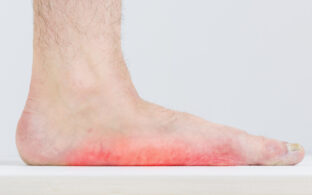 Flat feet is a condition which is also known as "fallen arches"!
In flat footed people, the base of the toe area tends to be larger than normal people. Due to this, flat footed people tend to buy larger sized boots and shoes in order to accommodate the large toe area ultimately leading to discomfort while walking with the incorrect boot size.
Therefore, if you have flat feet, you should neither buy boots that have too little or too much arch support because in both cases the condition will only get worsened.
Now, logger boots come in various levels of arch support as in low arch support, medium arch support and high arch support!
People with flat feet should buy only those logger boots that offer medium arch support so that the feet get the much-needed arch support but not too much that might lead to twisted ankles and discomfort while walking! You can have a look at some of the best logger boots with good arch support. 
In this article I will tell you about the features of logger boots and also the features that flat feet people should get in their boots so that you can decide for yourself whether being a flat feet person you should go with logger boots or not!
So, let's get started….
Features that flat feet people should look for in their boots
1.) The boots should have medium arch support:
Arch support is the utmost necessity for flat feet. It prevents overpronation and keeps the ankle from rolling in. it also prevents the arch of the feet from collapsing while walking, thus reducing the pressure on the feet by retaining the curve on the arch area.
2.) The boots should have curved insoles:
Not only that the boots should have arch support, but it is also necessary that the insoles should be curved at the arch area. Flat insoles will not serve the purpose as the arch support of the boots will not work properly with flat insoles as it will not maintain the curvature of the feet at the arch area.
3.) The insoles should provide soft cushioning and shock absorption:
Flat feet are usually very rigid and stiff and therefore, when they hit the ground, they do not absorb any shock and pass the vibration to the entire feet and the rest of the body.
This in turn aches feet, leg, knee and the lower back areas. Therefore, a good soft cushioned insole with shock absorbing feature is a must while you are looking for boots for flat feet.
4.) The boots must have sturdy shanks:
When there is arch support, a sturdy shank becomes a must! This is because when the arch area is bent a bit, the upper portion of the feet too needs support for comfortable balance while walking!
So, people with flat feet should buy boots that have fiberglass or steel shanks for supporting the upper portion of the feet.
5.) The boots should have a wide toe box area:
In flat footed people, the portion of the toes that meet the rest of the feet is generally wider than the normal. Therefore, the boots need to have wider toe box area in order to accommodate the wide toe area of the feet and provide comfort for the toes to move in freely inside the toe box.
Avoid boots that have narrow toe box area, such as the boots with pointed tips and choose the boots that have round or square toe design.
6.) The boots should have medium heels:
People with flat feet should choose boots that have heels measuring to an inch high and not more than that. The elevated heels with support the arch and the heels of the feet and will prevent any discomfort while walking.
7.) The boots should have high ankle support:
There is also a danger for the flat-footed people that the ankles might bend inward due to lack of support. Therefore, high ankle-support boots help to maintain the neutral alignment of the ankles and holds them in place.
Higher shaft helps to correct the tilt in the ankles and therefore, always choose boots that have shaft height over 6" or more.
Other comfort features to look for in boots for flat-footed people:
Padded tongue and collar

Premium leather upper

Rubber outsoles that are slip-resistant

Soft breathable linings

Good lace-up system for perfect fitting
8 Best Logger Boots For Men
Can flat feet people wear logger boots?
By now we have seen all the essential features that must be present in boots for flat feet people.
Now, the question is do flat feet people used to wearing logger boots or are logger boots good for flat feet people?
To answer this question, we must now look into the features of logger boots:
Logger boots have good arch support

Logger boots have raised heels

Logger boots have sturdy shanks

Logger boots have high ankle-support shafts

Logger boots have contoured or curved cushioned insoles

Logger boots come in various toe box designs to choose from such as round toe, MOC toe, square toe boots

Logger boots have good lace-up system
After looking at the features that logger boots bear and comparing them with the features that must be present in boots for people with flat feet, we can definitely come to the conclusion that logger boots are absolutely suitable for people with flat feet and will provide the much-needed comfort and support to the flat-footed people while walking in them!
See also: Are Wedge Sole Boots Good for Flat Feet?
It's time to bid Adieu!
Final points to remember before buying boots for flat footed people are: high ankle support of 6" and above, 1" heel, medium arch support, sturdy shank, curved and cushioned insoles that are removable!
With that I will take your leave from this article with a hope to meet you soon in my next article!
Till then take care, stay safe, work safely and…
Hope you have a great day ahead!