A top-quality hard hat is a necessary tool for professional electricians. Electricians regularly face risks on the job and personal protective equipment is a priority for their well-being.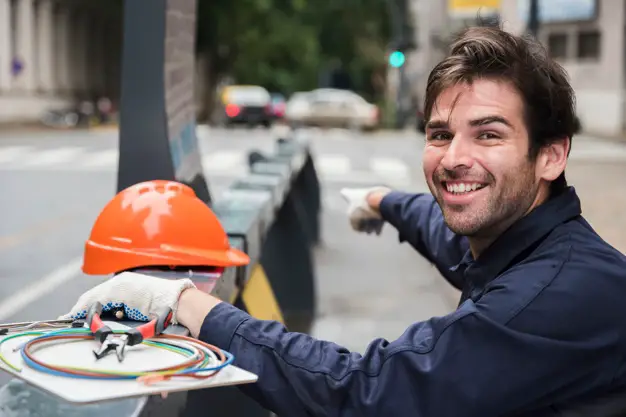 Electricians must keep their heads protected as they constantly work with poles, rods, and wires, and could easily come into contact with a live wire accidentally.
This essential piece of protective gear can help professionals avoid head wounds or falling debris at construction sites.
Top Electrician Hard Hat Comparison Table
1. Pyramex Ridgeline Hard Hat with Full Brim (Our Top Pick)
This hard hat is constructed in ABS thermoplastic resin and meets all of the basic requirements for classes G, E, and C, so it is appropriate for any work situation.
It is a fantastic hat for hardness, toughness, and electrical insulation. It is a top-notch hat for professional electricians.
This hard hat features a ratchet suspension system making it easy to adjust the fit. It is very lightweight and functional.
Pros
Electrical Insulation

Tough and resistant

Made with ABS thermoplastic resin

Lightweight

Adjustable suspension

Available in many colors
Cons
The outer coating may peel
Check Price and Reviews on Amazon
---
2. MSA Skullgard Electricians Hard Hat
This is a convincing choice for professional electricians who work at construction sites. It is a class G in accordance with the safety regulations "ANSI/ISEA Z89.1-2014".
This hard hat made from polyresin not only protects you from falling objects or flying debris it will provide you protection from electrical hazards up to 2,200 volts. Class G.
The hat is available in various colors and is lightweight for comfort. It offers unique styling and a suspension system geared for all-day use. The suspension system offers several options, and the hat has brim options as well.
Pros
Comfortable

EH protection to 2,200 volts

Impact protection Type 1

Fas-trac III ratchet suspension system 

Heat protection
Cons
Some complaints about delivery without suspension equipment

A bit expensive
Check Price and Reviews on Amazon
---
3. MSA 10071157 V-Gard Hard Hat with Full-Brim 
If you are looking for a hard hat that provides the maximum electrical hazard protection of up to 20,000 volts, this may be the hat for you.
The hat is made from polyethylene for durability with a full brim. It features a fast trac ratchet suspension system and strong impact protection.
This hat is specifically manufactured for electricians who face dangerous electric hazards while on the job. If your work exposes you to high voltage, this is a great choice. You will want an "E" class hard hat.
Pros
Shell in polyethylene

Impact protection Type 1

Fas trac 4-point ratchet suspension system

Full Brim

Class E
Cons
Some complaints about delivery with a missing suspension system
Check Price and Reviews on Amazon
---
4. Fibre-Metal by Honeywell P2ARW71A000 Hard Hat
This Honeywell Fibre-Metal SuperEight Suspension System Hard Hat is affordable and will offer you quality protection on the job. Honeywell offers numerous color options along with a stylish design.
A cap-style hard hat that offers significant protection against falling debris at the job site, it also offers UV protection and weather resistance.
Manufactured in thermoplastic it features a terrycloth sweatband frontally. Class G.
Pros
Many varied color options

Impact protection

Comfortable
Cons
Check Price and Reviews on Amazon
---
5. Lift Safety Dax Carbon Fiber Hard Hat
This hard hat is manufactured with carbon fiber strengthened resin with a six-point suspension system for great impact protection and comfort on the job.
It had a ratcheting dial to adjust the size that works even when wearing gloves. The hard hat weighs in at 315 grams. If you add in the suspension system, it weighs 460 grams.
Synthetic leather dome with an EVA foam-insert for shock protection. Class G. It also features a liner in microfiber to reduce perspiration buildup.
Pros
Comfortable adjustable sizing

Adjustable suspension system

Type 1

Brim grip

Reinforced crown for impact protection
Cons
Check Price and Reviews on Amazon
---
Types of Hard Hats
There are basically two types of hard hats, Type 1 and Type 2. Type 1 is specifically made to reduce any force of impact directly to the top of your head. Type 2 is designed to reduce power impact to the top as well as the sides of your head.
If the risk you face is limited to falling objects from above, a Type 1 hat will do the job. If instead, you risk objects falling from above, or flying laterally, or perhaps bumping into things, a Type 2 hard hat is more appropriate.
Hard hats and Voltage Protection
Hard hats usually come with one of three classifications:
G for General. This type of hard hat can be used by electricians in work zones that have voltage levels up to 2,200 volts. It is usually adequate for construction site work.
E for Electrical. This kind of hard hat is specifically made for high voltage environments. This hat will furnish protection for contact with voltages up to approximately 20,000 volts phase to the ground. This is a great choice for electricians in high-risk electrical situations.
C for Conductive. This particular hat offers no protection whatsoever for electrical hazards. It, therefore, is not recommended for professional electricians, or workers who must work in situations with electrical work.
What to Consider When Choosing Hard Hat for Electrician
1.) Certification. As indicated above, you will want to choose a hard hat that is either G or E class depending on your work environment.
Make sure that the hard hat for electricians you select is certified for one of these classes. A "C" class hard hat will not offer you specific protection for electrical hazards.
2.) Assemblage. As hard hats for electricians may have a limited working life expectancy from the date of assembly, it's important to know when the hat was assembled. If the life expectancy runs about five years, take a good look at that assembly date.
Do the math and make sure that you aren't buying a hat that has already lived a significant part of its work life. You want not only protection but your money's worth as well.
3.) Color. Color can be important depending on where you work and who you work for. Your employer may use specific hard hat colors to identify various types of professionals. Specific squads may use one color. A bricklayer may use yellow, an electrician orange.
Check with your employer to see if color coding is used at the job site.  This increases your visibility while on the job and for coworkers in case of an emergency. 
4.) Durability will depend on the material a hard hat is made with. Some will be made with polyethylene, others with fiberglass or some type of plastic.
If you are at risk for falling materials or bumping into equipment you will want the toughest hard hat available for optimal protection that lasts.
The service life of a hard hat is approximately five years. Unless your hat is subjected to accidents, mishaps, or damage, it should last if maintained.
5.) Materials. The preferred material for constructing hard hats for electricians is HDPE or high thickness polyethylene or polycarbonate plastic.
Hard hats made with this material are exceptional because they have great impact resistance strength. They do not conduct electric current and this material is ultra-lightweight contributing to comfort on the job.
6.) Size. For a hard hat to be effective, it must fit correctly. It must be snug enough to not fall off during your movements while at work, but not so tight as to cause headaches or discomfort. It should be comfortable for your entire work shift.
7.) Suspension. This is the system inserted on the inside of the hard hat that keeps the hat on your head. It should leave a bit of room between the hat shell and your head. This space will help protect your head from impact injury and it helps to dissipate the force of a blow.
Suspensions are usually made from nylon or polyester and they should be adjustable to enable the best fit. Flexibility in a suspension system will allow you to correct the fit at any moment.
8.) Front Brim or Full Brim. A front brim cap-style hat may offer more a bit more sun protection for your eyes if you work out in the open a lot, particularly if your safety glasses are not shaded for sunlight.
A cap brim may also be a bit lighter because it uses less material in the overall construction of the hard hat.
A full brim cap may be the preferred choice if you are working in a confined space and it offers some extra protection for both impact and sun including better neck protection. It will weigh a bit more.
9.) Extra Features. Some suspension systems inside the hard had will offer sweat-wicking pads or bands that can really help in warmer climates or during the summer months.
Usually, these pads can be removed for cleaning or substitution. Some suspension systems will also feature a ratcheting dial that, with a simple turn, allows you to customize the fit to the size of your head.
Without removing your hat, you can tighten or loosen for comfort and they normally function even if you are wearing gloves. Other systems will permit you to attach a face shield, hearing muffs or protection, and even lighting.
Safety Standards of Hard Hat
OSHA standards or Occupational Safety and Health Standards cite the following:
General Industry – "The employer shall ensure that each affected employee wears a protective helmet when working in areas where there is a potential for injury to the head from falling objects." (1910.135)
Construction Industry – "Employees working in areas where there is a possible danger of head injury from impact, or from falling or flying objects, or from electrical shock and burns, shall be protected by protective helmets." (1926.100)
FAQ  for Hard Hats
Hard hats do not last forever. The protective nature of the hat will decline with the exposure of the hat to work environments, chemicals, extreme temperatures, sunlight, and daily wear and tear.
A hart had in good condition with noticeable damage should be replaced every five years. Suspension systems should be replaced every twelve months.
What does the date printed on the inside of my hat refer to?
This is the manufacturer's date of when the hat was made and assembled.
Can I substitute my suspension system with another brand's system?
No. Use only original parts.
Can my hard hat be worn backward?
This depends on the manufacturer. If the suspension system is identical in the front and back, probably. Now some manufacturers provide swing-style suspension systems allowing you to reverse the direction of your hard hat.
Can my hard hat be painted?
No. Chemicals may damage the shell.
Can I slip something in the space between the suspension and the hard shell?
No. You should not store gloves, earplugs, or even a pack of cigarettes between the shell and the suspension. This will compromise the hard hat's ability to absorb energy impact.
Can electricians wear vented hard hats?
Electricians need to wear Class E hard hats that are approved by OSHA for protection against electrical hazards. These hard hats offer protection against electric current up to 20,000 volts and cannot be vented.
So, vented hard hat does not fall under the category of Class E hard hats and therefore cannot be worn by an electrician.
Vented hard hats increase the chances of the electric sparks getting inside the hard hat and igniting any piece of clothing that might be present inside the hard hat including the lining of the hard hat or your hair!
Final Thoughts
A hard hat is an important and mandatory piece of this equipment together with work boots, work vests, and bodysuits, gloves, or protective glasses.
While hard hats traditionally may seem uncomfortable to wear all day, new technology has contributed to more comfort on the job while not sacrificing security.
Whether you are a seasoned electrician or new to the trade, you need great personal protective equipment for your personal safety, and this includes the best hard hat for electricians on the market.
This hard hat could save your life one day, so choose well and make the best possible investment your budget will allow.