As an essential part of your safety gear, you'll want the best Construction Hard Hat that the market has to offer. This accessory is truly important for professionals who are at risk of falling debris, stones, objects, electric shock, or rain. When at an industrial or construction site, your head should always be protected by a hard hat. Even with only the slightest possibility of danger, you should always wear a hard hat.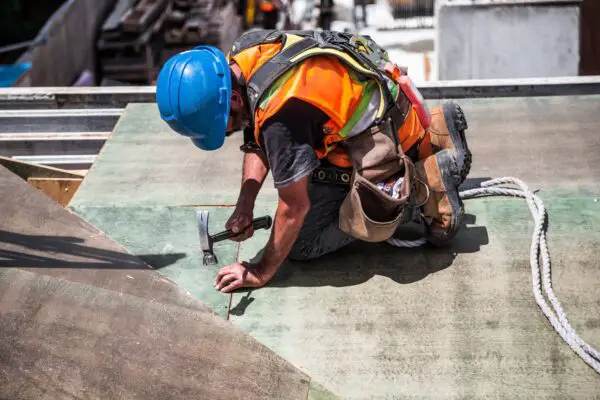 We have researched dozens of reliable, resistant, and comfortable options to help you in your search for the Best Construction Hard Hat. Several teams of construction workers at various construction sites tested our first selections. We then compared their reviews along with client feedback and formed our list of Top Construction Hard Hats for your consideration.
Hard hats are a type of helmet manufactured in a hard material that fits your head like an outer shell. You can find hard hats produced in plastic, metal, or even fiberglass. Most hard hats are made with suspension bands within the hard shell to allow the weight of the helmet to be equally spread while wearing it and to assist with impact dispersion.
Construction Hard Hats Detailed Reviews
1. Evolution Deluxe 6161 280-EV6161-10V Hard Hat (Our Top Pick)
We really like this hard hat for construction work. It is manufactured in high-density robust polyethylene plastic giving it structural strength, durability and can resist harsh elements.
It features a pragmatic design that has a brim that completely encircles the hat increasing its protection. The shell is well-ventilated thanks to vents at the top of the hat that ensures great air ventilation keeping your head dry even on particularly hot days.
We love the fact that it comes in various colors with its suspension straps made with a comfortable soft fabric and that comfort is guaranteed thanks to an adjustable depth that gives a good fit.
Pros
Great ventilation

Choices of color

Comfortable suspension straps

Adjustable depth

Structural strength and durability

Affordable
Cons
Sweatband may be too thin for some
Check Price and Reviews on Amazon
---
2. Fibre-Metal Lightweight E1RW11A000 Hard Hat (Runner Up)
A full brim hard hat made from carbon fiber that features terrific impact protection. This hat is hard,
Durable, and comfortable. With a simple stylish design, it has internal padding for all-day comfort and is heat resistant. 
An eight-point suspension system adds to comfort and is easily adjustable. This hard hat comes in multiple color options and a range of head sizes to offer something for everyone.
Pros
Eight-point suspension system

Comfortable

Many color options available

Protection from UV rays

Affordable
Cons
Durability considerations

Not injected fiber
Check Price and Reviews on Amazon
---
3. Pyramex Safety SL Series Hard Hat (Best Budget Hard Hat)
This budget choice in a hard hat offers overall quality if you have a limited budget. It is manufactured in polyethylene of high-density for the outer shell and offers a simple functional balanced design. It is lightweight and features a comfortable secure fit that can sit lower on the crown of the head.
Four-point adjustable ratchet suspension with rear padding gives this hard hat its good fit. The hat wicks moisture and chin straps and mounted earmuffs can offer even more comfort. It has a soft brow pad that can be removed and washed or replaced.
Pros
Polyethylene shell

Secure fit

4-point suspension

Simple practical design

Many colors to choose from
Cons
Subject to scratching on the surface 
Check Price and Reviews on Amazon
---
4. Lift Safety HDF-15NG DAX Hard Hat
This is a high-quality hard hat with a shell made in fiber-reinforced resin offering terrific impact protection. A brim grip affords it a nice secure feel and it features an eight-point suspension system!
A triple-reinforced crown on the hard hat gives it increased protection for impact-related accidents. A ratcheting fitment dial allows you to easily adjust the size for a great fit, guaranteeing comfort for the wearer. Thanks to a molded EVA foam insert, the hat boasts terrific shock absorption.
Moisture-wicking foam together with a liner in microfiber increase breathability and reduce perspiration buildup. Another design feature worth considering is that the hat is easily gripped even if you are wearing gloves.
Pros
Great shock absorption

Breathability

Increased impact protection

Secure comfortable fit
Cons
Somewhat heavy

Somewhat expensive
Check Price and Reviews on Amazon
---
5. MSA 475395 Skullgard Hard Hat Cap
If you are in the market for a tough protective hard hat and want to invest more in terms of cost, the MSA 475395 is worth your consideration. Its safety standards and phenolic design make it compatible with many professional situations and is not limited to construction.
It offers protection in worksites with elevated temperatures, great shock absorption, and boasts both sturdiness and durability. The suspension system is an easily adjustable ratchet system.
Pros
Offers protection for many industries and professions

Phenolic design for elevated temperatures

Shock absorbing

Ratchet suspension system

Sturdy build
Cons
Edges appear rough

Somewhat pricey
Check Price and Reviews on Amazon
---
6. Klein Tools 60407 Hard Hat
This hard hat is a full brim vented protective hat with a light! For those who know from the moment of purchase that they may need a light, this is a hard hat to consider. It features a slot on the front of the cap to mount a light. The lamp provided is wireless and rechargeable, meaning no batteries to buy.
The hat features vents that you can open or close for air circulation. The hat shell is manufactured in polycarbonate acrylonitrile butadiene styrene making it tough and resistant. It features inner padding that is washable. This Klein hat boasts a ratchet suspension system with a dial for size adjustment. It is compliant with ANSI safety standards.
Pros
Comes with a hard hat light

Comfortable and breathable

Padded sweatbands that are washable

Ratchet suspension system with a dial for adjustment
Cons
Somewhat heavy

Some sizing considerations
Check Price and Reviews on Amazon
What Is PPE?
Personal Protective Equipment is known as PPE. It is required gear for professions which include: 
Industrial factory workers 

Construction workers

Specialized professions that are exposed to risks
Many workers would prefer not to wear PPE, however, it has been shown to drastically reduce on-the-job injuries. Standard PPE gear might include:
Bodysuits

Glasses

Gloves

Earmuffs

Earplugs

Safety shoes or boots

Vests 

and Hard Hats
Why do I Need a Hard Hat?
Head and scalp protection are fundamental at construction sites where materials, tools, or debris can accidentally fall from heights that literally see these falling objects become missile-like for speed and weight.
All head protection should be correctly fitted and preferably feature an adjustable headband, as well as a chin or nape strap. Hard hats are meant to:
Protect your head in case you fall or trip

Protect you against falling debris or objects

Protect your head from cuts and lacerations or entanglement with wires

Protect you from bumping your head

Give some thermal insulation

Give sun protection
Who Needs a Hard Hat?
Professionals who work in areas where there is even the slightest risk of a head injury. These include among others:
Construction

Drilling

Electrical

Factory or Industrial

Forestry
What Are the Benefits of Wearing a Hard Hat on the Job?
Visibility. Most hard hats will be produced in bright colors so that workers can be seen from a distance.
Protection from Impact. If ropes, wires, tools, or materials fall on your head especially from a distance, your hard hat will protect your head from injury.
Protection from Electrocution G and E classified hard hats will provide protection from electric voltage if by chance a live wire comes your way.
How do I Choose my Hard Hat?
There are numerous factors that are worth considering when selecting your hard hat. These are some of the most important:
1.) Where do you work? If you are a construction worker, this is decisive when choosing. You need to analyze the risks you face at work on a daily basis. Are you at risk for falls or falling objects? If you are an electrician, you may need an insulated hat that can absorb electric voltage. The first consideration will be where you work and what you do.
2.) Material. The most common materials used in manufacturing hard hats today include
Aluminum

Fiberglass

Polycarbonate

Polyethylene
More than half of hard hats produced today are made from polyethylene that is high-density. While all three materials guarantee protection, fiberglass and polyethylene tend to be more lightweight.
Weight is a consideration if you'll be wearing the hat all day or for long periods. You will not want to strain your neck due to long hours with heavy gear on.
3.) Classification and Type of Hard Hat
Hard hats usually either Type I or Type II and may belong to one of three major classifications known as G for general, E for electrical, or C for conductive. G hard hats are the most common. They provide head protection against impact but can also protect against 2200 volts.
Electrical hard hats are designed for electricians and electricity professionals and can withstand up to 20,000 volts. Conductive hats are designed for professionals working in high temperatures. These hats are not recommended for electricians because they do not offer voltage protection and they are usually manufactured in aluminum.
4.) Suspension and Suspension Points
A suspension mechanism should guarantee a good fit.  It should provide space between your helmet and your head, approximately 30 mm. to 1.2 inches. The type you pick will depend on your own personal preference, however, the hard hat must fit correctly to be efficient and impede any shock impact from directly reaching your head. Types of mechanisms include:
Pin-lock

Ratchet

Swing rachet

Touch 
Suspension bands will normally be manufactured in nylon or polyester. Some helmets will offer additional cushioning of polystyrene foam that is generally positioned between the helmet and the suspension bands. Hard hats may come with two, four, or six suspension points.
A 6-point suspension that will help to spread the weight more evenly on your head, increasing comfort, as well as the impact from falling debris, will be more evenly distributed.
5.) Flexibility 
While hard hats are not known for their flexibility, aluminum, fiberglass, and polyethylene are resistant but soft materials allowing for a minimum of flexibility. 
6.) Comfort
Your hard hat should not only protect your head but be comfortable to wear, especially if you are required to wear one all day long. Sometimes wearing a liner will increase comfort or a good suspension system.
Construction Hard Hat Maintenance
Like any tool you own, your hard hat should be well taken care of to guarantee its durability and lifespan.
Inspect your Hard Hat before and after every use

Clean regularly

Store in a dry, cool place never in direct sunlight

Never drill holes into your hard hat

Avoid harsh chemical solvent cleaning solutions or paints

Replace suspension annually

Hard hats should be replaced every two years

Should an accident occur, or should the hat be dropped from a height of eight feet or more, the hat should be replaced

Hard hats used in high-temperature environments should be replaced more often

A crack means the hat must be replaced

Any stickers should be placed approximately one-half-inch above the brim

Follow any specific manufacturer's instructions as to care
Final Thoughts
Always inspect your hard hat daily, making sure to check out the outer shell, the headband, and the suspension system. These simple steps will help your hard hat to last. If you suspect that the hard hat has been compromised for whatever reason, replace it immediately and before resuming work 
We hope this article will help you find the best construction hard hat for your professional activities.