One of the most integral and essential parts of America's rich cultural heritage has been Cowboy boots. Originating from Spanish horsemen, it made its way to America through Mexico which was then ruled by the Spanish.
The purpose of the boot was meant to protect and keep the ranch worker's foot firm in the arm while horse riding.
So while purchasing boots it is important to understand that there are different brands that suit each individual differently. Talking about different brands, the ones that are most commonly known are Justin boots and Ariat boots.
In this guide we'll compare ariat vs justin boots to help you decide whether ariat or justin is better!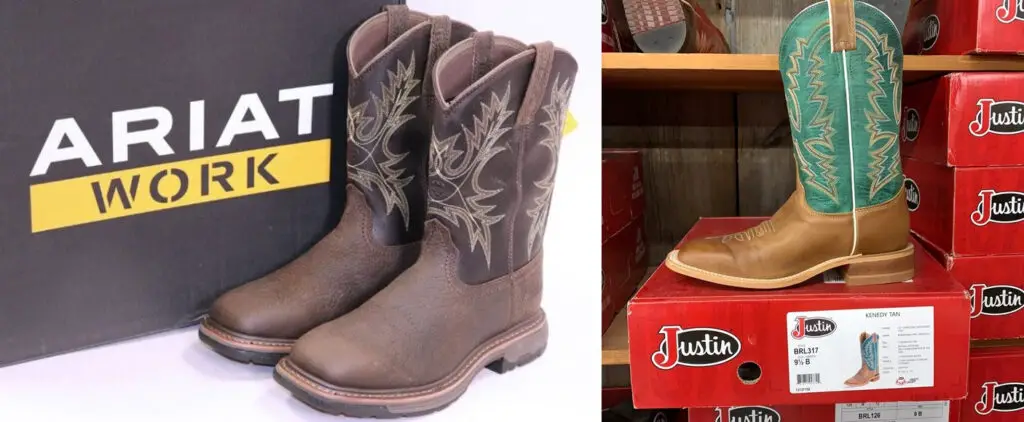 While choosing between Ariat and Justin work boots
| | | |
| --- | --- | --- |
| Specifications | Ariat | Justin |
| Material | Cowhide | High quality leather |
| Durability | Less | More |
| Heat resistant | Selectively | Yes |
| Comfort | 4LR technology | J-Flex Flexible Comfort System |
| Water-resistant | Selectively | Yes |
| Grip | Great | Great |
| Electrical resistant | Selectively | Yes |
| Variety | More | Less |
Where are Justin and Ariat work boots made?
Talking about Justin boots, the brand takes pride in stating that they use the finest global parts and handcraft each piece in the US itself, whereas Ariat boots are made in China but they are quite particular about who they do their manufacturing business with.
Cozy Stream, a website by Greg Jameson states that "Justins do run a bit tougher and sturdier which makes them better for tasks like cleaning stalls for example."
While Justins are known for their toughness, Ariats are better recognized in terms of style and looks. Which may be the reason why we see celebrities like Gigi Hadid donning an Ariat from time to time.
Where did it all begin?
Talking about their beginnings, Justin goes way beyond Ariat as it was started in the year 1879 by H.J Justin, who repaired boots prior to his business.
Whereas for Ariat, it has been in the business since its establishment in 1992 by Pam Parker and Beth Cross.
The toughness of Justin boots comes from the fact that each pair requires over a hundred steps to complete as they make use of over sq.ft. of natural leather, and this is the reason why it is still in business today because of its impeccable reputation in terms of quality, authenticity and performance.
Moving away from the traditional style of making boots, the co-founders of Ariat wanted to create a brand with the aim of revolutionizing the footwear business.
This ambition pushed them to create a team of footwear designers and engineers to help them establish their dream.
Ariat, from the time it was established, received positive outcomes from its consumers and today, it stands at the top of its field in America. Ariat has only been around for 30 years, but they really know how to incorporate innovative technologies into their work.
The Right Fit
Now, when it comes to fitting, Ariat boots are known to be somewhat larger than other brands. When compared to the size of your street shoes, the suggested sizing of their boots is either true to size or a half size lower.
Ariat boots usually have a design that works better with wider feet. However, it should be first determined how the Ariat work boots fit before purchasing them.
Justin boots, too, run slightly larger as the size listed may also reflect whether it is true to size or half a size smaller. If you have a normal to narrow foot, Justin boots will normally suit you better.
However, when it comes to sizing, it can differ between models, so reading the reviews before making a decision to purchase is important.
Are they tough enough?
Toughness and resilience are two important factors when it comes to working boots, and both Justin and Ariat are dependable. Rebar Flex Western Waterproof Composite Toe Work Boot by Ariat is considered one of the most durable footwear and is packed with features that makes it extremely reliable.
The water-resistant technology used all throughout the body is an example of its reliability as the interior of the boots remains dry even when it is exposed to wet conditions. The mesh liner of the boot adds strength without sacrificing flexibility or comfort.
It's probable that you'll notice the same level of flexibility in Ariat's other work boots.
Justin too, does not fall behind as they are also known for their long-lasting quality. Many, in fact, claim that Justin is better than Ariat when it comes to durability.
Justin claims to use the best and most superior type of leather there is in the construction of their boots, which at the same time, also feels stunning by the touch of it.
Justin boots are noted for their extremely long-lasting structure. It usually combines simple yet high-quality and durable materials to create robust boots that will last for years. With that level of quality, there is an absolute assurance that it will last for years and provide true value for money.
Comfort is King
When we talk of footwear, comfort is a factor that everyone considers as wearing comfortable work boots may yield various health benefits. Also, comfortable shoes help the day go by with ease. Justin boots are claimed to be made with an insole that makes use of a dual comfort system.
For example, The Justin Ropers Equestrian Boots are made of durable but soft kipskin leather. The heel is accurately set for comfort and the insoles are designed as such to provide comfort throughout the day.
With a recessed insole and a triple density insole, the J-Flex Flexible Comfort System used in Justin boots ensures that the wearer is comfortable throughout.
The pairing of the combination leather and TPU injection molded outsole ensures durability and performance in and out of the stirrup.
Safety, last but not the least
As a matter of fact, when it comes to working boots, safety is a feature that is an absolute must. So considering safety, some Ariat boots have a composite toe, which makes them light-weight, about 30% lighter than steel toe boots, but still resilient enough to protect employees from heavy objects that may fall on their feet.
They also include a slip-resistant and oil-resistant outsole, which is advantageous because it protects you from falls even if you operate in an environment with slick surfaces and floors.
The outsole is also made with a high level of wear resistance and ergonomic flexibility in mind. It reinvents pull-on shoes completely, is perfectly fit, very easy to slip into high-arch and wide-foot wear.
Ariats usually have gel-coiled floors for greater convenience.
Whereas, the features of Justin work boots are also designed to provide safety. The grip on demand technology that is used provides maximum support on wet, slippery surfaces.
The J-Bar technology used equips the boots with barnyard acid resistant to urine, oleic acid and saturated limes.
Justin boots are slip resistant, and also prevents electrical hazards as the boots from the brand are often built to protect you from open electric currents of up to 18.000 volts with an electrical hazard protection.
Conclusion
Work boots provide a high degree of comfort, safety and durability, and this is what is expected out of brands such as Ariat and Justin.
Consumers just have to make sure to invest some time comparing various models of work boots and identify what suits them best according to individual standards and requirements.