Everything of your daily use needs proper care and maintenance, be it your clothes or accessories or your footwear. In case of your work-boots, they are absolutely very essential for your comfort and safety during your job hours.
As a matter of fact, if you expect long-lasting protection from your boots, you ought to take very good care of them. Today, I need to provide you all, some basic tips to keep your work-boots in proper condition, by applying oils on them.
In order to nourish and restore your work-boots, applying oils is very effective. Many oils like Mink Oil, Saddle Soap, Coconut Oil, etc are very useful in softening the boots and preventing them from getting stiff. This can protect your feet from getting pain, blisters or any other problems and help you in the long run.
Your boots are your companion! You need to keep them safe as they does to your feet!
So, start scrolling!
Process of Oiling Work-Boots
First Step-
We need to clean our footwear, initially, before applying anything on it. The cleaning can be done with a damp cloth to wipe away any grit attached to the surface of your boots.
Again wipe your boots with a dry cloth, this time, and make sure that they are not wet before being oiled.
Second Step-
Now comes the selection of the type of oil for your footwear. As there are many kinds of oils available for softening boots, you should be very much aware of which one is the best for your pair.
The types include Mink Oil, Coconut Oil, Foot Oil, Saddle Soap, Olive Oil and many more, which are quite useful. Take the idea from any qualified Shoe Repairing Professional before choosing the oil type.
Some reports say that Olive Oil leaves behind spots on shoes and leads to the detoriation of the leather because of its adherents. So, keep your eyes open before deciding.
Third Step-
Before purchasing and applying a particular oil on your boots, never forget to read the label on the pack. Some leather oils contains Pine Tat, Castor Oil, Mineral Oil and other toxic chemicals in them. These can harm and decompose your leather boots. Beware of them.
Fourth Step-
To properly oil your boots, first wrap your fingers with a clean cloth.

Then dab your wrapped fingers lightly in the oil, kept in a dish.

Now rub your oily fingers on the surface of your boots in gentle, circular motions.

Once done with the first coat, let your boot absorb the oil, thoroughly.

When the oil gets absorbed, you can feel the surface of your boots. They get soft.

Now, it is up to you that if you want your boots to get much softer, you need to repeat the same process for second coating.
Recommended Oils for Leather Boots:
Bickmore 100% Pure Neatsfoot Oil.

Sof Sole Mink Oil.

Huberd's Shoe Oil.

Obenauf's Leather Oil.

Red Wing Heritage All Natural Boot Oil.

Tanners Leather Oil.
Given below is a thorough explanation on the factors, features, the good and bad effects of the above 6 best Oils for Leather Boots. Do concentrate:
1.) Bickmore 100% Pure Neatsfoot Oil
Review-
This oil is very good for Leather Boots, Belts, Equestrian Equipments, Shoes, Wallets, Baseball Gloves, Saddles, Harnesses and other Horse Tack and many more. It is 100% pure without any added petroleum distillates.
It can condition, soften and moisturize all leather products. It repels water, naturally and protects the leather material of your boots from unwanted elements, extending its lifespan.
The company of this oil, Bickmore, is in the United States of America. This Neatsfoot oil is derived from cattle and is a very good treatment for leather items.
This oil can darken the color of your leather boots. If you have scuffs on your footwear, this oil can restore them to an even color, once again. What you need is, first test a small area of your shoe, to see the effect.
Pros-
This oil is very easy to apply.

It absorbs quickly without leaving stains behind.

It makes the leather more soft and supple.

Light-colored leather materials can get darkened with this oil.

This oil is waterproof.

The company of this particular Boot Oil has long history of making leather oils.
Cons-
This oil has an unpleasant smell.

Sometimes the lid can leak, so it is better to store the bottle in upright position.
Check Price and Reviews on Amazon
---
2.) Sof Sole Mink Oil
Review-
This oil is great for waterproofing, conditioning and preserving your leather work boots. Other items like shoes, purses, jackets, hats, baseball gloves, saddles, harnesses and many more, can be taken care of with the help of this Mink Oil.
It is the most popular product to be used on leather boots, till date. This oil makes your footwear water-resistant, prevents from unwanted elements and protects your boots from salt and any perspiration stains.
It is very easy to apply and also gets absorbed very quickly. Applying this oil can make the leather of your boots, darker, but it can recover in due time. This oil is extracted from the fat of mink pelts. This Mink Oil makes your boots look good and your feet, dry and comfortable.
Pros-
It has good water-resistant property.

It leaves no odor.

It, very well, conditions all types of leather items.

It has nearly 5 stars reviews, online.

This oil is quite affordable.

It dries very quickly.
Cons-
This oil gives your boots a matt finish.

It can make your leather boots feel greasy, after application.

Sometimes, the oil can leave behind a white residue on your boots.

This oil can darken some leather products.
Check Price and Reviews on Amazon
---
3.) Huberd's Shoe Oil
Review-
The first grease-based product for footwear was founded by Huberd in 1921. Later in 1929, a company named Oregon, added this boot oil to its line. This oil contains bees-wax and is free from solvents, animal fats and additives which can damage the leather.
This oil should not be used on white or light-colored leather. Along with its water-resistance capacity, this oil also protects your boots from mildew and getting rotten.
It also protects your work-boots from the drying effects of chemicals, mild acids and workplace fuels. This oil does have a mild smoky smell which can be unpleasant. So, it is better to apply this when you are outdoor.
Pros-
This oil is hand blended and packaged in a vintage bottle which looks great.

It is free from solvents, additives and animal fats.

This oil is very much effective on old pair of boots.

The tried and tested formula of this oil has been used for almost a century.

It gets absorbed very quickly.
Cons-
It is light, honey-brown in color and cannot be used on light-colored leather.

This oil can darken leather materials.

Sometimes the cap of the bottle allows the oil to pour, too quickly.
Check Price and Reviews on Amazon
---
4.) Obenauf's Leather Oil
Review-
This leather oil contains bees-wax, natural oils and propolis which softens and extends the life of your leather boots. This oil is manufactured by Obenauf's, a USA based company. It enriches the color of natural brown leather boots and are not applicable for white or cream colored boots.
It is dry and oil-free and protects the upper layer of your work-boots. This oil is a natural solution famed for its durability and waterproofing properties. It is highly recommended to shorten the break-in period of new stiff leather boots.
The protection provided to your work-boots by this leather oil, ultimately saves your feet from foot blisters and many discomforts. There is a dauber applicator in every bottle which makes it easy to apply the oil on boots.
Pros-
It softens new boots and reduces break-in time.

It allows leather to breathe and soak in, easily.

It is a natural product.

It makes your boots durable and water-resistant.

It revives dried and cracked leather boots.

The Dauber applicator inside the bottle, is very useful.
Cons-
This oil can darken the leather by several shades.

It has a strong smell which is not at all pleasant to intake.
Check Price and Reviews on Amazon
---
5.) Red Wing Heritage All Natural Boot Oil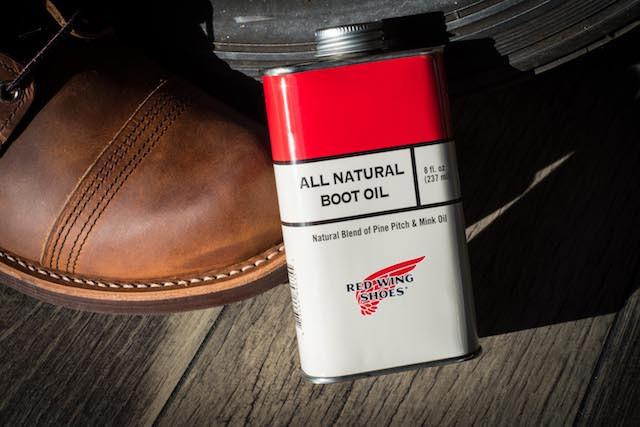 Review-
The company, Red Wing is famous for, not only producing quality boots and shoes, but also for its own branded leather oil to take care of those products. This oil is a blend of Mink Oil and Pine Pitch which enlivens old boots and protects the new ones.
This is a USA product that specifically maintains and safeguards the unique qualities of Red Wing Leather Boots. This oil is free from chemicals and silicone. This oil can condition and revitalize old boots and give them a water-repellent finish.
This oil can soften dried and cracked leather and extend its lifespan. Apart from Red Wing Boots, this oil works equally well on other boots of different leather types. This oil may darken the leather to some extent. Unlike the others, this leather oil has a pine aroma which is quite pleasant for users.
Pros-
It extends the lifespan of old, dried, cracked leather boots.

It prolongs the working life of work-boots.

It absorbs very quickly with no residue left behind.

It comes in a cool vintage bottle.

This oil is very effective for waterproofing.

It has a very pleasant pine aroma.
Cons-
This oil may sometimes leak in the post application period.

This can darken your leather products more, than you would like or expect.
---
6.) Tanners Leather Oil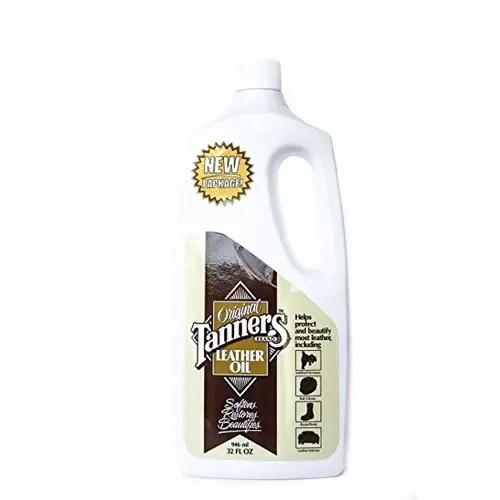 Key Features-
It is an all-purpose leather conditioner.

32 FL.OZ.

Doesn't darken the color of most leather items.

Good for saddles and harnesses.
Review-
This oil is a very popular product among the equestrian community because of its versatility and all-purpose features. Though this product is not designed exclusively for boots, yet it is a very good option for footwear items.
This oil is also good for ball gloves, boots or shoes, leather interiors, saddles and harnesses. This product comes in a large bottle for which you have a plenty, in quantity.
Pros-
It is an all-rounded leather conditioner.

It doesn't darken the leather.

It perfectly acts on more than one leather item, to restore.
Cons-
It is not as good on boots as on other leather products.
Naming the Ingredients you should Always Look for in a Leather Boot Oil:
Mink Oil.

Neatsfoot Oil.

Bees-Wax.

Pine Pitch.

Propolis.
Benefits of Using Right Leather Boot Oil
1.) Protection of boot from outside environment
This oil makes your both, new and old boots, resistant to water and other unwanted elements. The application of leather oil on your boots, prevents water from getting inside them and thus prolonging their life.
2.) Restoration of damaged part of boots
Leather boot oil can be used to restore, not only your old or new work-boots, but also your other leather items. Your leather jacket that has become stiff, can be softened and made comfortable, by applying boot oil. An old baseball mitt that has lost its suppleness, can re-fit like a glove with the application of this oil.
3.) Abrasion Resistance
The conditioning of leather with this oil, is more likely to stand up to wear and resist from being scuffed.
4.) Increase life of your boots
Applying this leather oil on your boots can prevent them from getting worn out with time.
FAQs:
What if your boots feel greasy after the application of oil on them?
If you find your boot oil, a bit heavy-handed after applying it on your work-boots, do wipe the oil away with a clean dry cloth. You can also buff the boot with another clean cloth or a brush.
Can boot oil be used on light-colored boots?
First go for a test-patch on a particular area of your boot. If the result is okay, you can apply oil on the rest part of your work-boot. Sometimes boot oil can darken the original color of your leather boots.
Can I use motor oil on my boots?
It depends on the type of leather work-boots you are wearing. You can use old engine oil on your boots to make the leather soft and prevent them from water and cracks.
Do remember to brush the oil only when your boots are dry. It can darken the leather material of your boots and sometimes even your socks, if the oil soaks inside.
Can I use olive oil on leather boots?
Olive Oil is an effective alternative to traditional shoe polish. Applying olive oil can shine your work-boots.
Is oiling of new pair of work-boots, necessary?
Applying boot oil on your new pair of work-boots, reduces stiffness, making them soft and comfortable. Moreover, this oiling helps to break-in, very fast.
How often should you oil your work-boots?
If you want your leather boots to be your best companion, you need to oil them regularly.
Closing Statement:
Caring for your favorite footwear will protect your investment and prolong the wear you will get out of them. In the above paragraphs, I have tried to lay down many options of boot oils, for you choose.
Keeping the ingredients and the various features in view, do make a good choice of leather oil for your leather work-boots, be it your new pair or the old, cracked ones.
Your work-boots need tender and loving care!
Nothing is worse than throwing away your pair of old leather boots, that you still need, just because of the lacking of care and maintenance.
Look after your boots! And they will definitely look after you!
Genuinely thankful for being with us. Sure enough to come back soon with some new information.
Till then!
Take very good care of yourself and your loved items!