There are a lot of considerations to be made while choosing a boot that is suitable for ironworkers as it is a tedious and the most physically demanding job.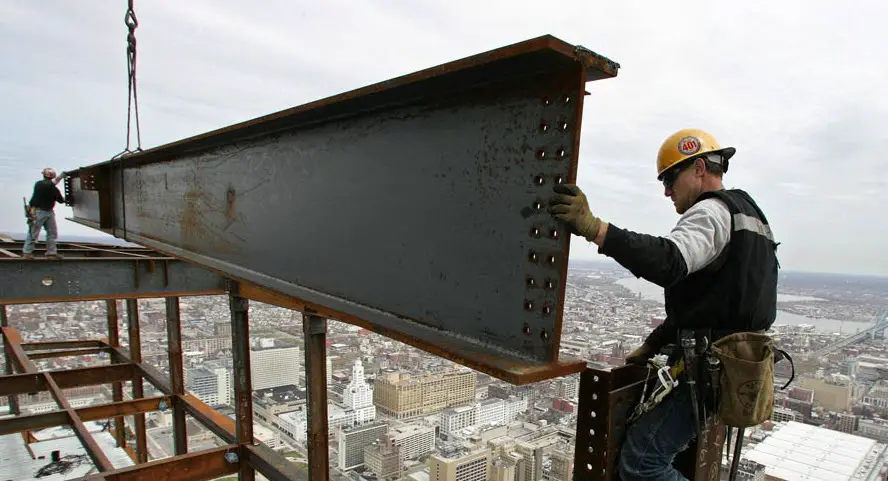 So you must be wondering what type of boot is actually suitable for an ironworker? Well the answer is simple, understanding the nature of their work, the best kind of work boot for an ironworker would be one
that has wedge heels,
is heat and water resistant,
is durable,
and also something that provides safety from electrical hazards.
I cannot stress the importance of wedge heel boots for ironworkers as wedge soles are made keeping the ironworkers in mind.
The work involves constant exposure to risks and endangerment that can leave a person seriously injured, or, even dead. So the right kind of work boots not only keeps you safe, but also lets you do your work with ease.
So it is important to follow recommended safety measures and the use of the right clothing and boots in order to minimize the risk of injuring oneself. In this article, we will be discussing all the necessary features that are an absolute must for ironworker boots.
There are a few key features that has to be kept in mind while buying ironworking shoes-
Wedge Heel boots
The first and foremost thing is to understand that wedge soles are a great support instead of heels as it provides superior foot protection and when you're walking along a metal beam, the last thing you want is to trip and fall.
Boots with a wedge sole make it easy to walk or climb on metal without slipping. So ironworkers will definitely require a pair of boots that provides excellent grip even on wet, slippery surfaces.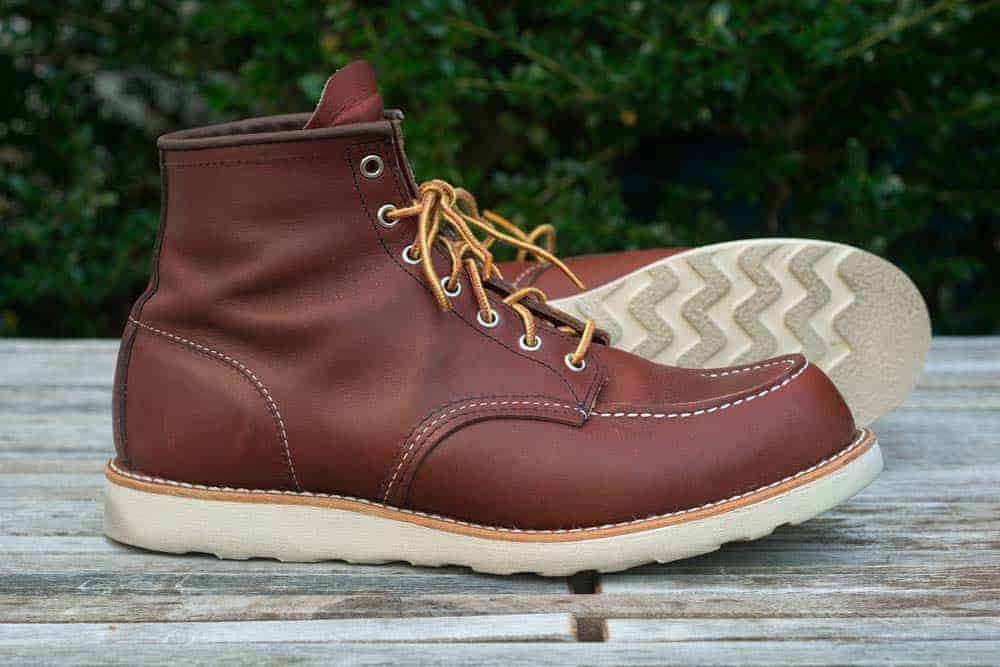 A wedge sole work boot is a type of shoe that was specifically created and built for construction workers, iron workers, and other workers who spend their days working on hard and uneven surfaces in order to offer them the extra stability and support they require.
One of the main reasons these shoes have become so popular is that they provide all of the benefits of a safety shoe while also adding comfort and support that safety shoes do not provide.
Boots that are shock resistant
We all know that iron is an excellent conductor of electricity, and ironworking necessitates the use of a great deal of electrical equipment.
To limit the risk of electrocution or other electricity-related mishaps on the jobsite, special attention must be made to footwear. So it goes without saying that it is one of the most important characteristics to look for.
According to websites such as "The Foot Fact' and 'Work Place Safety Shoes', the Thorogood Men's American Heritage 8″ Round Toe is one of the best boots with shock resistant features that does its job best. It is EH rated and because the work boot is made in the US, we can confidently state that it is of the highest quality.
The production standards in the US are often among the highest in the world, so you can expect a long-lasting and comfortable work boot. The electric shock-resistant soles and heels of these boots can sustain a current of 18000 volts.
Boots that are durable
Ironworkers require shoes made of high-quality materials that will last a long time. They put in a lot of time at work and the labour is also physically hard, necessitating the use of shoes that can bear the strain.
That is why the boots must be tough and durable. It's pointless to spend money on shoes that you'll only wear for a few days. It is preferable to invest in a high-quality boot that will last longer rather than a low-quality one that will require repeated replacements simply because the piece is low.
When you buy numerous cheap pairs instead of a single decent pair, you actually end up spending more money. So it is important to go for boots that can easily weather long months and years of hard work. If the product is durable, it can justify the cost easily.
For example, there are consumers who claim that the Danner Men's Bull Run 8-Inch BRN Cristy Work Boot is indeed exceptional when it comes to comfort and support, but it does wear out easily as compared to other brands.
However, The Timberland PRO Men's 6 Inch Boondock Composite Toe WP Insulated Industrial Work Boots are composed of leather and offer all of the advantages that leather has to offer, making it reliable and long-lasting, which is a perfect choice for ironworkers.
Boots that provide comfort while at work
The fact that ironworkers spend a significant amount of time on their feet, they require a footwear that is comfortable which does not let them hamper their work schedule. That is why they require boots which provide support to their feet which in turn reduces foot strain.
One of the most important characteristics to look for in any sort of boot is comfort. Ironworkers already have a demanding and dangerous job, and they don't want to make things even more difficult by wearing uncomfortable shoes. A well padded footbed is one of the comfort qualities to look for.
Wedge heel boots are not only excellent when it comes to safety, but they also provide immense comfort to the feet. This improves comfort for those who must stand for lengthy periods of time by dispersing pressure across the entire foot and equally distributing weight.
Many comfort features are now included alongside performance and protection advancements by brands. Ortholite insoles, lighter, more asymmetrical steel-toes, more padding, and other modern comfort elements all contribute to a pair of boots that are as easy to take off as they are to put on.
The Timberland PRO 8″ Boondock Comp-Toe Waterproof Work Boot's collar is padded for extra comfort. This is the reason why it feels warm and comfortable.
Boots that are waterproof
Water sloshing around in your boots for hours on end is not only inconvenient, but it can also be dangerous. A lot of the time, the water you're going through is filthy. If you expose your feet to it, it could contain hazardous chemicals or bacteria that could harm your health.
Therefore it is important that your ironworker boot is totally waterproof. If water or other particles, such as dust, get into your footwear, your feet will become uncomfortable.
Furthermore, from a hygienic standpoint, a mix of the two, together with the warmth of your foot, makes an ideal breeding place for bacteria and germs causing you to suffer from bacterial infections. Also, waterproof boots last long as it does not allow water to pass inside keeping it dry and durable.
Finally, waterproof work boots are durable and can be used even after being put through the grinder. Walking through puddles and precipitation does not reduce their durability or compromise the integrity of their structure because water does not soak into them.
The Thorogood American Heritage boots are a collection of classic, waterproof boots that were generally ideal for ironworkers. It mostly checks in all the necessary features that are required in an environment that ironworkers work in. Many reviews do call it a tad bit pricey, but the durability it gives is worth the amount.
Conclusion
When it comes to ironworker boots, there are varieties in the market that you can choose from, but considering qualities like safety toe in order to protect your fingers and the foot from getting smashed by the tools, the best kind of work boots for ironworkers are those that does not only provide safety and durability, but also feels comfortable on the feet.
Apart from that, finding the right size is also necessary along with making sure that it provides adequate insulation and traction while working.
The best pair of ironworker boots can keep you safe for a long time. Having the correct work shoes is like having health insurance as you can comfortably work knowing that you are not at risk, and even if you are, your work shoes are well equipped to deal with the hazards.
Also remember, before purchasing any work boot for yourself, make sure to go through the reviews by consumers who have purchased it before as it provides genuine insights.