When considering work boots from two of the leading manufacturers of high-quality work boots, it's inevitably going to be a challenge. Which boot is better? Which should I choose?
Both Timberland and Thorogood produce high quality boots whether specifically designed as work boots or footgear for outdoor use. These manufacturers are known for high-quality materials and the best technological practices available for footwear production.
Depending on where or how you shop, one brand may appear more popular than the other, but we've decided to compare then side by side to grasp which of these boots might better respond to specific footwear needs.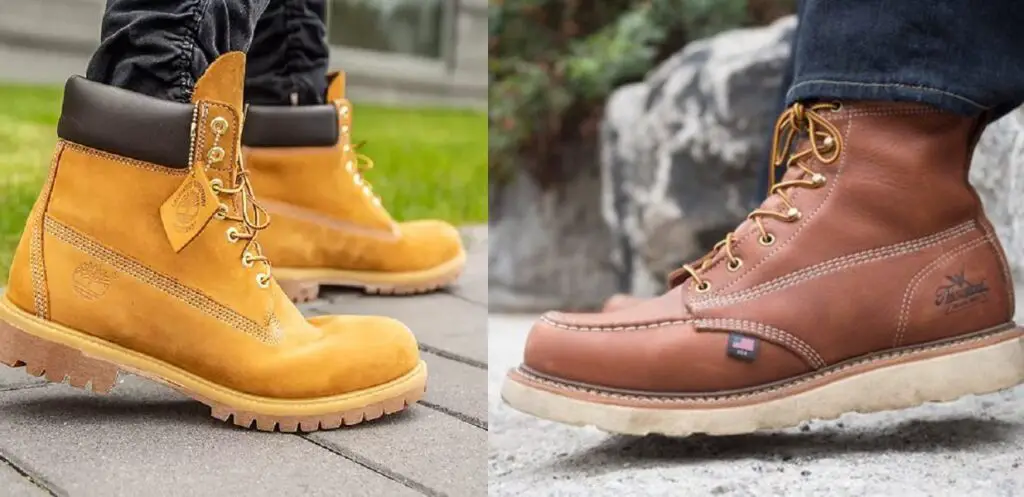 Timberland
The Timberland company began humbly in the 1950s. It is now a global powerhouse when it comes to producing footwear and is identified with its iconic "yellow boot" which contributed to its popularity as a name brand. It got an added boost in the 1990s when hip hop embraced the brand.
This company invests continually in research and resources to make the best footwear on the market, and it shows. Now affectionately called "Timbs", it is a dominating brand in work industry footwear.
Timberland Company History
Timberland began its manufacturing adventure as a maker of footwear for the great outdoors. The company was founded in 1952 by Russian Nathan Schwarz who emigrated to the United States. In 1952, Schwarz purchased half of the Abington Shoe Company.
Eventually Schwarz was able to purchase the remaining half of the company and relocated it to New England in Newmarket, New Hampshire.
Timberland began as a family operated business until it was purchased by the VF Corporation by which it is still owned. The company has branched further and now offers product lines in apparel, leather accessories, glasses, and watches.
Manufacturing and Materials
Timberland makes it a point to use the best materials and manufacturing technology available. Footwear is manufactured in leather, suede, nubuck leather, natural rubber, cotton, Cordura fiber, Polartec fleece, wool, and fabric Thread Ground to Good.
The company is also dedicated to sustainability in manufacturing through the use of recycled materials such as
Natural rubber and sugarcane foam

Organic cotton

Recycled cotton

Recycled leather

Recycled plastics

Renewable eucalyptus 
Manufacturing processes include
Anti-fatigue technology 

GreenStride comfort  insoles

HoverLite

PrimaLoft down-free eco insulation

Rebotl recycled plastic fabric

Rubber lug outer soles

Seam-sealed construction

Thermo-fiber Insulation

ThermoLite Insulation

Thermore Thermal Booster Insulation

TimberDry waterproof footwear linings

TimberGrip Technology
Timberland boots are manufactured in Bangladesh, Cambodia, China, the Dominican Republic, India, the Philippines, the United States, and Vietnam.
New Technology and Innovation 
In 1965, injection molding technology was created. Because of this, the Abington Company began to fuse boot uppers in leather to rubber outer soles, making stitching no longer required. Waterproofing improved which was necessary for the unstable New England climate.
In 1976 Abington launched its Timberland Waterproof Boot in a variety of colors. The yellow version proved to be immensely popular with manual laborers.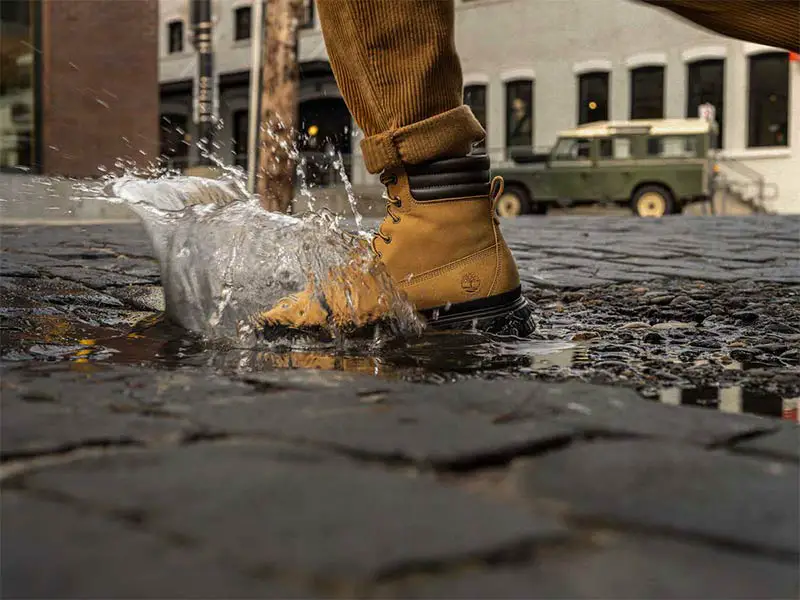 This product is considered the precursor of Timberland Pro Work Boots. Due to this success, the Abington Shoe Company became the Timberland Company two years later in 1978.
Timberland succeeded in European and North American and markets, beginning with Italy known for its fine leather footwear. Its Italian success testifies to the Timberland quality.
Recently Timberland has expanded to include designs for men and women that require comfort and protection on the job. And Timberland is now worn as a fashion accessory.
See also: Timberland Premium Vs Timberland PRO Boots: Which one is Better?
Timberland Warranty
Timberland work boots are guaranteed for 12 months from the purchase date for defects in workmanship or materials.
The warranty does not cover usage wear or cover boots that go to an unauthorized shoe repair shop or professional. The warranty only covers authorized sellers of Timberland products.
Timberland also gives a thirty-day money-back guarantee if you are dissatisfied with boot comfort. Timberland Pro Work Boots that feature the "PowerFit" system or any type of their anti-fatigue technology that you find to be uncomfortable, will be refunded upon return.
Timberland Classic Vs Pro Work Boots 
There are differences between classic and PRO Timberland boots. The Pro series is manufactured specifically for work environments. Pro boots are designed for those on their feet most of the day and in bad weather. They also include safety PPE features. 
The Classic Timberland boot is a durable, rugged design, but it is designed for every day. They may be waterproof and function well indoors and outside, but do not specifically meet workplace safety requirements. 
Timberland Pro Work Boots
The Pro Work series come with excellent features for any number of various work environments.  You may find:
1.) Anti-fatigue technology with polyurethane midsoles designed to cushion and protect.
2.) Electrical and thermal Insulation. Outer soles are thick rubber and meet OSHA standards. The "Thermal Force Pro Work Boot" is designed for extreme cold.
3.) Anti-static Outsoles 
4.) Puncture resistant Midsoles 
5.) Outsole Traction to grip the wet, slippery surfaces. 
6.) Metatarsal Guards
7.) Safety Toe Caps. Available in steel, composite or soft toe designs. Timberland produces alloy safety toe caps in military-grade aluminum that is lightweight. Pro boots comply with ASTM F2412 impact resistance testing.
8.) Waterproofing uses breathable materials to keep feet dry in the worst weather conditions. 
Prices
A pair of Timberland work boots can cost from $75 to approximately $400 depending on the style and features you require.
Thorogood
The well-known and respected Thorogood brand belongs to the employee-owned Weinbrenner Shoe Company.
This company's beginnings can be traced all the way back to the 1880s in the America state of Wisconsin. Albert Weinbrenner, a craftsman apprenticed with his father.
At 27 years of age, in 1892, he left his apprenticeship to found his shoe company with a partner Joseph Pfeifer. By 1905, this company was producing 2500 pairs of shoes daily. 
Weinbrenner produced work boots specifically for linemen that were charged with installing telephone cables, woodcutters, miners, and anyone with tough industrial working conditions, often outdoors.
The company gained much of its success and reputation thanks to the durability of its work boots. At one point they even supplied the U. S. Army. The Thorogood brand was introduced in 1918. It rapidly took the lead as the most popular of Weinbrenner footwear.
Thorogood experienced another success in 1964 with the creation of the "Hike 'n Camp" boot, now known as 814-4201 which became the official boot for the Boy Scouts. In 2000, the Weinbrenner Company transformed into an employee-owned company.
It is one of the largest, if not the largest manufacturer of footwear "made in the USA" today and features more than 125 designs.
Manufacturing and Materials
Thorogood distinguishes itself in boot manufacturing through its use of the Goodyear Welt Construction.
This manufacturing process does require more time for boot construction but is considered one of the best boot and shoe construction methods available and boots can be re-soled. You won't be tossing these out just because the sole wears down.
Thorogood footwear is considered durable and resistant thanks to excellent workmanship on every pair. The company's attention to detail has made the name Thorogood synonymous with the best of union Made in the USA products.
The highest quality leathers are used to fashion boot uppers, while the company has developed its own synthetic outer sole named MAXWear™ found in several forms including the MAXWear Wedge™ in polyurethane and the MAXWear90™.
These outer soles are not only comfortable but known to last longer than the average work boot sole. They are also slip and oil-resistant. One downside is that the white soles can attract dirt, so they'll need to be cleaned regularly.
Thorogood also will source supplies globally such as Italian eyelets or Spanish outer soles as needed. However, 65% of Thorogood Footwear products are produced in the United States in their two Wisconsin factories, and an impressive 72% of their products are purchased within the United States.
Thorogood boots run pretty much true to size but do require a short breaking in period.
Comfort
Thorogood includes cushioned collars, ankle support, and they structure the heel counter to contour to a foot's natural shape. While the leather used is sturdy, it is also soft which adds to its appeal.
Toe boxes are comfortably roomy, and you can get Thorogood boots with protective toe caps or in a soft toe version.
Prices
Thorogood boots are generally priced in the medium to high range of $200 to $300. When considering the quality of the materials and craftsmanship, this is not a high price to pay for what you receive.
Thorogood boots are comfortable and durable. Both the quality materials and handmade footwear justify the cost.
Timberland vs Thorogood Boot Comparison Table
| | | |
| --- | --- | --- |
| | Thorogood Boots | Timberland Boots |
| Styles | Work boots, Soft Toe, Steel Toe, Logger, Lace-up | PRO Work boots, Classic Boots, Soft toe, Alloy, Composite or Steel toe, Lace-up, Slip-on |
| Safety features | EH rated, Slip resistant, Steel toe, Oil resistant | ASTM, CAN CSA compliant, Slip resistant, Oil resistant, Puncture resistant, Abrasion resistant, EH rated, Static Dissipative, Heat resistant, Met Guard, Pathogen resistant |
| Construction | Goodyear Storm Welt, Direct Attach | Direct Attach |
| Outer soles | MAXWear Wedge™ in polyurethane, MAXWear90™, V-series Chevron | Rubber, Thermoplastic, Vibram |
| Inner soles | Poron Comfort cushion, Ultimate shock absorption, Single density polyurethane | Timberland PRO 24/7 comfort |
| Boot Uppers | Full-grain leather | Full-grain leather |
| Foot Support | Composite or fiberglass shank, Rubber midsoles | Anti-fatigue |
| Linings | – | Anti-microbial odor control, Breathable, Moisture-wicking |
| Sizing | Men's 8 to 14 | Men's 3.5 to 17 |
| Waterproofing Insulation | Waterproof membrane, 3M Thinsulate | Waterproof membrane, Yes |
| Price | Approximately $200 to $300 | Approximately $75 to $400 |
Which Is the Better Brand?
While there are some differences, both brands are recognized as reputable manufacturers of high-quality work boots. Timberland has developed a PRO series specifically for workplace and industrial safety needs.
Thorogood produces a massive, hefty durable boot that may be more adapted to casual or office wear, unless you purchase a pair with safety features. Both brands utilize quality leather and quality manufacturing technology.
Both manufacturers offer non-slip outer soles and multiple safety features depending on what you are looking for. And both footwear companies offer multiple designs so there is something for everyone's taste.
The quality is unquestionable for both brands. The final decision is yours. Much will depend on your foot shape, your workplace or outdoor needs, your personal style and of course your budget.