Leather is, has always been, and will always be the most preferred and loved choice for jackets and boots alike. The two most popular forms of leather are Nubuck and Suede. Naturally, since both are different, there's going to be a comparison of which of the two is better.
Nubuck vs Suede has been a long-going battle between the lovers of leather boots. Since both types have advantages and disadvantages, it's always a wise choice to have a look at both and then decide which of the two will be the right choice for you.
If it's durability and a rugged vintage look that's more like you, Nubuck is better than suede for you. It's tough and more resistant to harsh weather and tough conditions. In other words, Nubuck is better to make work boots for tough terrains.
If suppleness and a more refined look are closer to your personality, you will like Suede more than Nubuck. Suede is refined and thinner than Nubuck. That's why it has a slight edge of being more versatile in terms of variety.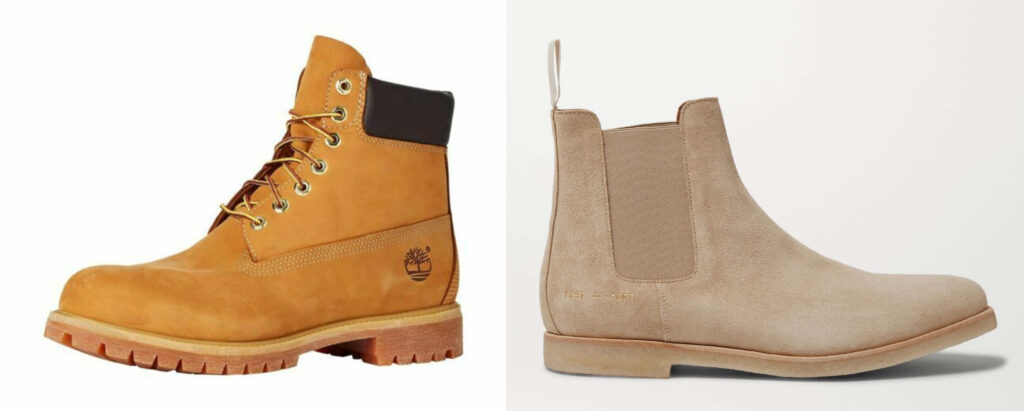 If you come to look at the matter of nubuck vs suede, you'll realize that which of the two is better will be more of a personal choice. In some cases, Nubuck will win the race and in some others, Suede will be better. 
We have curated this guide to put an end to the drama around nubuck vs Suede. Expect to learn everything about both these leather types: advantages and disadvantages of Nubuck and Suede, the difference between Nubuck and Suede, which of the two is better, and much more!
What is Suede Leather – Where Does it Come From?
Suede leather is basically the sanded version of the underskin of younger animals mostly. Since it comes from animals that haven't attained full maturity, it's soft, supple, and lighter.
Suede leather is popularly called split leather in many parts of the world because it is made by splitting the underskin of the animal from the upper skin. 
Very rarely is suede leather derived from the skin of older animals. It's because the soft texture is the characteristic quality of Suede.
Hence, the quality is best when the underskin comes from a younger animal. This type of Suede has the finest quality. 
See also: Can You Oil Nubuck and Suede Work Boots?
3 Types of Suede Leather 
Suede leather comes from the underskin of animals, that's certain. The types depend upon the animal in question. Here are the 3 types:
1.) Suede from SheepSkin – This one comes from sheep, mostly lambs. It's the softest type of Suede and the lightest too.
2.) Suede from Cow – This is the toughest suede in its circle of a total of 3 types. It's obtained either from very young cows or calves.
3.) Suede from Pigskin – This is the heaviest suede in the group of 3. This heaviness makes it more durable than the other types.
3 Advantages of Suede Leather
1.) Suede Leather is Smoother and Classy
Suede leather boots are some of the finest-looking boots out there because of their beautifully smooth texture. It gives them a distinctive look of their own.
Their delicate royal appearance makes them the best options for cocktail parties, weddings, and black-tie events.  
2.) Suede Leather is non-bulky 
Why would you ever wear bulky leather boots to parties when you have the option to wear Suede leather boots?
As long as you aren't a workman working in tough conditions, Suede is the material for you. It's lighter and walking in shoes made out of suede is very comfortable. They will never restrict movement. 
The chances that you'll get shoe bites from Suede are rare occurrences that happen to take place only when the size purchased is smaller. 
3.) Suede Leather Has More Style Variations
One of the qualities of Suede leather is that it's soft. It also means that it's fairly easier to cut Suede than Nubuck. Naturally, since it can be cut easily, Suede has more distinctive styles. 
The ease with which it can be molded makes it possible that you'll find your exact shoe size without having to go through the trouble of trying one boot after the other before you feel the warmth of comfort.
2 Disadvantages of Suede Leather
1.) Suede is Prone to Easy Damage
Softness is its boon. But, in a way, it's also a curse. Since suede leather is soft, the chances that it will get damaged if you're not careful are very high.
If you wear them to hike or trek, they might get damaged. So, stick to the basics – Use suede boots for classy events. Don't use them as regular boots you wear to market. 
2.) Suede is Difficult to Maintain
We do not mean that suede is soft like butter, we mean that it's thin. Anything out of the ordinary can damage the soft smooth appearance of the shoes and boots made out of Suede. 
Naturally, with so many restrictions and considerations, maintaining Suede is a challenging task. 
If you're a careless person who cannot take even a slight bit of pain to even store your boots properly, let alone clean them, Suede is not the right material for you.
So, Is Suede Good Material for Shoes? 
Naturally, if something is prone to damage, people will question its worth and suede is no different? However, the way you interpret things makes a huge difference. 
For instance, if you ask us the question, is suede high-quality, we'd say yes. Yes, Suede is high-quality.  
The way you maintain it will determine its longevity. It's thin but it's not bad. Indeed, Suede is a very good option to make shoes for specific purposes.
See also: How to Waterproof Suede Cowboy Boots?
What is Nubuck Leather – Where Does it Come From?
Nubuck leather, unlike Suede that comes from the underskin of animals, is obtained from the upper (outside) layer of the animal skin. It's mostly cowhide from older cows that are used to manufacture Nubuck. 
It's pretty obvious that Nubuck will be stronger than Suede because it's the sanded version of the outside surface of animal skin. 
3 Advantages of Nubuck Leather 
1.) Nubuck is Weather-Resistant 
Nubuck is highly resistant to wind and cold. Since its original purpose is to help the animal survive in the wild when the temperature gets harsh, it is obviously going to protect your feet from cold. 
So, is nubuck waterproof too? Well, this is an exception. Neither Nubuck nor Suede is resistant to water. The boots are made waterproof by coating them with other waterproof materials at the time of manufacture.
2.) Nubuck is Tough 
It's not without a reason that Nubuck is one of the most preferred options to make work boots. Nubuck boots nail tough terrains. You can wear them to work. They're also protective boots that you can wear while hiking and trekking. 
3.) Nubuck Recreates the Classic Vintage look
This is one of the qualities of Nubuck that Suede does not have. Nubuck leather changes color and texture with time. Boots made out of Nubuck develop a vintage look over time. 
Instead of getting damaged, they develop classic leather lines that have survived the test of time. Nubuck of the highest quality is a steal since it's long-lasting and very durable. 
What are the Disadvantages of Nubuck? 
Nubuck Gets Easily Stained 
It might take you by surprise that how can boots that can be worn for trekking get stained? Well, no matter how unbelievable, that's the reality of Nubuck. So, should it stop you from buying them? Absolutely not!
All you have to do is clean the surface of the boots using sanding paper. This is enough to remove soil marks. If the stains are tough, you'll always have the option to use a leather cleaning brush and soapy water to get rid of stains. 
What Is The Difference Between Nubuck and Suede?
The two might look a lot similar on the surface (at least for some time) because they're both sanded, but there are major differences between the two. 
The major differences between Nubuck and Suede are as follows: 
1.) Nubuck is derived from the upper skin of the animal. Suede comes from the underskin. 
2.) Nubuck is stronger than Suede. 
3.) Suede is smoother, easier to shape, and lighter. 
4.) Nubuck offers protection from cold and wind better than Suede.
5.) Nubuck catches a vintage feel as it gets older, Suede doesn't. 
6.) Suede is more likely to get damaged in comparison to Nubuck. 
Nubuck vs Suede: Which Is the Better Option?
This is the dilemma that bothers almost every person who's a fan of leather boots. Which of the two is better depends on a bundle of factors and the most important one is your choice. 
Nubuck is better than suede if:
1.) You want an outdoor boot. 
2.) You like a vintage look in your boots. 
3.) You want weather-resistant boots. 
4.) You want work boots. 
5.) You want boots that you can wear to treks. 
Suede is better than Nubuck if:
1.) You want classy-looking shoes for black-tie events. 
3.) You want boots that do not constrict your motion. 
4.) You want boots that have a very smooth and refined finish. 
Concluding Thoughts:
Nubuck and Suede are both high-quality leather. Which of the two is better depends upon the purpose you're buying them for. 
On the brighter side, we hope this guide on Nubuck vs Suede has cleared all your dilemmas. Make sure you buy original premium-quality only so that you get all the benefits that these two leather types promise!