Just as the name suggests, motorcycle boots are the ones that are designed and worn specifically by the motorcycle riders.
But unlike the name engineer boots, these boots are not for the present day engineers as we might mistake, but were worn by the steam locomotives while working in the railways. 
But the point of discussion for this post is what is the difference between engineer boots and motorcycle boots or whether they are the same!
While engineer boots first came into existence during the world war II for the firemen of the steam engines working in the railways for the purpose of dealing with hot coals, embers and sharp edges.
They readily became the go to footwear for the motorcycle riders for the flexibility, support and stability provided by these boots.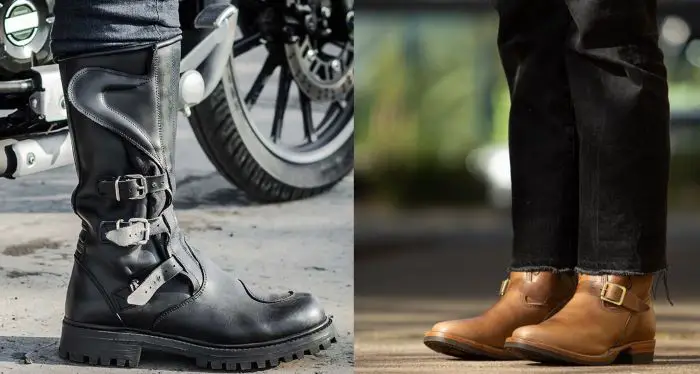 Later, there came into existence motorcycle boots that are specifically designed by the motorcycle riders and these boots offer better protection, style, comfort than engineer boots.
Also, engineer boots do not have laces while motorcycle boots have and the heels of motorcycle boots are shorter than the engineer boots.
The padding in the toe area is also more in motorcycle boots and they come with steel shafts for torsional stability which might not be available in engineer boots.
Come on…
Let's have a deeper look into their comparison…
What Are Engineer Boots?
Engineer boots, which are also called engineer's boots, are basically a kind of pull-on style boot which are much common among the motorcyclists, though they are hardly the ones which motorcyclists prefer to wear during their rides.
These boots were actually descended from practical footwear, but they fell out of favor as a kind of work boots and they became more or less kind of fashion boots though they do have a practical use in real life. 
These kinds of boots are basically between a casual chore boot which we prefer for our daily chores outside and the heavy work boots.
They are easy to wear but need a little bit of adjustment, but they are close to the solid platform of the serious footwear. These were basically work boots; and people wearing them could never imagine them to be fashionable in any sense.
Why is it called an Engineer Boot?
In the earlier times, people working as firemen in the steam railway engines used to wear these boots as they used to protect the firemen while working with hot coals and embers and their tough texture and non-puncture soles dealt with the sharp edges of the rail lines.
Also the minimal stitching and the pull on design made these boots suitable for such working conditions and hence the name engineer boots!
What are Motorcycle Boots?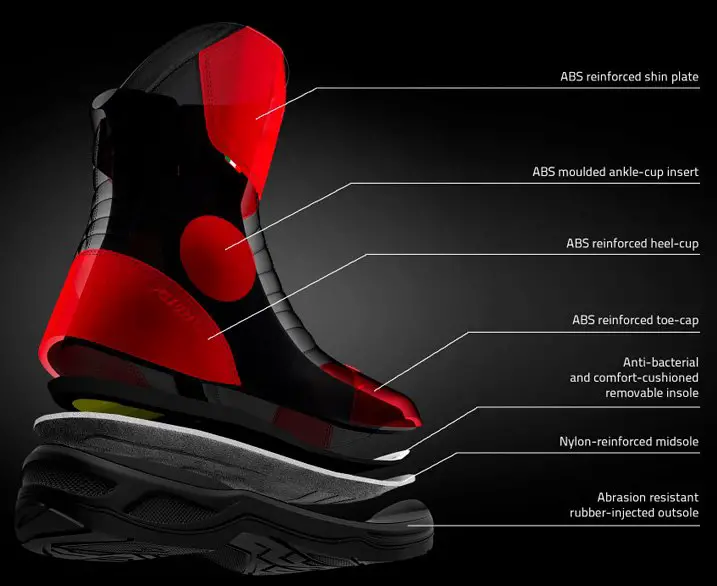 Motorcycle boots are basically used by motorcycle riders and they range from ankle to below knees. These boots look like typical usual boots from outside but they have low heels usually to control the motorcycle.
They provide safety to motorcycle riders as they are made of thick and heavy leather, they also contain load spreading padding which helps in spreading of the load.
Additionally they also have metal, plastic and/or composite materials which protect the feet, ankles and legs of the motorcyclists in case of an accident.
Difference between Motorcycle Boots and Engineer Boots-
| | |
| --- | --- |
| Motorcycle boots  | Engineer boots  |
| 1.) They are used by motorcycle riders.  | 1.) They are heavy work boots and not used for casual chores. |
| 2.) These boots are fashionable and look like typical boots. | 2.) They are in no way fashionable.  |
| 3.) The heel is usually very low about ½ inches to provide protection.  | 3.) The heels are about 1 and 3/4 inches in height, with a slight forward slant |
| 4.) They provide less ankle movements.  | 4.) They provide comparatively more ankle movements.  |
| 5.) They have a higher degree of resistance to the extreme terrains. | 5.) They have comparatively less resistance ability. |
| 6.) They may or may not come with laces | 6.) They do not come with laces, instead they have buckles in the ankle and the calf openings |
| 7.) They are completely shock resistant and provide absolute protection.  | 7.) Despite many work boots being shock-resistant, most work boots won't be able to give you sufficient protection from getting t-boned by a car.  |
| 8.) Belstaff Endurance Leather Motorcycle Boots, TCX X-Blend WP Boots, Dainese Dover Gore-Tex Shoes, are some varieties of motorcycle boots.  | 8.) Red wing engineer boots, Frye Engineer 12R boots, White's Nomad Boots, are some varieties of engineer boots. |
Are Engineer Boots Good for Motorcycle Riding?
Engineer boots have straps around the ankle and the calf area to make comfortable adjustments and they are flexible and tough at the same time that help to resist the heat from the exhaust and the engines of trains and bikes.
All in all engineer boots provide the support, comfort, heat resistance, tough construction, heavy padding around the toe areas and style that make them a good choice for motorcycle riding as well.
Features of Engineer Boots
A good engineer boot will have the following features:
1.) Engineer boots do not have laces but instead they features buckles around the ankles and the calf areas
2.) They have sturdy and thick toe areas to save the toes from any injury
3.) They are made with leather or faux uppers
4.) They have non-slip outsoles 
5.) They feature a pull-on design
6.) They provide excellent cushioning for the tired feet that stands on iron for the entire day
Features of Motorcycle Boots
Let's now learn about the features of a good motorcycle boot:
1.) Motorcycle boots are made with high grade leather
2.) They provide great ventilation to let your feet breathe while the heat from the engines and the silencer heats up the feet
3.) They have slip resistant outsoles 
4.) They provide torsional support
5.) They provide ankle support
6.) They have safety toes
7.) They provide great cushioning
8.) The outsoles provide great grip and are quite thick
What is the Difference between Engineer Boots and Motorcycle Boots?
Engineer boots came into existence during the world war ll and were worn mostly by the firemen of the steam locomotives. Later they gained popularity amongst the motorcyclists for their rugged construction, stability and protection from accidents in the ankle and the calf bones.
So, there is no major difference between the two leaving the fact that motorcycle boots are the new discovery with better stability, protection and better features for more comfort.
And it's a Wrap!
Though engineer boots were once preferred by the motorcycle riders, in the modern times motorcycle boots are designed with newer features and technologies that suit the needs of motorcycle riders by providing them better comfort and protection from accidents.
That's all for this post.
Will be back soon with more such informative pieces…
Till then…
Take care and have a great day!