Two shoe manufacturers known for their versatility yet are quite different in their history, manufacturing style and products. Thursday and Timberland boots have some amazing boots that anyone would like to add to their wardrobe.
This blog is going to take a dive into both and find out who wins the battle of the shoe perfect manufacturer.
Let's take it a bit at a time.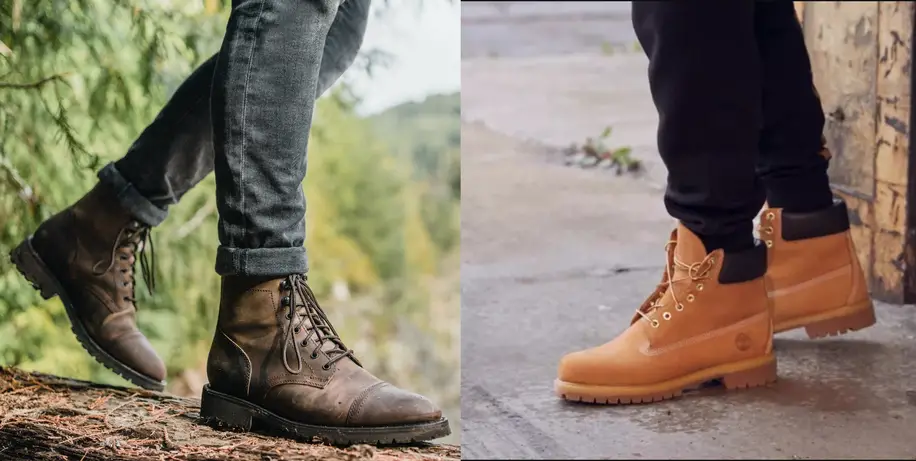 Timberland or Thursday Boots: Which one lasts longer?
Timberland
Timberland shoes came into the market decades before. The company is known for the sturdiness of its shoes. I have owned quite a few pairs of Timberland. I always felt that they are a bit more coarse than others.
I have also gone through some forums and found the popular opinion to be that Timberlands won't last for years if you are using them daily.
They will last if you take care of them and do not use them every day. Taking care of your boots will surely extend their life provided you are willing to give them some love.
Thursday 
Thursday has taken a place in the list of top shoe manufacturers in the country within a few years of its inception. Shoe lovers were astonished to find quality shoes at prices below the usual market level. Thursday shoes are revolutionary products in the shoe manufacturing field.
From my experience, Thursday boots are apt for daily use. They do not wear easily as they are quality built and can withstand small impacts. They feel nice to the feet and will make you use them daily.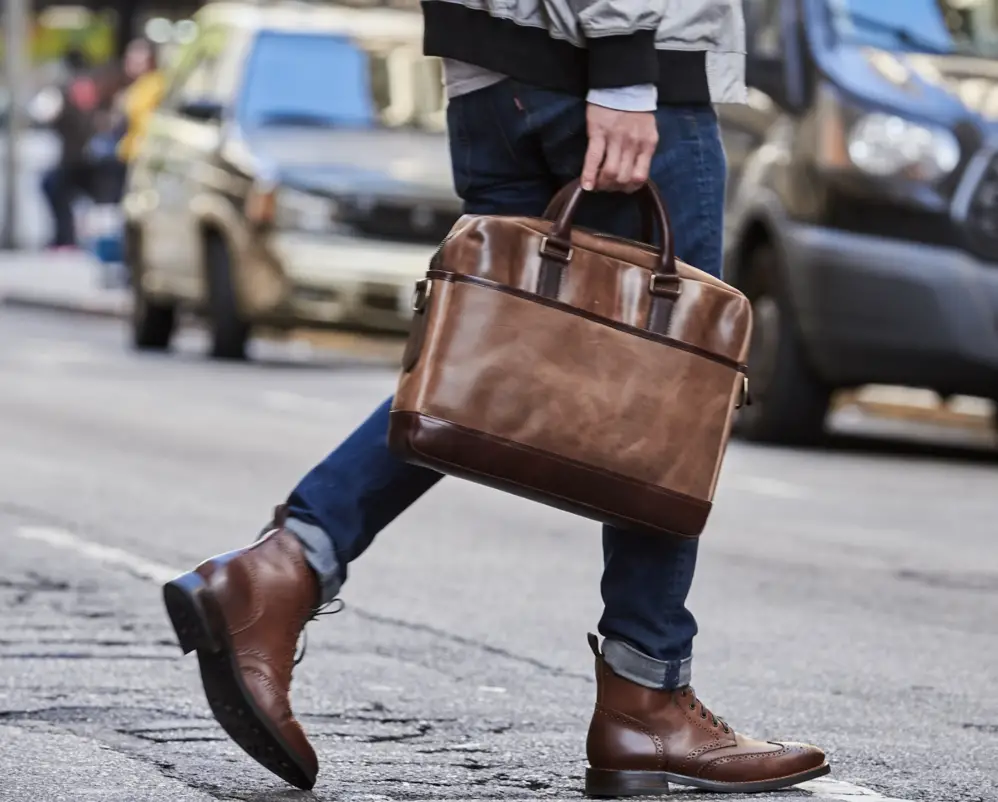 I have used mine almost every day and have not seen much wear or tear. Like I said earlier, the key is how well you maintain your shoes irrespective of the brand or the quality. 
I am still exploring Thursdays. From my experience till now, they are built for everyday use and seem to me that they will last quite some time.
Timberland vs Thursday boots: Which one is lightweight?
Timberland 
Timberland became famous through its iconic "Yellow Boots". Stylish and rugged, the Yellow Boots rapidly got into the collection of many. However, Timberland boots are not that easy to carry.
They are a little bit heavier than their counterparts. But, the good news is that you get used to it. After the break-in period, you will feel more at ease.
To break-in your Timberlands do the following:
• Keep them in your hand and try to flex the hard sole back and forth. Do this repeatedly and you will see the change.
• Rubbing a leather conditioner on the insole where the heel bone rests can help reduce the blisters.
• Wear socks and walk in your Timberlands for some time while at home. The more you walk the more stretched the leather will be giving more space and comfort.
Thursday
These are lightweight. They are not heavy like Timberland boots. Thursday focuses more on comfort and the break-in period is much less painful. The soft interiors and exteriors make them tolerable and to a great extent foot-friendly even before the break-in. 
This said the experience differs from one type to another. The construction gives each shoe its identity and also how you feel in them.
Timberland and Thursday boots: What are the material used?
Timberland
Timberland boots are known for the nubuck leather used. Made from top-grain sanded cattle skin, nubuck leather is thicker and softer than suede but gives almost the same velvety look.
Nubuck leather is long-lasting than suede and gives a clean look to the boots. Nubuck leather is becoming popular these days due to its durability and smooth texture.
Although not popular as the nubuck ones, Timberland also has a wide range of suede shoes (https://www.timberland.com/collections/suede-shoes). They are stylish, classy and sturdy enough for anyone to fall in love at first sight.
Thursday 
Thursday offers variety in leather. The company has products finished in Haroween leather, Chromexcel leather, Suede and high-quality matte calfskin leather.
As such, there is a lot to explore in their boot collection. Trying different boots can help you find the material that makes your feet happy.
Thursday vs Timberland Boots Construction?
Timberland
Timberland boots have adopted Goodyear welt to construct their boots. Goodyear welt has been time and tested to create footwears that are long-lasting and strong.
Even though it is tough to complete Goodyear welt, the effort pays off in the end due to its effectiveness.
This machine-based welt construction also ensures that water does not penetrate the product in anyway. The well-sealed stitches give extra protection.
Here is what Timberland says about their boot-making process:
https://www.timberland.com/blog/behind-the-design/behind-the-design-timberland-boot-company.html
Thursday 
Being one of those companies that prioritise the most comfortable features for their products, Thursday also has adopted Goodyear welt for crafting their boots.
Just like Timberland, Thursday finds the technique to bring out the best results. Thursday boots are therefore strong, sturdy and resistant to wear and tear.
Check out how Thursday creates their boots:
https://blog.thursdayboots.com/design/how-leather-boots-are-made/
Timberland/Thurday boots: are they waterproof?
Timberland 
Most Timberlands are waterproof. Timberland is known for its quality waterproof shoes for decades. In fact, Timberland was one of the very few companies that brought forward the concept of waterproof boots strongly into the shoe manufacturing field.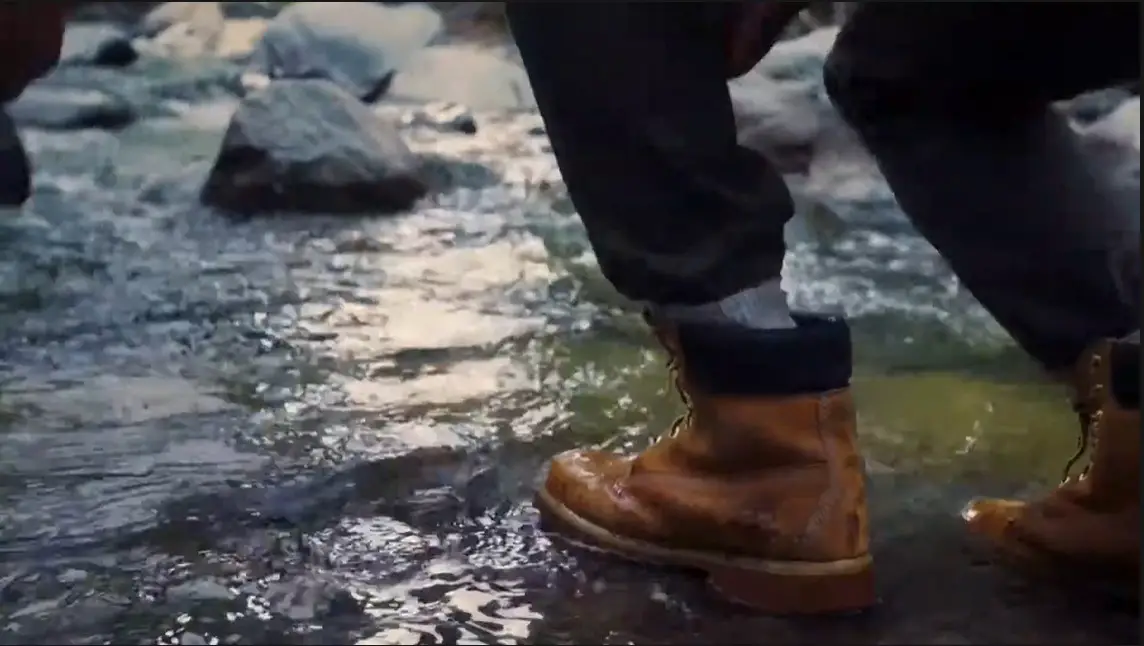 Timberland has given importance to getting its boots waterproofed more than any other company. It uses top-quality materials that are naturally water resistant and treats those that are not to satisfy the need.
Timberland waterproof boots are excellent for a heavy rainy day or even to stay in a watery body for some time. They are made with extra care that makes the shoe perfect for such circumstances
Thursday 
Thursday boots are waterproof and offer good protection against water seeping into the shoes. Goodyear welt does the job pretty well.
However, they are not the best option if you are going to stand in a puddle for a considerable time. Although they are water resistant, they are not completely waterproof.
Timberland vs Thursday boots: Which one fits me well?
Timberland
From my experience with a few Timberlands, I found some of them to be narrow for my feet. This made me try their worker's boots and they fit me perfectly.
Worker's boots are broader and more supportive for your feet. For those with narrow feet, this won't be a problem.
Thursday Boots
Thursday has a lot of sizes but there is still room for more widths. When compared to many traditional shoe companies Thursday can include more widths to make them fit any foot.
They are a lot of people who are in search of the perfect shoe that their feet could fall in love with. Thursday can score if the company is willing to explore a bit more.
Thursday vs Timberland boots: Which one is Cheaper?
Timberland
Timberlands are not that cheap. They are costly mainly due to the strong construction and the materials used. Moreover, brand value adds to the price. Believe me, there are many who buy tier shoes just for the name!
But compared to some other high-quality traditional boot company products, Timberlands are not that costly. When the former goes up to $700 all that Timberland cost is around $200 maximum.
Check out the price of Timberland shoes: https://www.timberland.com/shop/mens-pro-best-sellers?icid=mens-r00-00-00-sec9_mens-pro-best-sellers
Thursday 
Going along the same line with Timberland, Thursday boots also falls in the same price range. They cost from $100 to $200.
But, in my opinion, Thursday offers more comfort at the price that they charge. They have many features that put them at par with many costlier shoes.
Visit the page to see Thursday boots prices:
https://thursdayboots.com/collections/boots
| | | |
| --- | --- | --- |
| Categories | Timberland | Thursday |
| Durability | High ( if not used frequently) | High |
| Lightweight | No | Yes |
| Materials used | Nubuck, Suede | Chrome, Halloween, Suede, Calfskin |
| Construction | Goodyear welt | Goodyear welt |
| Comfort | Moderate | High |
| Variation in sizes | Yes  | Yes |
| Waterproof | High | Moderate |
| Price | Moderate to High | Moderate to High |
The Final Verdict
Both has its pros and cons. Thursday boots are more comfortable while Timberlands are better in water resistance.
Thursday boots are lightweight while Timberlands are sturdier. Ultimately it comes to your choice.
Choosing the shoes that fit you and satisfy your needs ought to be your selection. Make use of the blog to kick start your quest of finding your perfect shoe!
Hope you enjoyed the blog! For more visit https://workgearz.com/category/work-gear/best-work-boots