Ankle boots are love and they are kinda incomplete without a warm pair of socks to snugly slide our feet into.
Some see fluffy socks as warm and comfy companions they adore and for some socks are just something that adversely affects their fashion game.
When you buy a pair of ankle boots you most often have this picture of a bit of that exposed skin that brings on a trendy look. So what sort of socks should you wear with your ankle boots? Will it be ok to skip socks altogether?
Well, don't waste your time cogitating such troublesome questions coz we have got all the answers to your questions.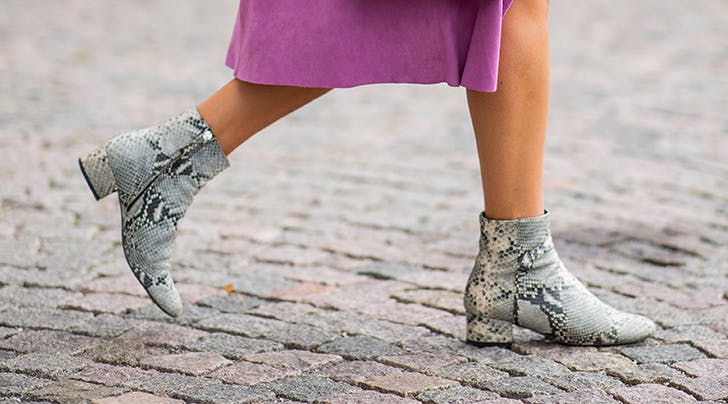 What kind of socks do you wear with ankle boots? 
Shorter socks such as crew socks or trouser socks are perfect while wearing ankle boots. They fit in perfectly around or below the ankle without any unwanted material popping up above the boot.
While wearing ankle boots, the shorter style socks are more comfortable and looks more appealing. Regarding the material and thickness of the socks, they can vary depending on the climatic conditions and personal requirements.
You can also opt for no show socks if you want a very clean and stylish look that just showcases the beauty of those classy ankle boots. 
Can I skip socks while wearing ankle boots? 
Even though you might be tempted at times to just skip wearing socks with boots at times, it is something that you should never do to feet. Even if all your socks are in the laundry basket or if you can't find the whole pair, please never wear your boots without them. 
Wearing boots without socks may seem harmless but it can cause many skin issues. Your feet will get sweaty and sticky without socks and there is also a high risk of getting blisters or athletes foot. Going sockless can also result in fungal infections.
It can also result in smelly feet as the feet have so many sweat glands and there's no sock to absorb the moisture and minimize bacteria buildup. 
What to consider while choosing socks? 
With a million different fits and lengths and hues and styles it is indeed nothing short of a quest to find socks that suit you and your needs perfectly.
Keep the following points in mind while shopping for the right pair of socks to go with your ankle boots. 
1.) Material of the socks – go for polyester or bamboo/merino wool 
2.) The length of the socks– something that reached about the ankle or just circumscribes the feet
3.) The fit of the socks – not too tight nor loose; snug fit
4.) Amount of activity that has to be done while wearing the socks – whether moisture wicking/breathable
5.) Socks that can cater to your medical needs – diabetic patients and people with swelling 
Is cotton the most preferred material for socks? 
The most preferred material for socks would be polyester in case of synthetic fabrics and bamboo or merino wool in case of natural fabrics.
These are preferred options as these fibers have moisture wicking properties that prevents the sweat from wetting the feet and they also help with moisture and temperature regulation. If keeping your feet warm and dry is your agenda, go for polyester or woolen socks. 
Cotton is not a great option if regulating heat is of great priority. Cotton absorbs the moisture and once wet is not that great at being breathable.
It can we used in summers where there's no need for keeping the feet warm, but apart from that it is not such a great choice for socks. 
How to choose work socks to wear with ankle boots 
If you are going to be out working hard and shedding a lot of sweat your socks should also be able to own up and act accordingly.
While choosing work socks to wear with ankle boots, there must be quite a lot of features that must be considered along with the length and fit of the sock. 
Depending on the type and amount of physical work you do, your requirement of socks would differ.
If you are always on your feet, running or walking about all day, you will need socks that can wick the moisture, provide you support and comfort and can give you odor and blister free feet.
For agile workers, socks with the following features would be more preferable: 
1.) Breathability 
2.) Moisture-wicking nature 
3.) Odor resistant material
4.) Padding at heel and ball of feet 
5.) Length above the boot to prevent it from rolling down in between( crew length or quarter socks) 
6.) Synthetic/wool/cotton material 
7.) Stay-up technology ( uses elastic nature of material for snug fit and to prevent sock from rolling down) 
8.) Ribbed texture for better fit and comfort 
9.) Double stitching for stronger seam 
10.) Extra padding on toe and heel for protection
11.) Choose socks with colors and patterns that are sort of neutral or muted and has lower chance of getting dirty real fast. 
Top work socks 
1.) Warm Thermal Socks, Sunew Women Men Winter Insulate Heat Thick Heavy Crew Socks 
This trendy pair of socks available in different colors and patterns guarantees all day comfort, warmth and joy to your feet, even during skiing, mountain climbing or intense manual labor. 
---
2.) Fox River Steel-Toe Mid-Calf Boot Work Socks 
The perfect work socks with a neutral shade, ample warmth, great comfort and guaranteed protection. 
---
Stylish socks to wear with ankle boots 
So as to have a sleek and clean look, it is always best to pair no-show, ankle or mid calf socks with ankle boots.
But if you want to go a bit overboard with styling socks along with your booties, you can opt for high rise stocking that rise up to your thighs.
You can play around with the colours and patterns to channel the inner diva within you.  
Some stylish socks to rock those boots
3.) Zando Women Thin Stripes Tube Socks 
These stylish tube socks will help you showcase your legs and your boots without showing much skin. 
---
4.) IDEGG Women and Men No Show Socks  
These unisex socks will give you a snug fit and would not protrude out taking the attention away from your classy new boots. 
---
What socks to wear if your ankles and feet are hurting? 
If you have arthritis or has to do a lot of walking or has some form of swelling, your feet will probably hurt a lot after spending some time in those trendy ankle boots.
So what can you do to reduce the pain and provide some comfort to your feet? The best answer is to use a pair of socks that is made just to suit your need. 
There are specific socks called compression socks that provide compression to the feet to regulate blood flow and ease swelling or similar issues.
But compression socks are prescribed by pedorthists who recommend the type of compression sock depending on your specific requirement. 
Compression socks for you: 
5.) CHARMKING Compression Socks for Women & Men 
These unisex compression socks provide great comfort and ample support during rigorous exercise and can prevent swelling and pain. 
---
6.) Dickies Men's Light Comfort Compression Over-the-calf Socks 
Walk around and work in these comfy compression socks for a warm, sweat free and fatigue free experience. 
---
What sort of socks to wear if you are diabetic? 
If you are diabetic it is important to check your feet and your socks regularly after work. Since having proper blood circulation and prevention of blisters or infections is quite crucial, it is applicable to use seamless socks with no cuffs that restrict blood flow.
There are indeed a specific category of socks called compression socks, that are specially manufactured to cater to the needs of diabetic patients. 
7.) Diabetic Ankle Socks Mens Womens Non-Binding Socks Loose Fit Debra Weitzner 
This combo pack of warm, comfy and great performing socks improve blood circulation in diabetics.