PU or polyurethane is one of the most widely used materials in the soles of footwear. 
PU is not genuine leather, but it's made from split leather which is then coated with the polyurethane material.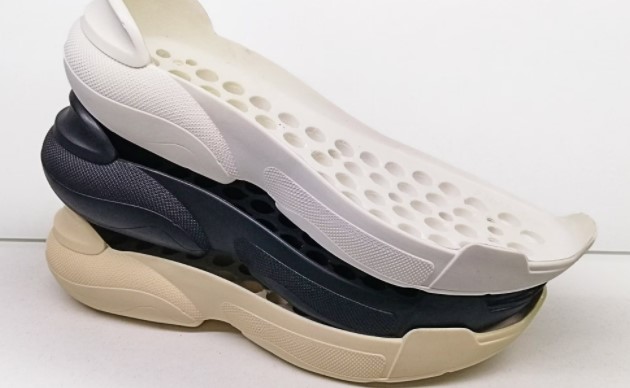 There're several reasons why PU is used in footwear and some amongst them are: waterproof, lightweight, wear resistant, flexible, durable, comfortable and…
Above all PU soles are slip-resistant, that is they will offer you utmost grip in almost all the slippery surfaces. Also, they are resistant to chemicals, abrasion and oils.
This is not all that you need to know about PU soles! Obviously, there's more to it and I will be discussing in details about PU material in this article starting from what they are, what features do they exhibit and why are they used so widely in the footwear industry.
So, let's begin the drive…
What is PU material?
PU or polyurethane is a form of polymer. It can be used either in the solid state or by processing it by blowing an agent into the PU, the later is called foam rubber which is generally lighter than the original PU.
Yet there is another form of PU and that is TPU (thermoplastic polyurethane) that have slightly different properties than PU and is used in other parts of boots but not the outsole.
The first PU was developed in Germany by some chemists and since then PU has undergone several changes in its properties.
Today, PU is widely used in the making of outsoles of boots for its various advantages like being waterproof, slip, abrasion and chemical resistant, lightweight, and its ability to absorb shock.
Are polyurethane soles slip resistant?
Yes, PU soles are slip-resistant and waterproof too. Not only this, they are even resistant to oxidation and chemicals and are also good shock absorbers.
Is PU sole waterproof?
PU is generally used as a waterproofing coating in many boots and it is waterproof to an extent. But the fact is that PU is actually hydrophilic, which means that PU will soak in water when immersed for a long period of time. Though, eventually it acts as a good waterproofing coating for a shorter period of time.
Is rubber or PU sole better?
To know which sole is better, let's look at the comparison table below:
| | |
| --- | --- |
| PU sole | Rubber sole |
| Lighter in weight | Heavier in weight |
| Higher durability | Less durable than PU |
| More flexible  | Less flexible |
| Less insulation ability | Higher insulation |
| Less waterproof  | They are really waterproof |
| Lesser traction than rubber | Superior traction |
| Resistant to slip and abrasion | More resistant to slip and abrasion |
| More comfortable to wear | Less comfortable to wear |
| Absorbs shock better | The shock absorption capacity is lesser than PU |
After looking at all the features, we can conclude that no doubt, when it comes to work boots, rubber sole is a far better option.
But PU is preferred over rubber soles in sneakers, sports shoes and slipper because of the later being lightweight and very durable.
Which sole is not slippery?
To be very honest, no other sole can compete with the slip-resistance capacity of a soft rubber sole!
Though soles like the PU or the PVC soles are also slip-resistant, but when it comes to walking in the most slippery surfaces smeared with water, oil, chemicals and other greasy products, rubber soles have proven to be providing the best grip. 
So, we can say that the best non-slip soles are the rubber soles that have deep lugs in them to hold your feet steadily on slippery grounds.
Pros and cons of PU sole
Let's now look at some of the advantages and disadvantages of PU soles:
Pros of PU soles:
√ PU has lower density and thus, is very lightweight
√ It has got high elasticity and therefore, it is very flexible to wear
√ It's soft texture, low density and high elasticity makes it very comfortable to wear
√ PU has got very good resistance to wear and tear
√ The best part about PU soles is that they have great shock absorption capacity which helps to ease out fatigue due to long day's walking
√ They are non-slip in nature too
√ They are resistant to chemicals and abrasion
√ They provide fair enough insulation too
√ The water-resistance capacity of PU soles is also not bad
√ PU soles are very durable
Cons of PU soles:
⊗ PU soles will absorb water if in contact for a long period of time
⊗ PU soles cannot offer the same traction as compared to the rubber soles in slippery floors
How long do PU soles last?
Well, it entirely depends on the environment you are wearing them to. For example, in marshy and watery conditions, the PU sole will last you as long as only 1 to 2 years.
But if you wear them in dry conditions only, it will last you for more than 5 years without any damages.
What is the difference between PU and EVA?
While both are a form of foam, EVA is made of ethylene-vinyl acetate and PU is made of polyurethane. The main difference between the two lies in the weight and texture.
While EVA soles are much lighter, softer and provides great support to the midsole, PU soles on the other hand are heavier, denser and provides great traction.
PU is generally used in the making of outsoles of boots, while EVA is used in the making of insoles and midsoles. The shock absorption capacity of both AEVA & PU are almost similar. 
It's time to say Goodbye!
With technological advancements, PU soles now have some competitors which are too by-products of polyurethane like the thermoplastic polyurethane and the compact sprayed polyurethane that comes with the RPU technology.
These new variations have some advantages over the PU material, but still PU is more affordable with all its fantastic features that are enough for a good work boot!
That's all for today's article. See you soon in my next post, till then…
Take care and have a great day ahead!