While once upon a time, boots were thought to be strictly the working man's foot attire, and inappropriate for office settings, fortunately, times have changed.
Whether you love boots for the warmth and protection they afford, or because we're heading into the winter season, and you'll have to battle the elements they are an option to consider. 
If you like the boot look, take heart! Boots are now more than ever a stylish example of footwear appropriate for office settings.
If you'll be dealing with precipitation such as rain, hail, or snow, wearing boots to get you to the office couldn't be a better choice.
And even if you work in a climate with less inclement weather, that little bit of extra leather covering feet and, in some cases, ankles, will provide a tad more warmth when temperatures drop.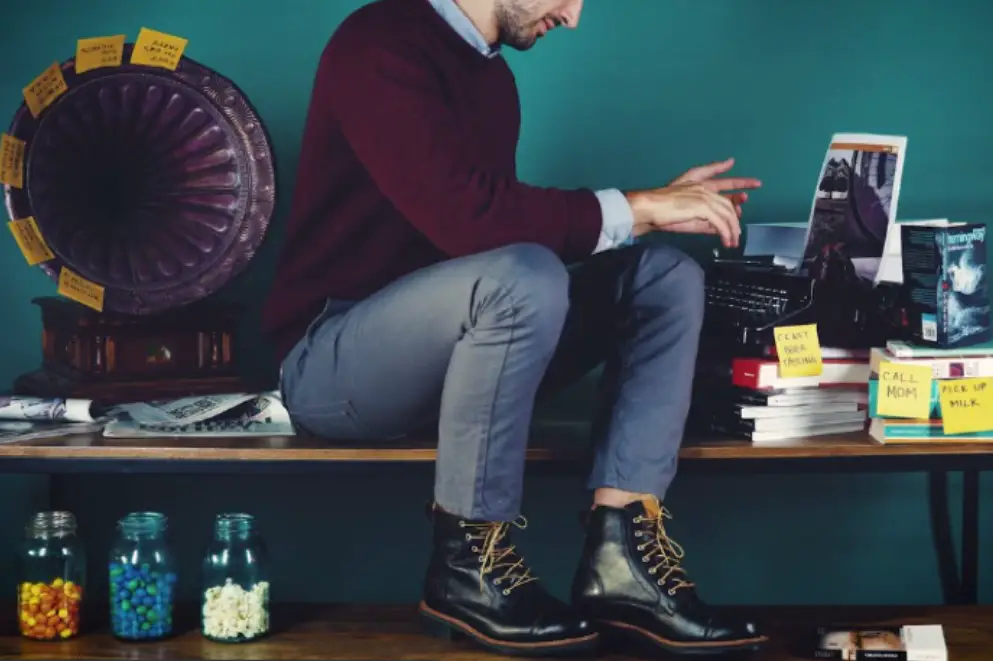 We went to work researching boots for the office and got management involved in the discussion. After delving through literally hundreds of choices, we tested them for comfort and ran them by senior management of companies with work attire codes. 
After all this, we found the Postman Men's Chukka Black Leather Boot to be the best boots for office work, and here's why. These works boots unite a distinctive looking crepe wedge treaded outsole with excellent surface grip together with an elegant simple upper boot design.
If you need a dressier work boot, consider our choice of Blundstone Dress Chelsea Men's Dress Boots.
Generally, basic hiking boots or construction site boots may not be your most stylish option when wearing a suit, but you may be surprised by how many of today's boot styles actually look pretty good under a pair of dress trousers.
The Reviews
Best Overall Boot for Office Work
1.) Postman Men's Chukka Black Leather Boot
This is a slick-looking pair of boots with a classic silhouette. Just polish them regularly for a great look. Made by Redwing, these works boots join a distinctive looking crepe wedge outsole with "Atlas Tred" for excellent surface grip and an elegant simple upper boot design. 
Called the "postman", this design originates in 1954 and was considered a standard issue for both policemen and postmen for decades.
Now with a modern revisiting and the classic minimalist styling, these boots are regularly sold out. Management may not even realize that you are wearing a boot.
These boots can be resoled thanks to Goodyear Welt Construction, so you won't be tossing them at the first sign of wear. The upper boot leather is perspiration proof so your feet remain dry and comfortable.
Pros
100% leather uppers

Crepe wedge anti-slip outsole

Goodyear Welt construction

Can be resoled

Good support

Comfortable
Cons
More expensive than some

Need breaking in

Checking sizing
Check Price and Reviews on Amazon
---
Best Pull-on Boot for the Office
2.) Dr. Marten's Inuck Pull-on Chelsea Boot
If you prefer a pull-on boot for the office, consider this pair of Dr. Marten's Chelsea Inuck boots.
The 100% leather uppers are pebbled so you won't worry about scuffing shiny or glossy finishes and a thick rubber outsole helps you navigate slippery surfaces. The rounded toe design affords comfort for your toes during long office hours.
Manufacturer Dr. Marten's also produces versions of the Chelsea pull-on boot in smooth leather, with platform soles, Vegan boots, or faux fur lined.
Pros
100% pebbled leather uppers

Rubber treaded outsole

Rounded-toe design

Comfortable

Attractive design
Cons
Check Price and Reviews on Amazon
---
Best Waterproof Boots for Office Work
3.) Sperry Decoy Men's Rain Boot
If you work in a climate where rain is a daily affair, these boots by Perry may be the answer to your prayers. While a bit more casual than other choices, they still offer a more laid-back profile than other waterproof work boots.
Available in four color combinations, we find the dark brown (Amaretto) and black combo particularly attractive as an office selection.
Upper boots are 50% leather and 50% synthetic attached to a nicely treaded rubber outsole. This is a heavy-duty boot for the worst of stormy weather.
Seam-sealed construction enhances waterproofing and an EVA foam shell acts as insulation to keep feet warm.
Pros
Waterproof

Rubber treaded outsole

EVA foam shell

Ideal for wider feet

Keep feet dry

Sizes 7 through 13
Cons
Leather is initially stiff, need breaking in

Sizing considerations

Some squeaking reported
Check Price and Reviews on Amazon
---
Best Dress Boot for Office Work
4.) Blundstone Dress Chelsea Men's Dress Boots
These dress pull-on boots by Blundstone keep feet dry and looking good despite weather conditions. Boot uppers are produced in water-resistant full-grain leather that is soft and supple to the touch allowing them to mold to the shape of your foot for increased comfort.
Construction includes double stitching for strength and durability. A toe spring has been ergonomically designed and engineered together with  XRD® technology in the realization of the heel to improve comfort and reduce foot fatigue.
The boot silhouette is lean and sleek with a square toe for adequate room. The boots look great with a pair of jeans but will be perfectly aligned with office dress codes. Midsoles are cushioned, while the outsole is durable TPU.
Pros
Premium leather boot uppers

TPU outsole

Cushioned midsole

Shock absorbing

Removable insole

Lightweight

Comfortable

Sizes 4 through 13

Available in brown
Cons
Check Price and Reviews on Amazon
---
Best Insulated Boot for Office Work
5.) UGG Harkley Leather Men's Chukka Boot
Ugg boots are known for both comfort and warmth and this Harkley Boot is no exception. This is a lace-up ankle boot that is lightweight with a flexible EVA outsole featuring a patented tread pattern.
The insole features a cushioned foam insole for lots of cushioning and 17mm of UGG pure wool so that moisture is naturally wicked away to keep feet dry.
The boot upper is fashioned out of 100% cow suede. UGG produces these boots in seven different color options. While not all of these are waterproof, there is a waterproof version.
If you need warmth in a boot, these Ugg boots are perfect, and the classic simple design should not create too many problems with winter office wear. Customers say they feel like they are wearing slippers thanks to the heightened comfort.
Pros
Treaded EVA outsole

17mm natural wool insulation

Moisture-wicking

Comfortable

Available in a waterproof version 

Simple elegant design

7 color choices available
Cons
Check Price and Reviews on Amazon
---
Suit Boots
The idea of matching a nice pair of boots with a suit has evolved into a legitimate fashion choice. The classic Chelsea design will match a professional look similar to an Oxford shoe with the practicality of a Chukka boot.
Avoid suede and search for clean, simple elegant lines that are paired with shiny, glossy, or even pebbled premium leather to achieve a polished look.  
Boot toe design can also hint at what kind of trousers the boot will look best with. Chiseled or square toe boots are great with suits, while rounder toe designs may indicate a bit more of a casual look. 
Depending on your office, this may make a difference. An architectural or engineering studio may have one kind of dress code while the top tiers for industrial or financial industries may require another look altogether.
Some offices may not specifically require a suit, so you'll enjoy increased flexibility in your fashion choices. If you are not required to wear a suit, you can consider office boots in suede as well as Chukka designs and more informally styled Chelsea boots.
Styles
The most common boot designs include:
1.) Chukka boots
Also called desert boots, Chukkas are ankle-high boots that offer the comfort of an athletic shoe or sneaker. This design is a more casual design with eyelets and thin laces. This boot was first used in WWII by British soldiers.
2.) Chelsea boots
Ankle-high, close-fitting versatile boots with a timeless style that feature a side panel made of elastic. They were created in the 1800s for Victorian nobility and royalty. Sometimes boot uppers are made from a single piece of leather or from two pieces stitched together.
3.) Miltary boots
These boots are basically combat boots but have become a staple in mainstream fashion. Popular for their durability and the degree of comfort offered, they are normally waterproof and tend to be higher mid-calf boots with a midsole that is shock absorbent.
4.) Cuban Heeled Boots
These boots feature heels that add a little extra height. There were originally created for Persian soldiers in the 9th century but enjoyed newfound popularity in the 1960s with the British fashion movement. 
Color Choices
Depending on what you are wearing, boot color will play a role in your office attire. If you regularly wear navy blue, gray, or black suits, a black boot is a preferred choice.
It is the color that is the most formal and is a wise choice if you are interviewing for a job or meeting with business clients.
Brown office boots are a bit less formal, but nonetheless can be worn with suits or with jackets and slacks. Brown boots also look great with dark gray suits, particularly a charcoal gray tint, and they are great with navy blue suits, as navy tends to be more flexible. If you plan on wearing chinos, brown boots are the way to go.
Boots also come in shades of tan; however, this color really lends itself to more casual office attire. While they can be matched with a navy suit, they will not transmit the same fashion message as polished black boots under a dark gray suit.
They do look great though with chinos and jeans, so if Friday is an informal dress code day, wear them on Fridays.
Remember that textured leather, like suede, sends out a more casual message.
What to Consider When Buying Boots for the Office
There is a vast variety of boots to select among, but not all will be appropriate for office attire. Boots need to be paired correctly with the style of pants you are wearing.
Keep in mind if you will be wearing predominantly suit pants, slim-fit pants, or others. Boots with a slim silhouette are more indicated for suit pants and slim-fitting pants whereas round-toe designs are better with chinos, jeans, or generally looser fitting trousers.
Consider the weather and if your boots will be getting wet. Even if you can't predict from day to day, you know the general climate of the area of the country where you work.
If there's a chance that your boots will get wet, know that leather will manage better than suede that dries out and is subject to water marks. Also, decide the kind of outsole that is best.
If you'll be walking in water, slush, or snow, you need a thick rubber sole for both slippage resistance and to protect your upper boot if possible.
Conclusion
If you want or need to wear boots to get to your office, now it is possible thanks to a myriad of boots that are appropriate with suits and in the office.
Decide the characteristics that will serve you the most, whether it is waterproofing, insulation, or just an elegant style.
All of the boots on our list merit attention and hopefully you'll find the best boots for your office work as a result.