How important are your eyes for you? Can you afford an eye injury at your workplace? According to the National Institute for  Occupational Safety and Health, there are approximately 2000 US workers who sustain job related injuries every day.
But you know these injuries can be reduced by opting for proper eye protection. One such measure is making use of prescription safety glasses.
Prescription safety glasses are required in job settings which have potential risks of eye hazards in the workplace. These glasses can protect your eyes from flying debris or the materials which can easily pierce your normal glasses. Along with it, prescription safety glasses set a protective barrier against dust, sparks and heat.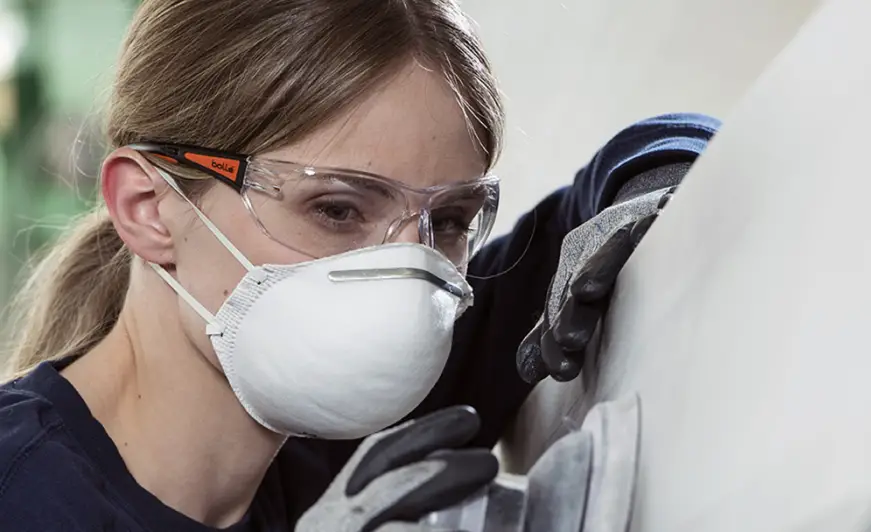 This article is all about prescription glasses, their benefits and how important they are in saving your eyes from injuries.
How are Prescription safety glasses different from non-prescription-safety ones?
Safety glasses are available in non-prescription and prescription lenses. So how are the two different from each other? Well, non-prescription glasses are also called " plano" lenses and are for those workers who don't have any problems with their vision or in other words have a clear vision.
On the other hand prescription safety glasses are used in place of regular glasses when an individual's safety vision is concerned. These lenses are figured or prescribed by the worker's eye care professional according to the former's specifications.
An alternative of prescription safety glasses is wear-over goggles which you can easily wear over your regular corrective glasses. But the only disadvantage is it becomes hefty and a bit uncomfortable. 
What are safety glasses made of?
There are many varieties of safety glasses available in the market but the basic prescription glasses are more or less made of the same material. Let's have a look at them.
Lens Material
Safety lenses are manufactured using one of the four different materials and each one meets the requirements for protecting your eyes. 
1.) Glass lenses: These are not easily scratched but at the same time are very uncomfortable. The glass lenses tend to fog easily and shatter with minute impact hence these are not the safest option to wear.
2.) Polycarbonate Lenses: It isn't as scratch proof as glass but it is definitely lightweight and has got better fog resistance. When it comes to impact resistance, it is stronger than any other material and hence choice of most manufacturers.
3.) NXT/Trivex: It has got better optical clarity, scratch resistance and photochromic performance.
4.) Plutonite: Plutonite is basically a purified carbonate and has got superior clarity. It also offers 100% protection from UV light.
Frame Material
The basic requirement of a safety glass is that it should be durable and sturdy along with being comfortable.
Mostly, safety frames are manufactured using different shatter resistant material based on what purpose they'll be used for. Nylon frames are used quite a lot because they are both lightweight and flexible.
What all occupations require these safety glasses?
The high risk occupation with potential eye hazards include:
Construction sites

Welding

Plumbing

Electrical work

Mining

Manufacturing
What are the benefits of Prescription glasses?
Prescription safety glasses are essential at different work sites because they have the potential to save you from various hazards. Some of the major advantages of wearing these glasses are:
1.) These glasses work both ways
Actually it's quite interesting and convenient for most users as they can get the advantage of safety glasses and prescription glasses in one single frame.
It's cost effective as you just have to pay for one pair of eyeglasses instead of two. Moreover, it saves your time as you just have to take care, maintain and clean a single pair.
2.) Protects you from Harmful Radiations
The filter in prescription glasses changes through different spectra and intensities of light which saves your eyes from harmful radiations while you work.
The glasses absorb specific wavelengths of light allowing the safe wavelengths to freely pass without causing any discomfort in the vision. 
3.) The glasses are effective both indoors and outdoors
These versatile glasses can be worn both outdoors and indoors and provide equal utilization. The glasses are equipped with specialised fortification and can protect your eyes against UVA and UVB ultraviolet rays emitted by the sun. 
4.) Protect your eyes from Industrial Hazards.
These are designed to save your eyes especially when you are working in construction, metalwork or any other industry.
Basic protection from tiny particles, flying objects, powdered chemicals and hazardous liquids and gasses are offered by the prescription safety glasses.
Do Protective Safety Glasses meet OSHA standards?
If you are using prescription safety glasses then the lenses and frames must meet specific requirements to fall under OSHA safety eyewear. 
OSHA has regulations for safety glasses while ANSI Z87.1-2003 is a voluntary standard which depicts the performance and protection level of the glasses. All safety eyewears must be marked in specific ways in order to meet this ANSI standard.
Recommended Prescription Safety Glasses
1.) ARMOURX 6006 PLASTIC SAFETY FRAME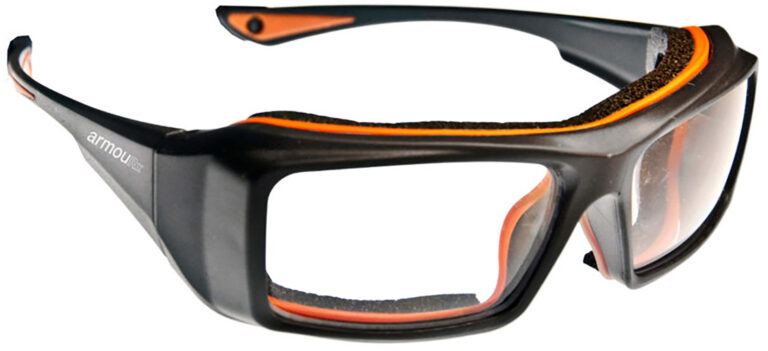 Features:
The glasses feature foam eye cups and plastic lateral shields for improved safety.

ANSI Z87 rated.

The plastic wrap frame comes with a head strap for safety.

Frame has a removable cushion for comfort.

Available in various sizes and colours.

Unisex and styled according to your face type.
---
2.) PRESCRIPTION SAFETY GLASSES RX-15011 

Features
The glasses have got nylon arms and adjustable nose pierce for comfort.

The arms are made of thermoplastic and are ultra-flexible.

These are ANSI certified.

Available in rectangular frame with integrated wrap around shields for protection from dust, paints or chemicals from any angle.

The glasses are affordable.

Available in various colours.
---
3.) WileyX Profile Safety Glasses  
Features:
Particularly adapted to high RX prescriptions.

Comes with removable side shields.

The glasses have nylon frames which are quite lightweight.

Shatter resistant.

ANSI Z87.1 rated.

Adaptable for single vision, bifocal and progressive lenses.

100% UVA and UVB protected.
---
Conclusion
Your eyes are the one of the most precious things you have which you surely don't want to get damaged. Your eyes work all day long and thus it is your duty to give them the best protection available.
I hope this article gives you some idea to protect them using prescription safety glasses. So what are you waiting for? Go grab one for you today.