Let's begin by emphasizing that it's always best to buy the correct size of pants to achieve the best fit. You don't want to intentionally buy pants that are too small or too big.
But what happens if you are in between sizes, on a diet to lose or gain weight? Selecting the correct size can be a real challenge.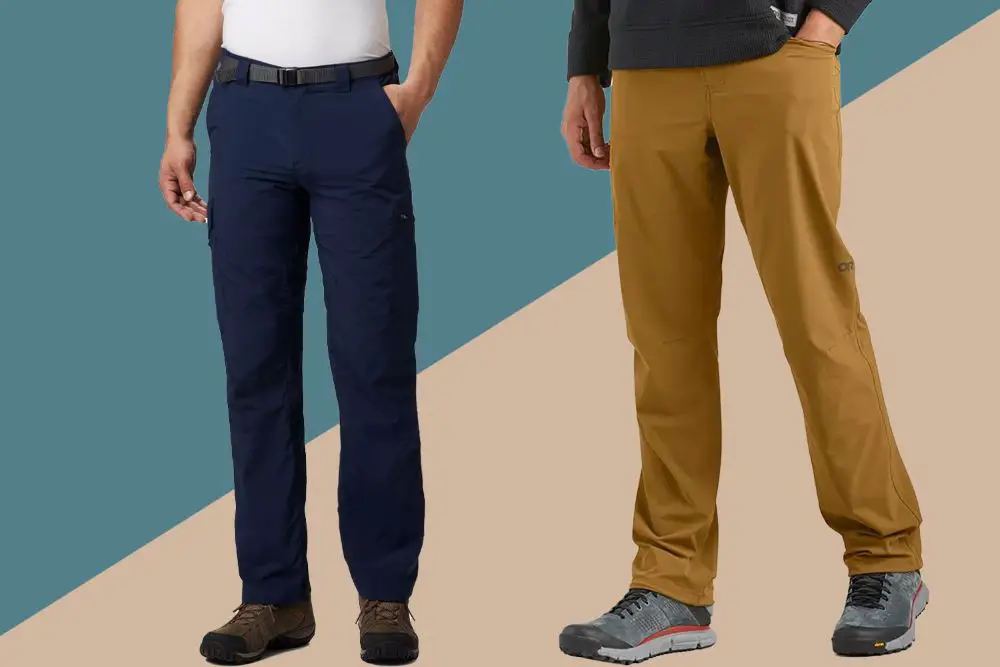 Is a Size Up or Down Better When Buying Pants?
Much will depend on the style and the material that the pants are made of. If a size fits well at the waistline but is snug in the thighs, you may want to look for another pant style.
Selecting a pair of pants for purchase that are too large in the waist will present another type of problem.
If the pants are made in cotton, you may want to choose the smaller size, as cotton tends to give a bit as you wear it even without elastic blended into the fabric. If you choose a pant size that is too large and the fabric gives, your pants will be very large. 
See also: Should You Buy a Size Up in Pants?
What About When Buying Jeans?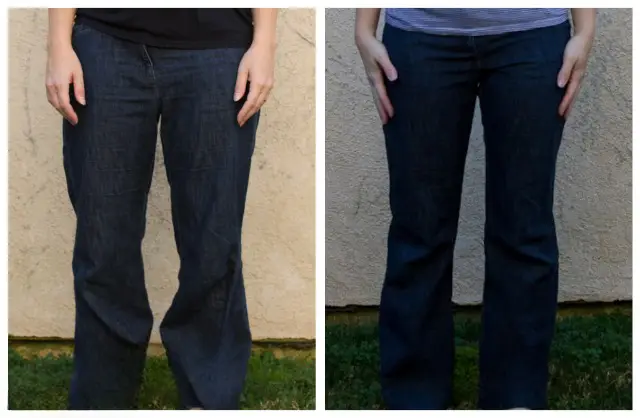 In jeans, fabric and clothing experts will tell you to take the smaller size. Denim has the capacity to stretch as much as half a size, so buy the smaller size if faced with a choice.
If You Are Between Pant Sizes, How Should You Choose?
A larger size would afford you more flexibility. The one advantage to choosing a larger size in pants is that they can be altered by a tailor.
They can be taken in if they are a bit large and then if you gain weight, the tailor can let them out again if necessary.
The only exception to this may be if you are following a specific diet to lose weight and plan on continuing with your weight loss regime. In this case, selecting a size that is smaller might be more appropriate and provide added incentive.
How Should Dress Pants or Suit Pants Fit?
If you are purchasing dress pants or suit pants for your professional attire, you don't want your trousers to be too large or to be skintight.
A great fit can be the difference when making a first impression especially professionally. A correct fit will prevent you from appearing sloppy or unkempt. 
Dress slacks that are too big will look sloppy because there will be too much extra fabric in the wrong places like the knee area or at the ankles. Slim fit pants are nice, but if they resemble skinny pants, they are too slim and too tight.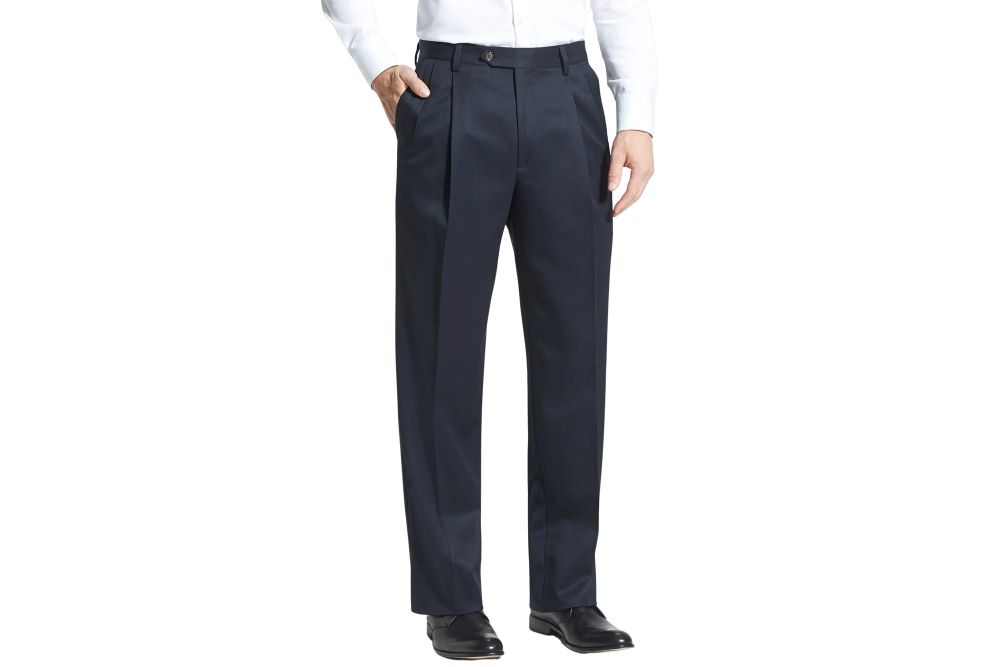 Dress pants should sit on your waist without the use of a belt. If they do not, the waist size is too large. If there is too much fabric in the ankles, calves, thighs, or hips, the size is too big for a professional look.
You can also judge the length when you sit. While standing, socks should never be visible. When you sit, your socks should be visible. If they are not, your pants are most likely too long.
You'll know that your suit pants are too small if they are uncomfortable and squeeze you. Suit pants will be the correct size if you do not see fabric bunching or seams pulling.
If you are between sizes, it would be worth it to select the larger size and have a professional tailor make any appropriate alterations.
How Do I Know Perfect Pant Sizing?
When selecting a pair of pants, especially a pair for a suit or dress, there are several measurements that you need to be aware of. These include:
1. Your waist 
The correct waist measurement can be a challenge. Many wear the waistline above the belly button, while others let their gut hang over.
The natural waist is where the torso is at its thinnest or slightly above the belly button. To discover your correct waist size, use a tape measure at this point. It should sit evenly all the way around your torso and should not be loose or tight.
See also: Should You Wear Your Pants Over or Under Your Belly?
2. The crotch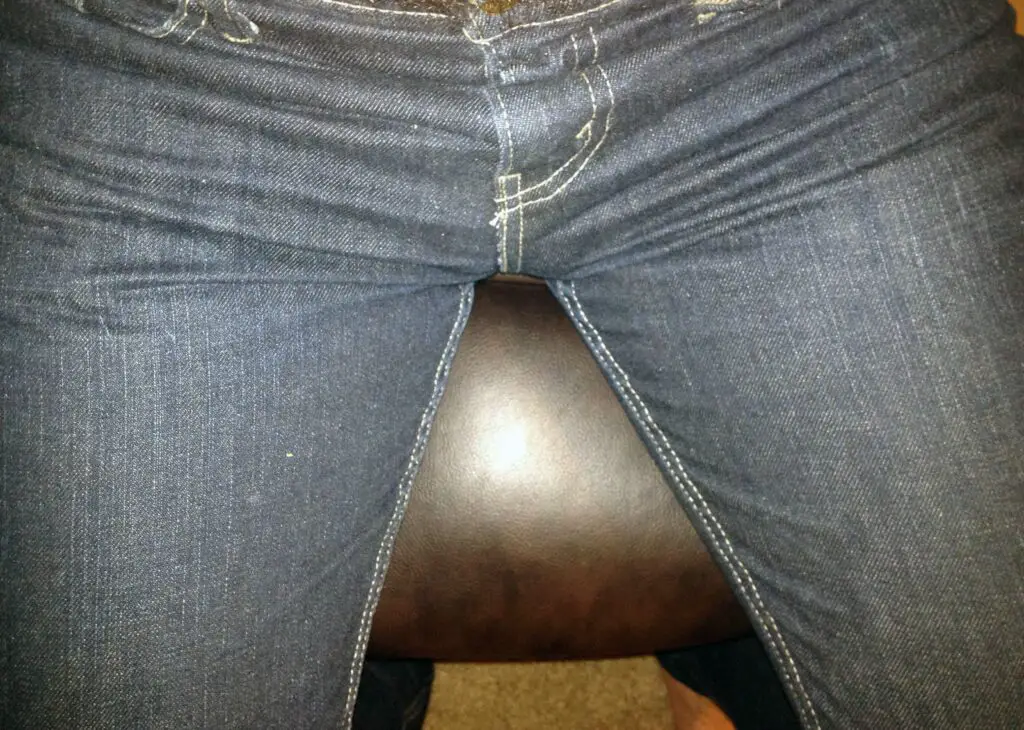 The crotch measurement will refer to the distance from the waistband measure to the pant inseam. This is an important measurement as it influences how comfortable pants are.
See also: How to Stop Jeans Creasing at the Crotch
3. The rise
This measurement specifically refers to the length from your crotch seam to the top edge of the waistband and will determine how high or low your pants sit at your waist.
4. The pant seat
The pant seat measurement refers to your backside. This measurement refers to the length from the waistband under the crotch and back to the waistband behind you. It's important that this length accommodates you when you are seated.
5. The inseam length
The measurement of the pant inseam refers to the distance from the pant leg bottom to the crotch seam. Pants legs should arrive to the top of shoes.
6. The leg opening
The leg opening affects the size of thighs. If your thighs are big or particularly developed, most standard size pants may be too tight across thighs, and you may need to opt for custom made pants.
The leg opening generally refers to the measurement of the pant leg at the ankles. This opening should not be tight, nor should it be so large as to appear sloppy.
Also, you may want to consider pant breaks. Breaks refer to exactly where your pants fall on your shoes. The three common pant breaks are no break, a half break, and a full break. This choice will depend on personal style and taste.
What Kind of Alterations Can a Tailor Do on My Pants?
If you opt for a bigger size, you can then get some customizing to help you get the best fit and a better fit than off the rack pants might offer. Tailors can make some very basic alterations that will offer you the perfect fit.
1. Waist sizing
The waist can be taken in if the pants are falling down or let out if you feel as though the pants are squeezing your middle.
2. Crotch Modification
Here a tailor can remove excess fabric if the crotch is too big or give you a bit more room if there is enough fabric.
3. Inseam Alteration
Inseams can be lengthened or shortened to adjust the length of the pant leg.
4. Tapering Pant Legs
Pant legs can be tapered to give your leg a slimmer look and remove excess fabric.
5. Adjust Pant Creases
Pants should vertically divide the knee. If this is not the case, your pants may appear sloppy. A tailor will be able to properly line pant creases.
Other more complicated modifications include removing pleats if you prefer a flat pant front, creating belt loops, creating suspender buttons, or lowering the front waistband.
Is It Better to Buy Pants Too Big or Too Small?
If you must choose, sizing up is the better investment unless you are purchasing jeans. It's much easier for a tailor to take in pants that are a bit too large rather than let out pants if there isn't very much extra fabric. So, if you are between sizes and must buy pants, invest in a larger size.