Cashmere wool and other premium-quality wool variations are very warm but very expensive too. Fashion gurus, thus, used technology and modern ways to produce a cheaper variation for wool: polyester fleece. 
Although a lot of garments you wear during the winter season are made of polyester fleece, it's still common to find cotton fleece, rayon fleece, polar fleece, microfleece, and anti-pill fleece. 
Whether or not the fleece will shrink – and how much – depends upon the kind of material. Polyester fleece, per se, is very hard to shrink. But cotton fleece, especially the one that's not pre-shrunk, does shrink.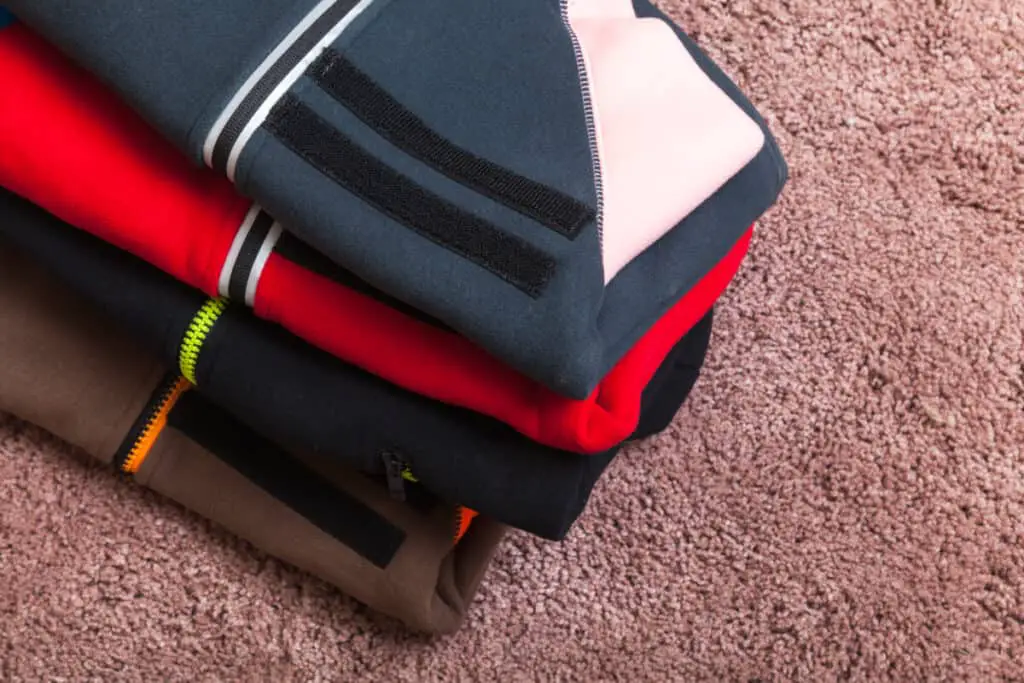 There are basically two kinds of people: people who want to shrink fleece on purpose and people who want fleece to not shrink. Whichever side you're rooting for, this guide on whether or not fleece can shrink will answer all the questions.
Skim through until the very end to explore which types of fleece materials shrink, how to prevent the fleece from shrinking, how to shrink fleece jackets so that they fit you better, how to unshrink fleece, and a lot more. 
Let's begin without further preamble!
Does Fleece Shrink?
The answer isn't a straight one. Fleece shrinks depending upon the material it's made up of. Let's find out which fleece materials shrink and which ones don't.
1.) Polyester fleece – It's the most popular form of fleece that's used to make everything ranging from jackets to sportswear and blankets.
However, polyester fleece rarely shrinks. When it's 100% polyester fleece, it will not shrink. If it's a polyester blend fleece, it might shrink. 
2.) Microfleece – Microfleece is another very adamant fleece type. Heat is usually the only treatment that can shrink fleece. But microfleece does not shrink at all no matter how hot the heat settings are. 
3.) Cotton Fleece – If you really want fleece that does shrink, then place your bet on cotton fleece. 100% cotton fleece does shrink when washed in water that's above 150° C. If the cotton isn't pre-shrunk, it will shrink even more. 
4.) Polar Fleece – Let's just say, polar fleece can shrink only when you expose it to heat again and again. Excessive heat, though, can damage fleece fibers. 
5.) Rayon Fleece – Yes, rayon fleece does shrink when washed in hot water. If you want your clothes made of rayon fleece to not shrink, avoid monumental heat settings in the washer and let the clothes air-dry naturally instead of putting them in a dryer. 
6.) Anti-Pill Fleece – This fleece is best used to make loungewear because it's really comfortable and soft. Besides, anti-pill fleece will not shrink much.
You need to wash it at extremely higher temperature settings in the washer and dryer so that it shrinks. Even then, anti-pill fleece will only marginally shrink. 
The bottom line is that some fleece materials will shrink and some others won't. 
How Much Does Fleece Shrink When Washed?
This one's not that tricky. If you expect cotton fleece and rayon fleece to shrink half their original size, they won't. Even 100% cotton fleece shrinks no more than 1/4th its size when washed at the highest heat settings. 
We're sure you can imagine that shrinking polyester fleece, polar fleece, and microfleece is even tougher. 
When you wash fleece in water that's more than 150°C and then dry it in a dryer at more than 150° C again, that's when polyester fleece will shrink marginally. 
The strands of polyester fleece (and most other types of fleece) are brushed closely so that they retain their size and shape. That's why it is very difficult to shrink polyester fleece. 
Does Fleece Shrink in Warm Water? 
This section is specifically relevant for people who are purposely trying to shrink fleece. Heat is the only way fleece will shrink. Warm water might not do the trick. The temperature should be more than 150° C but lower than 180° C. 
Fun Fact: The temperature shouldn't exceed 180° C because even the toughest forms of fleece will be permanently damaged at such high temperatures. 
That said, let's now take you through some ways using which you can safely shrink fleece up to 1/4th its real size. 
See also: What Type of Fleece Is Warmest?
How to Shrink Fleece By Washing? 
Heat is the answer. However, you need to know how to shrink synthetic fleece like polyester and rayon safely. The following steps are needed. 
1.) Make sure the fleece you want to shrink is absolutely clean. Remove stains, if any. 
2.) Set the washing machine at about 155° C. 
3.) Wash the fleece garment or blanket you're trying to shrink in the washer. 
4.) Keep checking for the signs of shrinkage every 15 minutes. 
5.) Now, set the dryer at 155° C. Let the fleece dry at this temperature for 10 minutes. 
Repeat the process only if needed. Remember, although heat can shrink certain kinds of fleece, it can also damage them irreversibly. 
How to Unshrink Fleece?
First of all, shrinking fleece is very hard. However, it can shrink and you could be somebody who wants to protect fleece from shrinking or trying to unshrink fleece. 
Either way, the upcoming sections are going to be very helpful. 
How to Protect Fleece From Shrinking?
The first step should always be prevention. There are certain precautions that you must keep in mind while washing fleece so that it doesn't shrink.
1.) Use cool water to wash your fleece pullovers and jackets. 
2.) Use lukewarm water to wash blankets made of fleece. 
3.) Do not hoard many blankets inside the washer if you don't want them to shrink or damage. 
4.) Always reverse your fleece clothes inside out while washing them in a washing machine.
5.) Use a very mild detergent. 
6.) Do not dry the fleece fabric in a dryer. Fleece already dries pretty quickly. So, let it dry in the natural air. 
7.) Do not use an excessively hot iron to press fleece garments. 
8.) Always place a cloth on top of fleece when ironing it.
See also: Will a Carhartt Jacket Shrink in the Dryer? 
How to Stretch Fleece?
If you accidentally shrunk fleece or you didn't like the results and now you want to stretch fleece back to its normal size, then the good news is that it's possible. 
The key to stretch shrunk fleece is to make the strands soft. Conditioning them always helps. Here are certain ways that will help you unshrink fleece. 
1.) Fill lukewarm water in a bathtub, sink, or bucket. A bathtub is the best option though. If you don't have one, opt for a wide-mouth sink or bucket. 
2.) Pour baby shampoo, baby oil, and your regular hair conditioner generously in the bathtub. 
3.) Submerge the fleece garment you want to shrink inside the bathtub.
4.) The idea is to relax shrunk fibers. 
5.) Let the fleece garment sit in water for 45 minutes. 30 minutes are enough when it's cotton fleece you're trying to stretch. If it's synthetic fleece like polyester, let it sit for 45 minutes. 
6.) Take out the garment. Don't hang it for drying just yet. Instead, take a clean towel and wrap it around the garment much as you wrap it around your hair. 
7.) Gently press the towel for 4-5 minutes. 
8.) Open the towel and take out your fleece garment.
9.) Now, place the garment on top of a flat surface. 
10.) Start tugging the edges. 
11.) Keep heavy books on the corners to hold the garment in place while you keep gently tugging at it. 
12.) Now, wash it in water at room temperature to remove soap, if any. 
Hang it using clips and let it dry in the air. Now, you have to understand that you might have to repeat the process a couple of times because relaxing polyester fleece fabric is tough. 
How to Take Care of Your Fleece Jackets? 
It's not very hard to take care of fleece jackets, all fleece garments like pullovers, and loungewear in general. 
You just have to make sure you follow everything listed below. 
1.) Avoid washing fleece in hot water. 
2.) Let fleece dry naturally. 
3.) Always turn the garment inside out while washing and ironing. 
See also: Does 50 Percent Cotton 50 Percent Polyester Shrink?
Concluding Thoughts:
Certain kinds of fleece like 100% cotton fleece and rayon fleece can shrink. Then, there are certain kinds like polyester fleece, polar fleece, and microfleece that hardly shrink. 
Using heat is the best (and only way) to shrink fleece. Though, you've got to be careful with the temperature so that you don't end up damaging your fleece jackets instead of shrinking them. 
Besides, there are always ways to protect fleece from shrinking or stretch it to its normal size after shrinking if that's what you want. 
In a nutshell, always keep in mind that all you have to do to make fleece last is be smart while washing and drying it since fleece is already very tough and durable.